If you're looking for the perfect words to describe the special bond between mother and daughter, these beautiful Mother And Daughter Quotes are here to help! Whether you're the mom or the mom wanting to say I love you to your daughter, there are phrases, quotations, and sayings to suit. The love you share, the special memories you make, and the closeness you have, are all to be cherished!
Why not use your favorite message for a mothers day card, or on your daughter's birthday! Enjoy!
1. "First my mother, forever my friend." – Unknown
2. "On the darkest days, when I feel inadequate, unloved and unworthy, I remember whose daughter I am and I straighten my crown." – Unknown
3. "A daughter is just a little girl who grows up to be your best friend." – Unknown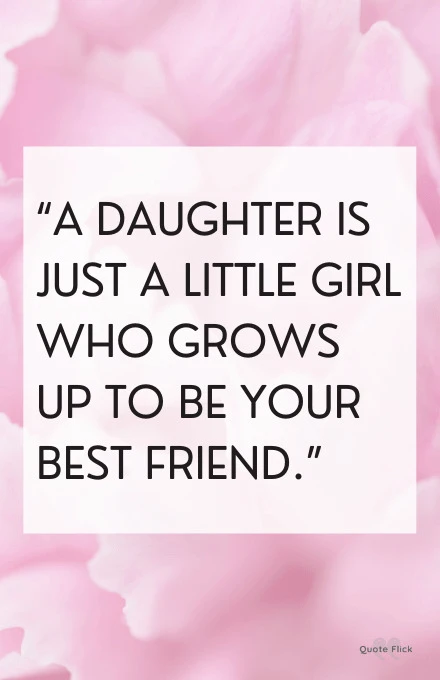 4. "A mother's and daughter's love is never separated." – Viola Shipman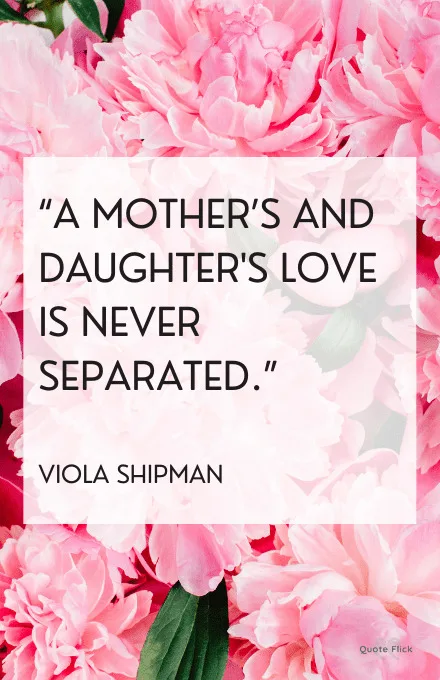 5. "To my daughter. Never forget that I love you. Life is filled with hard times and good times. Learn from everything you can. Be the woman I know you can be. Mom" – Unknown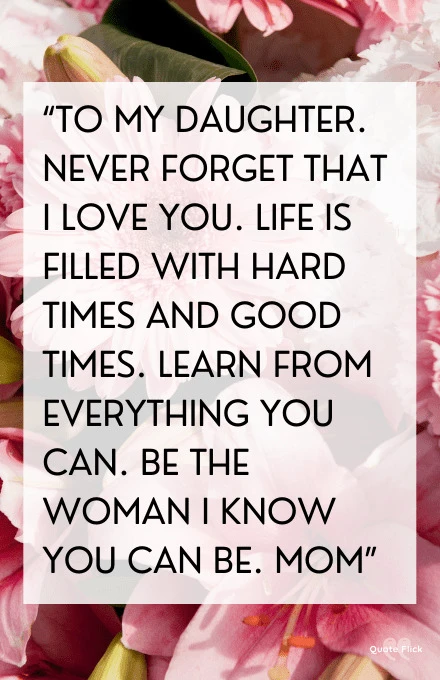 6. "Angels are often disguised as daughters." – Unknown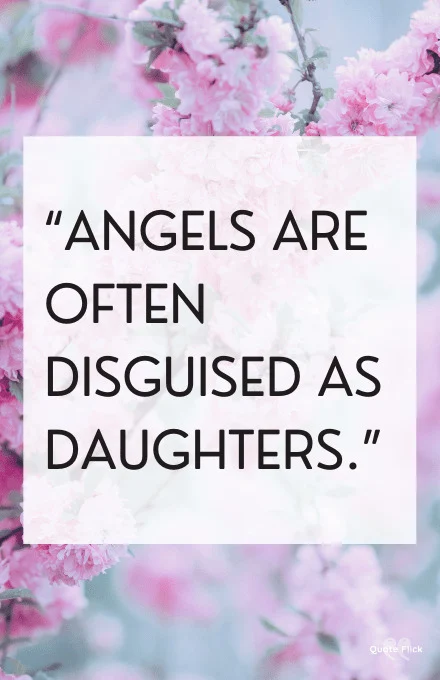 7. "The woman who is my best friend, my teacher, my everything: Mom."- Sandra Vischer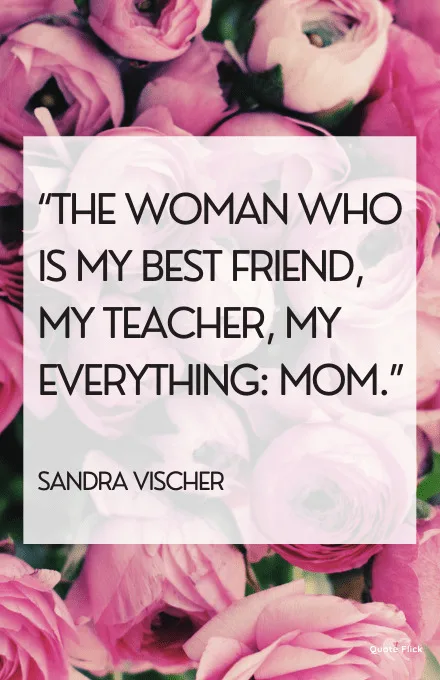 8. "The mother-daughter relationship is the most complex." – Wynonna Judd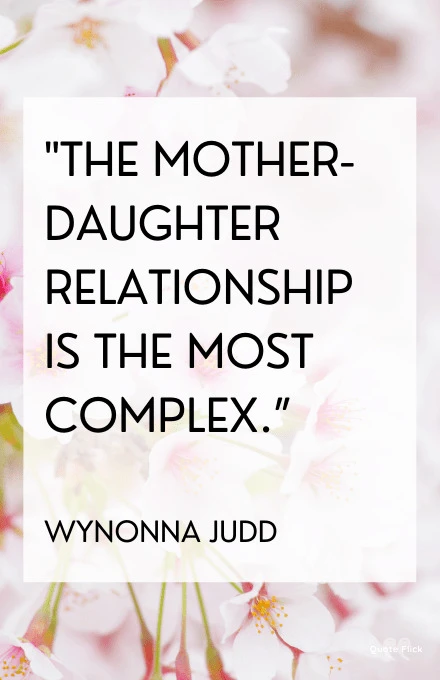 9. "One of the greatest gifts I've ever gotten is my daughter" – Unknown
10. "May my daughter always know that she is strong, smart, and beautiful." – Unknown
Have you read our Son Quotes or Aunt Quotes?
11. "Mothers and daughters together are a powerful force to be reckoned with." – Melia Keeton-Digby
12. "A mother's treasure is her daughter." – Catherine Pulsifer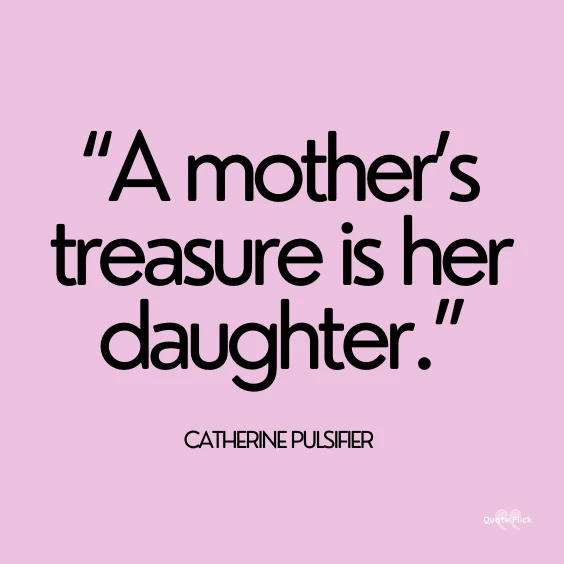 13. "Having a little girl has been like following an old treasure map with the important paths torn away." – Heather Gudenkauf
14. "You'll be her first role model, her first friend, her first love. You are her mom and she is your whole world. She is your little girl." – Unknown
15. "Mothers of daughters are daughters of mothers and have remained so, in circles joined to circles, since time began." – Signe Hammer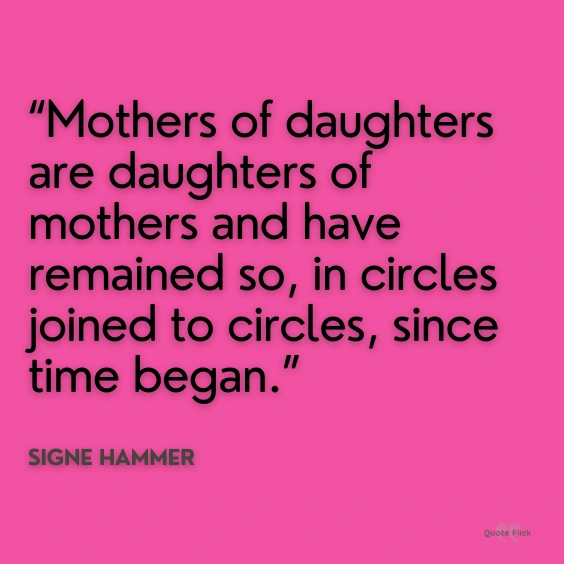 16. "If at first, you don't succeed, try doing it the way mom told you in the beginning." – Unknown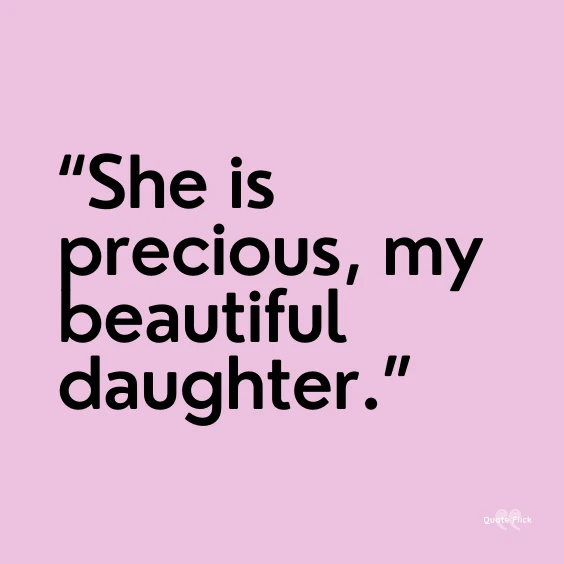 17. "I love you every day, I tell you every day, but I tell you more on Mothers Day." – Unknown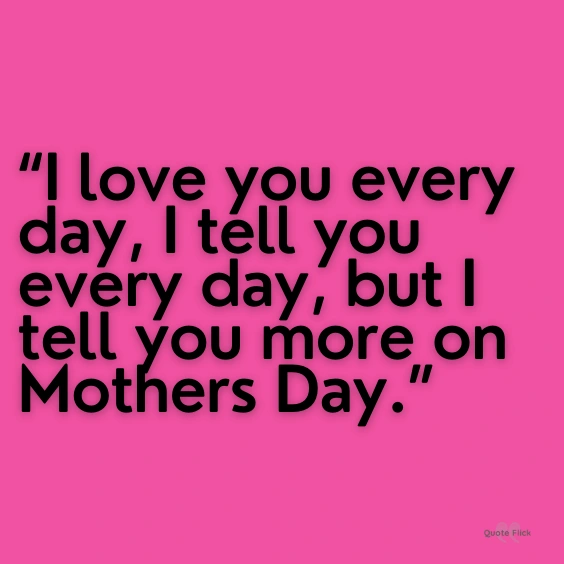 18. "No daughter and mother ever live apart, no matter what the distance between them." – Christie Watson
19. "Words are not enough to express the unconditional love that exists between a mother and a daughter." – Caitlin Houston
20. "A mother teaches her daughter how to feel about herself, about handling pressure, about relishing life's joys and conquering fears." – Melissa Harrison
21. "A daughter is someone you laugh with, dream with, and love with all your heart." – Unknown
22. "I told my mom she was invading my personal space and she said I came out of her personal space." – Unknown
23. "A mother who radiates self-love and self-acceptance actually vaccinates her daughter against low self-esteem." – Naomi Wolf
24. "I am a strong woman because a strong woman raised me." – Unknown
25. "All my life's problems have just one simple solution, a hug from my daughter." – Unknown
26. "She is precious, my beautiful daughter." – Unknown
27. "My daughter is my baby, my best friend and my princess all in one." – Unknown
28. "I can't describe what she brings me, the happiness and joy I experience when she is around. I love my daughter." – Unknown
29. "My daughter is just the most beautiful thing I ever imagined I could create." – Unknown
30. "A mother is one to whom you hurry when you are troubled." – Emily Dickinson
Have you seen our collection of Miss You Grandma Quotes
31. "My mom is literally a part of me. You can't say that about many people except relatives, and organ donors." – Carrie Latet
32. "My mother wanted me to be her wings, to fly as she never quite had the courage to do. I love her for that. I love the fact that she wanted to give birth to her own wings." – Erica Jong
33. "When we weren't scratching each other's eyes out, we were making each other laugh harder than anyone else could." – Lucie Arnaz
34. "Of all the haunting moments of motherhood, few rank with hearing your own words come out of your daughter's mouth." – Victoria Secunda
35. "I like it when my mother smiles. And I especially like it when I make her smile." – Adriana Trigiani
36. "Maybe I stepped into the skin my mother left behind and became the girl my mother had been, the one she still wanted to be" – Laura Kasischke
37. "She is my heart, my soul, my "best thing that ever happened to me", the source of many laughs and a few tears. She is my daughter and she is my world." – Unknown
38. "You're a very special lady, who showered me with love I am thankful for you as I've told God above." –  Charly Lester
39. "I love my mother as trees loves water and sunshine. She helps me grow, prosper, and reach great heights." – Terry Guillemets
40. "A mother is not a person to lean on but a person to make leaning unnecessary." – Dorothy C Fisher
41. "Happiness is mother and daughter time." – Unknown
42. "Every day I become a little more like my mother… and I couldn't be prouder!" – Unknown
43. "My daughter, while we have had adversity, we also have had more sweet memories that allow us to overcome the challenges we faced." – Ann Butler
44. "A daughter is a miracle that never ceases to be miraculous." – Unknown
45. "From a little girl so very small, how and when did you get so tall?" ― Karen Mortensen
46. "I look at my mom and think, what would I do without this woman?" – Unknown
47. "A mother is the only person in the world, who can turn daughter's worries and fears into happiness." – Unknown
48. "A daughter is the happy memories of the past, the joyful moments of the present, and the hope and promise of the future." – Unknown
49. "We mothers are learning to mark our mothering success by our daughters' lengthening flight." – Letty Cottin Pogrebin
50. "My mom taught me a woman's mind should be the most beautiful part of her." – Sonya Teclai
51. "A daughter is God's way of saying, 'thought you could use a lifelong friend.'" – Unknown
52. "What's it like to have the greatest daughter in the world? I don't know ask your grandmother." – Unknown
53. "By the time a woman realizes her mother was right, she has a daughter who thinks she's wrong." – Unknown
54. "Always love your mother because you will never get another." – Unknown
55. "Daughters are far more precious than jewels." – Unknown
56. "A daughter is one of the most beautiful gifts this world has to give." – Laurel Atherton
57. "To my daughter. Never forget that I love you. Life is filled with hard times and good times. Learn from everything you can. Be the woman I know you can be." – Unknown
58. "Find it within you to love exactly who you are and to know you're capable, you're loved and you're beautiful. The world is a better place, because of you. You are unique because there is only ONE of you." – Shantel VanSanten
59. "Daughters are like flowers, they fill the world with beauty, and sometimes attract pests." – Unknown
60. "Life doesn't come with a manual, it comes with a Mother." – Unknown
61. "Chin up Princess or the crown slips." – Unknown
62. "There is nothing as powerful as mother's love, and nothing as healing as a child's soul." – Unknown
63. "My daughter makes me laugh with her incredibly humorous take on the world. Everything makes her laugh, and I aspire to take in the world the same shoes she does." – Unknown
64. "A mom is a daughter's 'first' friend. And, through life, becomes her best friend." – Vicki Reece
65. "The more a daughter knows the details of her mother's life the stronger the daughter." – Anita Diamant
66. "There were times when, in middle school and junior high, I didn't have a lot of friends. But my mom was always my friend. Always." – Taylor Swift
67.  "A daughter is a day brightener and a heart warmer." – Unknown
68. "And though she be but little, she is fierce." – Shakespeare
69. "Our daughters are the most precious of our treasures, the dearest possessions of our homes and the objects of our most watchful love." –Margaret E. Sangster
70. "I cannot forget my mother. She is my bridge. When I needed to get across, she steadied herself long enough for me to run across safely." – Renita Weems
71. "I don't want my daughter to follow in my footsteps. I want her to take the path next to me and go further than I could have ever dreamt possible." – Unknown
72. "My daughter is my biggest achievement. She is a little star, and my life has changed so much for the better since she came along." – Denise Van Outen
73. "Dear daughter, I am so proud of you." – Unknown
74. "Be the woman you want your daughter to be." – Unknown
75. "She stands firmly on her own two feet and I just behind her; should she ever need me." – Unknown
76. "We mothers are learning to mark our mothering success by our daughters' lengthening flight." – Letty Cottin Pogrebin
77. "Maybe Mom is my alter ego and the woman I'm able to be when I'm working."- Mary Tyler Moore
78. "As is the mother, so is her daughter."- Bible
79. "A daughter is a mother's gender partner, her closest ally in the family confederacy, an extension of herself. And mothers are their daughters' role model, their biological and emotional road map, the arbiter of all their relationships." – Victoria Secunda
80. "Mother is a verb. It's something you do. Not just who you are." – Cheryl Lacey Donovan
81. "A daughter may outgrow your lap, but she will never outgrow your heart." – Unknown
Loved these beautiful quotes? Why not check out Hug Quotes
Holly Jaskolka is a certified Emotional Freedom Technique (EFT) practitioner, yoga instructor, and an impassioned advocate for holistic well-being. Fueled by her love for animals and wanderlust, Holly leads a plant-based lifestyle that she complements with immersive travel experiences. When she's not jet-setting to uncover the world's hidden gems, she's empowering individuals to heal emotionally, particularly those grappling with the aftermath of breakups. Connect with Holly on LinkedIn.