This collection of 60 quotes about moving on after a breakup will help you process the pain you are feeling and realize that letting go is possible.
Breaking up isn't an easy thing to go through, even if you are the one who has made the decision to move on. We trust that you will find comfort in these moving on after a breakup quotes.
As the words highlight, our darkest times lead to personal growth. We hope that through heartbreak, you nurture the best relationship you have – the one with yourself. Please consider sharing our work if you are a fan!
Moving On After A Breakup Quotes
1. "Letting go doesn't mean that you don't care about someone anymore. It's just realizing that the only person you really have control over is yourself." – Deborah Reber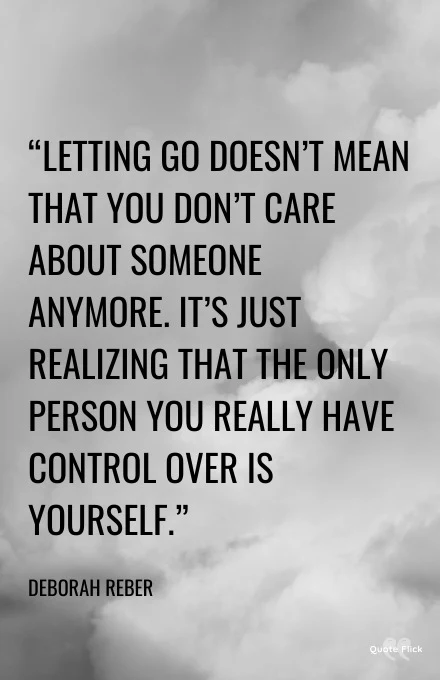 2. "Breakups can be sad, but sometimes tears are the price we pay for a freedom we need." – Steve Maraboli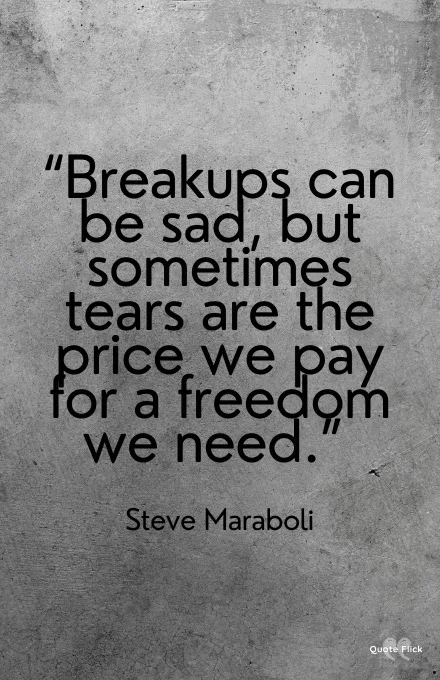 3. "I think part of the reason why we hold on to something so tight is that we fear something so great won't happen twice." – Unknown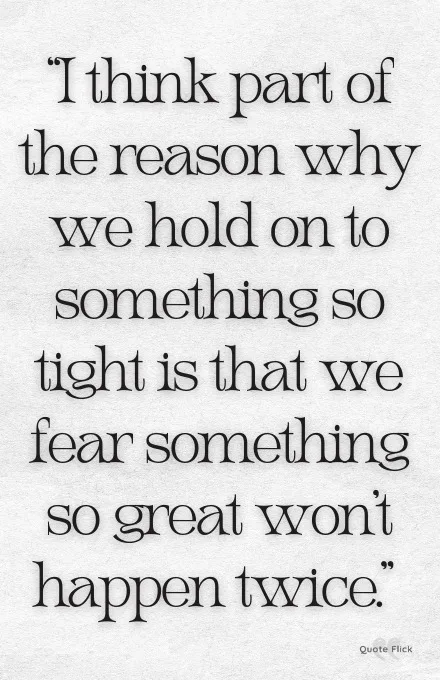 4. "The way they leave tells you everything."- Rupi Kaur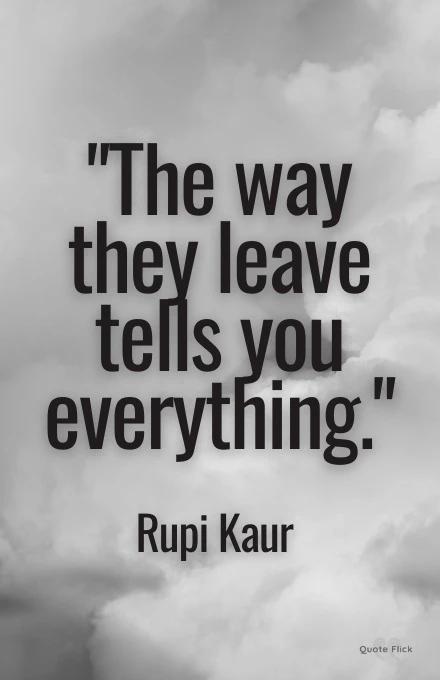 5. "Be strong enough to let go and wise enough to wait for what you deserve." – Unknown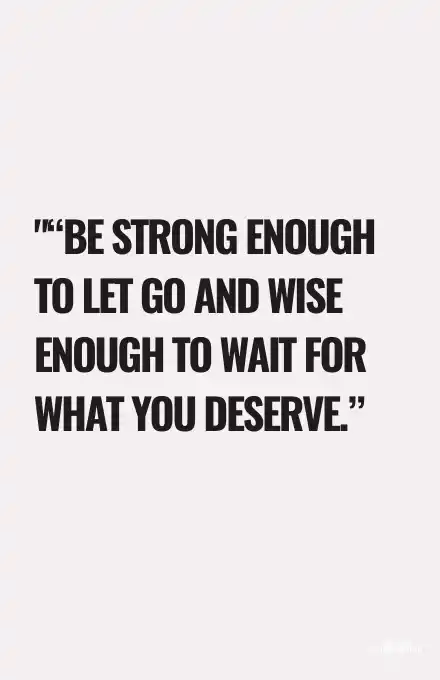 6. "Forgiving you is my gift to you. Moving on is my gift to myself." – Unknown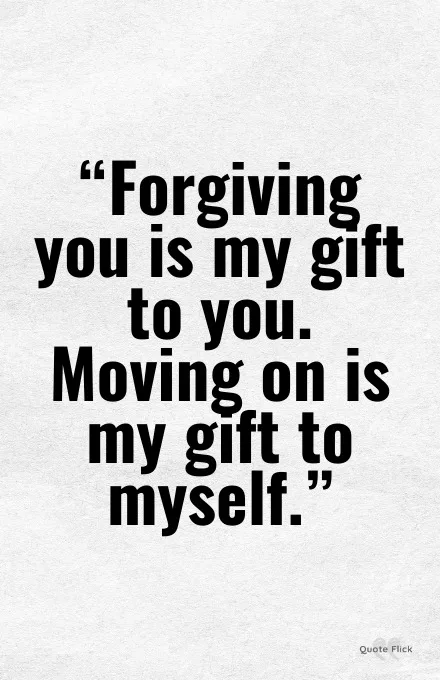 7. "Sometimes good things fall apart so better things can fall together."  – Marilyn Monroe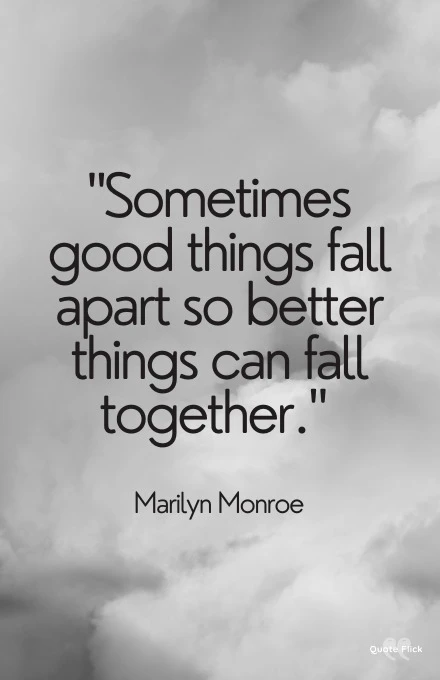 8. "Relationships are like glass. If it smashes, it's better to leave it broken, rather than to hurt yourself putting it back together." – Unknown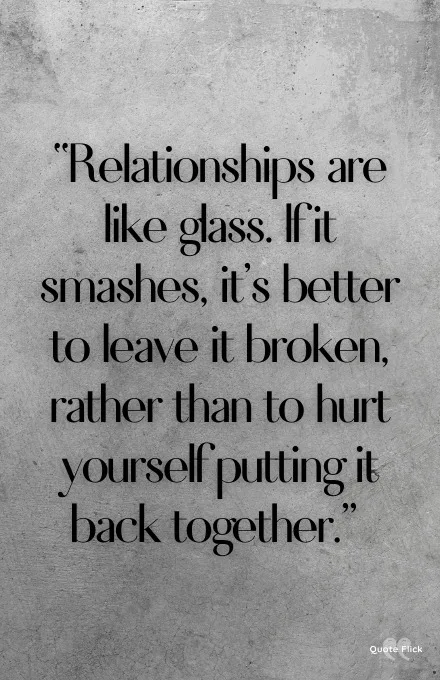 9. "You can't start the next chapter of your life if you keep re-reading the last one." – Unknown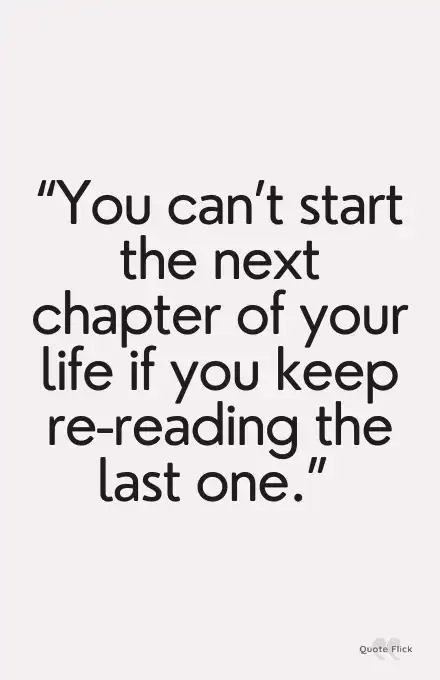 10. "To heal a wound, you need to stop touching it." – Unknown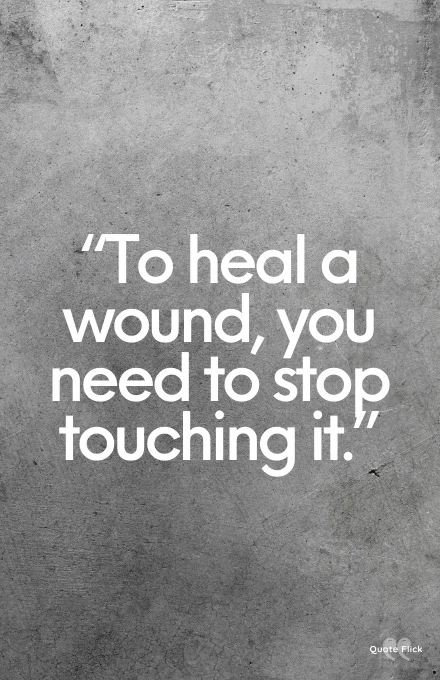 If you're enjoying these moving on after a breakup quotes, why not check out our Quotes About Trust In A Relationship?
11. "Cheer up, sweet, beautiful soul. You are going to be in love again and it will be magnificent." – Unknown
12. "Moving on, is a simple thing, what it leaves behind is hard." – Dave Mustaine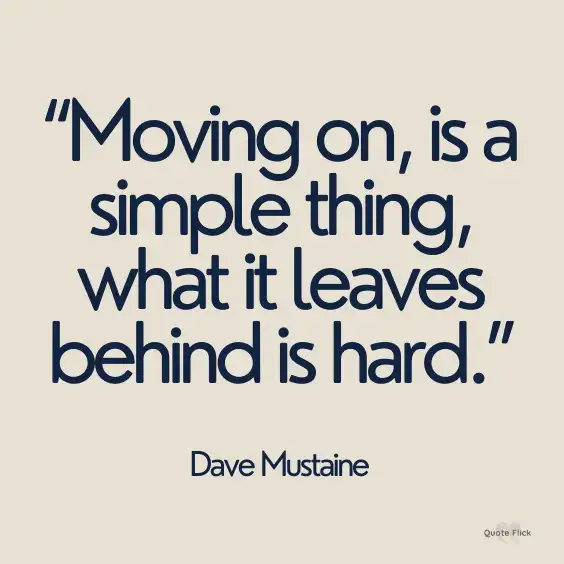 13. "Moving on after a break up is a great way to get back on your feet and start feeling happy again." – Tom Shields
14. "The easiest way to teach someone how to treat you is to refuse to give them more opportunities to hurt you. Walk away …" – R.H. Sin
15. "Don't dwell on what went wrong. Instead, focus on what to do next. Spend your energies on moving forward toward finding the answer." – Denis Waitley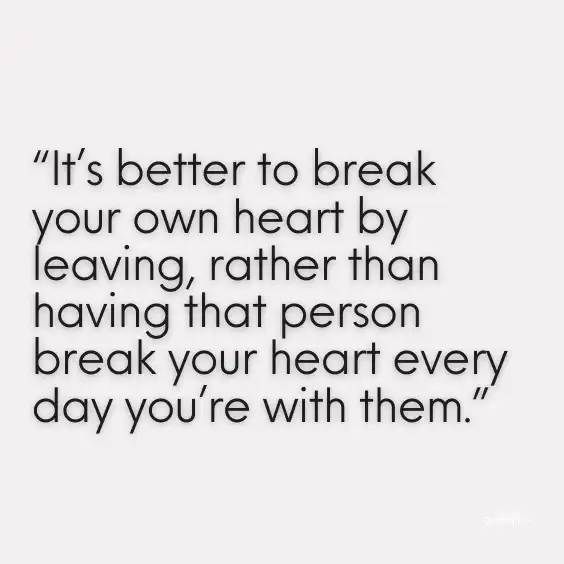 16. "Sometimes, we have to let go of what's killing us, even if it's killing us to let go." – Unknown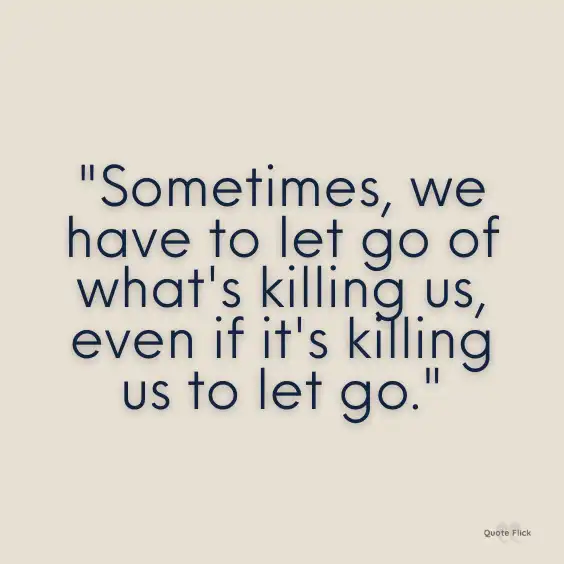 17. "Remember, you can't reach what's in front of you until you let go of what's behind you." – Unknown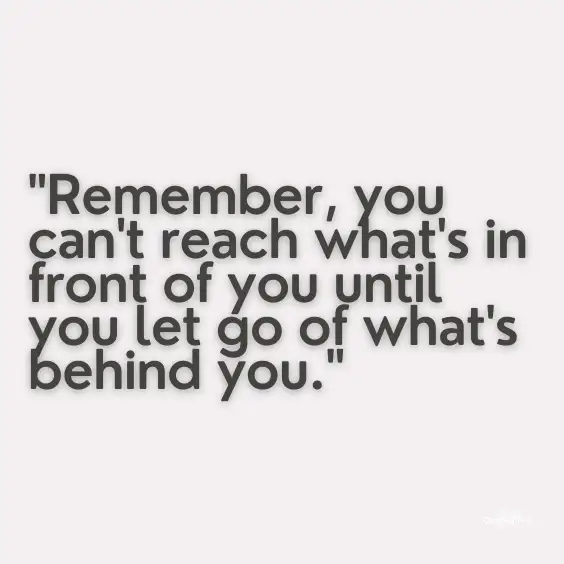 18. "What's coming is better than what's gone." – Unknown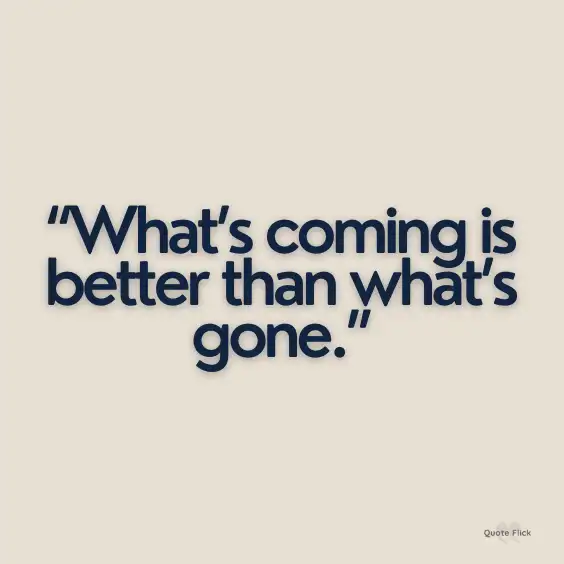 19. "Maybe I needed to be with you in order to learn that I deserved more." – RH Sin
20. "Roses lose their petals but they bloom again." – Unknown
21. "Eventually all the pieces fall into place… Until then, laugh at the confusion, I've for the moment, and know that everything happens for a reason." – Carrie Bradshaw
22. "Hurting from my break up but knowing that it is time to move on." – Unknown
23. "Sometimes your heart needs more time to accept what your mind already knows." – Unknown
24. "Breakups hurt, but losing someone who doesn't respect and appreciate you is actually a gain, not a loss." – Unknown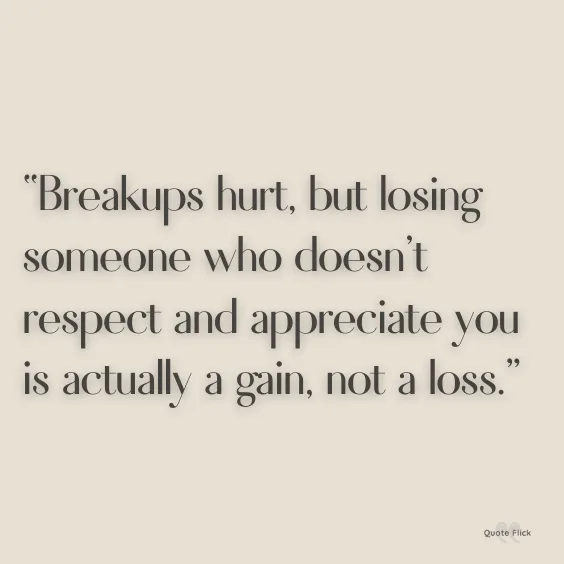 25. "It's better to break your own heart by leaving, rather than having that person break your heart every day you're with them." – Unknown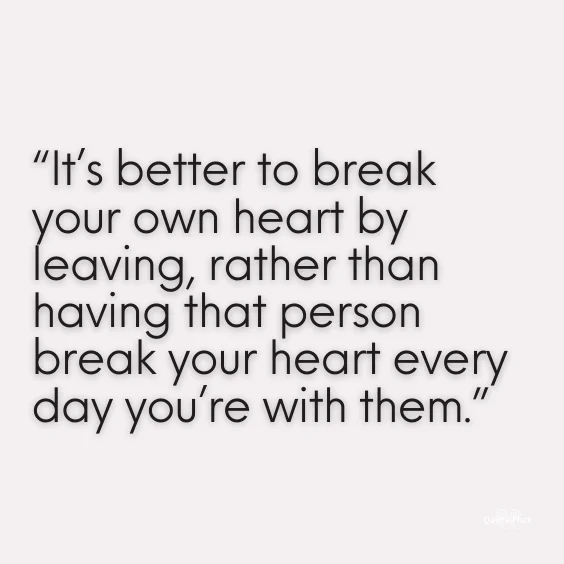 26. "You can love them, forgive them, want good things for them… But still, move on without them." – Mandy Hale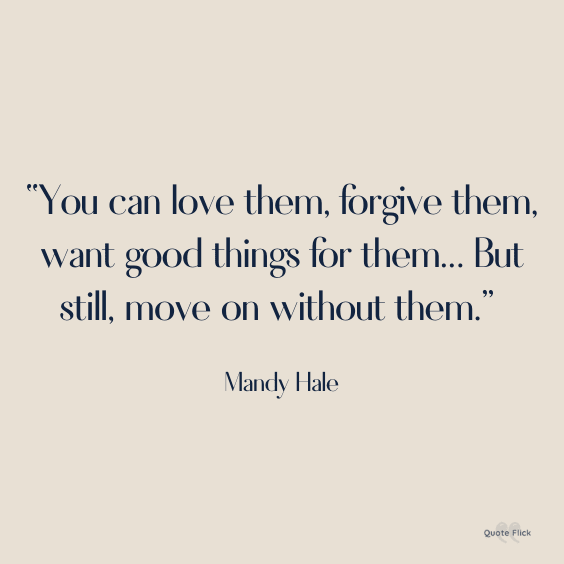 27. "Accept what is, let go of what was, and have faith in what will be." – Unknown
28. "Never allow someone to be your priority while allowing yourself to be their option." – Mark Twain
29. "Cry. Forgive. Learn. Move on. Let your tears water the seeds of your future happiness." – Steve Maraboli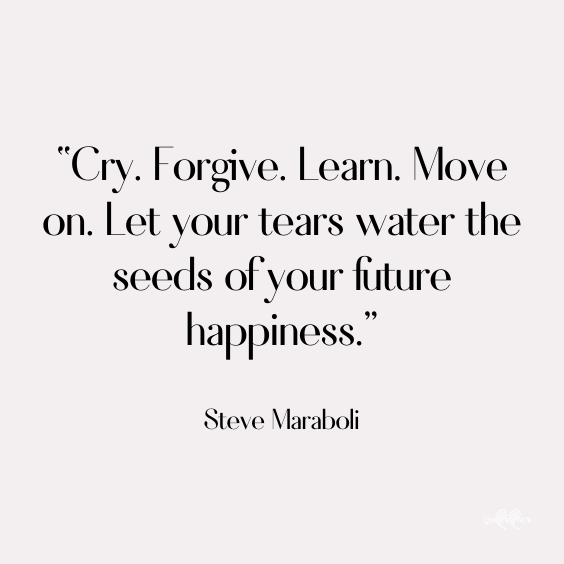 30. "If you really love someone, set them free. If they do not come back to you, then it was not meant to be." – Vishal Jaiswal
Perhaps reading our Everything Will Be OK Quotes will give you some strength and hope for the future. If you've broken up due to an unfaithful partner, why not check out Cheating Boyfriend Quotes?
31. "Life always waits for some crisis to occur before revealing itself at its most brilliant." – Paulo Coelho
32. "Pain makes you stronger, fear makes you braver, heartbreak makes you wiser." – Drake
33. "I will not try to convince you to love me, to respect me, to commit to me. I deserve better than that; I AM BETTER THAN THAT…Goodbye." – Steve Maraboli
34. "We must be willing to let go of the life we have planned, so as to have the life that is waiting for us." – E.M. Forster
35. "I'm thankful for my struggle because without it I wouldn't have stumbled across my strength." – Alex Elle
36. "Watching you walk out of my life does not make me bitter or cynical about love. But rather makes me realize that if I wanted so much to be with the wrong person how beautiful it will be when the right one comes along."  – Unknown
37. "Someone I loved once gave me a box full of darkness. It took me years to understand that this too, was a gift"? – Mary Oliver
38. "Being divorced is like being hit by a Mack truck. If you live through it, you start looking very carefully to the right and to the left." – Jean Kerr
39. "The wrong people always teach you the right life lessons." – Unknown
40. "We must be willing to let go of the life we've planned, so as to have the life that is waiting for us." – Joseph Campbell
41. "What is broken is broken." – Unknown
42. "I missed you until I realized there was never really anything to miss but the peace I felt before I knew you…" – r.h. Sin
43. "How do you know when it's over?" "Maybe when you feel more in love with your memories than with the person standing in front of you." – Gunnar Ardelius
44. "Nothing in the universe can stop you from letting go and starting over." – Guy Finley
45. "Watching you walk out of my life does not make me bitter or cynical about love. But rather makes me realize that if I wanted so much to be with the wrong person, how beautiful it will be when the right person comes along." – Nicholas Sparks
46. "I love to shop after a bad relationship. I don't know. I buy a new outfit and it makes me feel better. It just does. Sometimes I see a really great outfit, I'll break up with someone on purpose." – Rita Rudner
47. "When someone leaves, it's because someone else is about to arrive." – Paulo Coelho
48. "In order to grow and to experience, one must leave his comfort zone. Very often this means that you have to do what you are afraid of in order to find what you didn't know you were looking for. This takes a lot of courage."
49. "If life can remove someone you never dreamed of losing, it can replace them with someone you never dreamt of having." – Unknown
50. "One day they'll realize they lost a diamond while playing with worthless stones." – Turcois Ominek
51. "The poison leaves bit by bit, not all at once. Be patient. You are healing." – Yasmin Mogahed
52. "Don't allow someone not worth it to have the power to occupy your thoughts. If they don't find you worth the effort or the time, why should you waste yours?" – Donna Lynn Hope
53. "Don't let the heart that didn't love you, keep you from the one that will." – Unknown
54. "Some think that holding on makes us strong, but sometimes it's letting go." – Hermann Hesse
55. "The brightest future will always be based on a forgotten past, you can't go on well in life until you let go of your past failures and heartaches." – Unknown
56. "At some point, you have to realize that some people can stay in your heart but not in your life." – Unknown
57. "When one door closes, another opens; but we often look so long and so regretfully upon the closed door that we do not see the one which has opened for us" – Alexander Graham Bell
58. "One makes mistakes; that is life. But it is never a mistake to have loved." – Romain Rolland
59. "Ever has it been that love knows not its own depth until the hour of separation." – Khalil Gibran
60. "You gain strength, courage, and confidence by every experience in which you really stop to look fear in the face. You are able to say to yourself 'I have lived through this horror. I can take the next thing that comes along.' You must do the thing you think you cannot do." – Eleanor Roosevelt
If you're moving on and looking for love again, check out Partner In Crime Quotes. You may also enjoy our collection of Soulmate Quotes to give you excitement about what's to come.
Holly Jaskolka is a certified Emotional Freedom Technique (EFT) practitioner, yoga instructor, and an impassioned advocate for holistic well-being. Fueled by her love for animals and wanderlust, Holly leads a plant-based lifestyle that she complements with immersive travel experiences. When she's not jet-setting to uncover the world's hidden gems, she's empowering individuals to heal emotionally, particularly those grappling with the aftermath of breakups. Connect with Holly on LinkedIn.