As these 65 quotes about soulmates show when you find a special, loving, and deep connection with someone, it is a rare experience to be cherished. Soul mate quotes show the beauty of waiting for the right person, and not settling for anything that doesn't set your world on fire.
Maybe you have met your soul mate, are waiting for your one true love, or have found multiple soulmates in friends! Either way, we hope you fall in love with our beautiful quotations and sayings and share them with your special person/people!
1. "As soon as I saw you, I knew you were my soul mate. You smiled at me. I think you knew too." – Unknown
2. "There is a special bond between twin soulmates – unconditional love, respect for each other, bringing out the best in each other, and highly compatible." – Mettrie L.
3. "True love is finding your soulmate in your best friend." – Faye Hall
4. "You are my soulmate, my sweetheart, you are my dream come true, from now until the end of time I give my heart and soul to you." – Unknown
5. "Soulmates aren't just lovers."- Unknown
6. "I want to be your soulmate, even if I don't believe in them." – Colleen Hoover
7. "In all the world, there is no heart for me like yours. In all the world, there is no love for you like mine." – Maya Angelou
8. "Maybe our girlfriends are our soulmates and guys are just people to have fun with" – Candace Bushnell
9. "Some of us never meet our soulmates. It is sad that we panic, surrender and settle long before they have had the opportunity to find us." – Unknown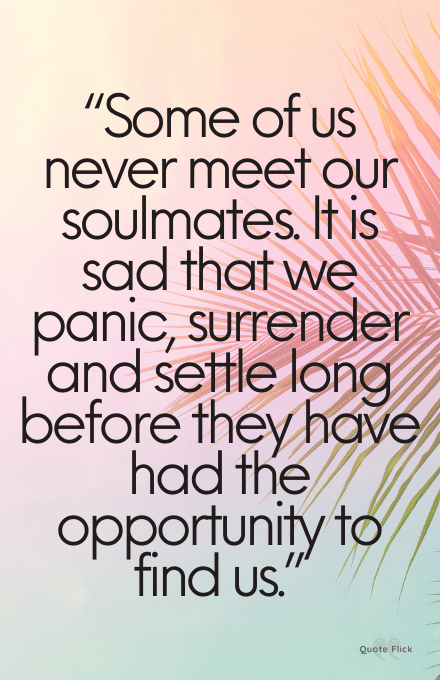 10. "You're my soul mate, and until the end of time, I'll be loving you." – Unknown
Have you seen our Partner in Crime Quotes and Long Distance Love Quotes?
11. "He's my soulmate and the other half of me." – Unknown
12. "A soulmate is an overused term, but a true soul connection is very rare and very real." – Hilary Duff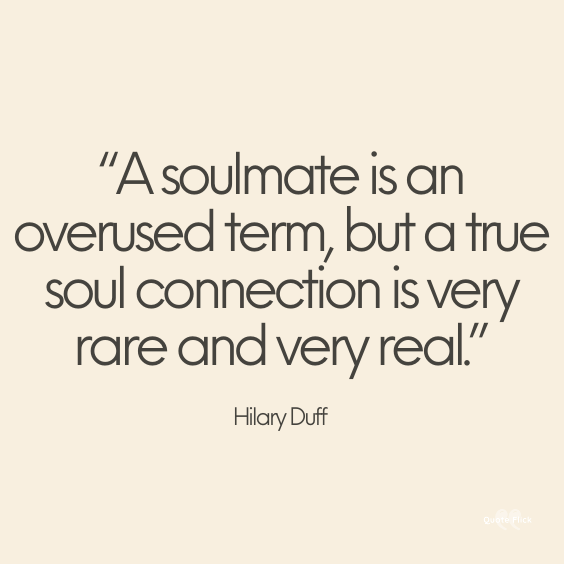 13. "Soul mates may be linked, but fight to separate, causing wounds and confusion. They teach what no one else can." – Donna Lynn Hope
14. "You come to love not by finding the perfect person, but by seeing an imperfect person perfectly." – Sam Keen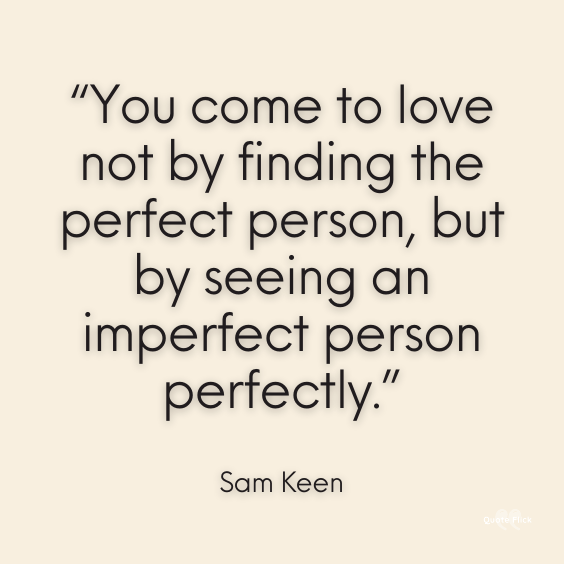 15. "You don't fall in love with a body, you fall in love with a soul. And once in love with a soul, everything about that body becomes beautiful." – Unknown
16. "With soulmate love, you know that true love is what happens when disappointment sets in – and you're willing to deal maturely with these disappointments." – Unknown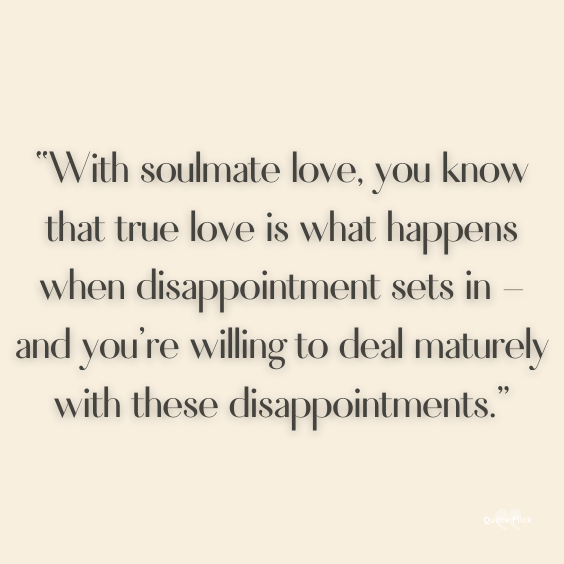 17. "I feel like a part of my soul has loved you since the beginning of everything. Maybe we're from the same star." – Emery Allen
18. "In one lifetime you will love many times, but one love will burn your soul forever." – Unknown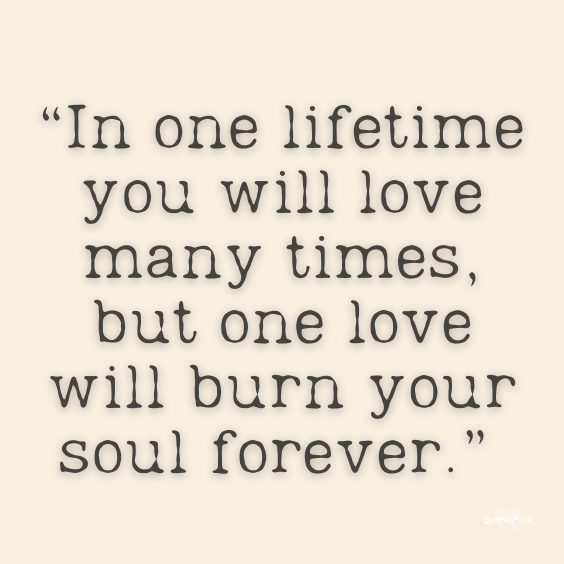 19. "When love runs soul deep, a kiss is no longer just a kiss. It is the place where heaven and earth meet." – Daniel Neilson
20. "When you're in love, you're capable of learning everything and knowing things you had never dared even to think, because love is the key to the understanding of all the mysteries." – Paulo Coelho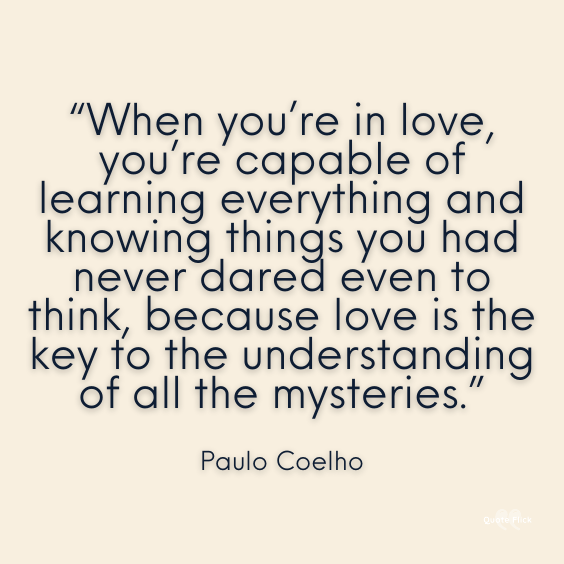 21. "You walked into my life like you had always lived there like my heart was a home built for you." – Unknown
22. "A soulmate is someone whose way of viewing life is not necessarily the same as yours but complements yours. There is not a compromise, there is a compliment." – Unknown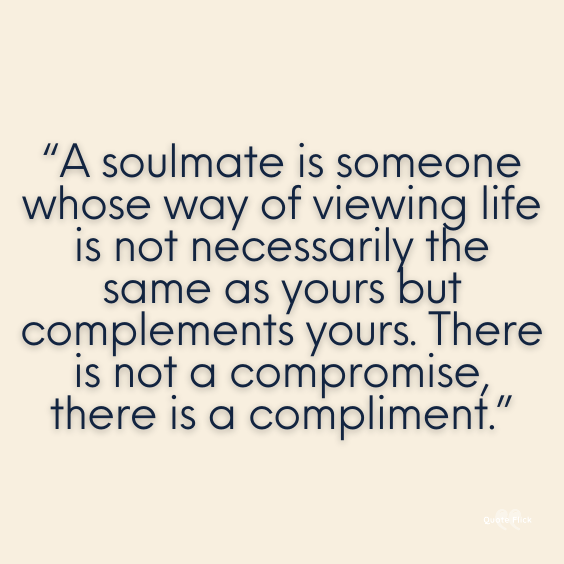 23. "A soulmate is a best friend, a lover, a motivator, someone who can love you at your worst, your best, through everything." – Unknown
24. "A soulmate is someone you can love forever." – Unknown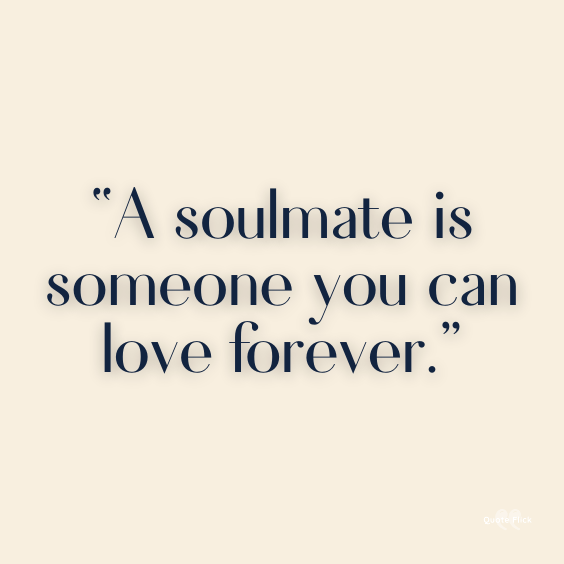 25. "My soul met your soul and I haven't been the same since." – C. Churchill
26. "To my soul mate. I know what love is because of you. I was asleep before I met you." – Unknown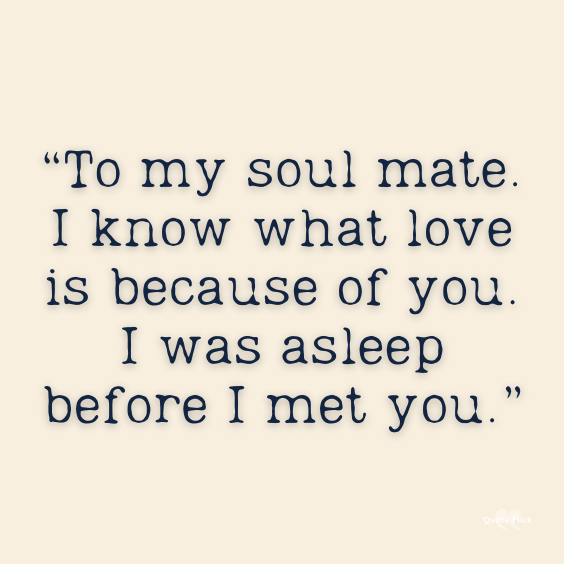 27. "My soulmate is out there somewhere, pushing a door…I just know it." – Unknown
28. "A soul mate is not found. A soul mate is recognized." – Vironika Tugaleva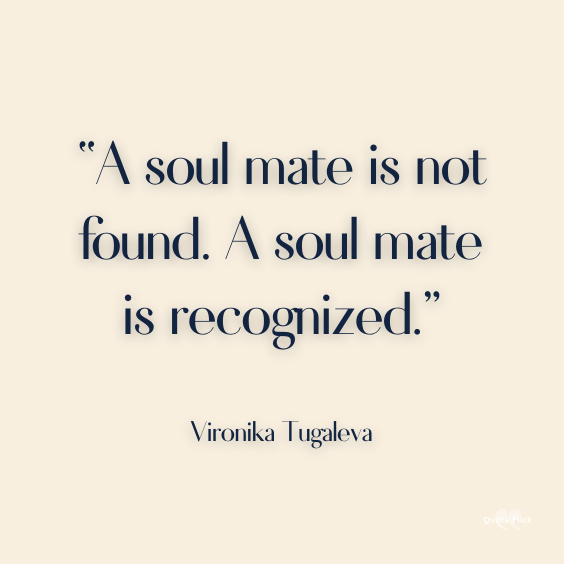 29. "When you meet the other half of your soul, you'll understand why things didn't work out with anyone else." – Unknown
30. "A soulmate is the one person whose love is powerful enough to motivate you to meet your soul, to do the emotional work of self-discovery, of awakening." – Kenny Loggins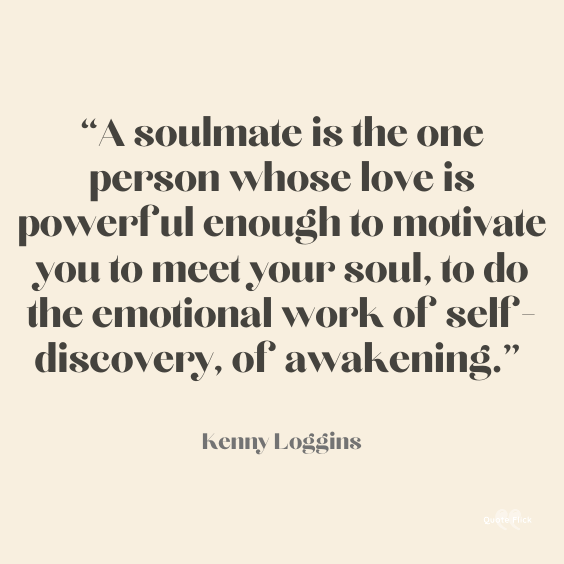 Unsure whether someone is your soul mate? Take a look at Confused Love Quotes
31. "You have half our gifts. I the other. Together we make a whole. Together we are much more powerful." – Joss Stirling
32. "Have you ever felt really close to someone? So close that you can't understand why you and the other person have two separate bodies, two separate skins?" – Nancy Garden
33. "If I know what love is, it is because of you." – Herman Hesse
34. "When deep down in the core of your being you believe that your soulmate exists, there is no limit to the ways he or she can enter your life." – Arielle Ford
35. "The soul mate doesn't have to be a romantic relationship. Sometimes in life, you meet people when you need them, and there is an immediate connection." – Alison G. Bailey
36. "If you want to attract a life partner as your soulmate, there are several illusions you will need to relinquish. One is that your soul mate is someone you will be with for the rest of your life. You can have a soul mate relationship that lasts a few weeks, months, or years. Time has nothing to do with the quality of your connection and its importance in your life." – Sanaya Roman
37. "I recognized you instantly. All of our lives flashed through my mind in a split second. I felt a pull so strongly towards you that I almost couldn't stop it." – J. Sterling
38. "A heart worth loving is one you understand, even in silence." – Shannon L. Alder
39. "A soul mate's purpose is to shake you up, tear apart your ego a little bit, show you your obstacles and addictions, break your heart so open so new light can get in. Make you so desperate and out of control that you have to transform your life, then introduce you to your spiritual master." – Eat, Pray, Love
40. "You were you and I was I. We were two, before our time. I was yours before I knew, and you have always been mine too." – Lang Leav
41. "When someone's happiness is more important than yours, you're going to be a real soulmate." – Unknown
42. "I want to tangle with you, and fall into you, and feel all of you, your breath, your skin, your hands, your heart, your everything. All of it, all of you, all around me." – Butterflies Rising
43. "The Buddhists say if you meet somebody and your heart pounds, your hands shake, your knees go weak, that's not the one. When you neet your soul mate you'll feel calm. No anxiety, no agitation." – Unknown
44. "I think my soulmate might be carbs." – Unknown
45. "An endless sleepover with your favorite person. Someone you love and appreciate more and more with each day. A soul mate." – Unknown
46. "Before you find your soulmate, you must first discover your soul." – Charles F. Glassman
47. "And then my soul saw you and it kind of went. "Oh, there you are. I've been looking for you." – Unknown
48. "Our bodies are new to each other, but our souls knew each other from the beginning of life." – Unknown
49. "Most people have more than one soulmate. A soulmate can come in the form of a life partner, friend, child, or lover. A soul mate can be someone with whom you share a spiritual path, a joint work in the world, or a commitment to be parents to certain souls. It can be one whose growth you are sponsoring, such as a child." – Sanaya Roman
50. "Throughout life, you will meet one person who is unlike any other. You could talk to this person for hours and never get bored, you could tell them things and they won't judge you. This person is your soulmate, your best friend. Don't ever let them go." – Unknown
51. "Soulmates are those that we've known many lifetimes have had many karmic contracts with, and with whom we have resolved conflicts. Marriage partners may or may not be soul mates, though they will be a soul contract. With true soul mates, there is no struggle. What's leftover is love." – Karen M. Black
52. "You have half our gifts. I the other. Together we make a whole. Together we are much more powerful." – Joss Stirling
53. "It is in your arms I feel the safest. I built my home in your heart, the roots of my soul wrapped around your lungs. It is with you I know where I belong." – B.B
54. "There was something in her eyes that made me trust her. Maybe it was because they held the same cynicism, the same world-weariness I saw in my own every morning when I looked at myself in the mirror." – Melika Dannese Lux
55. "Our universe grants every soul a twin-a reflection of themselves -the kindred spirit – And no matter where they are or how far away they are from each other- even if they are in different dimensions, they will always find one another. This is destiny; this is love." – Julie Dillon
56. "Our souls already know each other, don't they? He whispered. It's our bodies that are new." – Karen Ross
57. "To say that one waits a lifetime for his soulmate to come around is a paradox. People eventually get sick of waiting, take a chance on someone, and by the art of commitment become soulmates, which takes a lifetime to perfect." – Criss Jami
58. "You. My soulmate." – Unknown
59. "Giving someone a piece of your soul is better than giving a piece of your heart. Because souls are eternal." – Helen Boswell
60. "Soul mates are muses. The people in your life you despise, disrespect, and desire the most." – Coco J. Ginger
61. "What greater thing is there for two human souls than to feel that they are joined to strengthen each other, to be at one with each other in silent unspeakable memories." – George Eliot
62. "If we'd never met, I think I would have known my life wasn't complete. And I would have wandered the world in search of you, even if I didn't know who I was looking for." ― Nicholas Sparks
63. "The soulmate is what we aspire to and like to understand about ourself, is what we deem to be perfection, purity, and endless love." – Sorin Cerin
64. "In any soul mate relationship, you will need to let go of the illusion that there is a perfect person waiting for you who will fulfill your every expectation and give your personality everything it desires once you are together. Do not expect your ideal soul mate to be someone who is always loving and easy to get along with, who agrees with everything you say or do, and who brings you a life of ease/comfort." – Sanaya Roman
65. "Lands can be separated by the ocean, but souls can't be separated by anything." – Unknown
66. "Your soulmate will be the stranger you recognize." – r.h. Sin
67. "In all the world, your heart is the only one for me. In all the world, my love for you is incomparable. You and I are true soulmates." – Unknown
68. "When you have found your soulmate, you will love him/her in numberless forms, numberless times….in this life and after this life, in age after age, forever." – Unknown
69. "A soulmate is someone to whom we feel profoundly connected, as though the communicating and communing that take place between us were not the product of intentional efforts, but rather a divine grace." – Thomas Moore
70. "Whatever our souls are made of, his and mine are the same." – Emily Bronte
Check out Intimacy Quotes and Respect Quotes