Life truly is an adventure and these 75 life journey quotes contain the perfect words for helping us along the way!
As a lot of these quotes about journeys explain, it's easy to get focused on the end goal or destination when really there is a lot we can learn about ourselves along the way! Starting a new journey in life can be daunting, but fear not!
If you love our work, please consider sharing your favorite image on Pinterest!
Journey Quotes
1. "A journey of a thousand miles begins with a single step."– Lao Tzu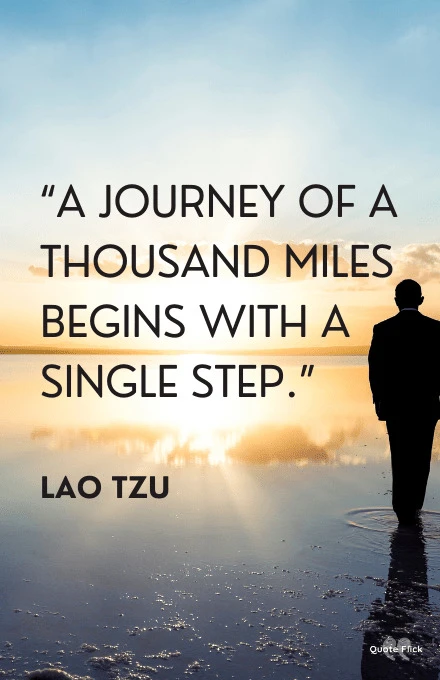 2. "A journey is a person in itself; no two are alike. And all plans, safeguards, policing, and coercion are fruitless. We find that after years of struggle that we do not take a trip; a trip takes us." – John Steinbeck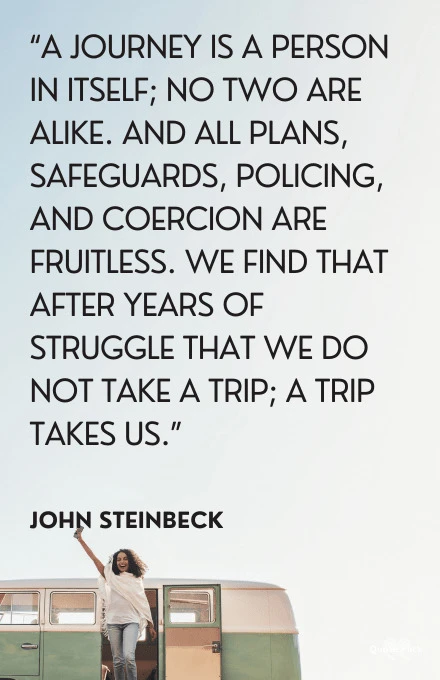 3. "Life is a journey, and if you fall in love with the journey, you will be in love forever." – Peter Hagerty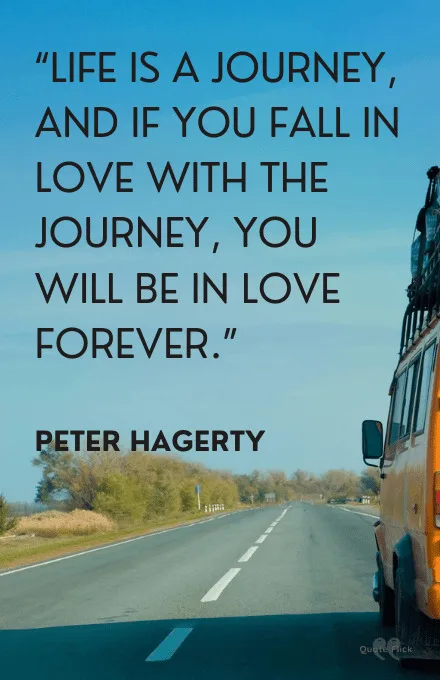 4. "The journey between what you once were and who you are now becoming is where the dance of life really takes place." – Barbara De Angelis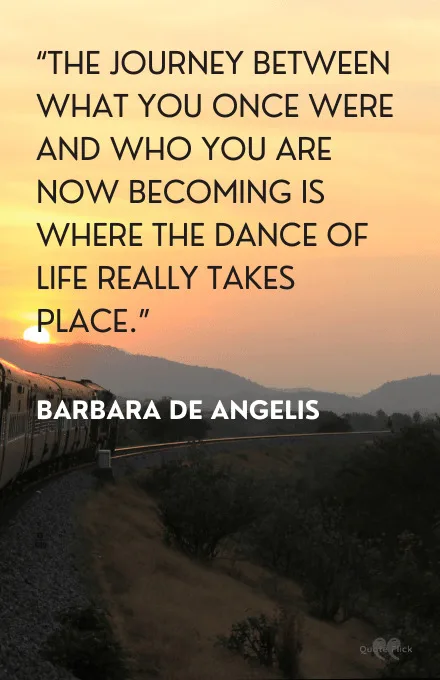 5. "Sometimes it's the journey that teaches you a lot about your destination." – Drake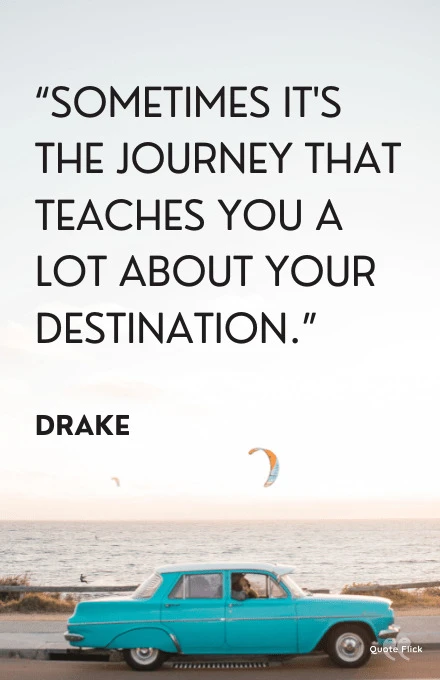 6. "If you can't fly, then run, if you can't walk run, then walk, if you can't walk, then crawl, but by all means keep moving." – Martin Luther King Jr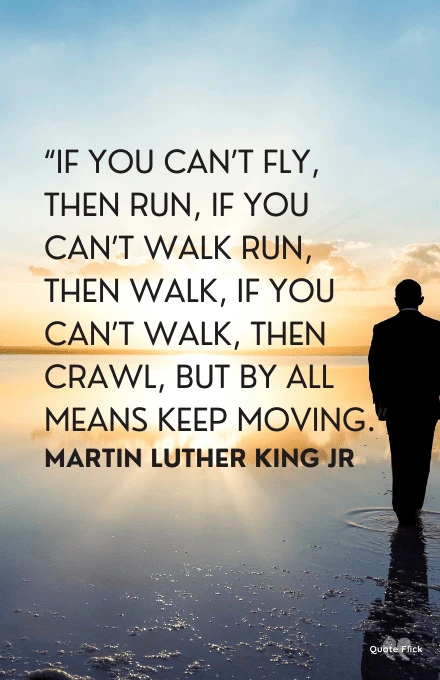 7. "The only journey is the one within." – Rainer Maria Rilke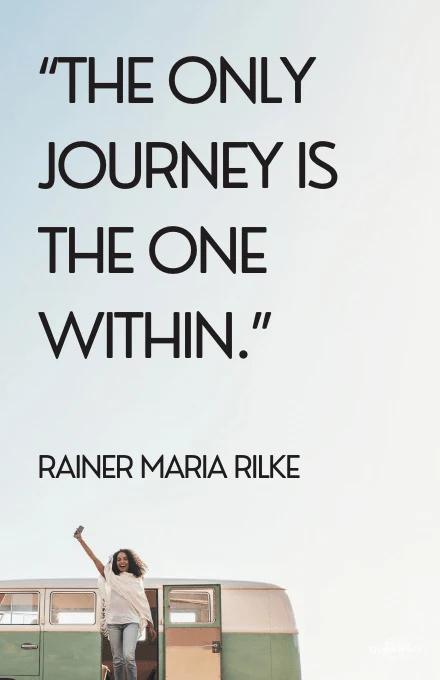 8. "Focus on the journey, not the destination. Joy is found not in finishing an activity but in doing it." – Greg Anderson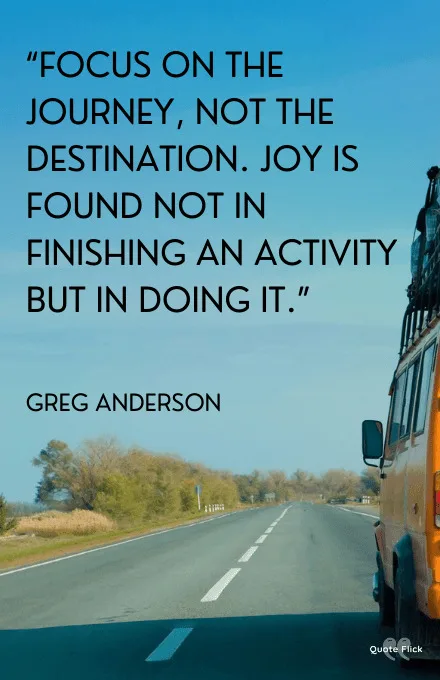 9. "Sometimes it's worth lingering on the journey for a while before getting to the destination." – Richelle Mead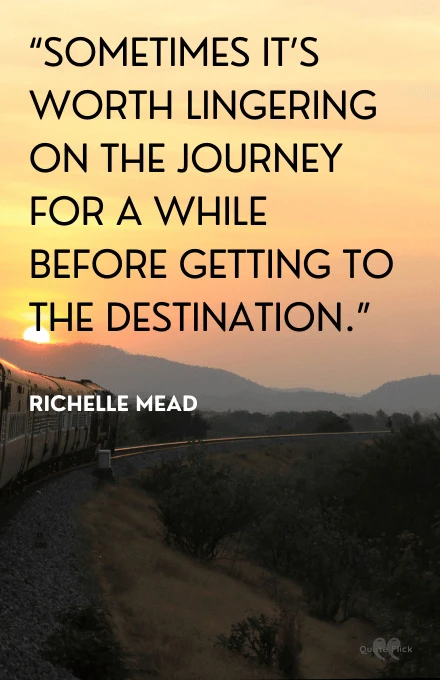 10. "The only impossible journey is the one you never begin." – Tony Robbins
Have you seen our Quotes About Exploring and Quotes About Change?
11. "It has been a great journey from where I have started to where I am today. I am really blessed with God's grace." – Dhanush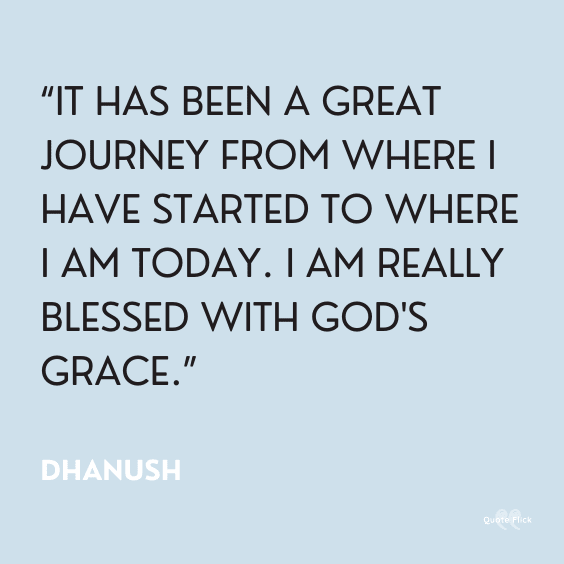 12. "You take a step, then another. That's the journey. But to take a step with your eyes open is not a journey at all, it's a remaking of your own mind." – Card, Orson Scott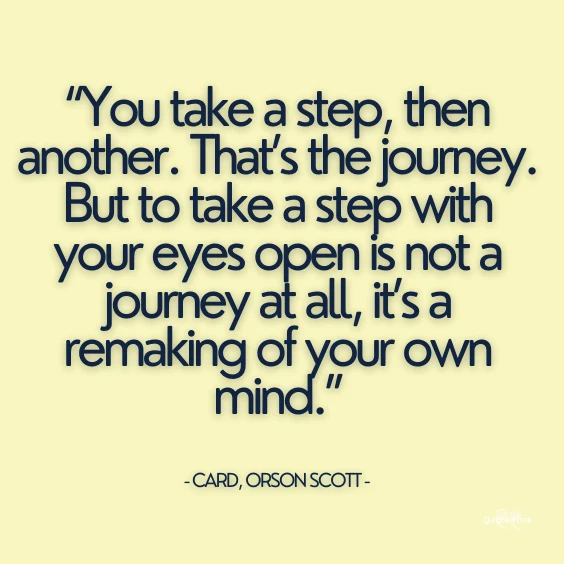 13. "Life is a journey, it's not where you end up but it's how you got there."– Unknown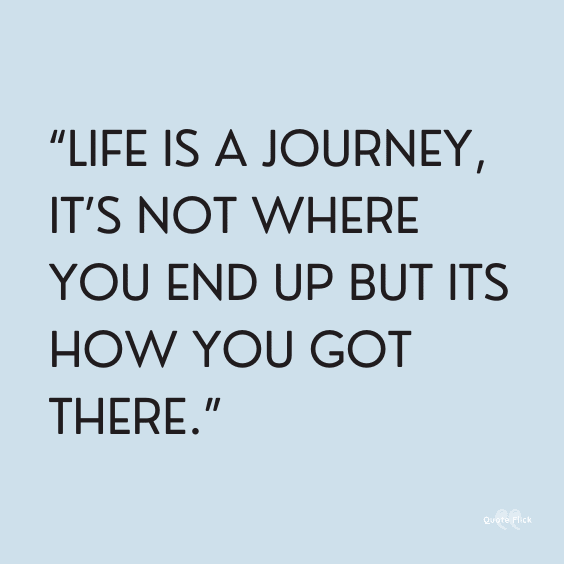 14. "Sometimes the longest journey we make is the sixteen inches from our heads to our hearts." – Elena Avila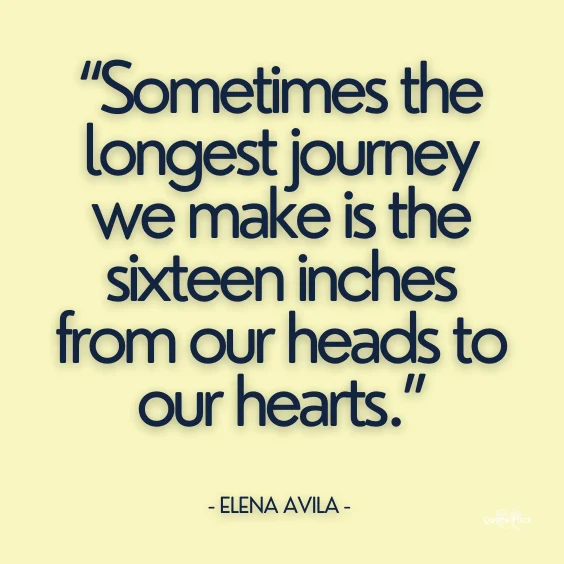 15. "Life is a journey that must be traveled no matter how bad the roads and accommodations." – Oliver Goldsmith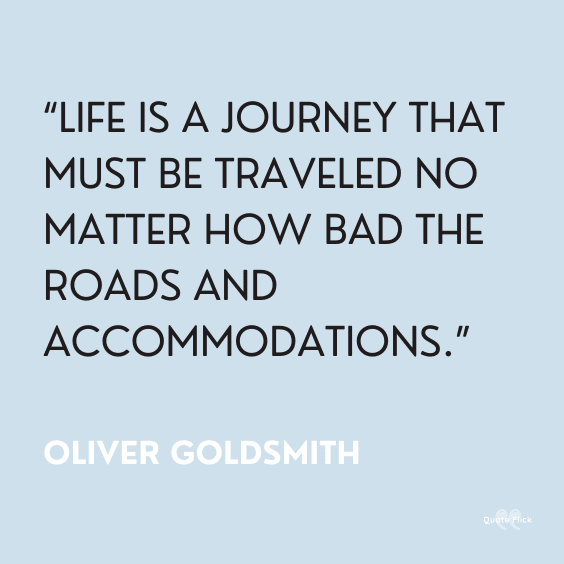 16. "Life is a journey. When we stop, things don't go right." – Pope Francis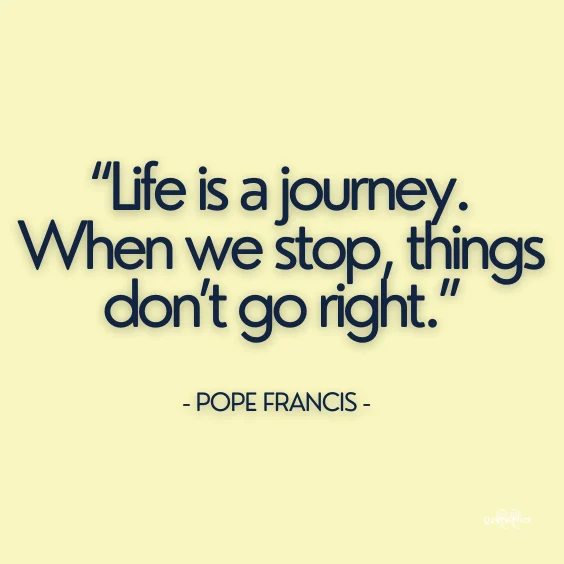 17. "Believe me, my journey has not been a simple journey of progress. There have been many ups and downs, and it is the choices that I made at each of those times that have helped shape what I have achieved." – Satya Nadella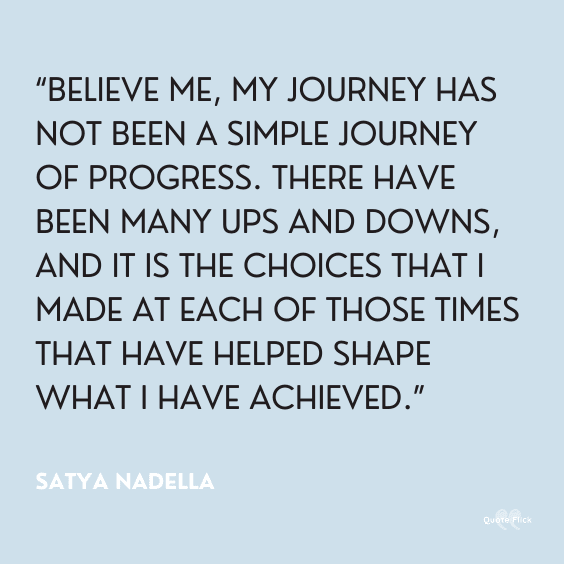 18. "It is good to have an end to journey toward; but it is the journey that matters, in the end." – Ursula K. Le Guin, The Left Hand of Darkness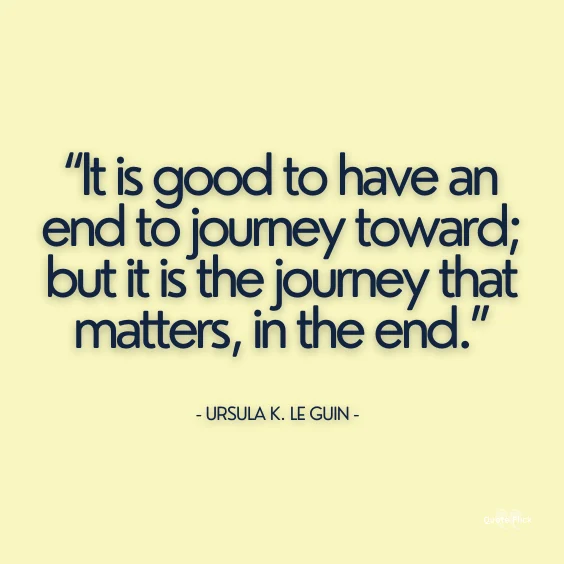 19. "Good company in a journey makes the way seem shorter." – Izaak Walton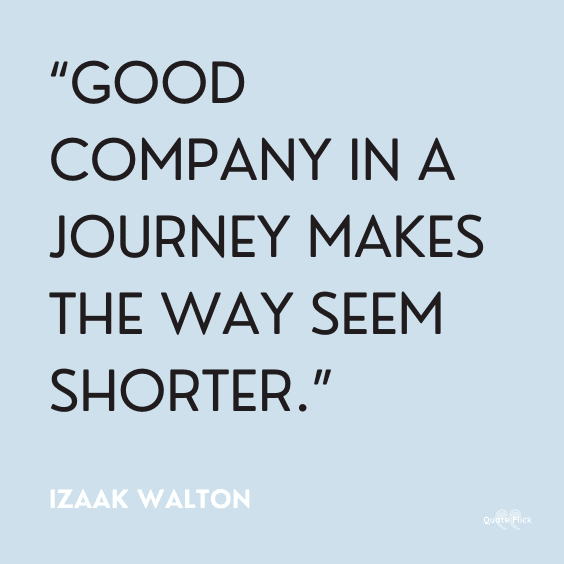 20. "We must go beyond textbooks, go out into the bypaths and untrodden depths of the wilderness and travel and explore and tell the world the glories of our journey." – John Hope Franklin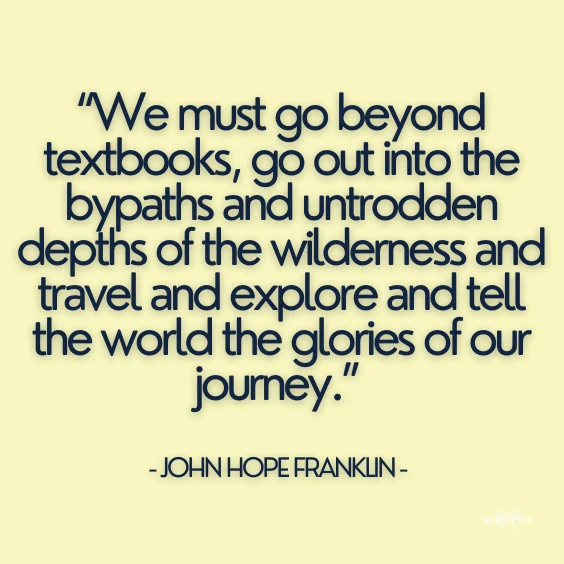 Check out our Wise Quotes and Attitude Quotes to help you along life's journey!
21. "Life is a journey, travel it well." – Unknown
22. "We are all born alone and die alone. The loneliness is definitely part of the journey of life." – Jenova Chen
23. "Every day is a journey, and the journey itself is home." – Matsuo Basho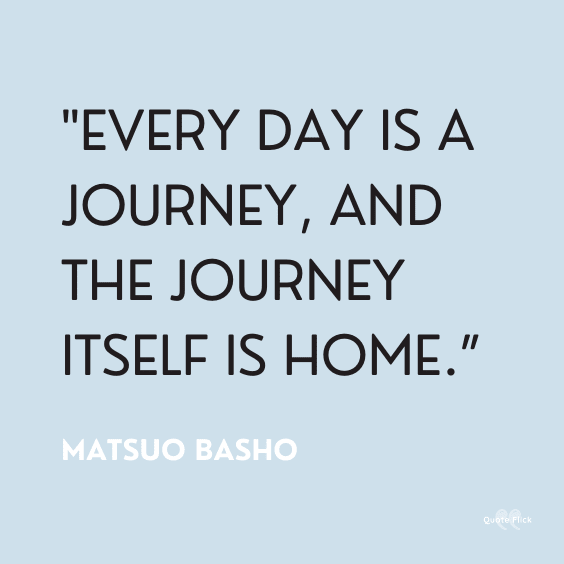 24. "Everybody has their own story; everybody has their own journey." – Thalia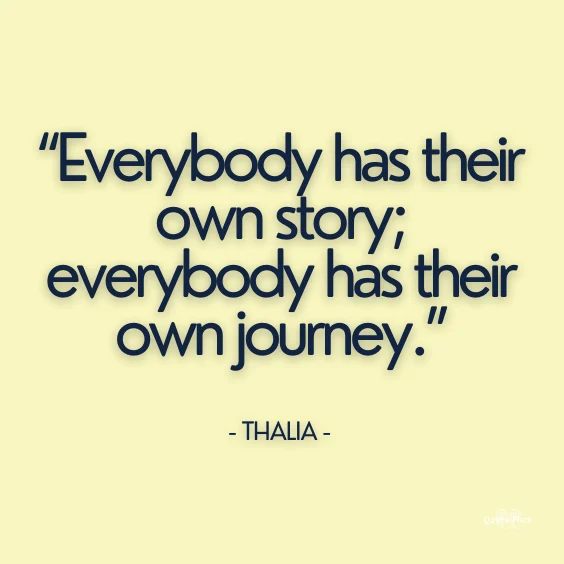 25. "To travel is to take a journey into yourself." – Danny Kaye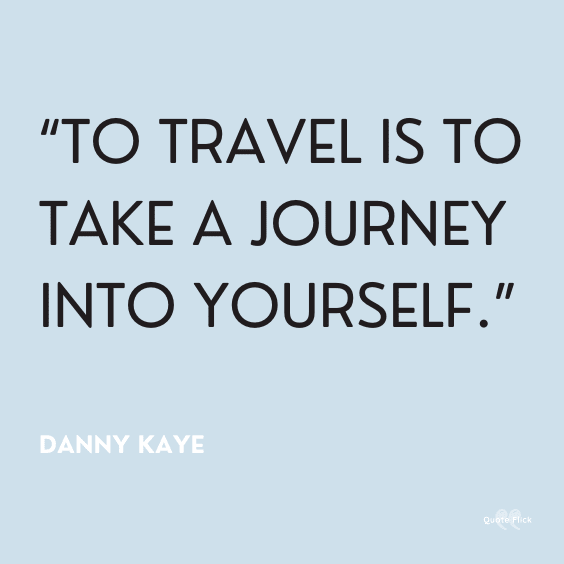 26. "People don't take trips, trips take people." – John Steinbeck
27. "Life is a journey filled with unexpected miracles." – Unknown
28. "The journey not the arrival matters." – T.S. Eliot
29. "The journey is the reward."– Tao Expression
30. "It's not an easy journey, to get to a place where you forgive people. But it is such a powerful place, because it frees you." – Tyler Perry
31. "I tramp a perpetual journey." – Walt Whitman
32. "Let your mind start a journey thru a strange new world. Leave all thoughts of the world you knew before. Let your soul take you where you long to be…Close your eyes let your spirit start to soar, and you'll live as you've never lived before." – Erich Fromm
33. "Life is either a daring adventure or nothing at all." – Helen Keller
34. "Life is a journey and it's about growing and changing and coming to terms with who and what you are and loving who and what you are." – Kelly McGillis
35. "A journey is best measured in friends, rather than miles." – Jim Cahill
36. "Travel far enough, you meet yourself" – David Mitchell
37. "In order to complete our amazing life journey successfully, it is vital that we turn each and every dark tear into a pearl of wisdom, and find the blessing in every curse." – Anthon St. Maarten
38. "Some beautiful paths can't be discovered without getting lost." – Erol Ozan
39. "Always the journey, never the destination." – Simon Rattle
40. "The purpose of life, after all, is to live it, to taste experience to the utmost, to reach out eagerly and without fear for newer and richer experiences." – Eleanor Roosevelt
41. "I travel a lot; I hate having my life disrupted by routine."– Caskie Stinnett
42. "You take people, you put them on a journey, you give them peril, you find out who they really are." – Joss Whedon
43. "Life is a journey of either Fate or Destiny. Fate is the result of giving in to one's wounds and heartaches. Your Destiny unfolds when you rise above the challenges of your life and use them as Divine opportunities to move forward to unlock your higher potential."– Caroline Mys
44. "Success is a journey, not a destination. The doing is often more important than the outcome." – Arthur Ashe
45. "Life should not be a journey to the grave with the intention of arriving safely in a pretty and well-preserved body, but rather to skid in broadside in a cloud of smoke, thoroughly used up, totally worn out, and loudly proclaiming "Wow! What a Ride!" – Hunter S. Thompson
46. "It's funny how, in this journey of life, even though we may begin at different times and places, our paths cross with others so that we may share our love, compassion, observations, and hope. This is a design of God that I appreciate and cherish." – Steve Maraboli
47. "The perfect journey is never finished, the goal is always just across the next river, round the shoulder of the next mountain. There is always one more track to follow, one more mirage to explore." ― Rosita Forbes
48. "You take people, you put them on a journey, you give them peril, you find out who they really are." – Joss Whedon
49. "Travel doesn't become adventure until you leave yourself behind" – Marty Rubin
50. "I believe that life is a journey, often difficult and sometimes incredibly cruel, but we are well equipped for it if only we tap into our talents and gifts and allow them to blossom." – Les Brown
51. "Come dress yourself in love, let the journey begin." – Francesca da Rimini
52. "I made up my mind not to care so much about the destination, and simply enjoy the journey." – David Archuleta
53. "I travel because it makes me realize how much I haven't seen, how much I'm not going to see, and how much I still need to see." – Carew Papritz
54. "The best part of life is to decide to make the journey through life like a best-selling book. Tell a fantastic story when you are ready to tell others how you did it. Make sure life is the best story ever written through a journey filled with overcoming obstacles, taking risks, and continuing to develop." – Catherine Pulsifer
55. "I try to keep in mind that it's a long journey. It's not a race. It's about staying focused, continuing to do good work, make my family and community proud; that's all I really want to do… and pay my bills." – Gina Rodriguez
56. "The world makes way for the man who knows where he is going." – Ralph Waldo Emerson
57. "If the journey you're traveling seems too farfetched and wild beyond your imagination; continue on it, great things come to the risk-takers. And last but not least, live today; here, right now, you'll thank your future self for it later." – Nikki Rowe
58. "The journey was a surreal dream. This world was about knowing the person you'd always wanted to be and setting your foot down to it, remembering the person you'd thought you were as a child and rejoicing in its living, breathing actuality." – Christopher Hawke, Unnatural Truth
59. "We have stories to tell, stories that provide wisdom about the journey of life. What more have we to give one another than our 'truth' about our human adventure as honestly and as openly as we know how?" – Rabbi Saul Rubin
60. "Winning and losing isn't everything; sometimes, the journey is just as important as the outcome." – Alex Morgan
61. "It's not so much the journey that's important; as is the way that we treat those we encounter and those around us, along the way." – Jeremy Aldana
62. "There are no foreign lands. It is the traveler only who is foreign"– Robert Louis Stevenson
63. "Life's a journey, not a race." – Unknown
64. "The truth of course is that there is no journey. We are arriving and departing all at the same time." – David Bowie
65. "Sometimes you don't know when you're taking the first step through a door until you're already inside." – Ann Voskamp
66. "Two roads diverged in a wood and I – I took the one less traveled by, and that has made all the difference"– Robert Frost
67. "We don't receive wisdom; we must discover it for ourselves after a journey that no one can take for us or spare us." – Marcel Proust
68. "On your journey, don't forget to smell the flowers. Take time out to notice that you're alive. You can only live in one day." – Ray Fearon
69. "There are some places in life where you can only go alone. Embrace the beauty of your solo journey."- Mandy Hale
70. "We wander for distraction but we travel for fulfillment" – Hilaire Belloc
71. "All journeys have secret destinations of which the traveler is unaware." – Martin Buber
72. "I'm really thankful to everyone who has been part of my journey." – D. Imman
73. "We may run, walk, stumble. drive, or fly, but let us never lose sight of the reason for the journey, or miss a chance to see a rainbow on the way." – Gloria Gaither
74. "One's destination is never a place but rather a new way of looking at things" – Henry Miller
75. "Travel isn't always pretty. It isn't always comfortable. Sometimes it hurts, it even breaks your heart. But that's okay. The journey changes you—it should change you. It leaves marks on your memory, on your consciousness, on your heart, and on your body. You take something with you… Hopefully, you leave something good behind." – Anthony Bourdain
Have you seen our Meditation Quotes or Zen Quotes?
Holly Jaskolka is a certified Emotional Freedom Technique (EFT) practitioner, yoga instructor, and an impassioned advocate for holistic well-being. Fueled by her love for animals and wanderlust, Holly leads a plant-based lifestyle that she complements with immersive travel experiences. When she's not jet-setting to uncover the world's hidden gems, she's empowering individuals to heal emotionally, particularly those grappling with the aftermath of breakups. Connect with Holly on LinkedIn.