It's time to get deep with our fascinating collection of over 100 wise quotes. If you're looking to broaden your horizons, grow your mind, and reach owl-like levels of wisdom; you've come to the right place!
When handling challenges, we can all benefit from wise words given by people who have experienced the highs and lows of life and come through stronger.
Whether from the great Greek philosophers like Plato, or influential figures like Mahatma Gandhi, these words of wisdom are perfect to give you inspiration and a fresh perspective!
If you love these sayings and proverbs, please share your favorite image on Pinterest!
Wise Quotes
1. "It is the mark of an educated mind to be able to entertain a thought without accepting it." – Aristotle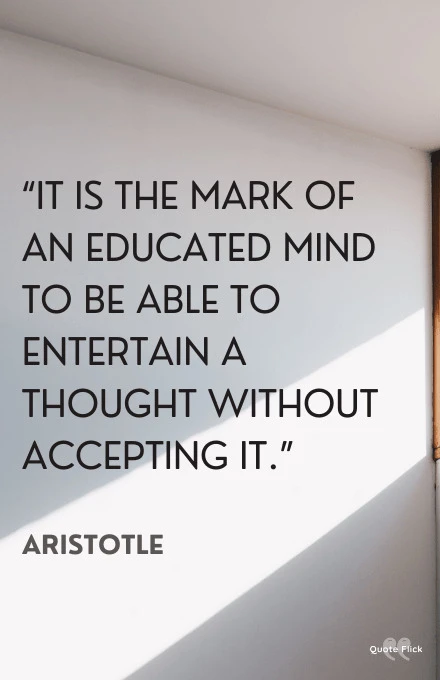 2. "And in the end, it's not the years in your life that count. It's the life in your years." – Abraham Lincoln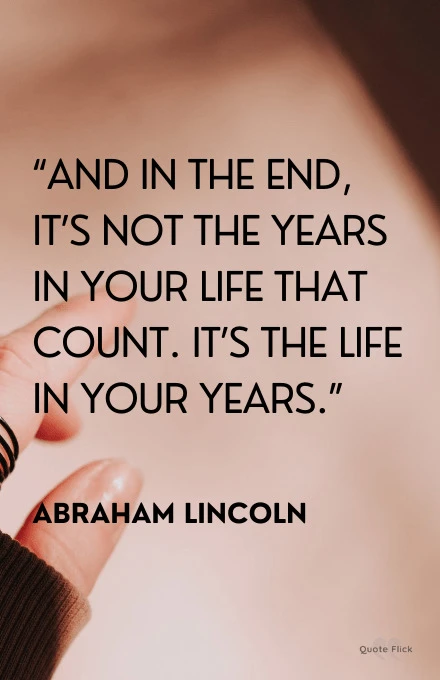 3. "Our prime purpose in this life is to help others. And if you can't help them, at least don't hurt them." – Dalai Lama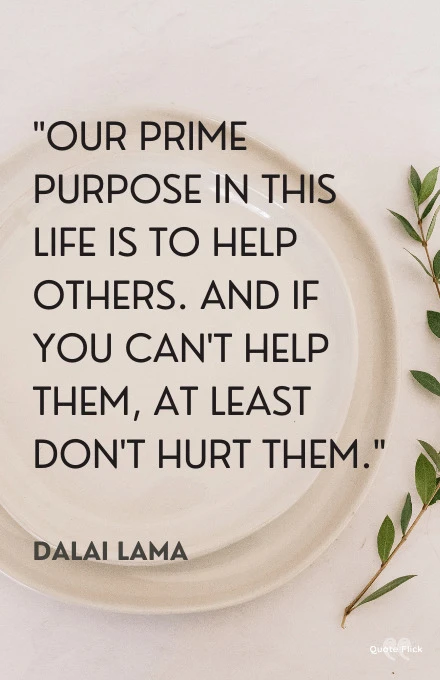 4. "When you love yourself, you love others and can act with the best of intentions every day." – Unknown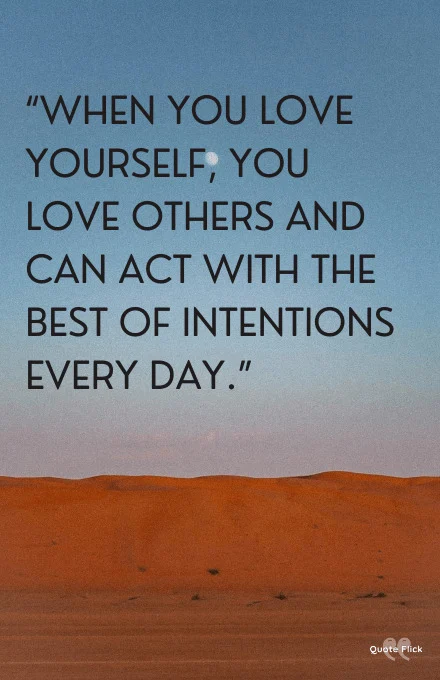 5. "Knowledge is the treasure of a wise man." – William Penn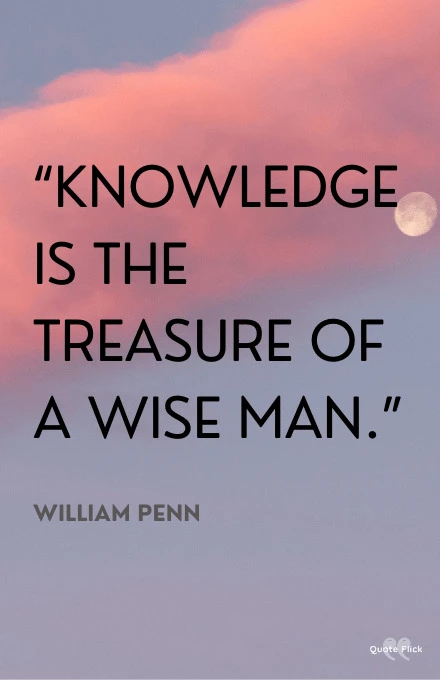 You Might Also Like:
6. "Life is ten percent what happens to you and ninety percent how you respond to it." – Lou Holtz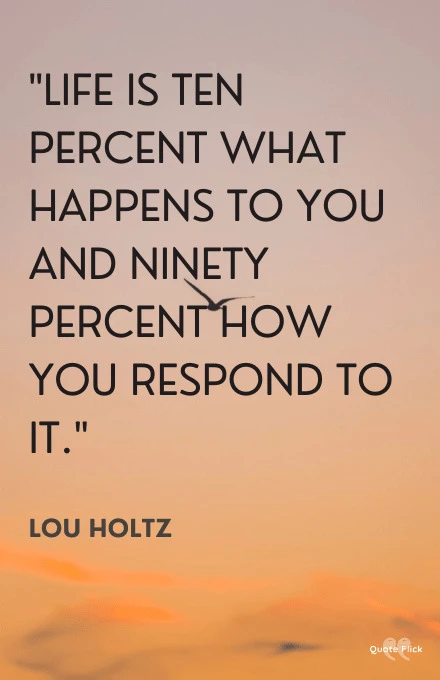 7. "You may never know what results come of your actions, but if you do nothing, there will be no results." – Mahatma Gandhi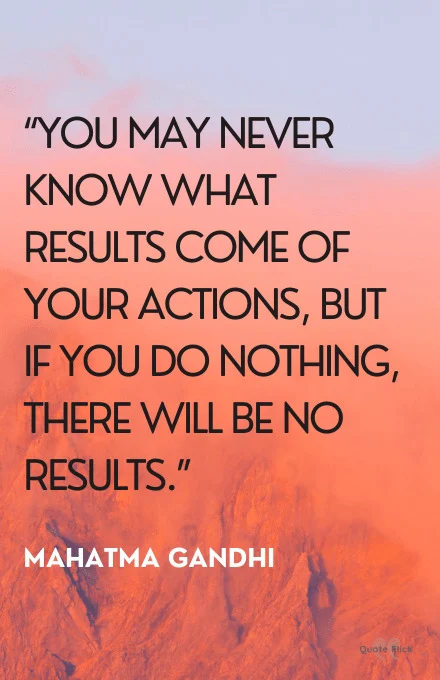 8. "Self-Improvement and success go hand in hand. Taking the steps to make yourself a better and more well-rounded individual will prove to be a wise decision." – Frank Long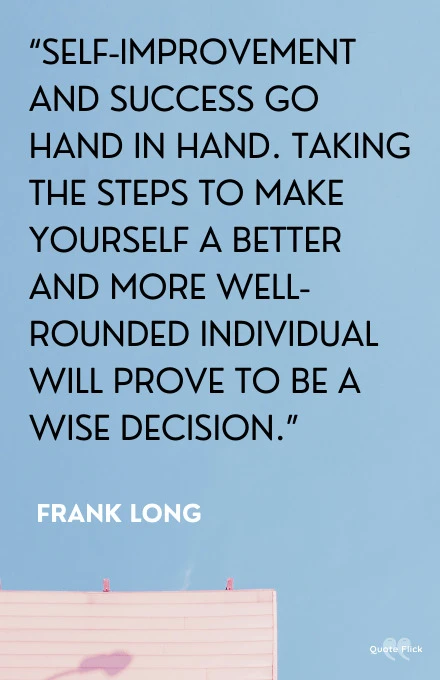 9. "Will people ever be wise enough to refuse to follow bad leaders or to take away the freedom of other people?" – Eleanor Roosevelt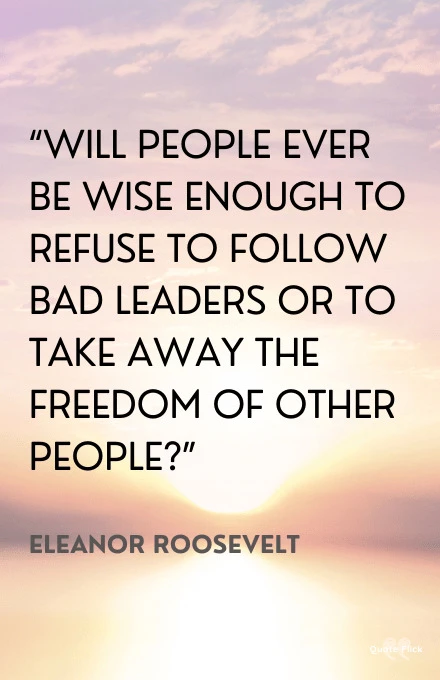 10. "The man who asks a question is a fool for a minute, the man who does not ask is a fool for life." – Confucius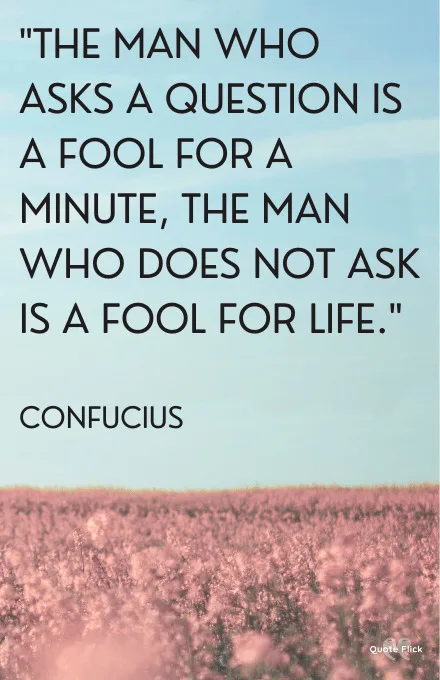 Have you read our related words; Quotes To Live By and Zen Quotes?
11. "Life is not a problem to be solved, but a reality to be experienced." – Soren Kierkegaard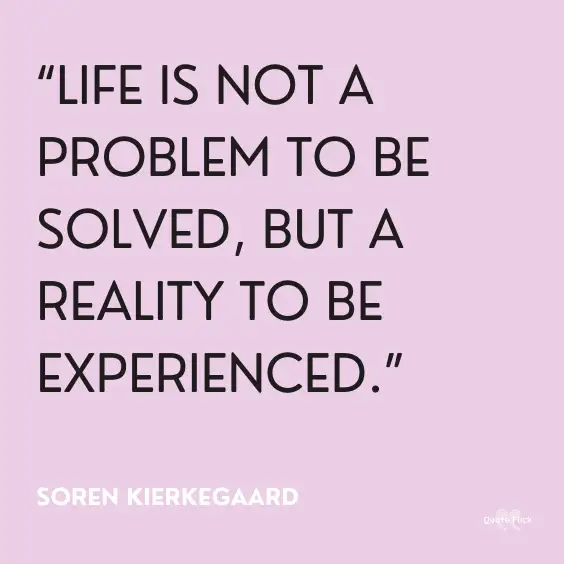 12. "When someone loves you, the way they talk about you is different. You feel safe and comfortable." – Jess C. Scott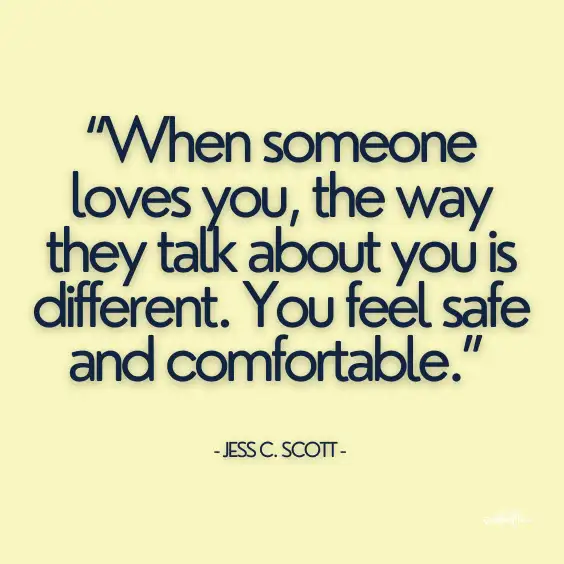 13. "Believe that life is worth living and your belief will help create the fact." – William James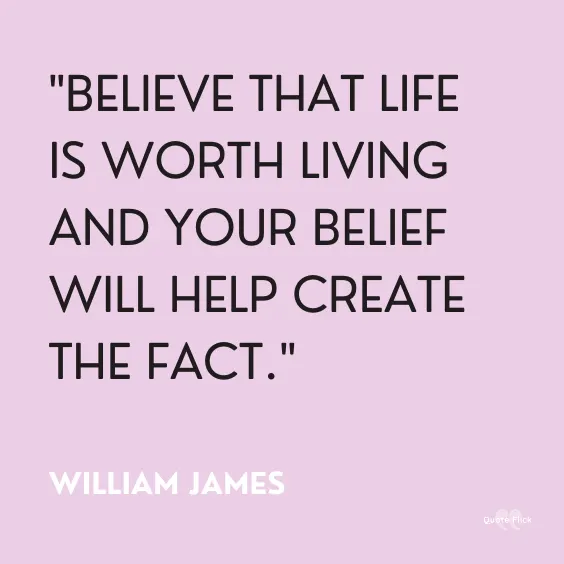 14. "Wise men speak because they have something to say; fools because they have to say something." – Plato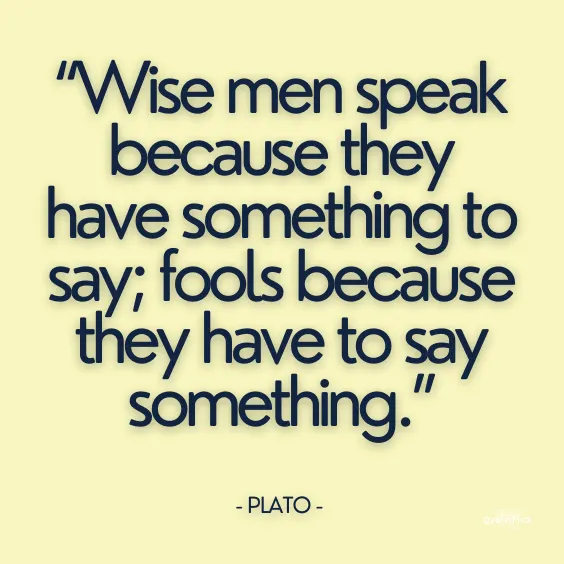 15. "The wise person feels the pain of one arrow. The unwise feels the pain of two." – Kate Carne
16. "If you do not have control over your mouth, you will not have control over your future." – Germany Kent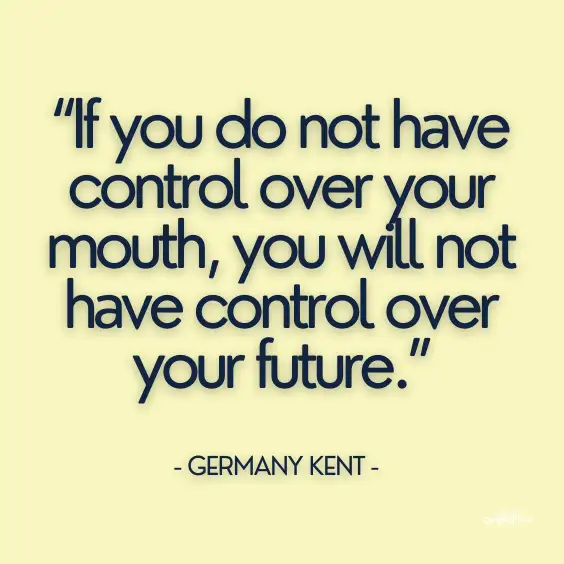 17. "Do the difficult things while they are easy and do the great things while they are small. A journey of a thousand miles must begin with a single step." – Lao Tzu
18. "What we think determines what happens to us, so if we want to change our lives, we need to stretch our minds." – Wayne Dyer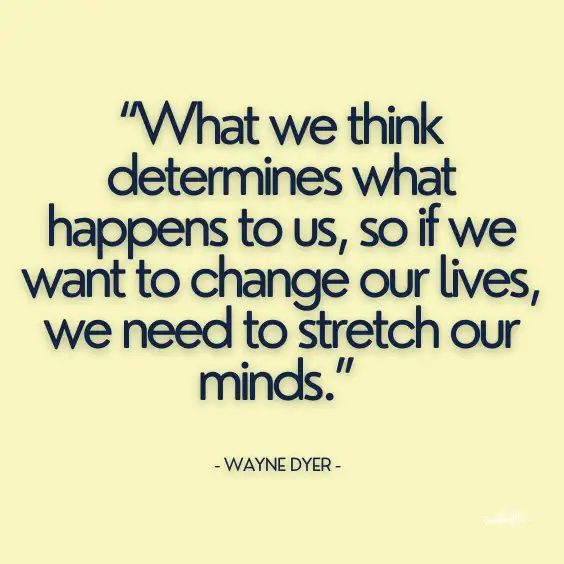 19. "I demolish my bridges behind me…then there is no choice but to move forward." – Fridtjof Nansen
20. "Wise men, when in doubt whether to speak or to keep quiet, give themselves the benefit of the doubt, and remain silent." – Napoleon Hill
Have you seen our Quotes About Positivity and Quotations on Patience?
21. "The only disability in life is a bad attitude." – Scott Hamilton
22. "The stupid neither forgive nor forget; the naive forgive and forget; the wise forgive but do not forget." – Thomas Stephen Szasz
23. "When looking for wise words, the best ones often come from our elders." – Catherine Pulsifer
24. "It is not because things are difficult that we do not dare; it is because we do not dare that things are difficult." – Seneca
25. "Life isn't about finding yourself. Life is about creating yourself." – George Bernard Shaw
26. "I moaned because I had no shoes until I met a man who had no feet." – Rotzooi
27. "Too often we underestimate the power of a touch, a smile, a kind word, a listening ear, an honest compliment, or the smallest act of caring, all of which have the potential to turn a life around." – Leo Buscaglia
28. "We tend to think of great thinkers and innovators as soloists, but the truth is that the greatest innovative thinking doesn't occur in a vacuum. Innovation results from collaboration."  – John C. Maxwell
29. "You've heard that it's wise to learn from experience, but it is wiser to learn from the experience of others." – Rick Warren
30. "Nothing is impossible, the word itself says 'I'm possible!" –  Audrey Hepburn
Check out Patience Quotes and Quotes About Change
31. "The only true wisdom is in knowing you know nothing." – Socrates
32. "There is more to life than increasing its speed." – Mahatma Gandhi
33. "When you have exhausted all possibilities, remember this – you haven't." – Thomas Edison
34. "Look for the answer inside your question." – Rumi
35. "Some of us think holding on makes us strong, but sometimes it is letting go." –  Hermann Hesse
36. "No other being is lesser human than the one who thinks of others as such." – Abhijit Naskar
37. "Waste no more time arguing about what a good man should be. Be one." – Marcus Aurelius
38. "Change is the law of life. And those who look only to the past or present are certain to miss the future." – John F. Kennedy
39. "Keep smiling… It makes people wonder what you've been up to." – Annmarie
40. "There are three constants in life…change, choice and principles." – Stephen Covey
41. "As a wise man once said, 'If not us, then who; if not now, then when?" – Michael Jackson
42. "Don't waste your time with explanations, people only hear what they want to hear." – Paulo Coelho
43. "In the midst of chaos, there is also opportunity." – Sun Tzu
44. "Only a life lived for others is a life worthwhile." – Albert Einstein
45. "But just because you bury something, that doesn't mean it stops existing." – Jenny Han
46. "Life's most persistent and urgent question is, 'What are you doing for others?" – Martin Luther King Jr.
47. "God is too good to be unkind, too wise to be mistaken; and when you cannot trace His hand, you can trust His heart." – Charles H. Spurgeon
48. "To make difficult decisions wisely, it helps to have a systematic process for assessing each choice and its consequences – the potential impact on each aspect of your life." – Stedman Graham
49. "Happiness and freedom begin with one principle. Some things are within your control and some are not." – Epictetus
50. "We make a living by what we get, but we make a life by what we give." – Winston Churchill
51. "In the end, we will remember not the words of our enemies, but the silence of our friends."- Martin Luther King Jr.
52. "God gave us the gift of life; it is up to us to give ourselves the gift of living well." – Voltaire
53. "Know how to listen and you will profit even from those who talk badly." – Plutarch
54. "My mission in life is not merely to survive, but to thrive; and to do so with some passion, some compassion, some humor, and some style." – Maya Angelou
55. "Never argue with an idiot they'll drag you down to their level and beat you through experience." – Katrina
56. "All life is an experiment. The more experiments you make the better." – Ralph Waldo Emerson
57. "Everyday is a new life to a wise man." – Dale Carnegie
58. "To be wise, we must seek Jesus, for we will not find wisdom apart from him." – Kim Brenneman
59. "I've failed over and over and over again in my life and that is why I succeed." – Michael Jordan
60. "Do not say a little in many words but a great deal in few." – Pythagoras
61. "The quality of a person's life is in direct proportion to their commitment to excellence, regardless of their chosen field of endeavor." – Vince Lombardi
62. "There isn't any questioning the fact that some people enter your life, at the exact point of need, want or desire – it's sometimes a coincidence and most times fate, but whatever it is, I am certain it came to make me smile." – Nikki Rowe
63. "There is no passion to be found playing small–in settling for a life that is less than the one you are capable of living." – Nelson Mandela
64. "We study history not to be clever in another time, but to be wise always." – Marcus Tullius Cicero
65. "What you do and say lives on in the hearts and minds of others, to some degree, with a definite result or consequence." –  Charles F. Stanley
66. "Happy is the man who has broken the chains which hurt the mind and has given up worrying once and for all." – Ovid
67. "In three words I can sum up everything I've learned about life: it goes on." – Robert Frost
68. "Why do we kill people who kill people to show people that killing people is wrong???" – Unknown
69. "If you don't design your own life plan, chances are you'll fall into someone else's plan. And guess what they have planned for you? Not much." – Jim Rohn
70. "There are three things all wise men fear: the sea in storm, a night with no moon, and the anger of a gentle man." – Patrick Rothfuss
71. "Every generation imagines itself to be more intelligent than the one that went before it, and wiser than the one that comes after it." – George Orwell
72. "Knowledge is learning something every day. Wisdom is letting go of something every day." – Zen Proverb
73. "You will not be punished for your anger; you will be punished by your anger." – Gautama Buddha
74. "A fool thinks himself to be wise, but a wise man knows himself to be a fool." – William Shakespeare
75. "Literature adds to reality, it does not simply describe it. It enriches the necessary competencies that daily life requires and provides; and in this respect, it irrigates the deserts that our lives have already become." – C. S. Lewis
76. "The foolish man seeks happiness in the distance; the wise grows it under his feet." – James Oppenheim
77. "So in everything, do to others as you would have them do to you, for this sums up the Law and the Prophets." – Jesus Christ
78. "I believe in only one thing, the power of human will." – Joseph Stalin
79. "Be wise today so you don't cry tomorrow." – E.A. Bucchianeri
80. "The most difficult thing is the decision to act, the rest is merely tenacity. The fears are paper tigers. You can do anything you decide to do. You can act to change and control your life; and the procedure, the process is its own reward." – Amelia Earhart
81. "A wise man can learn more from a foolish question than a fool can learn from a wise answer." – Bruce Lee
82. "If we manage ego wisely, we get the upside it delivers followed by strong returns." –  Dave Marcum
83. "Never mistake knowledge for wisdom. One helps you make a living; the other helps you make a life." – Sandra Carey
84. "The wisest men follow their own direction." – Euripides
85. "True love is an irrevocable act – you can only give your heart away once – after that, you give as much as you have left …" – John Geddes
86. "Don't take life too seriously. You'll never get out of it alive." – Elbert Hubbard
87. "The art of being wise is the art of knowing what to overlook." – William James
88. "Meditation is about viewing the world with great clarity so you can make wise decisions. It will help you make the appropriate action with regard to things that you have to change." – Mia Conrad
89. "While we may not be able to control all that happens to us, we can control what happens inside us." – Benjamin Franklin
90. "A loving heart is the beginning of all knowledge." – Thomas Carlyle
91. "Self-pity is our worst enemy and if we yield to it, we can never do anything wise in this world." – Helen Keller
92. "Each life is made up of mistakes and learning, waiting and growing, practicing patience and being persistent." – Billy Graham
93. "Wise men change, fools stay the same." – Kevin Gates
94. "That is ever the difference between the wise and the unwise: the latter wonders at what are unusual; the wise man wonders at the usual." – Ralph Waldo Emerson
95. "Those who have a 'why' to live, can bear with almost any 'how'."– Viktor Frankl
96. "I am not what happened to me; I am what I choose to become." – C.G. Jung
97. "You shouldn't throw stones if you live in a glass house and if you got a glass jaw, you should watch yo mouth: cause I'll break yo face."- 50 Cent
98. "Each person must live their life as a model for others." –  Rosa Parks
99. "You can tell whether a man is clever by his answers. You can tell whether a man is wise by his questions." – Naguib Mahfouz
100. "Neither a wise man nor a brave man lies down on the tracks of history to wait for the train of the future to run over him." – Dwight D. Eisenhower
101. "Attitude, to me, is more important than money. It is more important than the future, the past, education, circumstances, failure, success, it is even more important than what other people think or say." –  Brad Hanson
102. "If you talk to a man in a language he understands, that goes to his head. If you talk to him in his language, that goes to his heart." – Nelson Mandela
103. "He who flees at the right time can fight again." – Marcus Trentius Varro
104. "I have no faith in human perfectability. I think that human exertion will have no appreciable effect upon humanity. Man is now only more active – not more happy – nor more wise, than he was 6000 years ago." – Edgar Allan Poe
105. "My philosophy of life is that if we make up our mind what we are going to make of our lives, then work hard toward that goal, we never lose–somehow we win out." – Ronald Reagan
106. "The wise man can change his mind; the stubborn one, never." – Immanuel Kant
107. "The legacy you leave is the life you lead. We lead our lives daily, and we leave a legacy daily – not some grand plan, what we do each and every day, all the little decisions because we never know what impact things will have or when you might have an impact." – Jim Kouzes
108. "Life isn't about finding yourself; it's about creating yourself. So live the life you imagined." – Henry David Thoreau
109. "Life is not about how fast you run or how high you climb, but how well you bounce." – Vivian Komori
110. "You can't be old and wise if you were never young and crazy." – Chris Brown
111. "Knowledge is the crown of the wise, folly is an inheritance of a fool." –  Vusi Mxolisi Zitha
112. "The two most important days in your life are the day you are born and the day you find out why." – Mark Twain
113. "They are called, "SELF-worth" and "SELF-esteem" for a reason… we can't let others decide what we are worth, that is so dangerous! Empower yourself!" – Jaeda DeWalt
114. "Transformation is a process, and as life happens there are tons of ups and downs. It's a journey of discovery–there are moments on mountaintops and moments in deep valleys of despair." – Rick Warren
115. "Silence is the sleep that nourishes wisdom." – Francis Bacon
116. "The nature of life is such that the fool does not always fail, nor is the wise man always successful." – Janice Manning
117. "You have your way. I have my way. As for the right way, the correct way, and the only way, it does not exist." – Friedrich Nietzsche
118. "The only thing I know is that I know nothing, and I am not quite sure that I know that." – Socrates
119. "Live life to the fullest, and focus on the positive." – Matt Cameron
120. "Suffering is part of our training program for becoming wise."  – Ram Dass
Enjoyed the quotes? Check out Attitude Quotes and Inspirational Quotes
Holly Jaskolka is a certified Emotional Freedom Technique (EFT) practitioner, yoga instructor, and an impassioned advocate for holistic well-being. Fueled by her love for animals and wanderlust, Holly leads a plant-based lifestyle that she complements with immersive travel experiences. When she's not jet-setting to uncover the world's hidden gems, she's empowering individuals to heal emotionally, particularly those grappling with the aftermath of breakups. Connect with Holly on LinkedIn.