Old Friends Quotes remind us of the beauty and value of your longtime best friends; friendships that have been with you since school, your mates that know you better than anyone! An old friend can know us so well, we've been through so much together and it is lovely to meet up, talk about memories and make new ones.
Making new friendships is fun, but nothing can beat the connection we have with our best mates from the past. Share these quotations and sayings about old friends with your favorite people to remind them how much they mean to you, and how you will cherish them for many more years. We hope you enjoy these phrases!
Old Friends Quotes
1. "Remember that the most valuable antiques are dear old friends." – H. Jackson Brown
2. "Say what you want about aging, it's still the only way to have old friends." – Robert Brault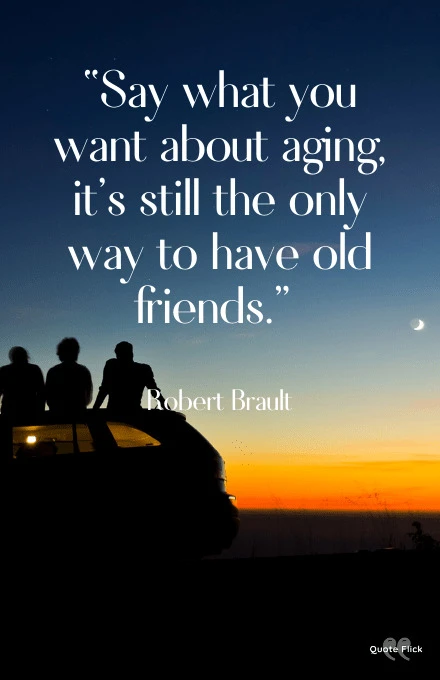 3. "Longtime friends are family that we choose." – Patrick Regan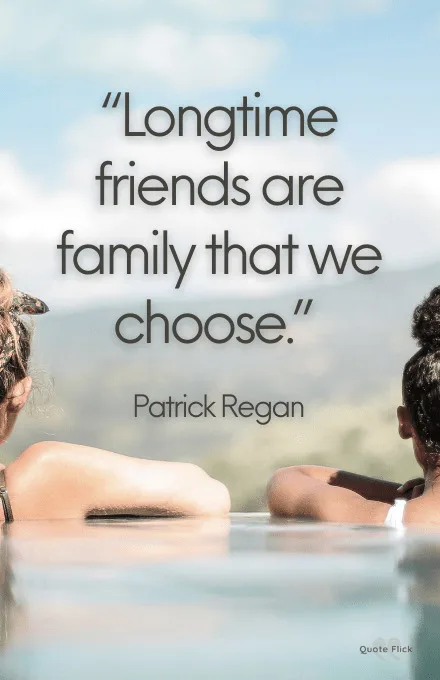 4. "I love everything that's old, – old friends, old times, old manners, old books, old wine." – Oliver Goldsmith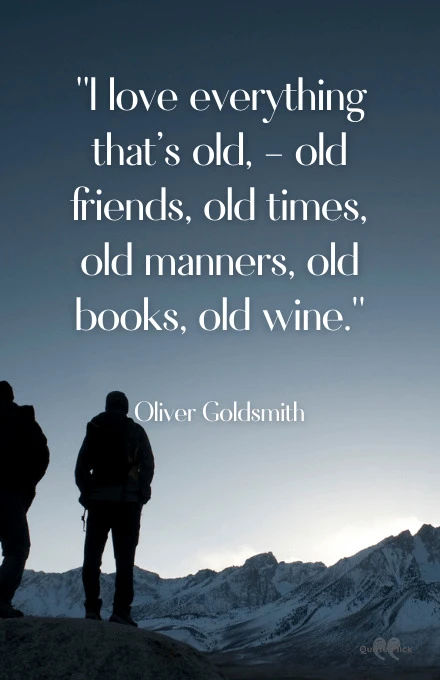 5. "It is one of the blessings of old friends that you can afford to be stupid with them." – Ralph Waldo Emerson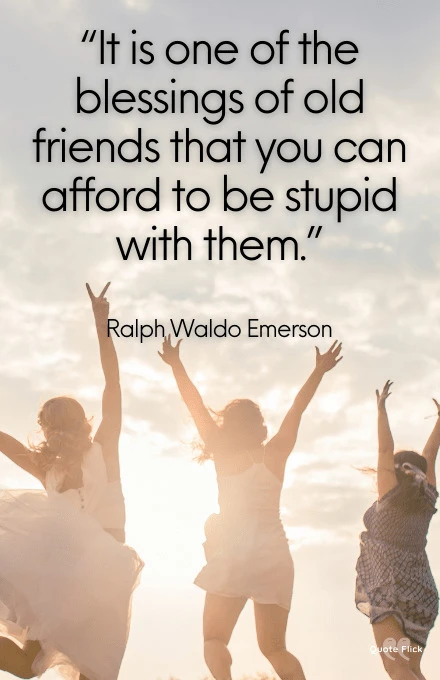 6. "The best mirror is an old friend." – George Herbert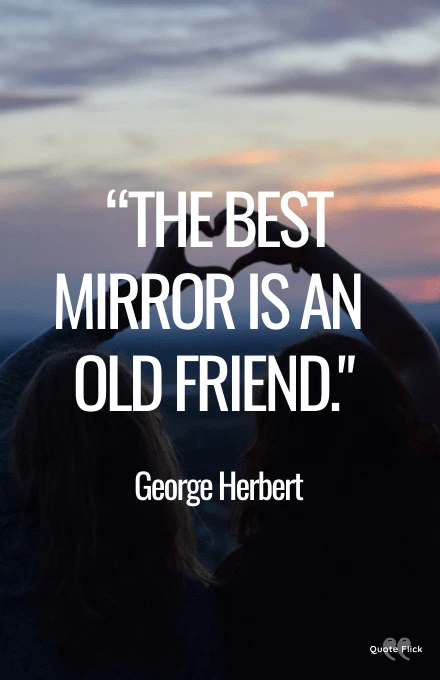 7. "You don't have to have anything in common with people you've known since you were five. With old friends, you've got your whole life in common." – Lyle Lovett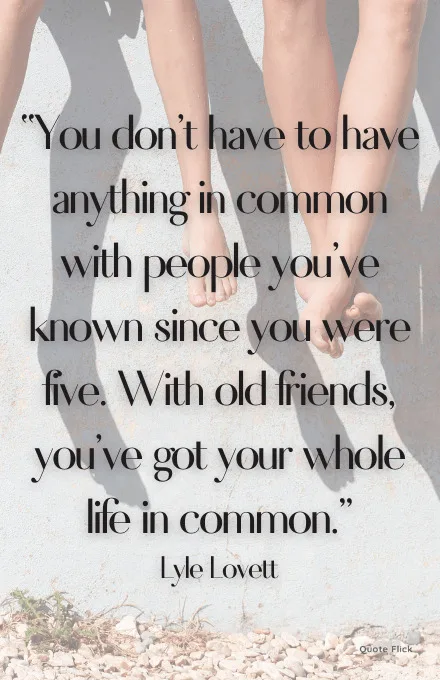 8. "There's not a word yet, for old friends who've just met." – Jim Henson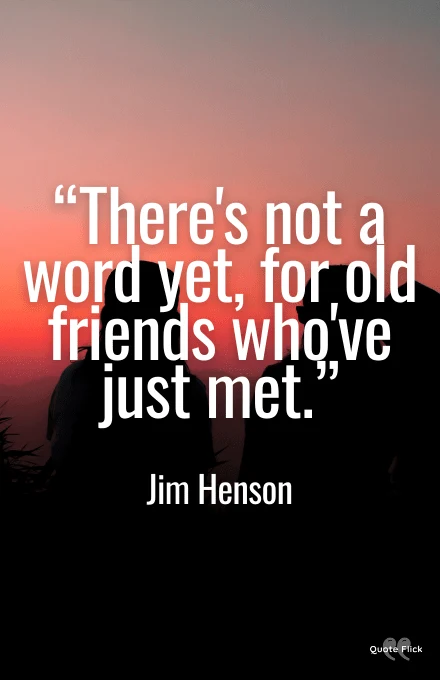 9. "There are no friends like the old friends." – Unknown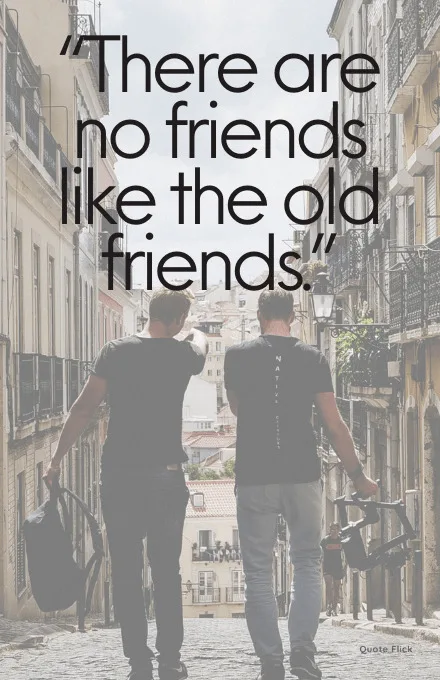 10. "As in the case of wines that improve with age, the oldest friendships ought to be the most delightful". – Cicero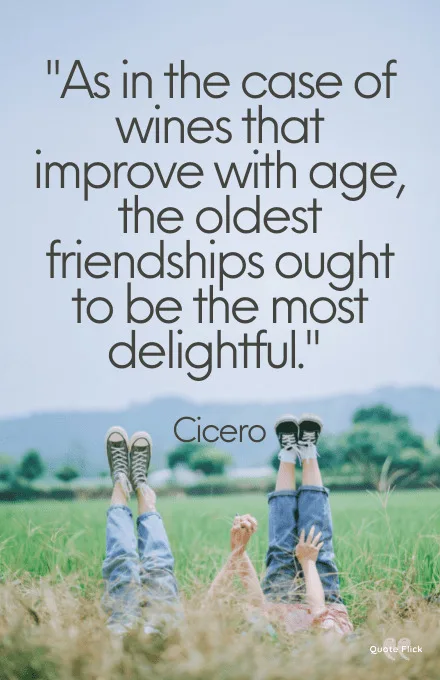 Have you taken a look at our Quotes About Growing Up and Quotes About Change?
11. "Finding an old friend is like finding a lost treasure." – Anthony Douglas Williams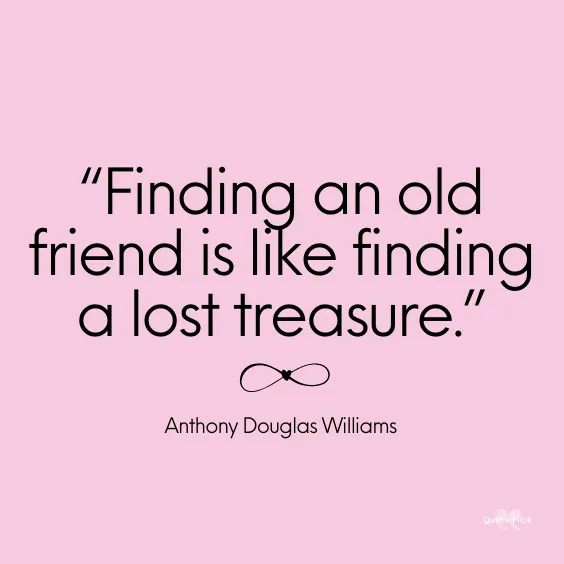 12. "Lay this unto your breast: Old friends, like old swords, still are trusted best." – John Webster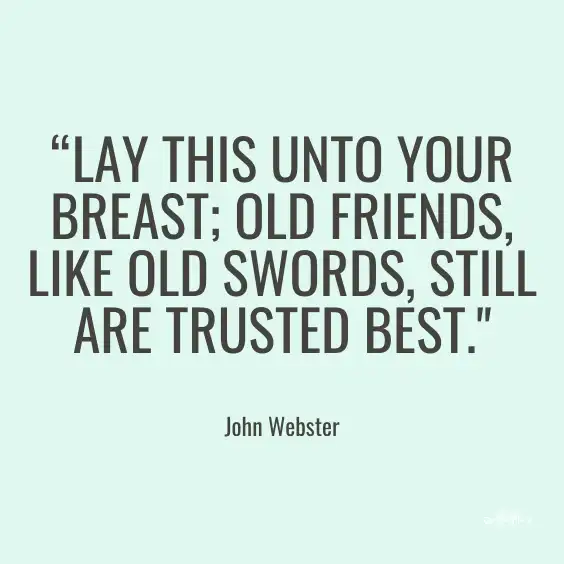 13. "Your heart and my heart are very, very old friends." – Hafez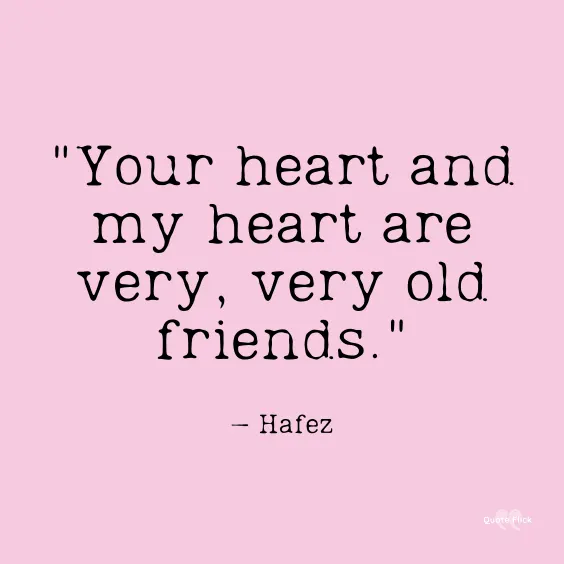 14. "Old friends are the great blessing of one's later years . . . They have a memory of the same events and have the same mode of thinking." – Horace Walpole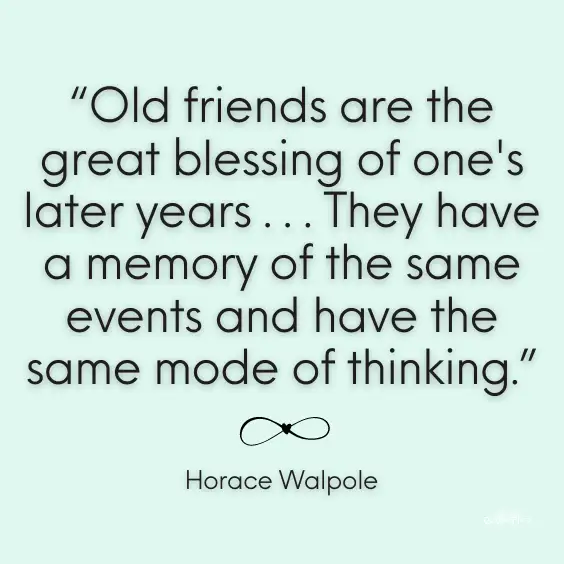 15. "Old friendships are timeless." – Unknown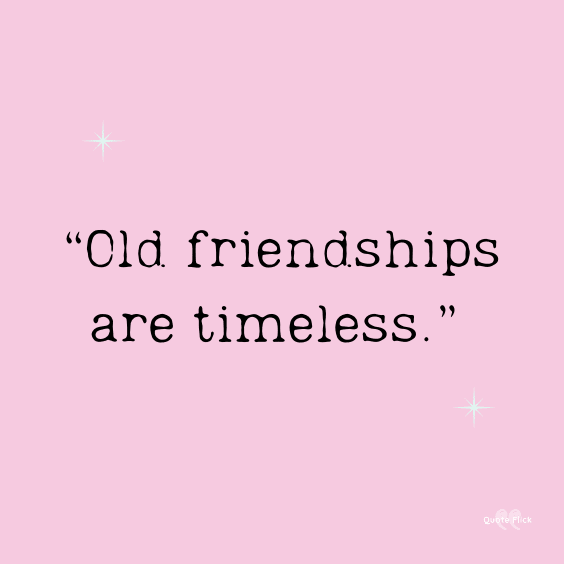 16. "When you hang out with old school friends and have a game of 'remember when'." – Unknown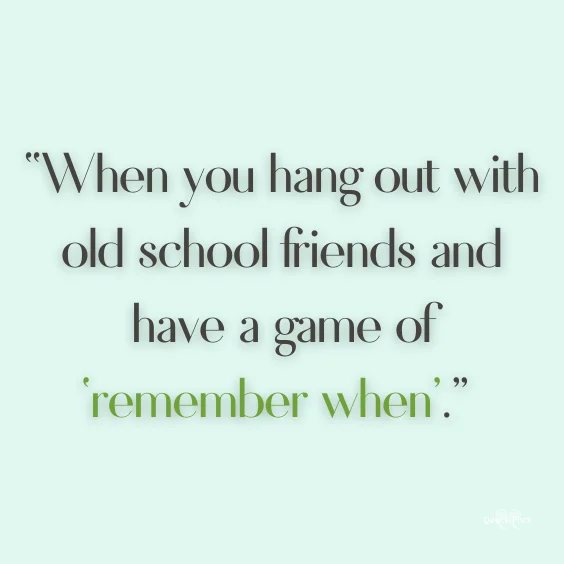 17. "We grew apart my long-lost friend, but I still love you and cherish those memories of ours." – Unknown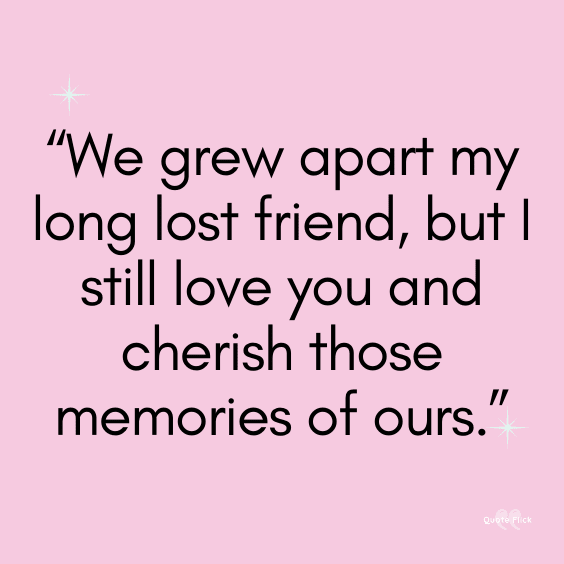 18. "Old-time friendship is my favorite type of friendship." – Unknown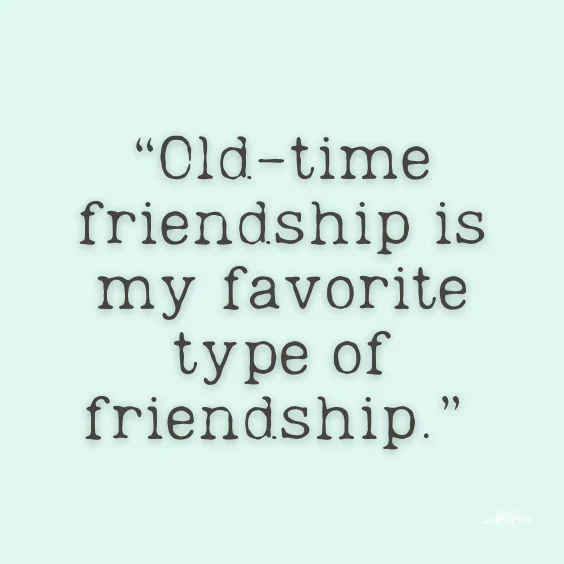 19. "Talking to my old, past friends makes me realize how quickly time moves and how much has changed." – Unknown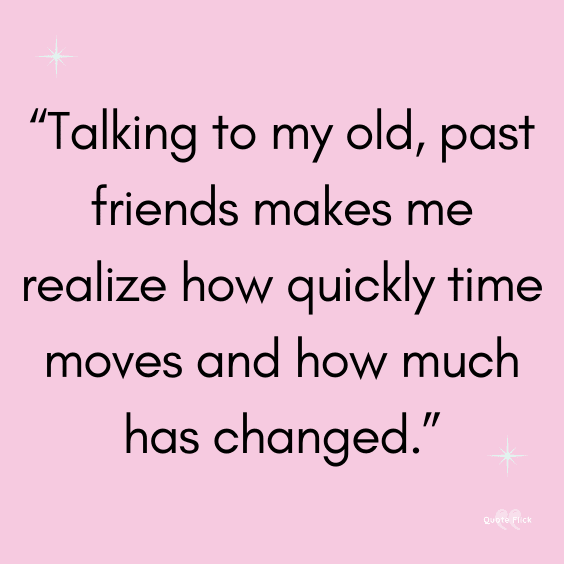 20. "There is only one thing better than making a new friend, and that is keeping an old one." – Elmer G. Letterman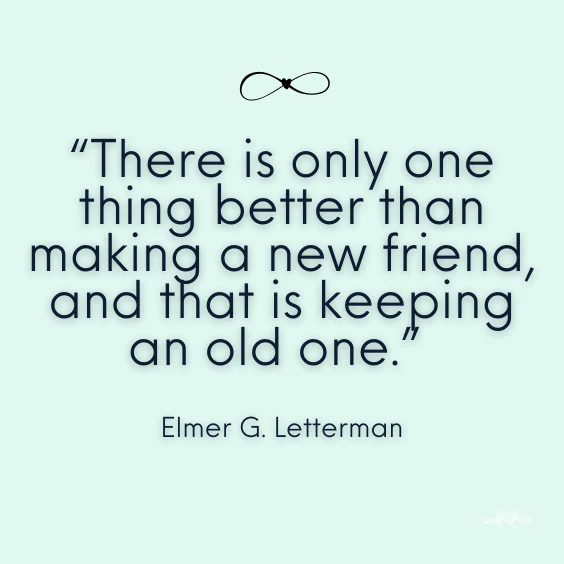 21. "It takes a long time to grow an old friend." – John Leonard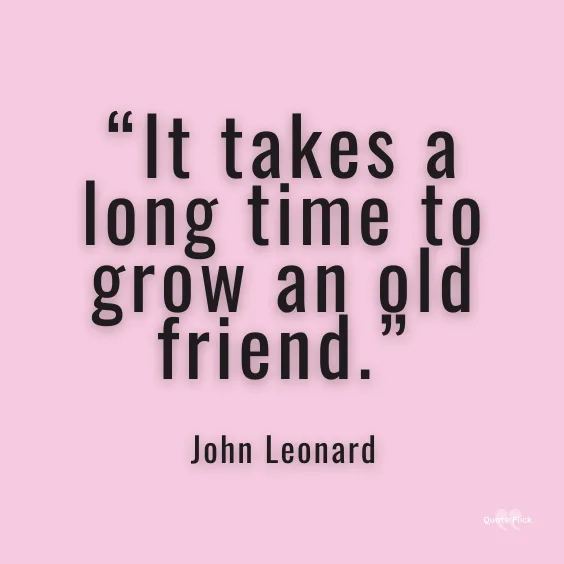 22. "New friends may be poems but old friends are alphabets. Don't forget the alphabets because you will need them to read the poems." – William Shakespeare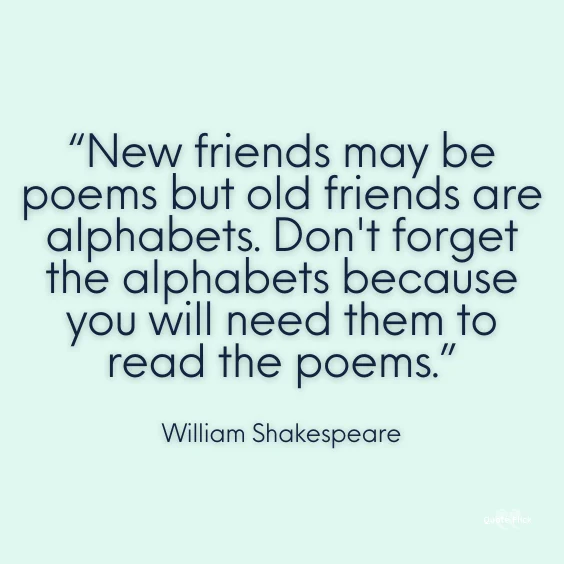 23. "When you meet with your old friends, you recollect some of the finest moments of your life and find yourself in a joy that has no comparison." – Syed Badiuzzaman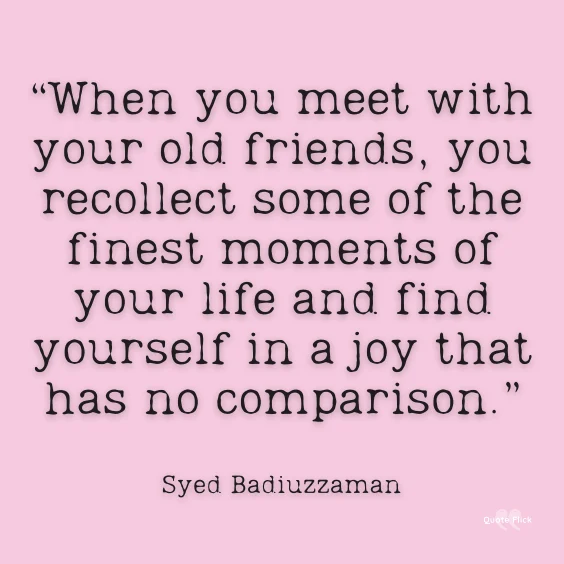 24. "Ah, how good it feels! The hand of an old friend." – Henry Wadsworth Longfellow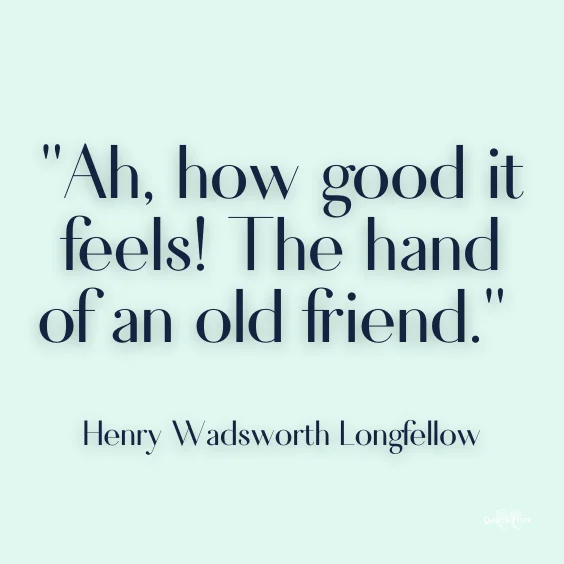 25. "It's no good trying to keep up old friendships. It's painful for both sides. The fact is, one grows out of people, and the only thing is to face it." – W. Somerset Maugham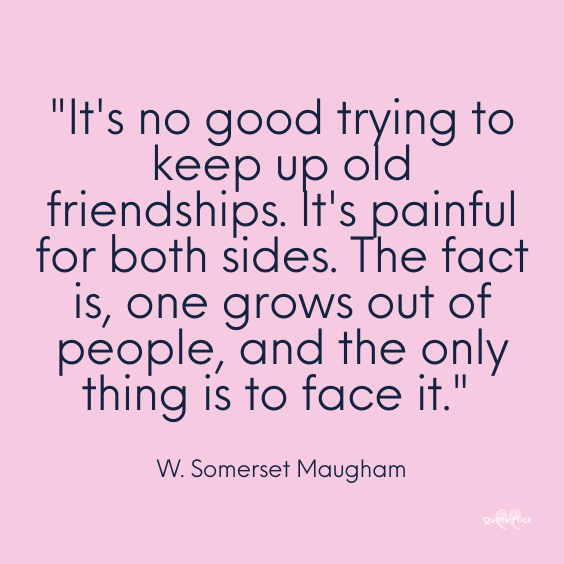 26. "It's the worst part of seeing old friends: when your rose-colored memories become undone by reality." – Brad Meltzer
27. "I try to treat whoever I meet as an old friend. This gives me a genuine feeling of happiness. It is the practice of compassion." – Dalai Lama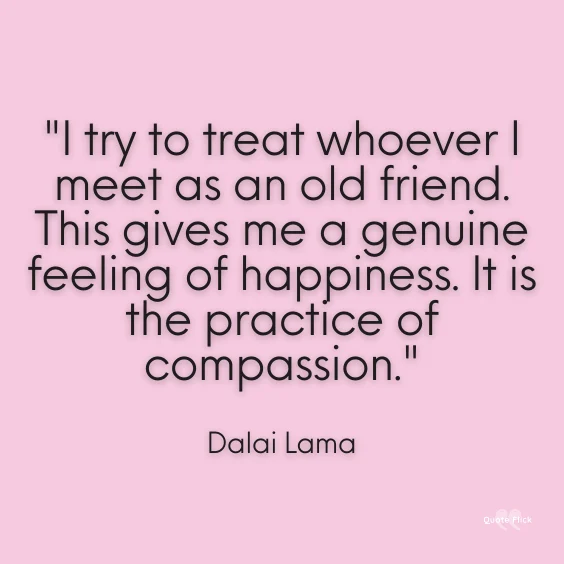 28. "When we forget old friends, it is a sign we have forgotten ourselves." – William Hazlitt
29. "Happiness is meeting an old friend after a long time and feeling like nothing has changed." – Cris Dar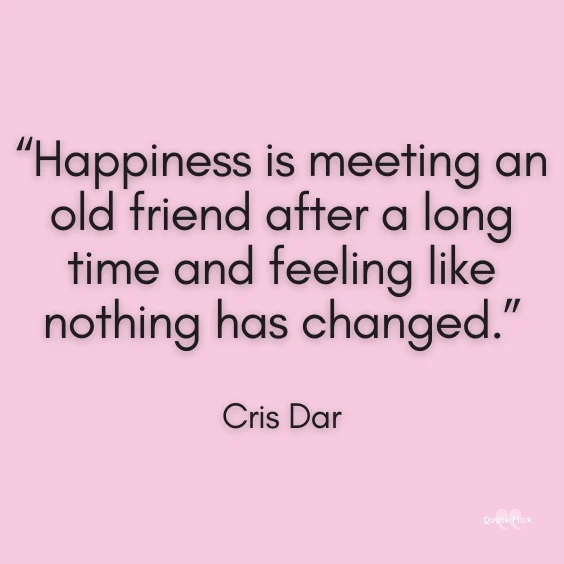 30. "We need old friends to help us grow old and new friends to help us stay young." – Letty Cottin Pogrebin
Maybe you have lost an old friend, take a look at our Lost Friend Quotes for comfort
31. "When we forget old friends, it is a sign we have forgotten ourselves." – William Hazlitt
32. "You can't make old friends. You either have them or you don't." – Kenny Rogers
33. "Condiments are like old friends – highly thought of, but often taken for granted." – Marilyn Kaytor
34. "There is nothing like puking with somebody to make you into old friends." – Sylvia Plath
35. "We must never sell old friends to buy old enemies." Abraham Lincoln
36. "Two may talk together under the same roof for many years, yet never really meet, and two others at first speech are old friends." – Mary Catherwood
37. "Old friends burn dim, like lamps in noisome air; love them for what they are; nor love them less, because to thee they are not what they were." – Samuel Coleridge Taylor
38. "Old stories are like old friends? You have to visit them from time to time." – George R.R. Martin
39. "When we are old, our friends find it difficult to please us, and are less concerned whether we be pleased or not." – Jonathan Swift
40. "To reminisce with my old friends, a chance to share some memories, and play our songs again." – Ricky Nelson
41. "There are three things that grow more precious with age; old wood to burn, old books to read, and old friends to enjoy." – Henry Ford
42. "It's an insane world, but in it there is one sanity, the loyalty of old friends." – Ben Hur
43. "You can make a new friend but you can't make an old one." Tom Bodett
44. "Spend a new penny on an old friend and share an old pleasure with a new friend." – Chinese Proverb
45. "One old friend is better than two new ones." – Yiddish Proverb
46. "Old friends pass away, new friends appear. It is just like the days. An old day passes, a new day arrives. The important thing is to make it meaningful: a meaningful friend – or a meaningful day." – Dalai Lama
47. "A real friend is one who walks in when the rest of the world walks out." – Walter Winchell
48. "There's a thing that keeps surprising you about stormy old friends after they die—their silence. For a while, an echo stays in your ear. You hear a laugh, a knowing phrase or two, a certain quality of enunciation. Then, nothing. Another death takes place—voices." – Ben Hecht
49. "With clothes the new are the best, with friends the old are the best." – Unknown
50. "Exercise is like an old friend: You may not be able to see that friend all the time, but you're not mad when you see them, you're happy, and you get right back into it." – Bethenny Frankel
51. "I'd like to be the sort of friend that you have been to me. I'd like to be the help that you've been always glad to be; I'd like to mean as much to you each minute of the day, as you have meant, old friend of mine, to me along the way." – Edgar Guest
52. "Exercise is like an old friend: You may not be able to see that friend all the time, but you're not mad when you see them, you're happy, and you get right back into it." – Bethenny Frankel
53. "There is no friend like the old friend, who has shared our morning days. No greeting like his welcome, no homage like his praise:
Fame is the scentless sunflower, with gaudy crown of gold; But friendship is the breathing rose, with sweets in every fold." – Oliver Wendell Holmes, Jr.
54. "I play really bad punk rock guitar. Age-old friends; it's just great hanging out with your mates, causing havoc." – Rhys Ifans
55. "Death is an old friend; I know him well. I lived with him, ate with him, slept with him; to meet him again does not frighten me death is as necessary as birth, as happy in its own way." – Robert A. Heinlein
You Might Also Like: