When you spend time at the beach, it relaxes, calms, and uplifts you. These short beach quotes will inspire you to spend more time there if you can!
Summer days at the beach watching the waves with sand on your feet are a true gift from nature. We hope you love these phrases and beach sayings reminding you what spending time in paradise can do.
Enjoy the quotes about beaches and feel free to share them with your friends or on Pinterest. We hope you read them and feel motivated to get to the ocean and enjoy some time relaxing!
Beach Quotes
1. "The beach: as close to heaven as you can get." – Unknown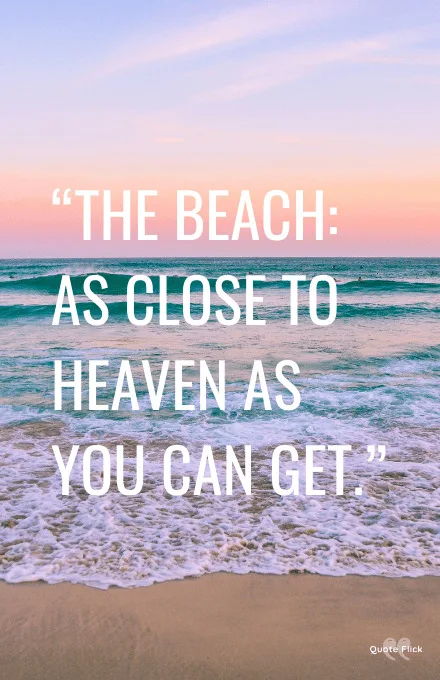 2. "I followed my heart, and it led me to the beach." – Unknown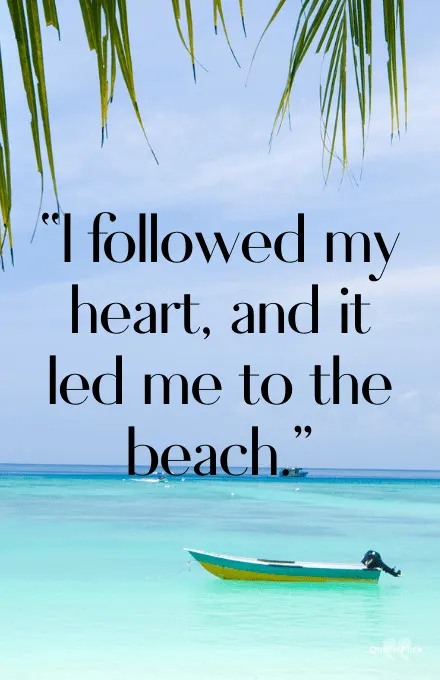 3. "To escape and sit quietly on the beach – that's my idea of paradise." – Emilia Wickstead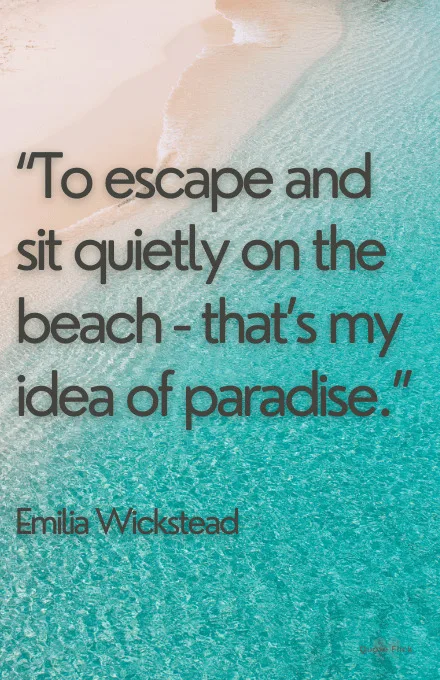 4. "My sense of direction leads me one way: to the beach." – Unknown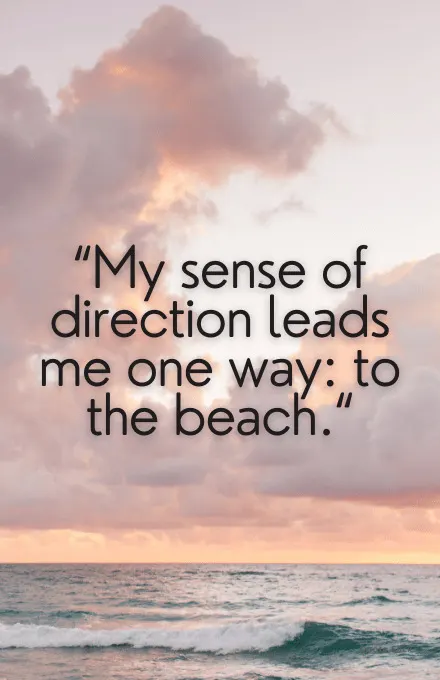 5. "Beachology. Be shore of yourself. Don't be crabby. Let your worries drift away. Drown out pier pressure. Soak up positive energy. Seas life's moments." – Unknown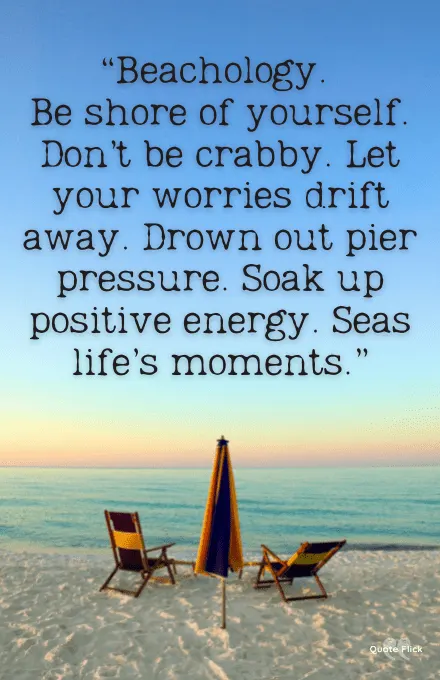 You Might Also Like:
6. "Currently pretending I'm at the beach." – Unknown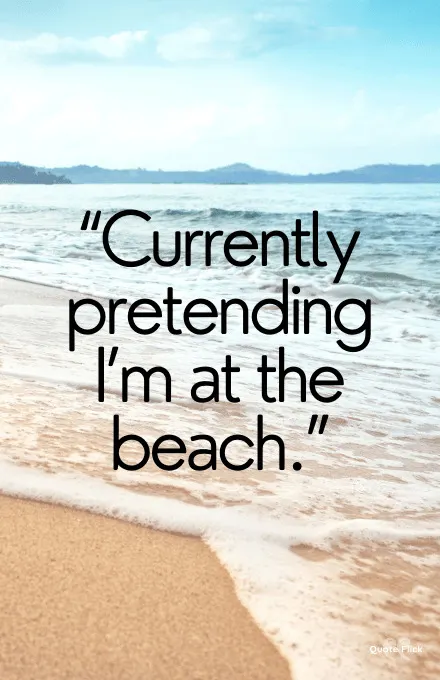 7. "If there's heaven for me, I'm sure it has a beach attached to it." – Jimmy Buffett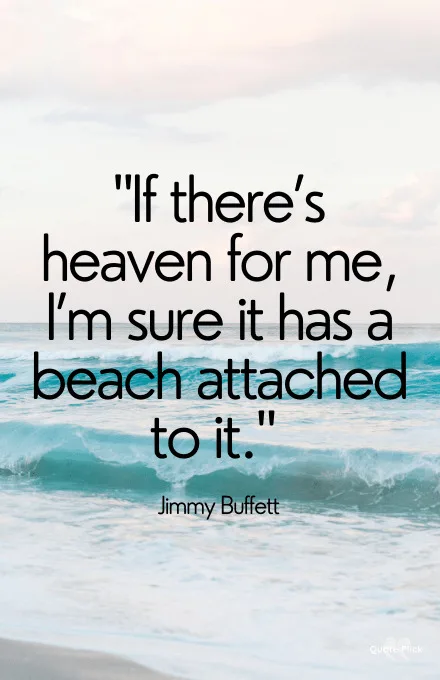 8. "It was love at first sight, the day I met my beach." – Unknown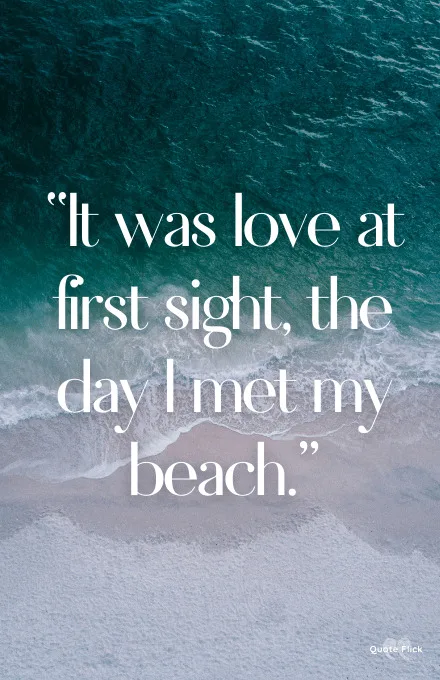 9. "The beach is not always a place, sometimes it's a feeling." – Unknown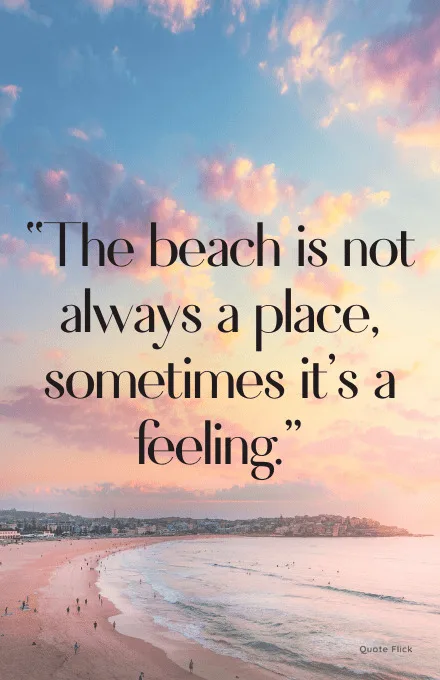 10. "My life is like a stroll upon the beach, as near to the ocean's edge as I can go." – Henry David Thoreau
Next:
11. "Feeling stressed? There's a beach for that." – Unknown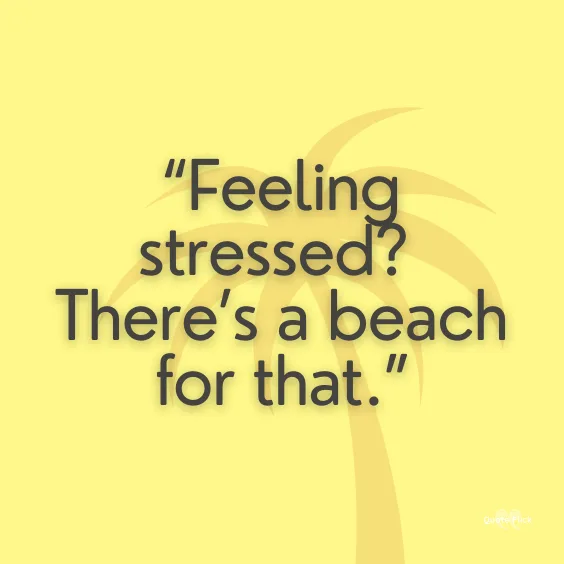 12. "You all want to know what my dream is? Very simple. To walk along the beach holding the hand of my lover." – Unknown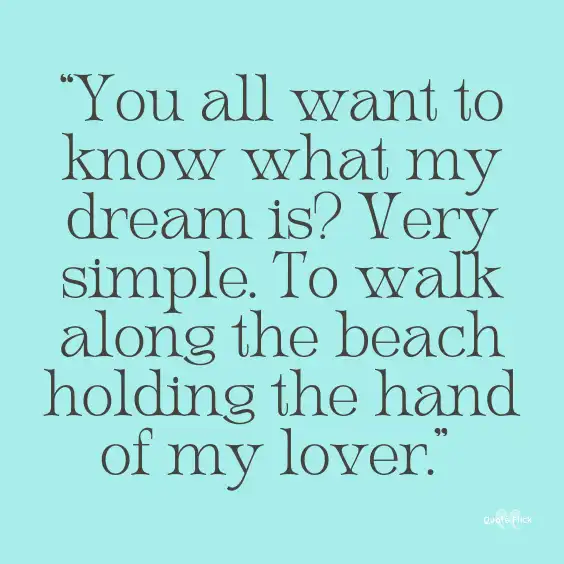 13. "Friends, sun, sand, and sea. That sounds like a summer to me." – Unknown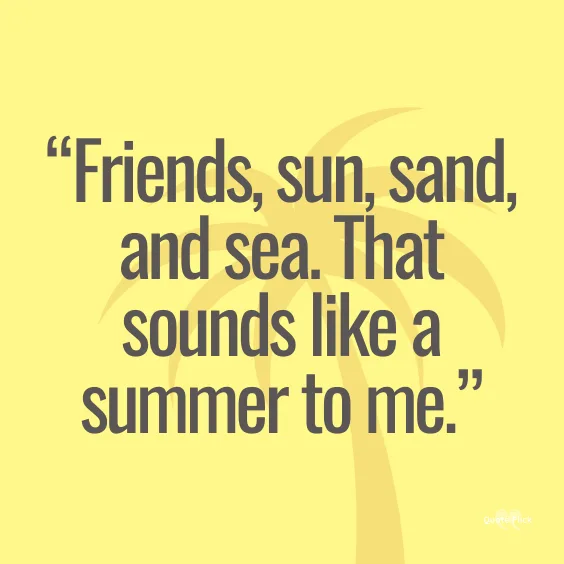 14. "A beach and warm weather is all I really need." – Rob Gronkowski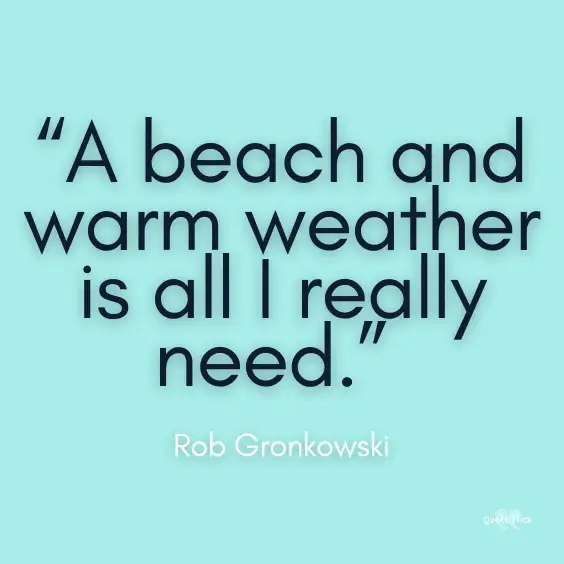 15. "At the beach, life is different. Time doesn't move hour to hour but mood to moment. We live by the currents, plan by the tides and follow the sun. " – Sandy Gingras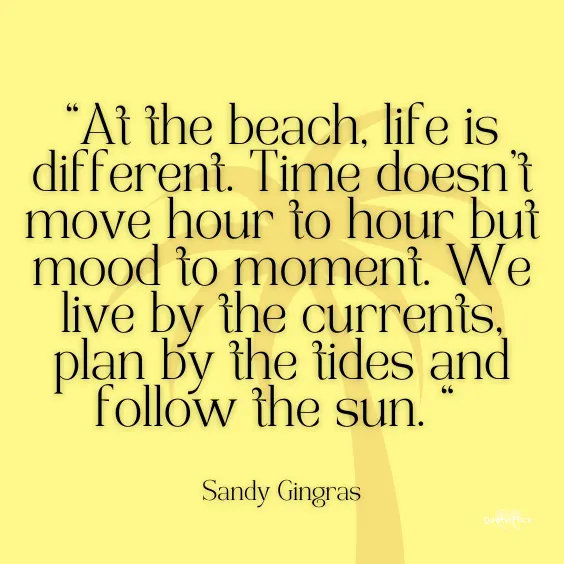 16. "No computers, no phone calls, no problems at the beach, only sunshine and smiles allowed." – Catherine Pulsifer
17. "The beach is not a place to work to read, write or to think." – Anne Morrow Lindbergh
18. "A kiss on the beach when there is a full moon is the closest thing to heaven." – H. Jackson Brown Jr.
19. "To escape and sit quietly on the beach — that's my idea of paradise." – Emilia Wickstead
20. "Because there's nothing more beautiful than the way the ocean refuses to stop kissing the shoreline, no matter how many times it's sent away." – Sarah Kay
21. "A day at the beach is never lost time. When the warm grains of sand touch our hearts, we know we're in the right place." – Unknown
22. "After a visit to the beach, it's hard to believe that we live in a material world." – Pam Shaw
23. "Every time I stand before a beautiful beach, its waves seem to whisper to me: If you choose the simple things and find joy in nature's simple treasures, life and living need not be so hard." – Psyche Roxas-Mendoza
24. "To go out with the setting sun on an empty beach is to truly embrace your solitude." – Jeanne Moreau
25. "Sky above, sand below, peace within." – Unknown
26. "Don't grow up too quickly, lest you forget how much you love the beach." – Michelle Held
27. "99 problems but a beach ain't one." – Unknown
28. "Life needs more beaches and bonfires." – Unknown
29. "Beaches are gods property." – Steve Maraboli
30. "Time wasted at the beach is time well spent." – Unknown
31. "We walk up the beach under the stars. And when we are tired of walking, we lie flat on the sand under a bowl of stars. We feel stretched, expanded to take in their compass. They pour into us until we are filled with stars, up to the brim." – Anne Morrow Lindbergh
32. "The beach to me is a sacred zone between the earth and the sea, one of those in-between places where transitions can be experienced — where endings can be mourned and beginnings birthed." – Joan Anderson
33. "The three great elemental sounds in nature are the sound of rain, the sound of wind in a primeval wood, and the sound of outer ocean on a beach." – Henry Beston
34. "If you need me, call me on my shell." – Unknown
35. "When you walk on the beach at night, you can say things you can't say in real life." – Jenny Han
36. "Happiness comes in waves."
37. "To myself, I am only a child playing on the beach, while vast oceans of truth lie undiscovered before me." – Isaac Newton
38. "For me, a T-shirt, a pair of shorts, barefoot on a beach and I'm happy." – Yanni
39. "Only at the beach can we go a splishin' and a splashin'."- Kate Summers
40. "Give me coffee to change the things I can, and the beach to accept the things I can't."
41. "There's no place like home except for the beach." – Unknown
42. "We dream in colors borrowed from the sea." – Unknown
43. "Beach Rules: Soak up the sun. Ride the waves. Breathe the salty air. Feel the breeze. Build sandcastles. Rest, relax, reflect. Collect seashells. Bare feet required."
44. "B.E.A.C.H.: Best Escape Anyone Can Have." – Unknown
45. "One learns first of all in beach living the art of shedding; how little one can get along with, not how much." – Anne Morrow Lindbergh
46. "On the beach, you can live in bliss." – Dennis Wilson
47. "Every time I stand before a beautiful beach, its waves seem to whisper to me: If you choose the simple things and find joy in nature's simple treasures, life and living need not be so hard." – Psyche Roxas-Mendoza
48. "Dance with the waves, move with the sea. Let the rhythm of the water set your soul free." – Christy Ann Martine
49. "When the warm grains of sand touch our hearts, we know we're in the right place." – Unknown
50. "Leave footprints of love and kindness wherever you go." – Unknown
51. "Catch a wave and you're sitting on top of the world." – The Beach Boys
52. "Beach Rules: Soak up the sun. Ride the waves. Breathe the salty air. Feel the breeze. Build sandcastles. Rest, relax, reflect. Collect seashells. Bare feet required."- Unknown
53. "What I want in a good beach read is sunshine, drama, easy-reading, and transportation to another world and other people's problems." – Jane Green
54. "A beach is not only a sweep of sand, but shells of sea creatures, the sea glass, the seaweed, the incongruous objects washed up by the ocean." – Henry Grunwald
55. "The oceans roar is music to the soul."
56. "Sometimes in the waves of change we find our true direction." – Unknown
57. "I read and walked for miles at night along the beach, writing bad blank verse and searching endlessly for someone wonderful who would step out of the darkness and change my life. It never crossed my mind that that person could be me." – Anna Quindlen
58. "I'm pretty sure my birthstone is a seashell." – Unknown
59. "Individually we are one drop. Together we are an ocean." – Ryunosuke Satoro
60. "Fewer worries, more sunshine."
61. "No words can express, The depth of her contentment, As she walks along the beach. As the waves lap against the shores, They create the rhythm of her life. Balmy breeze kiss, Her sun-bronzed skin, And she wonders. Could there ever be a greater destiny, Than to be born with love, For the treasures of the sea? Here, she is home." – Suzy Toronto
62. "I believe in the ocean curing all bad moods. I believe in the waves wiping away worries. I believe in seashells bringing good luck. I believe in toes in the sand grounding my soul." – Unknown
63. "I could never stay long enough on the shore; the tang of the untainted, fresh, and free sea air was like a cool, quieting thought." – Helen Keller
64. "The beach to me is a sacred zone between the earth and the sea, one of those in-between places where transitions can be experienced — where endings can be mourned and beginnings birthed." – Joan Anderson
65. "How to have a beach body: 1. Have a body 2. Go to the beach" – Unknown