Do you love nature, trees, and the sound of the leaves crunching under your feet as you walk in Autumn? Then you will love these cute leaf quotes. As the leaves turn from greens to oranges to browns, it signifies the changing of the seasons. It's a beautiful time of year to enjoy walking through the forests, watching the leaves fall from the trees, and feeling the fresh cool air on your face!
These quotes about leaves will help you describe every situation you encounter. Simply browse our collection and choose your favorite
Enjoy these phrases, quotations, and sayings about leaves. If you love our images, please consider pinning your favorite image to Pinterest.
Leaf Quotes
1. "Autumn is a second spring when every leaf is a flower." – Albert Camus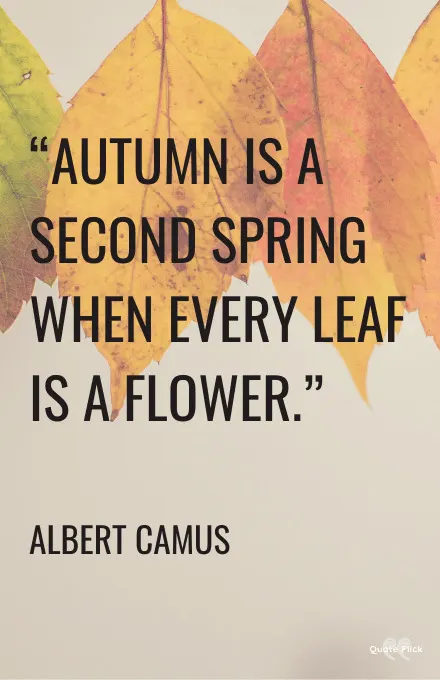 2. "Art is the flower… life the green leaf." – Charles Rennie Mackintosh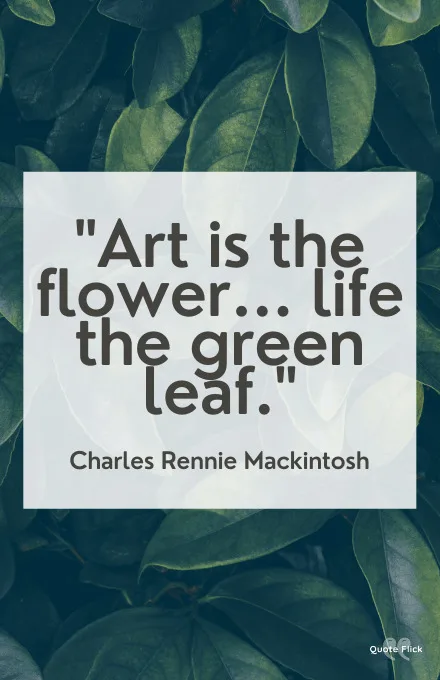 3. "I've seen a jillion miracles. They're all around. Every green leaf is a miracle." – Jimmy Dean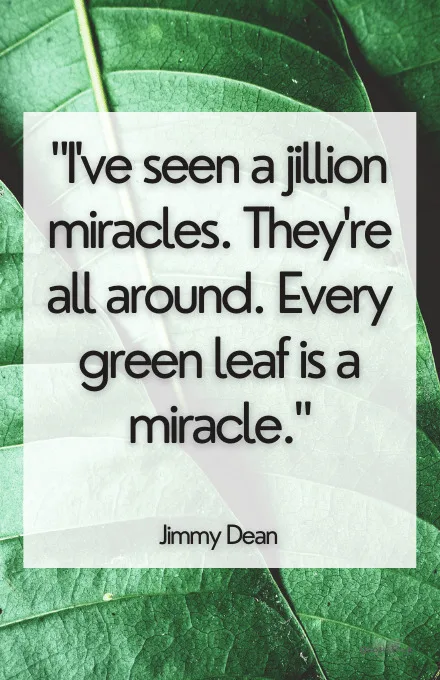 4. "Everyone must take time to sit and watch the leaves turn." – Elizabeth Lawrence
5. "The leaf does not immediately absorb the drop of water falling on it; she slowly drinks with great pleasure!" – Mehmet Murat ildan
6. "There is a subtle magic in the falling of old leaves." – Avijeet Das
7. "How beautiful the leaves grow old. How full of light and color are their last days." – John Burroughs
8. "The leaves are changing; I feel poetry in the air." – Laura Jaworski
9. "Anyone who thinks fallen leaves are dead has never watched them dancing on a windy day." – Shira Tamir
10. "In every change, in every falling leaf there is some pain, some beauty. And that's the way new leaves grow." – Amit Ray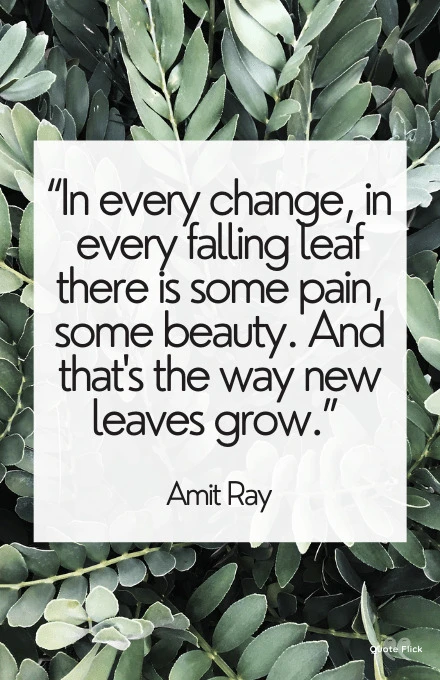 Loving the leaf quotes so far? Why not check out Jungle Quotes and Forest Quotes
11. "I am just a leaf. Just a leaf falling from the tree so that a new bud may grow." – Gemma Malley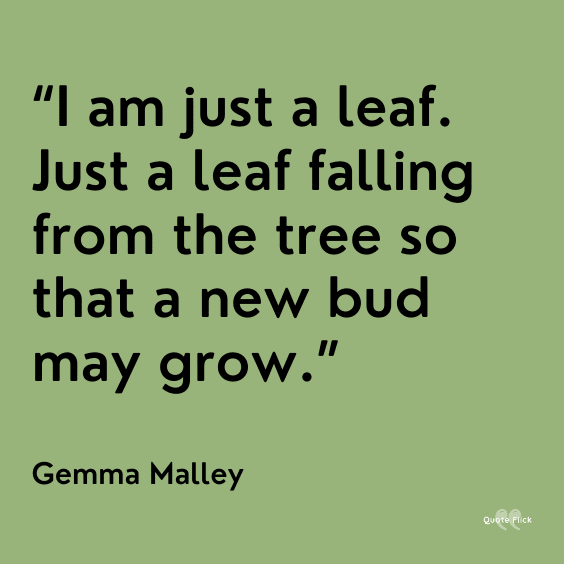 12. "Art is the flower… Life the green leaf." – Charles Rennie MacKintosh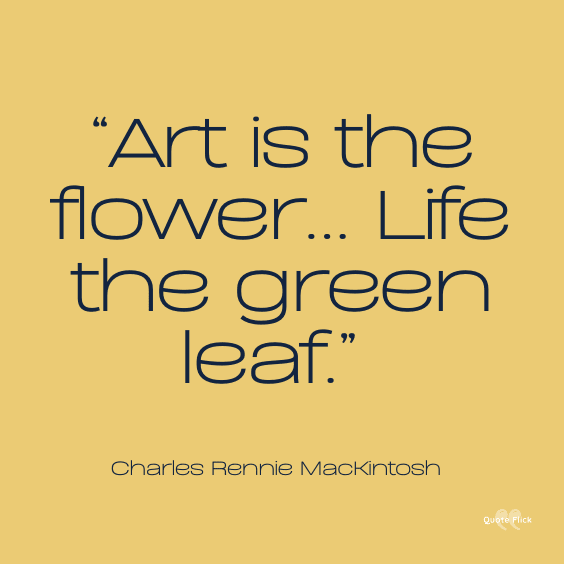 13. "And the sun took a step back, the leaves lulled themselves to sleep, and autumn was awakened." – Raquel Franco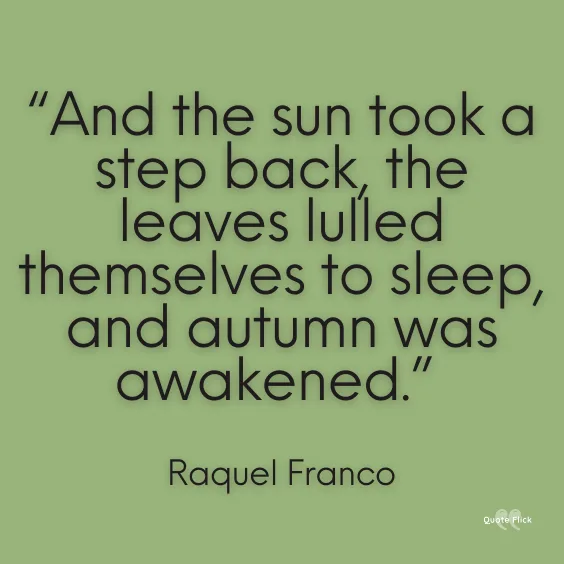 14. "Rather than turning over a new leaf, prune your tree so that new leaves continue to blossom." – Feroz Bham
15. "And all the lives we ever lived and all the lives to be are full of trees. And changing leaves." – Virginia Woolf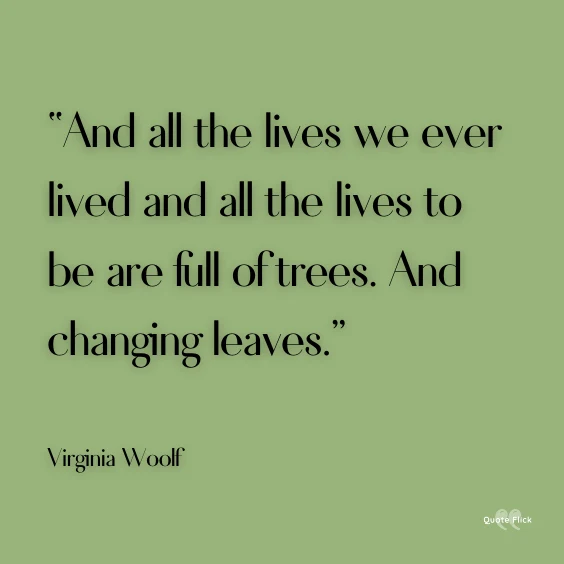 16. "How beautiful the leaves grow old. How full of light and color are their last days." – John Burroughs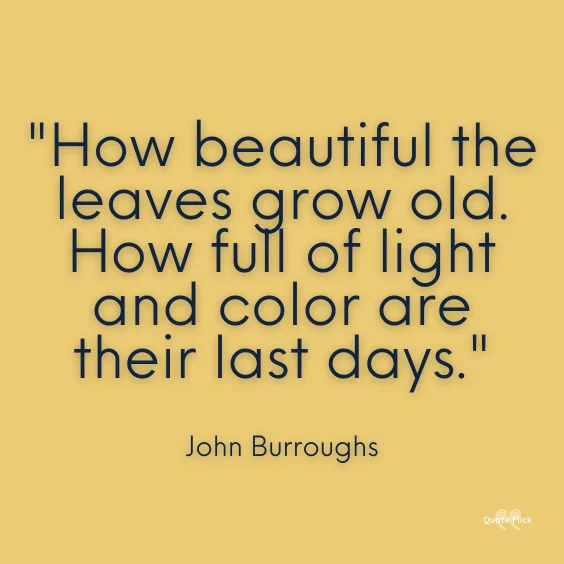 17. "I can smell autumn dancing in the breeze. The sweet chill of pumpkin, and crisp sunburnt leaves." – Ann Drake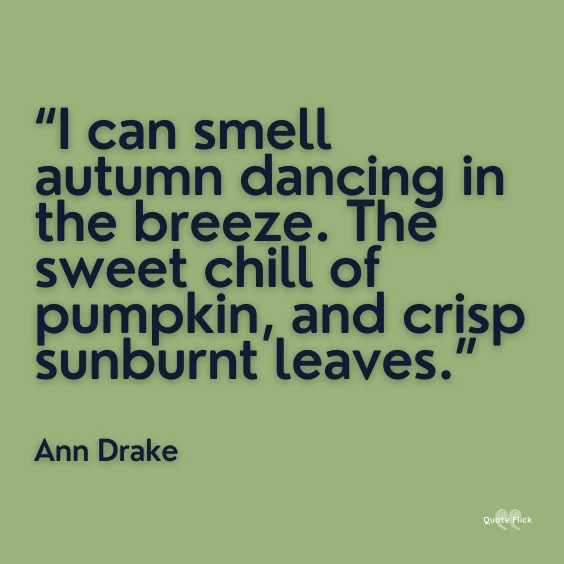 18. "Green leaves on a dead tree is our epitaph-green leaves, dear reader, on a dead tree." ~ Cyril Connolly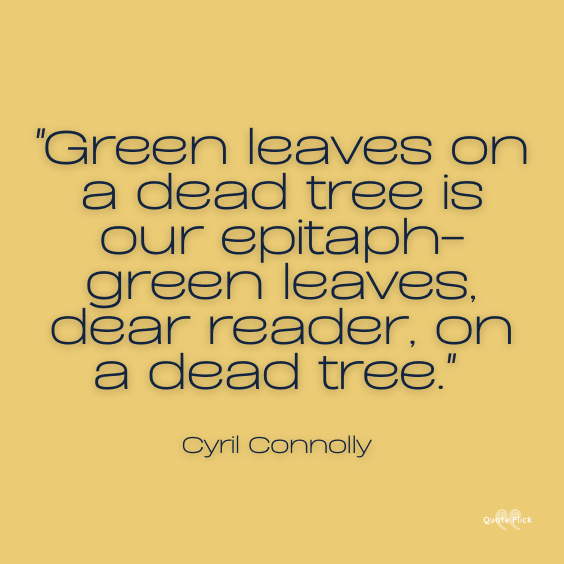 19. "Every leaf speaks bliss to me, fluttering from the autumn tree." – Emily Brontë
20. "Flowers are red, and green leaves are green. There's no need to see flowers any other way than the way they always have been seen." – Harry Chapin
21. "Even a leaf in the wind settles sometimes." – Alison Goodman
22. "They tell you to turn into a new leaf and then complain about your faded colour." – Nitya Prakash
23. "Even the leaves fall for you." – Unknown
24. "Be-leaf in yourself." – Unknown
25. "Four-leaf clovers aren't rare… People who look for them are.' – Christy Jordan
26. "Listen! The wind is rising, and the air is wild with leaves, we have had our summer evenings, now for October eves!" – Humbert Wolfe
27. "I know there will be spring, as surely as the birds know it when they see above the snow two tiny, quivering green leaves. Spring cannot fail us." – Olive Schreiner
28. "And the sun took a step back, the leaves lulled themselves to sleep, and autumn was awakened." – Raquel Franco
29. "A fallen leaf is nothing more than a summer's wave goodbye." – Unknown
30. "The sincerity of the art worker must permeate the song as naturally as the green leaves break through the dead branches in springtime." – Alma Gluck
You Might Also Like: