Want to tell someone directly "don't take me for granted."? If you're at the receiving end of some bad behavior, these deep taken for granted quotes might describe exactly how you feel.
Sometimes you might be feeling unappreciated in a relationship or friendship. Take action now, you don't deserve to feel anything less than valued! Allow these 50 quotes about being taken for granted to give you some clarity and a wake-up call.
We've got a wide variety for you to browse and choose from. Keep reading now to view all of these woman taken for granted quotes. If you love our work, please consider pinning your favorite image!
Quotes About Being Taken for Granted
1. "Even the most caring people can get tired of being taken for granted."- Nishan Panwar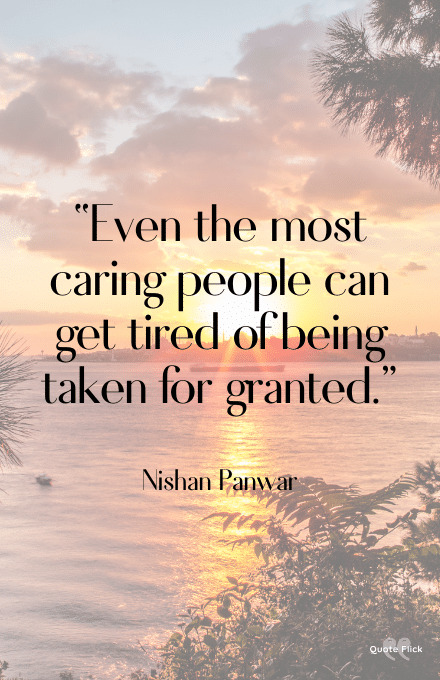 2. "Every time you are taking someone for granted. You are slowly teaching them how to live without you." – Unknown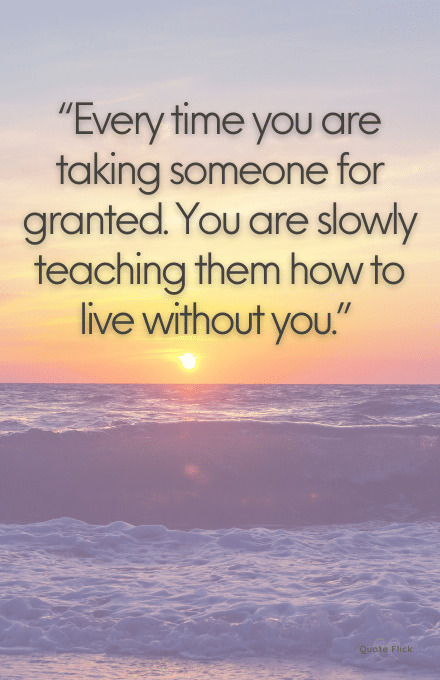 3. "Don't take me for granted because I'm forgiving of a mistake, but when I'm done, I'm really done." – Unknown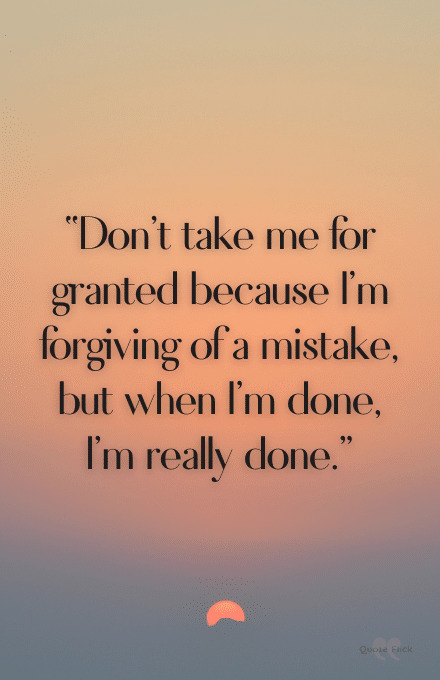 4. "I love you, but you take it for granted. It's only a matter of time before I make a different choice." – Unknown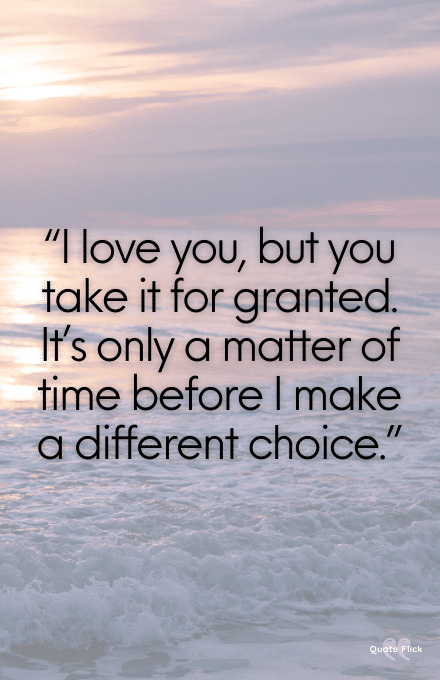 5. "If you've been taken for granted in your relationship, remember you are gold, you are hard to come by, and it is not your loss that they didn't see it." – Unknown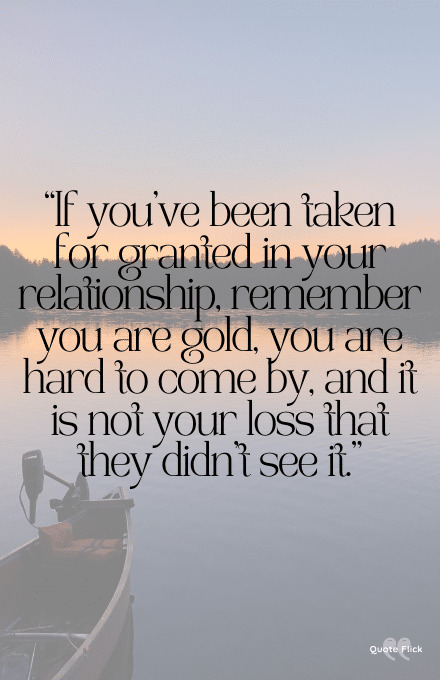 6. "Don't ever take someone for granted. We usually don't know what we have until we lose it." – Unknown
7. "A good woman's love should never be taken for granted. Only a fool would gamble with something so precious and rare." – Unknown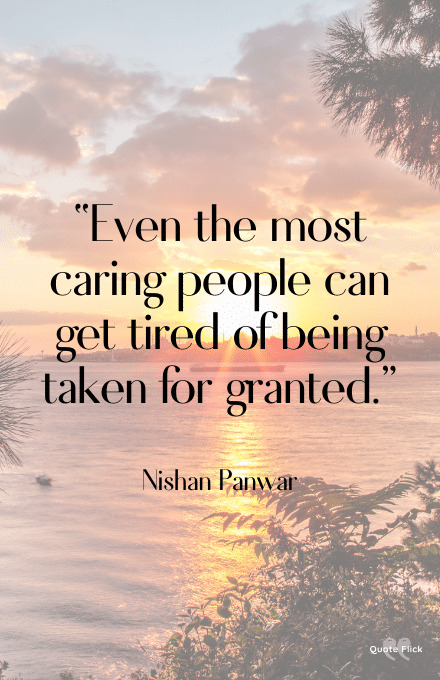 8. "The things you take for granted, someone else is praying for." – Unknown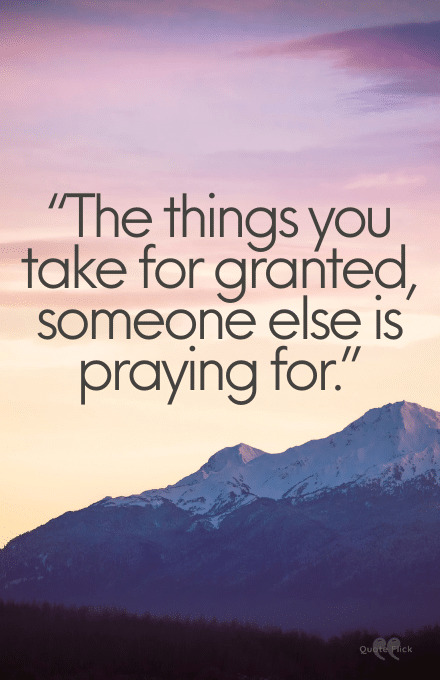 9. "Being dumped, cheated on and taken for granted is why many people choose to be single." – Unknown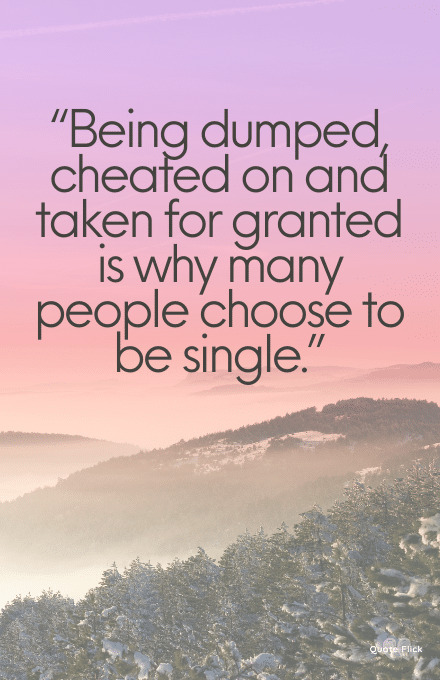 10. "Kindness should never be taken for granted because even the nicest people have their limits." – Unknown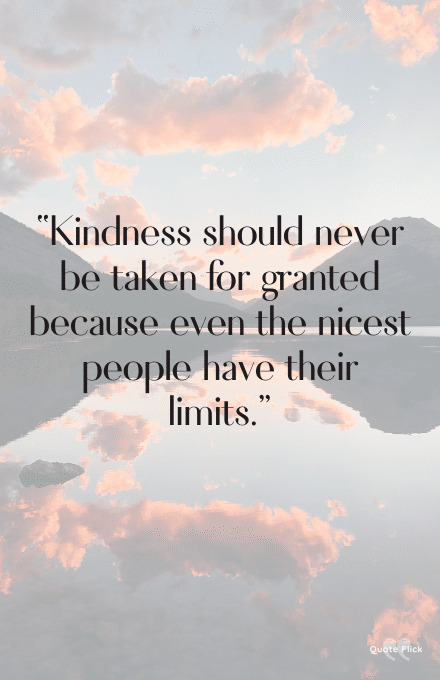 Check out Confused Love Quotes and Relationship Trust Quotes!
11. "You don't need to waste your time on someone who only wants you around when it fits their needs." – Rajat Dogra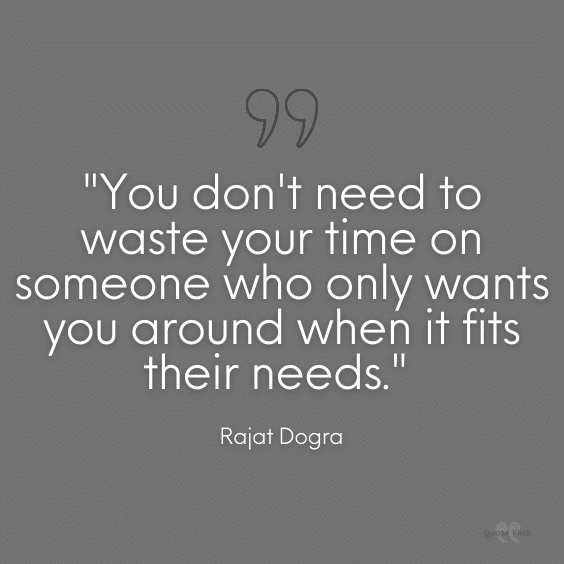 12. "She used to love his kisses, but not anymore. She had lost him, somewhere along the way, and this man was a stranger-a stranger who took her for granted."- Caroline Anderson
13. "Don't take me for granted. I'm done with that game years ago. Either make me your priority or don't come near to me. I won't be a choice that you will make when you're bored."- Dark Angel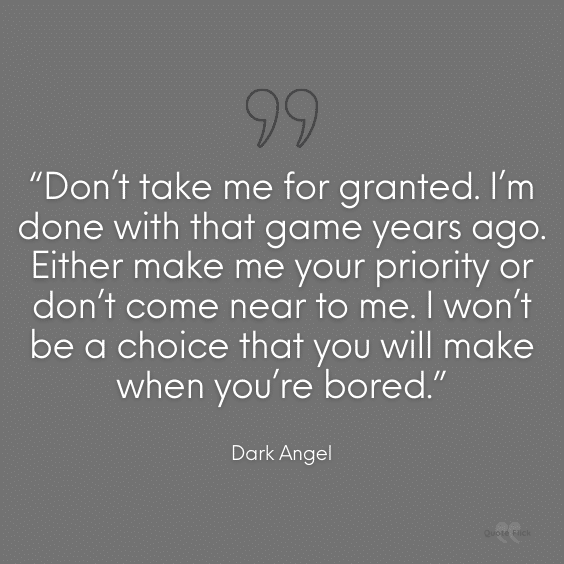 14. "Appreciate what you have in your relationship before it becomes what you had. Don't take it for granted." – Unknown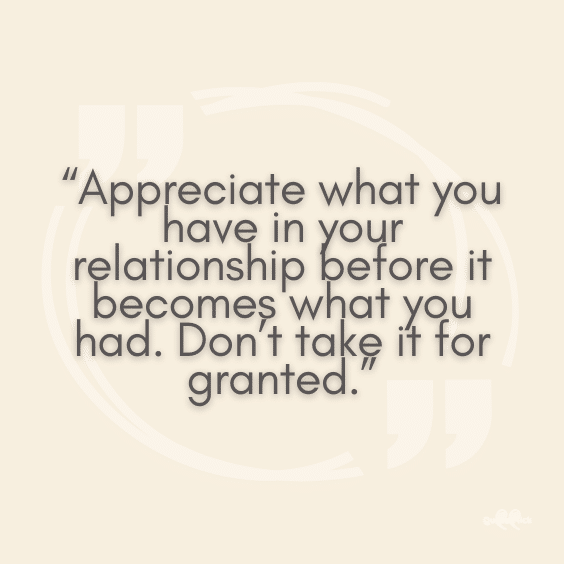 15. "Just because I'm here for you all the time, doesn't mean you can take me for granted." – Unknown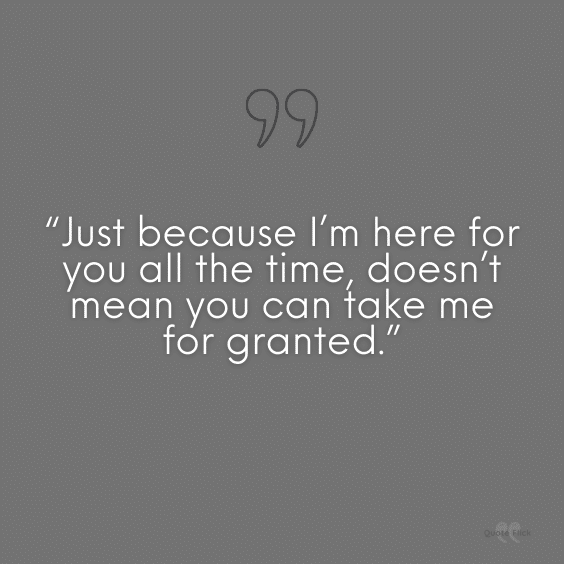 16. "Love is a good thing not to be taken for granted, there are feelings involved with you and the other person."- Minnie M. Lyons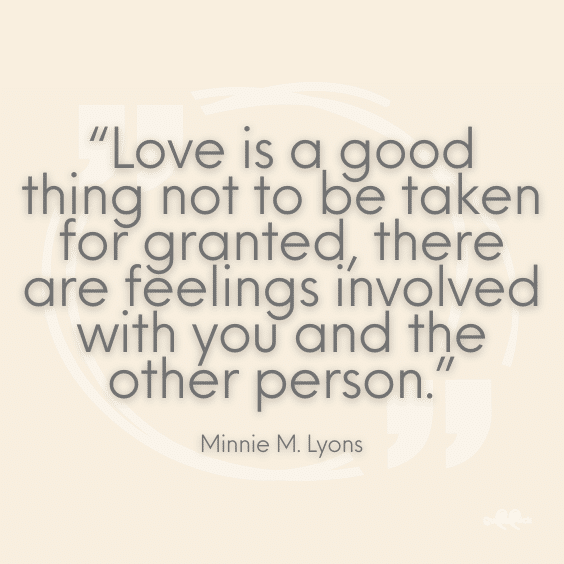 17. "Let them miss you. Sometimes when you're always available, they take you for granted because they think you'll always stay." – Unknown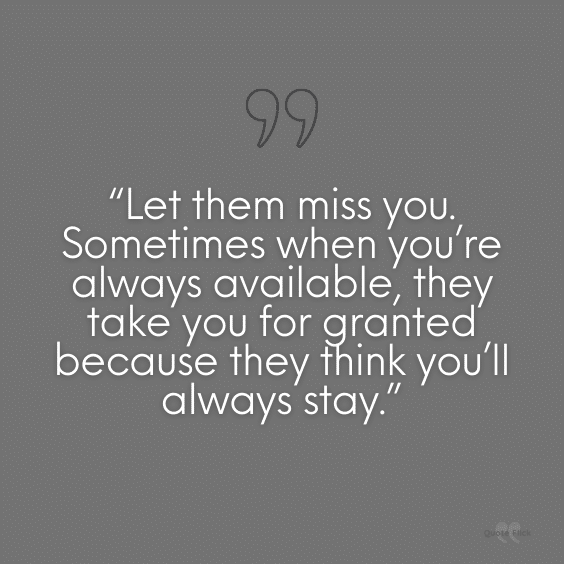 18. "You're a person to be cherished and they're taking it for granted. One day they'll wish they didn't." – Unknown
19. "If you find a girl who's willing to go through hell just to keep your relationship going, you really shouldn't take her love for granted." – Unknown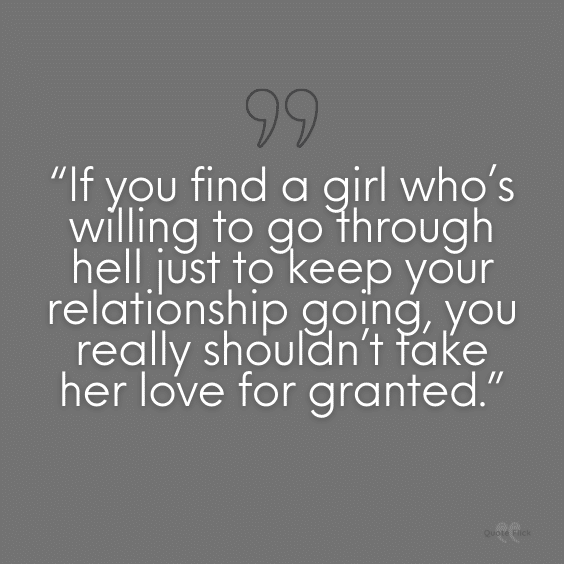 20. "Learn my VALUE or earn my ABSENCE.  Don't take me for granted." – Unknown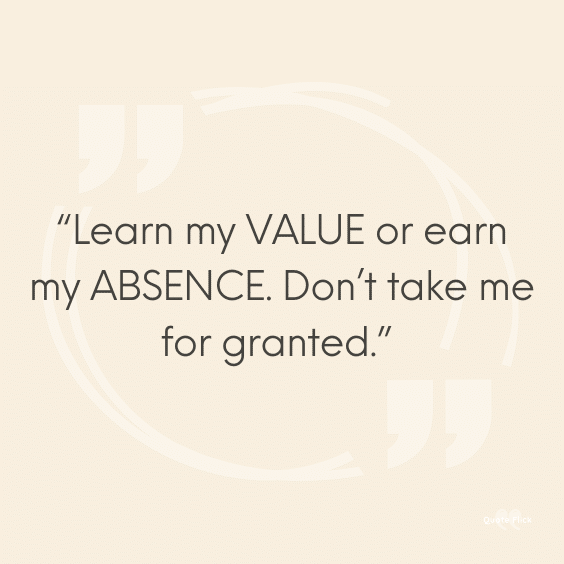 21. "If you're wondering whether your boyfriend is taking you for granted. Ask yourself, does he do the things he did to get me, to keep me? Do I feel seen, heard, do I feel like I matter like I used to?." – Unknown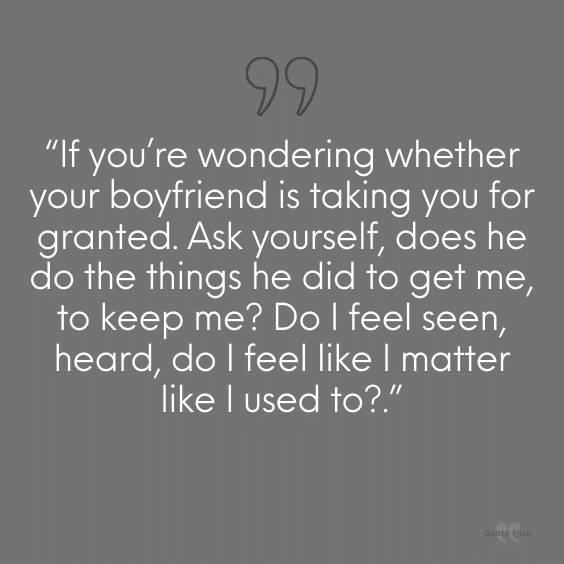 22. "If you do not want people to leave you, I suggest you stop taking them like they are nothing."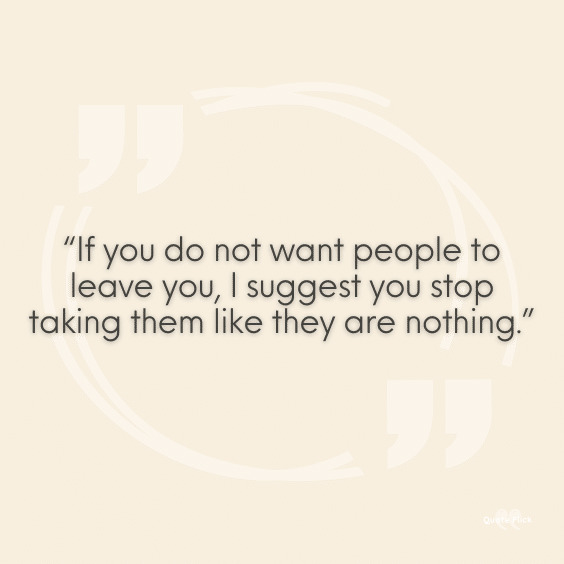 23. "You're taking my love for granted. If you want to keep me, keep my love for you, please stop. I won't ask, I won't beg." – Unknown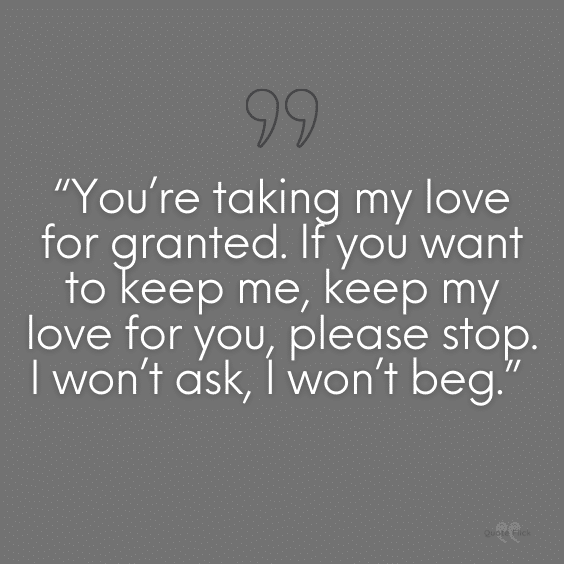 24. "If you're taking someone for granted, don't be surprised when you no longer have that privilege." – Unknown
25. "Being taken for granted is an unpleasant but sincere form of praise. Ironically, the more reliable you are, and the less you complain, the more likely you are to be taken for granted."- Gretchen Rubin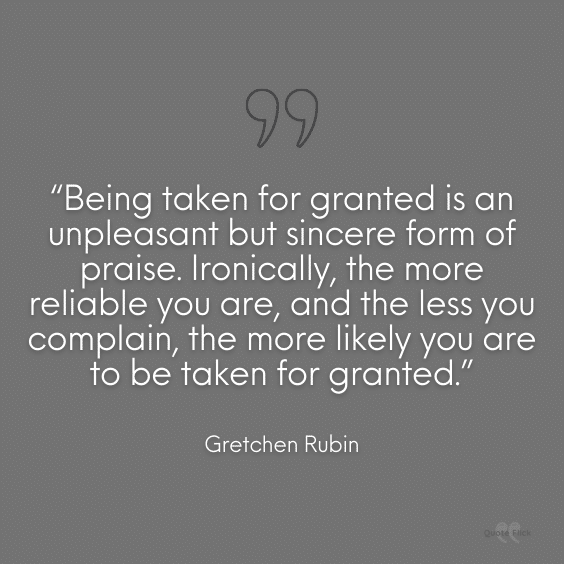 26. "Staying with someone who doesn't appreciate you isn't loyalty, its stupidity." – Unknown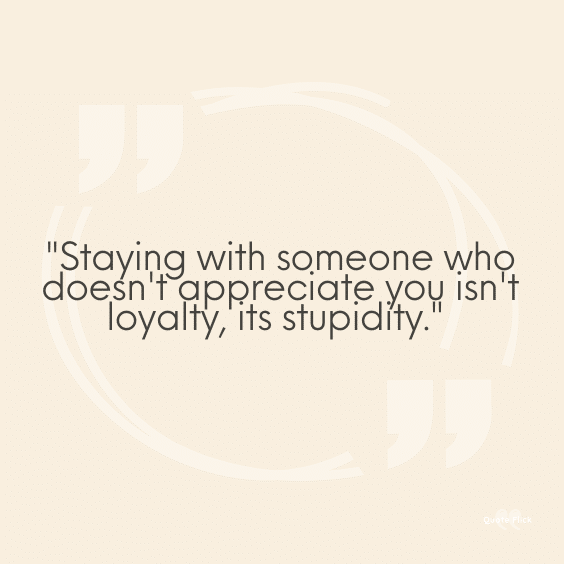 27. "Never take someone's feelings for granted. Because you never know how much courage they took to show it to you." – Unknown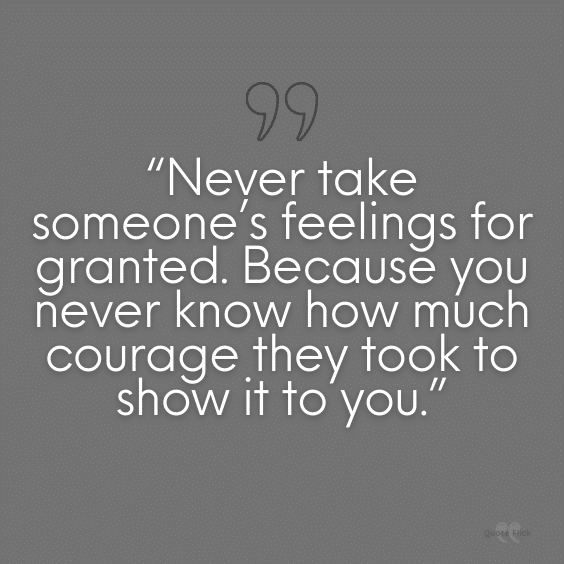 28. "You took me for granted far too many times. Don't expect me to come back. I don't owe you that." – Unknown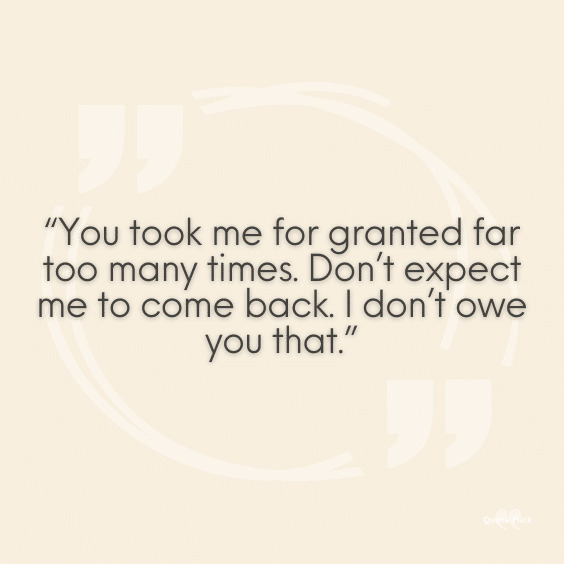 29. "Don't take people for granted. No matter how much they love you, people get tired eventually. We are all given chances, but you never know when the last chance may be." – Unknown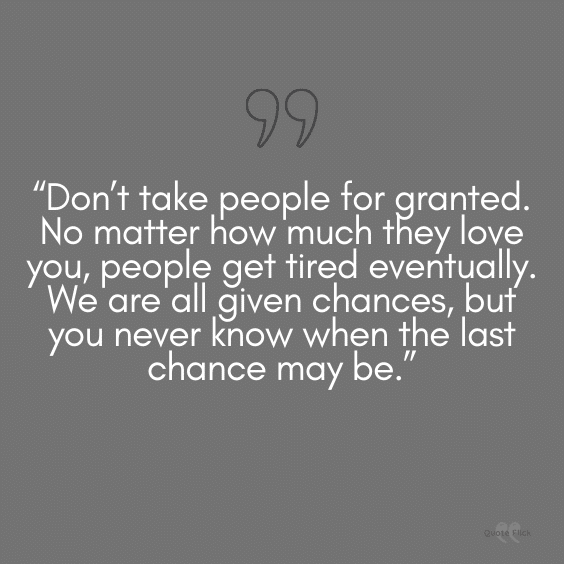 30. "Never take someone for granted. Hold every person close to your heart because you might wake up one day and realize that you've lost a diamond when you were collecting stones."- Unknown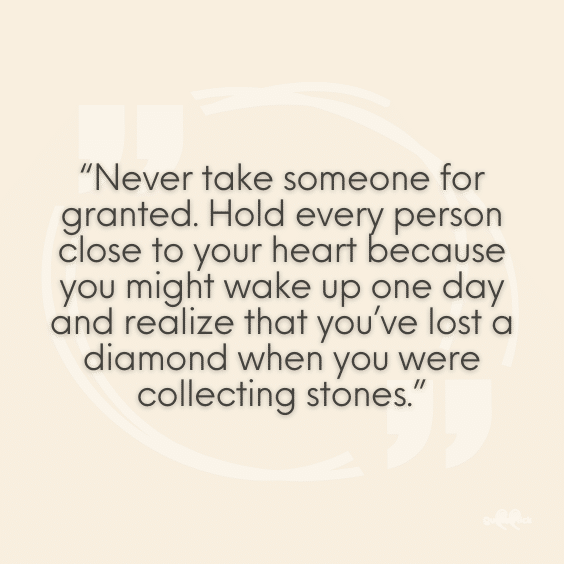 You might also like: Broken Heart Quotes and Actions Speak Louder Than Words Quotes
31. "It is sad when you realize you are not as important to someone as they are to you!" – Nikhil Andy
32. "You need to stop doing things for someone when you find out it's expected rather than appreciated." – Unknown
33. "If they don't appreciate your presence, perhaps you should try giving them your absence." – Tinku Razoria
34. "I will take care of you, cook for you, never take you for granted if you just let me be the one." – Unknown
35. "Don't take this love for granted as you might not find it again." – Unknown
36. "If they don't respect, appreciate and value you, then they don't deserve you." – Robert Tew
37. "Don't be too nice, you'll be taken for granted." – Unknown
38. "If they don't respect, appreciate and value you, they don't deserve you" – Robert Tew
39. "If you find someone who makes you smile, checks up on you often to see if you're ok. Who watches out for you and wants the best for you. Don't let them go, don't take them for granted. People like them are hard to find." – Unknown
40. "Once you take me for granted, you'll miss me when I stop doing the things I used to do for you." – Unknown
41. "Love doesn't demand to be loved back, but it doesn't mean it exists to be taken for granted."
42. "If we don't feel appreciated, we don't feel loved." – Jonathan Lockwood Huie
43. "You don't need to waste your time on someone who only wants you around when it fits their needs."-Rajat Dogra
44. "Being taken for granted can be a compliment. It means that you've become a comfortable, trusted element in another person's life." – Joyce Brothers
45. "When someone truly cares for you, he will go through all the lengths to make you feel okay."
46. "I do not judge people at all, and I'm ALWAYS here to help anyone at any time. But please don't take my help for granted." – Unknown
47. "Never take someone's love for granted because you never know how much courage it took them to show it to you." – Unknown
48. "Take nothing and no one for granted."- Bob Weinstein
49. "Don't take someone for granted because you know every time you push them away, they always come running back. One day they won't." – Unknown
50. "When you get taken for granted, I hope you talk to the person before just leaving completely." – Unknown
51. "We often take for granted the very things that most deserve our gratitude." – Unknown
52. "When your heart is breaking already for being taken for granted, that is the time you stop."- Unknown
53. "Sometimes you will never know the true value of a moment until it becomes a memory." – Unknown
54. "Women are often overlooked, taken for granted. They can slip easily through a man's defense."- Stan Lee
55. "Never put them first, if you always come last. Never give your all, if you only get half." – Unknown
Check out: Cheating Boyfriend Quotes and Respecting Women Quotes