If you're here, reading these quotes about fake smiles, you might be hiding sadness. Sometimes our emotions are troubling and there is pain behind our smiles.
Not every smile indicates that a person is happy, as these sayings and quotations show. Hopefully, the phrases will help you feel less alone, or help you to understand someone on a deeper level.
Feel free to browse this extensive collection of fake smile quotes. Hiding sadness with a smile is something that warrants help and support. Use these sad smile quotes to explain how you're feeling.
Enjoy the article and please consider sharing your favorite image on social media.
Fake Smile Quotes
1. "A fake smile may fool the crowd but it never eases the pain." – Kelly Brook
2. "Fake a smile, no one knows you're broken." – Demi Lovato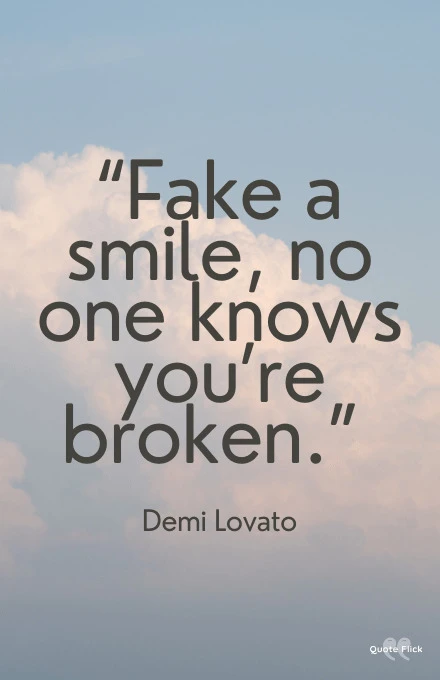 3. "The saddest people smile the brightest." – Unknown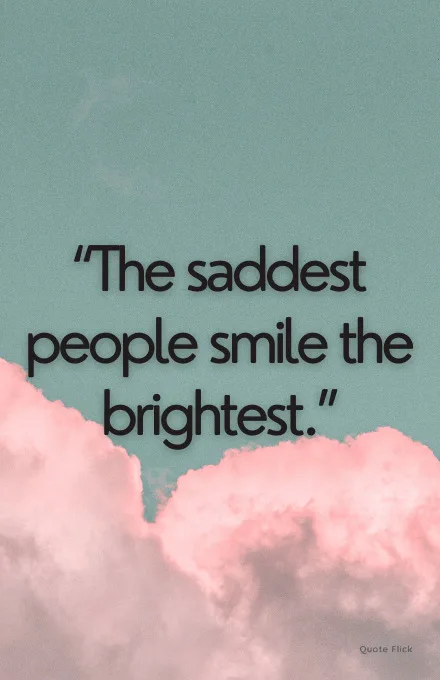 4. "Only a best friend can see the pain behind a fake smile." – Unknown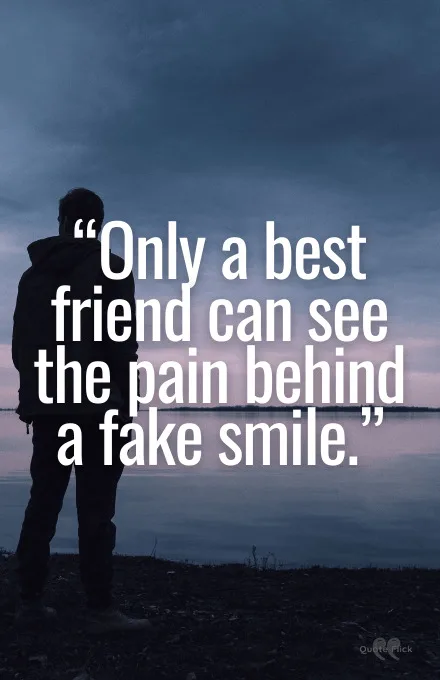 5. "A fake smile doesn't make it to your eyes. A real smile is accompanied by smiling eyes." – Rupert Everett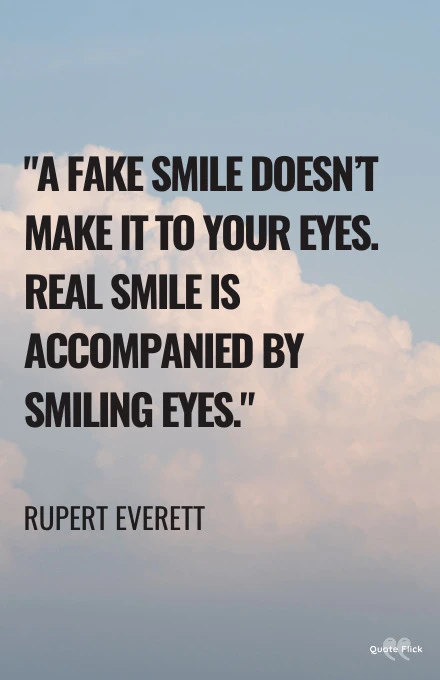 Next: Hug Quotes or Quotes About Optimism
6. "You can fake a smile but you can't fake your feelings." –  Aaron Abelson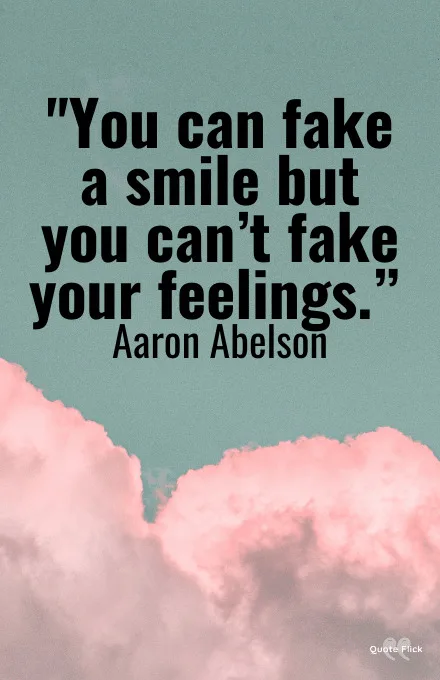 7. "Fake a frown, you hurt others. Fake a smile, you hurt yourself." – Sarah Parker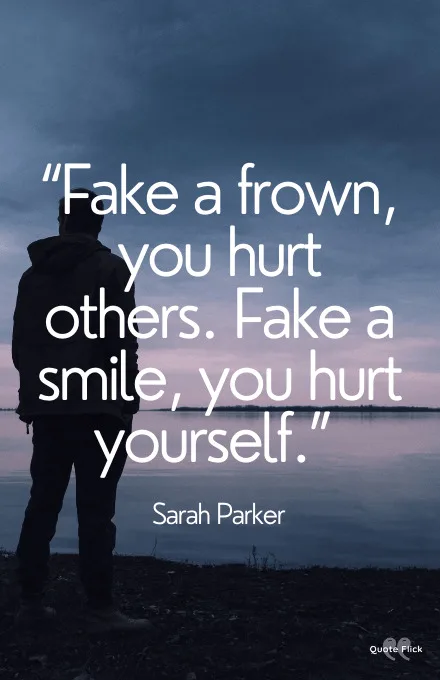 8. "It's not a fake smile, it's called having manners and being polite. It's human instinct."  – Daniel Craig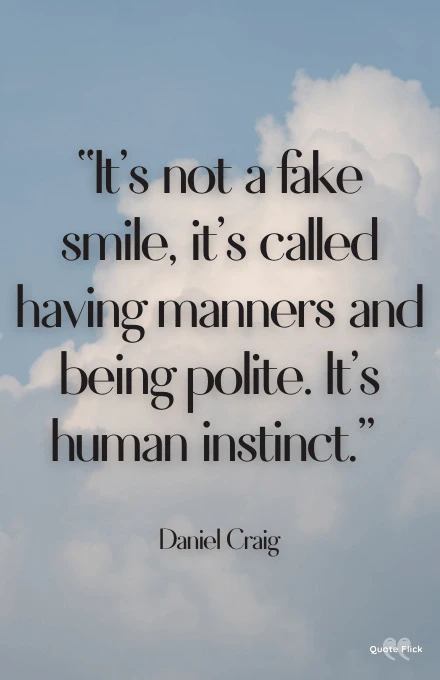 9. "I hide hurt behind a fake smile. I wear it all the time. Everyone says how I always look so cheerful. Shows what they know I guess." – Ellen Hopkins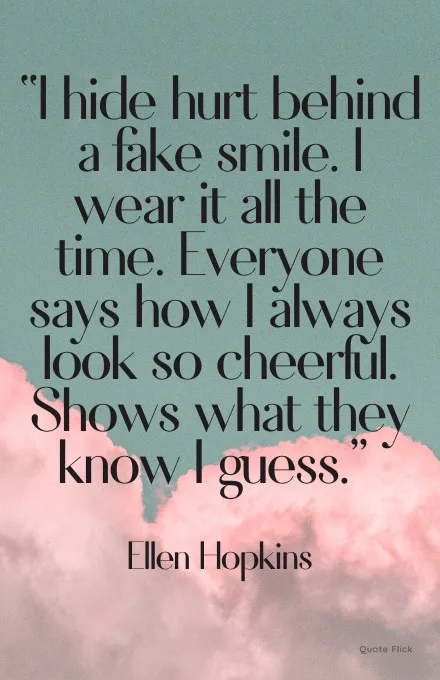 10. "You can only put on a fake smile for so long, then the truth begins to be disclosed."  – John Corner
Next: Sad Quotes or Disappointment Quotes
11. "And she will fool everyone with her fake smile and pretend to laugh." – Unknown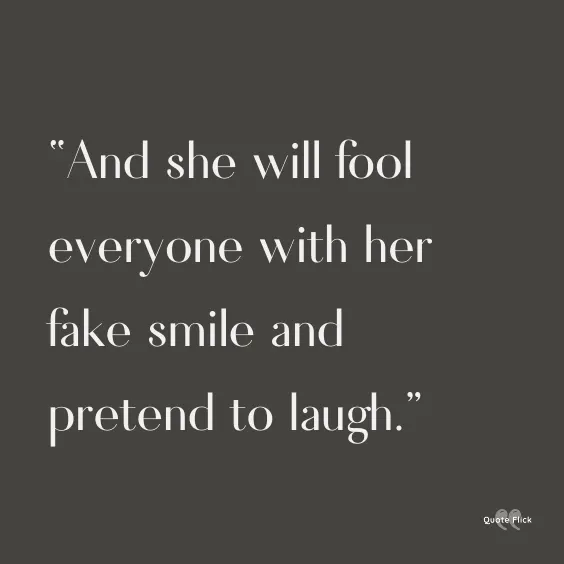 12. "I've had a fake smile for so long, I don't even know if it's real or not anymore." – Unknown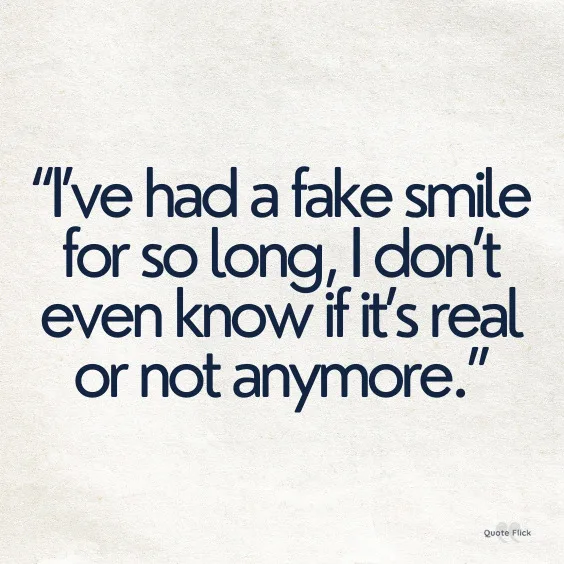 13. "Too often, behind that smile of mine, I hide a thousand tears." – Alex V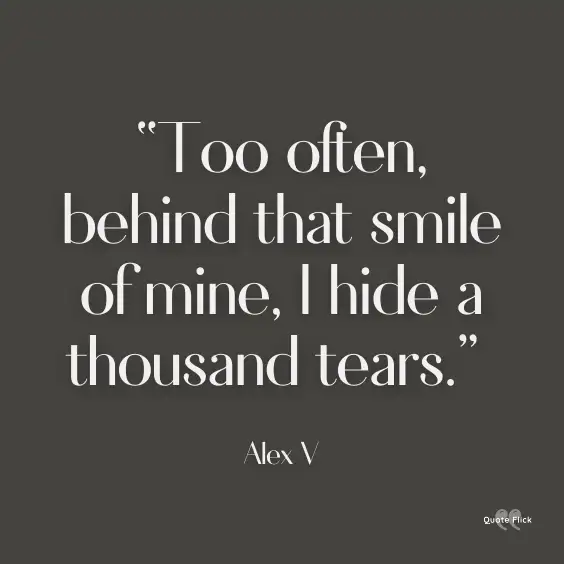 14. "A loud smile is often a fake laugh." – Saahil Prem
15. "I'd rather have a fake smile than a nasty stare." – Tamara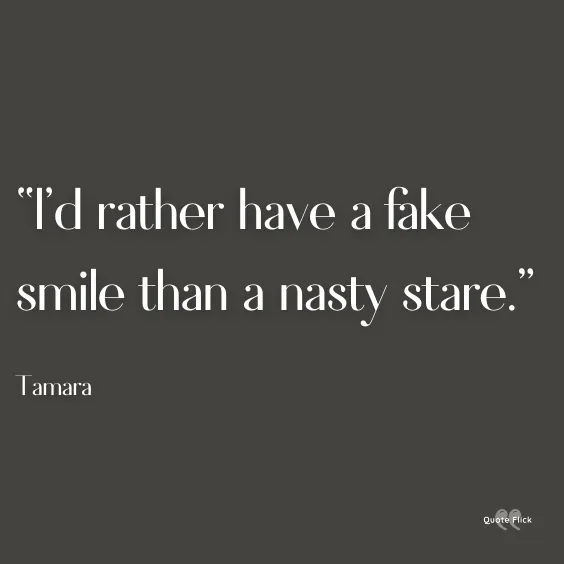 Next: Haters Quotes or Not Feeling Well Quotes
16. "A Fake Smile can prevent something bad from happening, but it can also create further misunderstandings." – Saadat Khan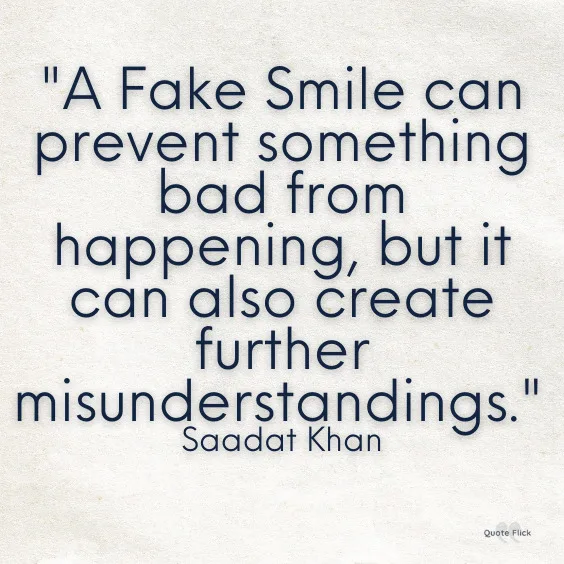 17. "Pain in heart, fake smile on the face. Life moves on and it becomes a habit." – Varul Patidar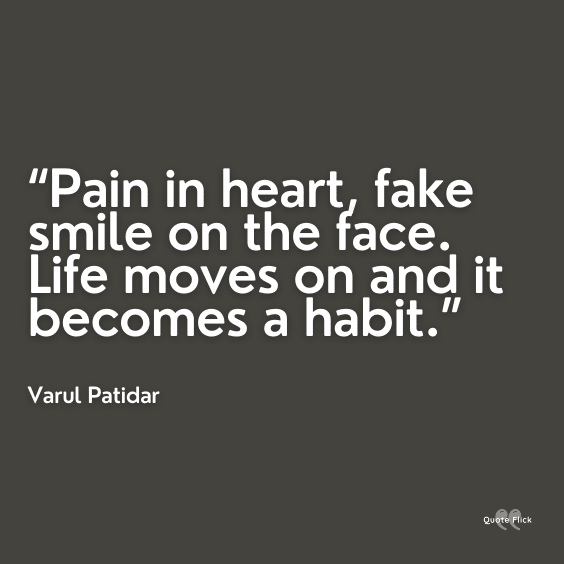 18. "Genuine happiness is not nearly as common as a fake smile." – Mokokoma Mokhonoana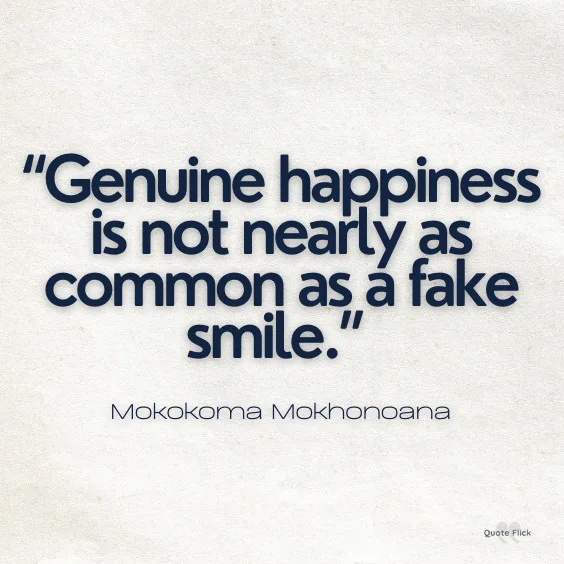 19. "People maybe smiling but look to the eyes because they can't hide the sorrow, pain, and heartache they're trying to hide behind their smile." – Karon Waddell
20. "I can't really act the way I want to act or say what I want to say all the time. And a lot of times, I cover that up with a smile." – Hilary Duff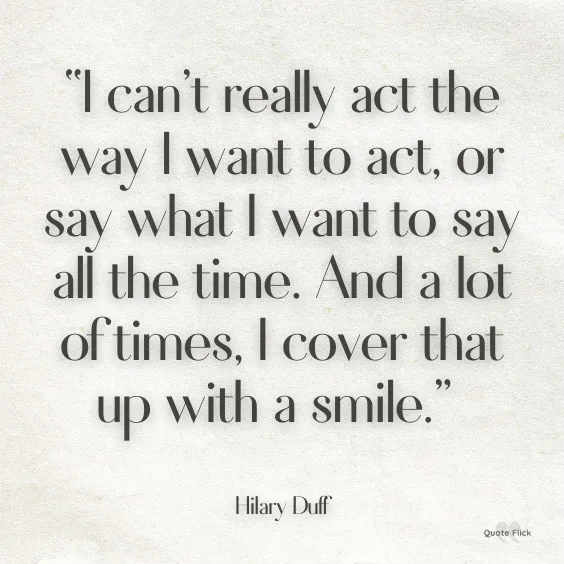 21. "I'm wearing this fake smile" – Daae Alf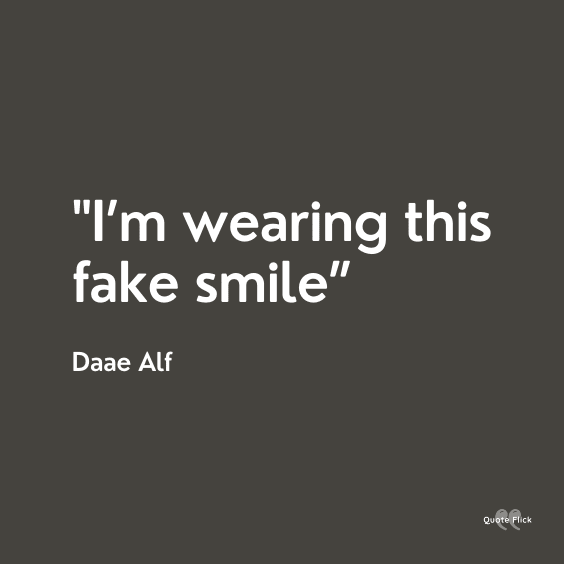 22. "Here I was again tonight forcing laughter, faking smiles. Same old tired, lonely place." – Taylor Swift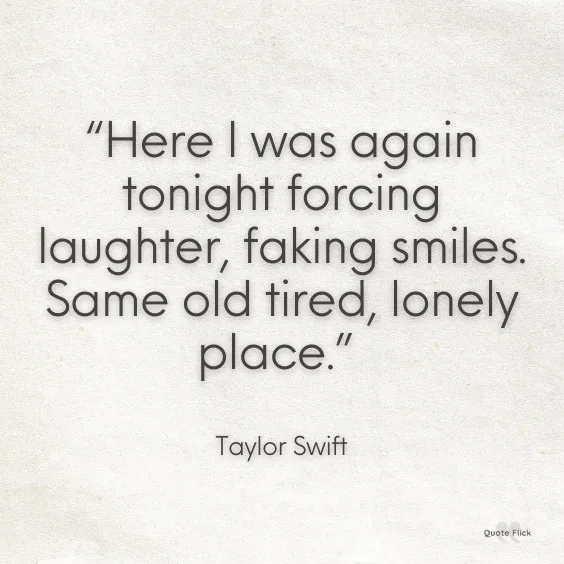 23. "Juniper laughed for real, but one of those fake smiles he considered a plague of the Caucasian race followed. If you're sad, be sad, he wanted to say." – Jo-Ann Mapson
24. "Bear with me while I plaster on a fake smile and plough through this shit one more time." – Bill Hicks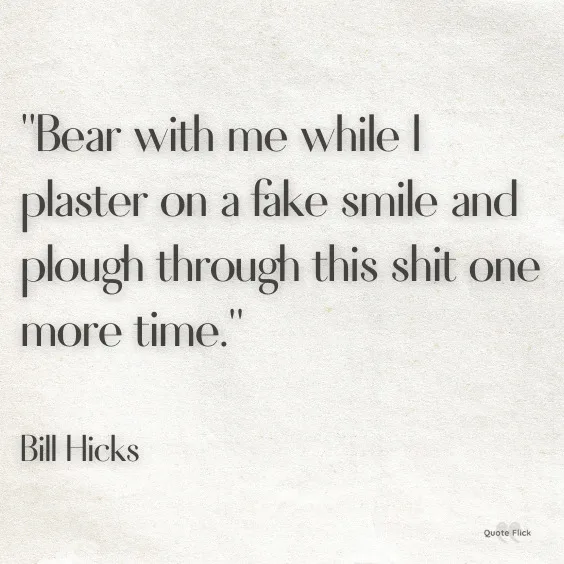 25. "A fake smile can only be put on for some time. Because they are easily detected and disclosed." – Saad Wakeel
26. "Gimme an honest frown over a false smile, any day." – Gregory David Roberts
27. "And we put on a fake to smile to hide the pain, yet we wish someone would look closely enough and see how broken we really are inside." – Unknown
28. "I smile not for that I am happy, but sometimes I smile to hide sadness." – Rahim Chamkanai
29. "A fake smile rarely makes to eyes. The face seems dull instead of full of life." – Tim Curry
30. "Behind my smile is everything you'll never understand." – Unknown
31. "It's getting harder and harder to wear a fake smile every day because the more I wear it the more I know how much of a lie it is." – Jack Davenport
32. "I was smiling yesterday, I am smiling today, and I will smile tomorrow. Simply because life is too short to cry for anything." – Santosh Kalwar
33. "It's not always the tears that measure the pain. Sometimes it's the smile we fake." – Unknown
34. "Girls fake smiles. Guys fake feelings." – Unknown
35. "You walk through life much easier with a smile on your face." – Sweet Paul
36. "Behind my smile is everything you'll never understand" – Dylan
37. "The presence of someone we are angry at often makes us suppress or fake a smile or a laugh." – Mokokoma Mokhonoana
38. "A smile is the best way to deal with a difficult situation, even if it's a fake one. Used properly it can fool anyone" – Sai
39. "A fake smile can hide a million tears."- Ben Barnes
40. "One day, I want someone to look past my fake smile, pull me close and say No, you're not okay." – Unknown
41. "Smiles are like band-aids, they cover up the pain. But still, it hurts." – Unknown
42. "You look at me and think, 'he's so happy' but there's so much behind this fake smile that you will never know." – Unknown
43. "Living with a fake smile, in this fake world." – Sai Kiran Kaja
44. "Fake smile shines bright, hides the truth in its lies." – Siim
45. "It's amazing what you can hide just by putting on a smile" – Unknown
46. "You should step in my shoes, walk for a while, and maybe you will see how hard it is to hold back the tears and fake a smile" – Elizabeth Panos
47. "A smile is the best way to get away with trouble even if it's a fake one" – Masashi Kishimoto
48. "I was glad my father was an eye-smiler. It meant he never gave me a fake smile because it's impossible to make your eyes twinkle if you aren't feeling twinkly yourself. A mouth smile is different. You can fake a mouth smile any time you want, simply by moving your lips. I've also learned that a real mouth-smile always has an eye-smile to go with it, so watch out, I say, when someone smiles at you with his mouth but the eyes stay the same. It's sure to be bogus." – Roald Dahl
49. "All it takes is a beautiful fake smile to hide an injured soul… and they will never notice how broken you really are." – Robin Williams
50. "She had the prettiest eyes & prettiest smile with wounds on her heart and bruises on her soul" – Tanya Gambhir
51. "Sometimes it hurts more to smile in front of everyone than to cry all alone." – Unknown
52. "I miss those days when my smile was real." – Unknown
53. "Smile are like band-aids, they cover up the pain. But still it hurts." – Unknown
54. "Because sometimes you put on a smile, even though you're going through tough times, but if we look past the smile, we would notice all the pain inside." – Unknown
Holly Jaskolka is a certified Emotional Freedom Technique (EFT) practitioner, yoga instructor, and an impassioned advocate for holistic well-being. Fueled by her love for animals and wanderlust, Holly leads a plant-based lifestyle that she complements with immersive travel experiences. When she's not jet-setting to uncover the world's hidden gems, she's empowering individuals to heal emotionally, particularly those grappling with the aftermath of breakups. Connect with Holly on LinkedIn.