Trust is the foundation of successful relationships. These trust quotes emphasize the importance of building trusting connections.
Having faith that the people you are close to are honest and reliable is a minimum requirement that you shouldn't feel wrong for expecting.
Quotes about trust go into detail about the importance of this foundation for relationships, whether this is with a colleague or a person you love. Once trust is broken, it can be hard to salvage a connection.
Read through our quotes on trust and reflect on whether you feel you are a trustworthy person, and whether you can speak your truth and feel comfortable with it. Also, ask yourself if the people you surround yourself with have integrity and make you feel safe.
We hope these meaningful trust quotes will get you thinking and making changes where needed.
Trust Quotes
1. "Trust yourself, you will start to trust others." – Santosh Kalwar
2. "Earn trust, earn trust, earn trust. Then you can worry about the rest." – Seth Godin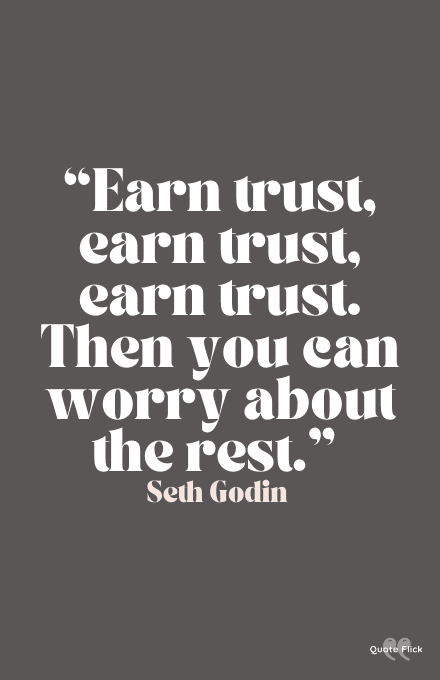 3. "A relationship built on trust is crucial to remain long-lasting" – Unknown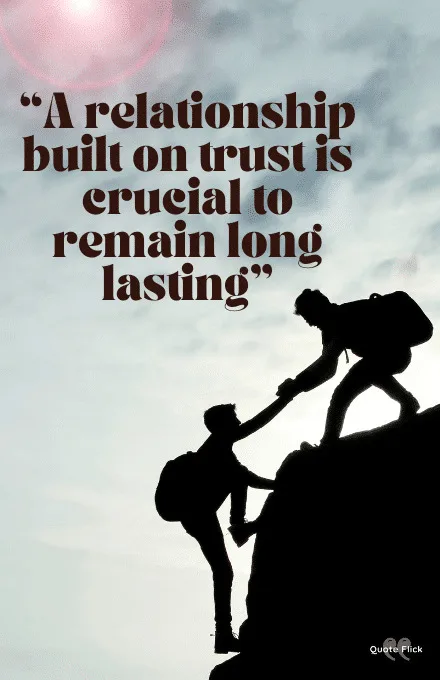 4. "Trust starts with truth and ends with truth." – Santosh Kalwar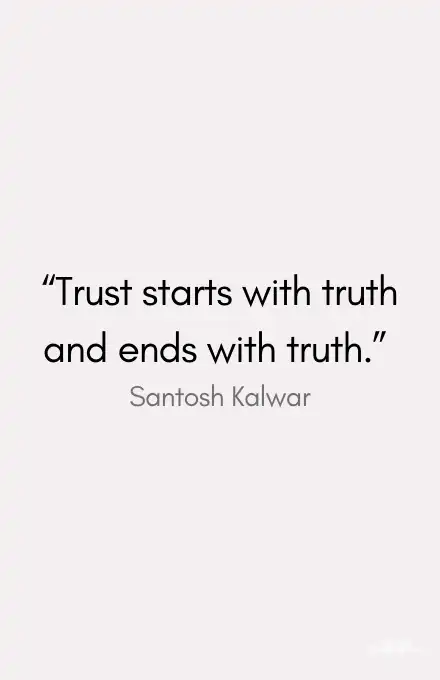 5. "On trust for yourself, can self-love bloom." – Unknown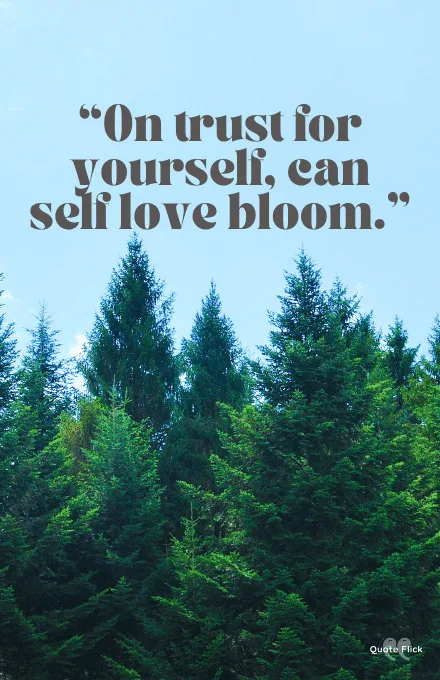 Next:
6. "The glue that holds all relationships together–including the relationship between the leader and the led–is trust, and trust is based on integrity." – Brian Tracy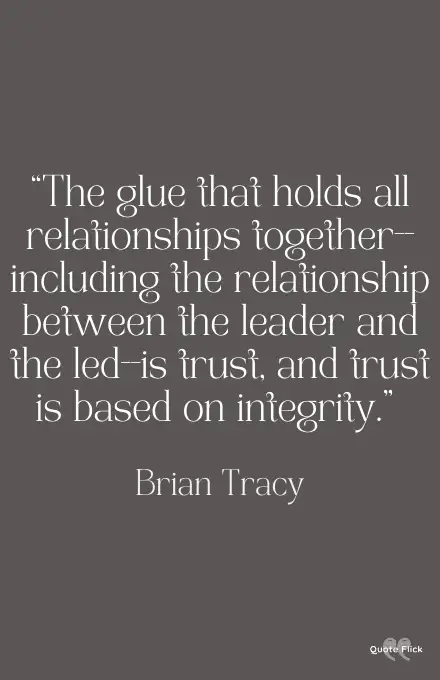 7. "A healthy relationship is built on unwavering trust." – Beau Mirchoff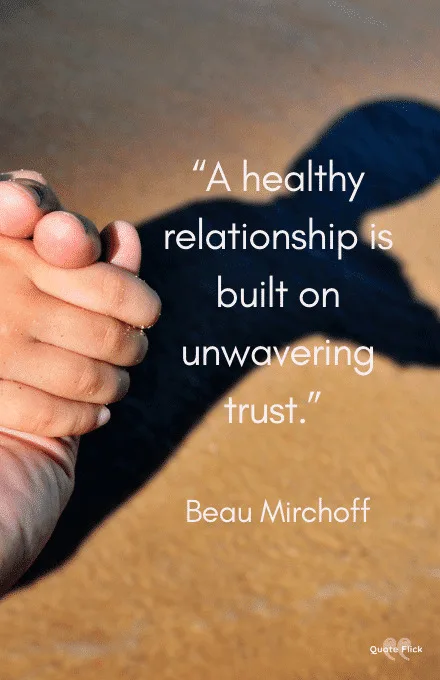 8. "In a relationship, trust is more important than love. It will enhance your love." – Unknown
9. "I believe in trusting men, not only once but twice – in giving a failure another chance." – James Cash Penney
10. "Sometimes you don't know who you can and cannot trust. I still learn that over and over again." – Demi Lovato
11. "I don't trust anyone who doesn't laugh." – Maya Angelou
12. "He who does not trust enough, will not be trusted." – Lao Tzu
13. "We are all selfish and I no more trust myself than others with a good motive."– Lord Byron
14. "Trust me when I say I love you. I do now and I always will." – Unknown
15. "It takes a lot of truth to gain trust but just one lie to lose it all." – Unknown
16. "Trust is built with consistency." – Lincoln Chafee
17. "Trust thyself: every heart vibrates to that iron string." – Ralph Waldo Emerson
18. "Trust is the fruit of a relationship in which you know you are loved." — William P. Young
19. "To be trusted is a greater compliment than to be loved." – George MacDonald
20. "As soon as you trust yourself, you will know how to live." – Johann Wolfgang von Goethe
21. "When mistrust comes in, loves goes out." – Irish proverb
22. "The people when rightly and fully trusted will return the trust." – Abraham Lincoln
23. "A man trusts another man when he sees enough of himself in him." – Gregory David Roberts
24. "Learning to trust is one of life's most difficult tasks." – Isaac Watts
25. "Keep your promises and be consistent. Be the kind of person others can trust." – Roy T. Bennett
26. "Every path but your own is the path of fate. Keep on your own track, then." – Henry David Thoreau
27. "Don't trust the person who has broken faith once." – William Shakespeare
28. "When the trust account is high, communication is easy, instant, and effective." – Stephen R. Covey
29. "Speak your truth, even if your voice shakes." – Robin Sharma
30. "I want someone who can trust that my big hands are going to take care of them." – Dwayne Johnson
31. "Learning to trust is one of life's most difficult tasks." – Isaac Watts
32. "I trusted you but now your words mean nothing because your actions spoke the truth."
33. "Love all, trust a few, do wrong to none." William Shakespeare
34. The best way to find out if you can trust somebody is to trust them.- Ernest Hemingway
35. "We are all selfish and I no more trust myself than others with a good motive." – Lord Byron
36. "You must trust and believe in people, or life becomes impossible." – Anton Chekhov
37. "To be trusted is a greater compliment than being loved." – George MacDonald
38. "Self-trust is the essence of heroism." – Ralph Waldo Emerson
39. "The people when rightly and fully trusted will return the trust."
40. "Trust in dreams, for in them is hidden the gate to eternity." – Kahlil Gibran
41. "I'm not upset that you lied to me, I'm upset that from now on I can't believe you." – Friedrich Nietzsche
42. "Trust has to be earned, and should come only after the passage of time." – Arthur Ashe
43. "Don't ever break someone's trust. Once you do, then nobody wants to do business with you." – Robert Budi Hartono
44. "Take no one's word for anything, including mine – but trust your experience." – James Baldwin
45. Have enough courage to trust love one more time and always one more time. – Maya Angelou
46. "The best proof of love is trust." – Joyce Brothers
47. "As soon as you trust yourself, you will know how to live." – Johann Wolfgang von Goethe
48. "Trust is like blood pressure. It's silent, vital to good health, and if abused it can be deadly." – Frank Sonnenberg
49. "Fear leads to more fear, and trust leads to more trust. " – Dean Ornish
50. "Trust should be the basis for all our moral training." – Robert Baden-Powell
51. "It's good to trust others but, not to do so is much better." – Benito Mussolini
52. "To conquer the unknown you must trust." – Yogi
53. "The trust of the innocent is the liar's most useful tool." – Stephen King
54. "Just trust yourself, then you will know how to live." – Johann Wolfgang von Goethe
55. "Those who trust us educate us." – George Eliot
56. "For every good reason there is to lie, there is a better reason to tell the truth."– Bo Bennett
57. "The trust of the innocent is the liar's most useful tool." –Stephen King
58. "Trust in what you love, continue to do it, and it will take you where you need to go." – Natalie Goldberg
59. "Men trust their ears less than their eyes." –Herodotus
60. "I trust no one, not even myself." – Joseph Stalin
61. "Wise men put their trust in ideas and not in circumstances." —Ralph Waldo Emerson
62. "It's a delight to trust somebody so completely." – Jeff Goldblum
63. "Few things help an individual more than to place responsibility upon him, and to let him know that you trust him." – Booker T. Washington
64. "Trust is like a vase, once it's broken, though you can fix it, the vase will never be the same again." – Walter Anderson
65. "You must trust and believe in people, or life becomes impossible." – Anton Chekhov
66. "For every good reason there is to lie, there is a better reason to tell the truth."– Bo Bennett
67. "Trust, but verify." – Ronald Reagan
68. "It is mutual trust, even more than mutual interest, that holds human associations together." – H. L. Mencken
69. "The trust of the innocent is the liar's most useful tool." – Stephen King
70. "It's a delight to trust somebody so completely." – Jeff Goldblum