Character is defined as a person's moral qualities and these 70 thought-provoking quotes about character demonstrate what that means in more detail. Adversity, life's challenges, and the way we deal with and treat people really do reveal our true character.
Have you ever wondered how your character comes across to others or felt called to improve your self-reflection and self-awareness? You're in the right place to be inspired by these quotes about character. These character quotes show us just how important and impactful it is to have a strong sense of self, identity, and personality.
We loved reading and collecting these, and if you love them too, please consider sharing our work on your social media channels. Why not pin your favorite image to Pinterest; we would appreciate that so much!
1. "Character is power." – Booker T. Washington
2. "Primary greatness is on the inside. It's about character." – Stephen Covey
3. " . . . there are limits to what we can or should do to please another. We are not asking for full-on character changes. We are asking for modifications that will smooth out our frustrations with each other." – Linda Drevenstedt
4. "Character is the moral strength to do the right thing even when it costs more than you want to pay." – Michael Josephson
5. "Character is simply habit long continued." – Plutarch
6. "You choose your socks by their color, but your friends by their character." – Unknown.
7. "The habits of feeling, action and judgment that comprise good character depend on personal self-discipline and powerful aspiration to become a good person, all of which must be drawn from within." – Edwin Delattre
8. "Those who truly believe in their potential and know they can succeed have always pushed on forward, which basically reveals a strong character and the desire to be successful." – Stephen Steel
9. "Character is like a tree and reputation like its shadow. The shadow is what we think of it; the tree is the real thing." – Abraham Lincoln
10. "A man's character is his fate." – Heraclitus
11. "Character building begins in our infancy and continues until death." – Eleanor Roosevelt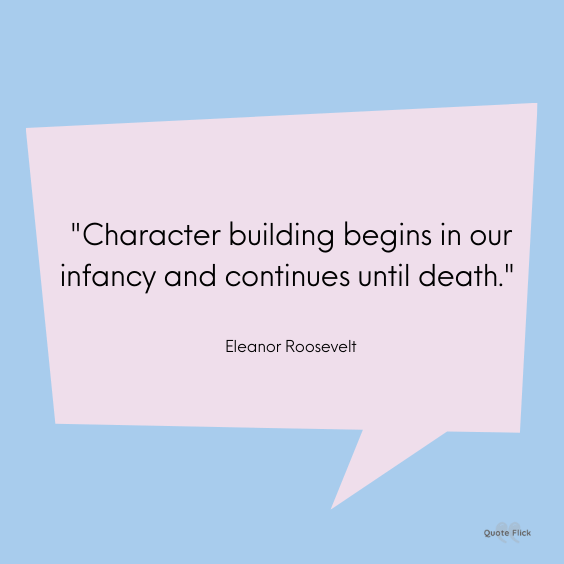 12. "Character is doing what's right." – Jocko Willink
13. "Parents can only give [their children] good advice or put them on the right paths, but the final forming of a person's character lies in their own hands." – Anne Frank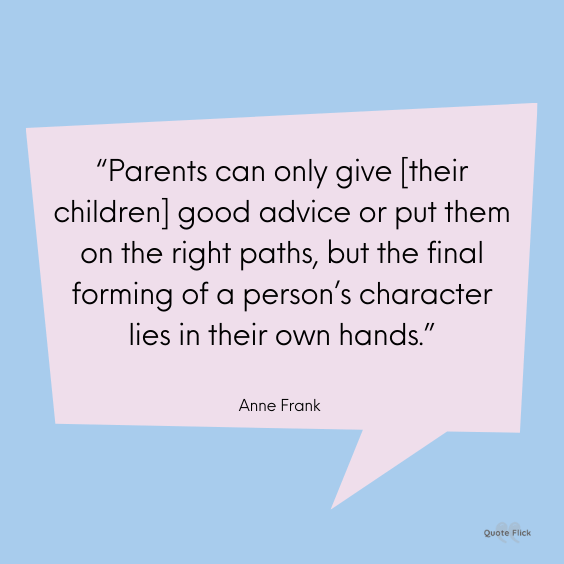 14. "If you pay too much attention to your reputation, you could lose your character." – Michael Josephson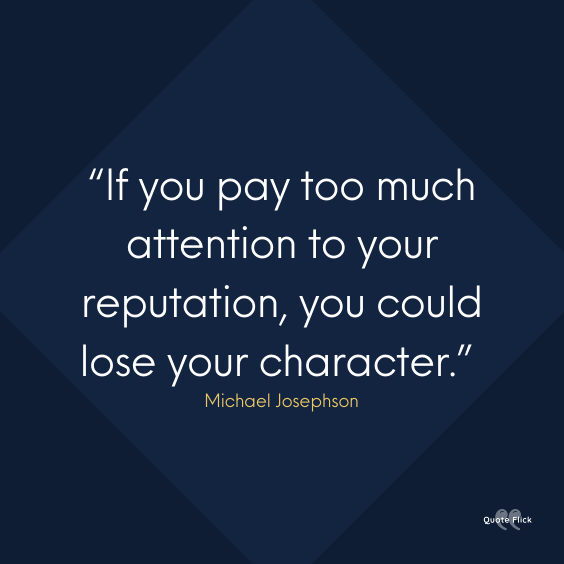 15. "If I take care of my character, my reputation will take care of me." – Dwight Moody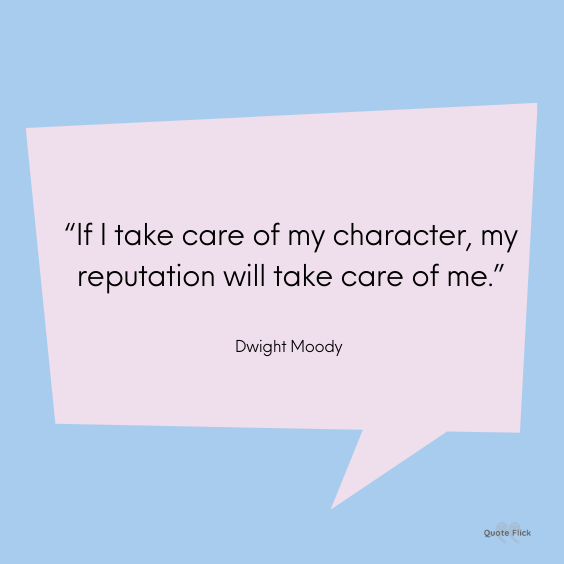 16. "Some are blessed with the physical and mental facility, but none are more prized than the one who has developed true character." – Greg Henry Quinn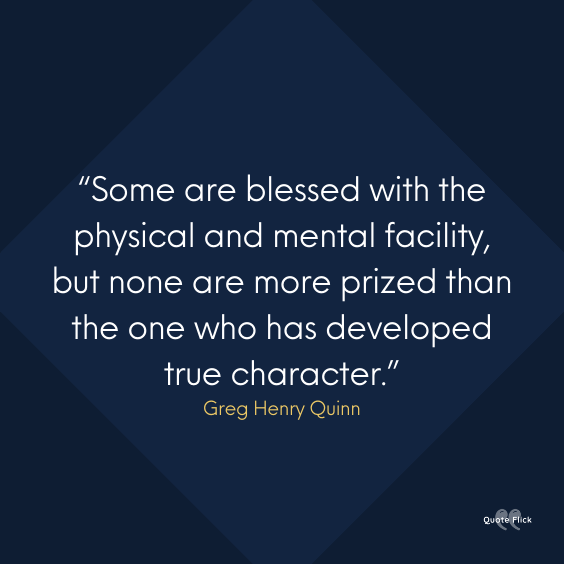 17. "Beauty catches the attention, but character catches the heart." – Unknown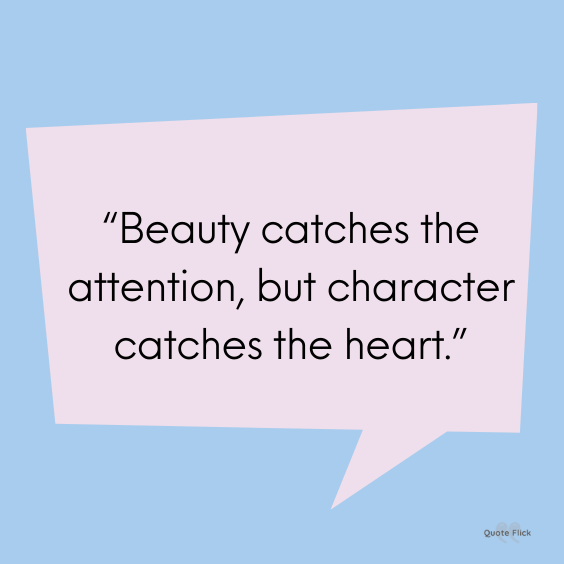 18. "Talent is a gift, but character is a choice." – Unknown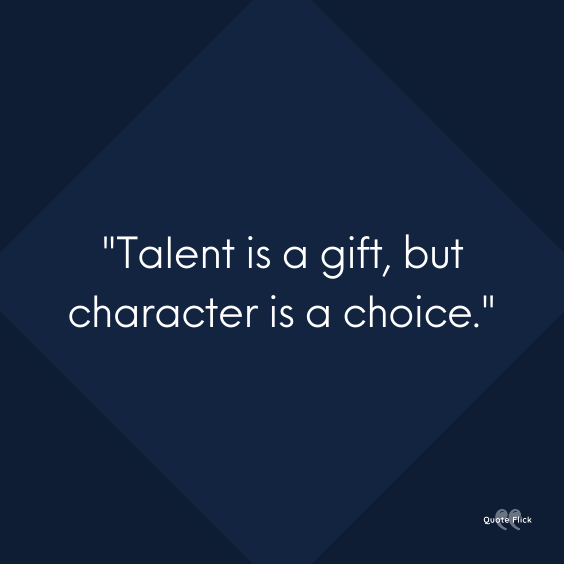 19. "Your character will be what you yourself choose to make it." – Unknown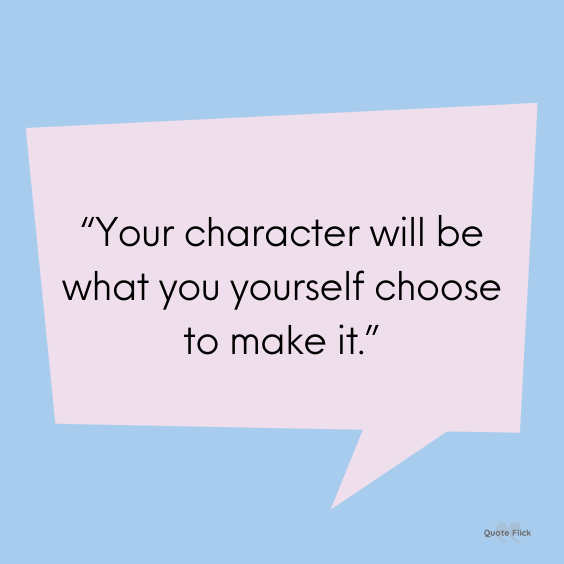 20. "Your character defines who you are by the actions you take." – Catherine Pulsifer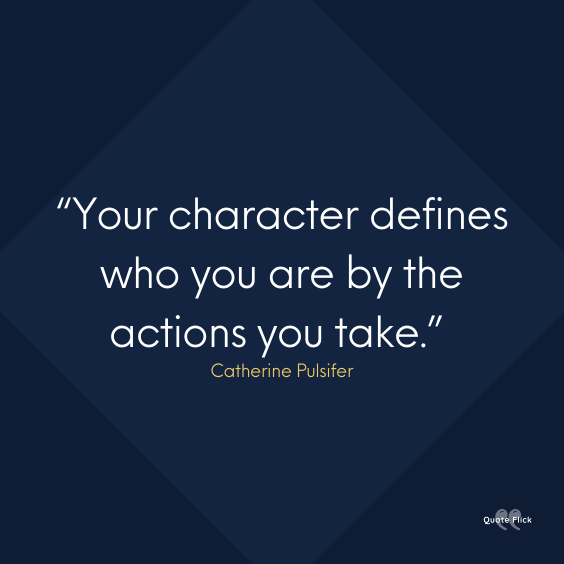 21. "I have a dream…that one day my four little children, will one day live in a nation where they will not be judged by the color of their skins, but by the content of their character." – Martin L. King, Jr.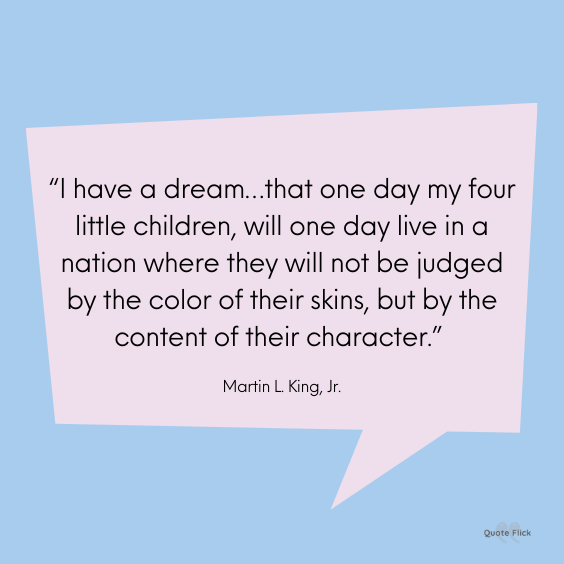 22. "Out of your vulnerabilities, will come your strength." – Sigmund Freud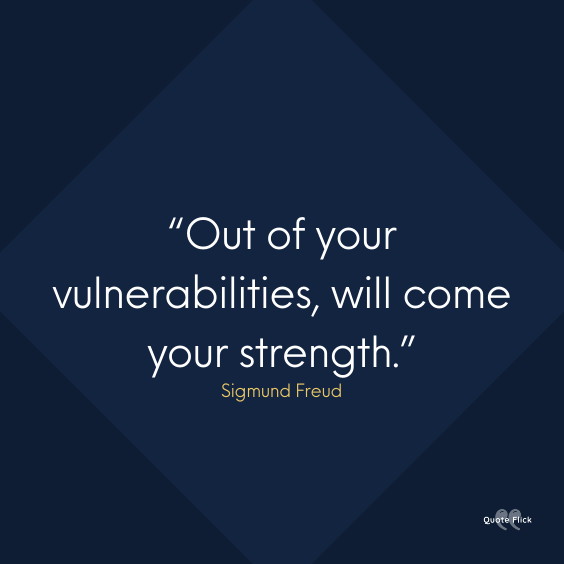 23. "True character is revealed when pressure is applied." – Unknown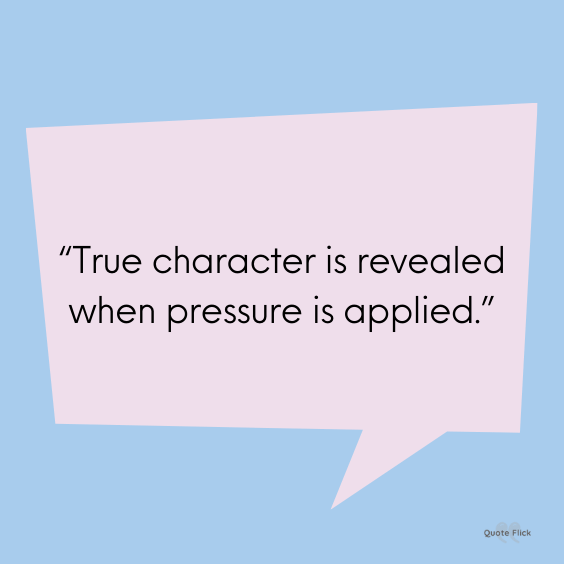 24. "Some say knowledge is power, but that is not true. Character is power." – Sathya Sai Baba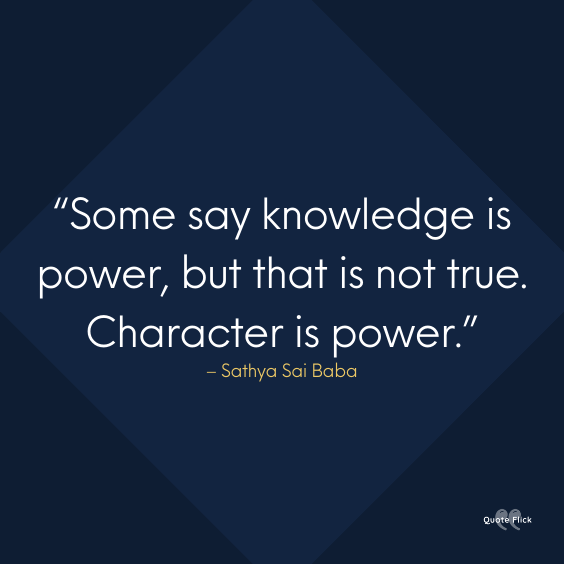 25. "You never really know the true quality of someones character until the road gets rocky." – Unknown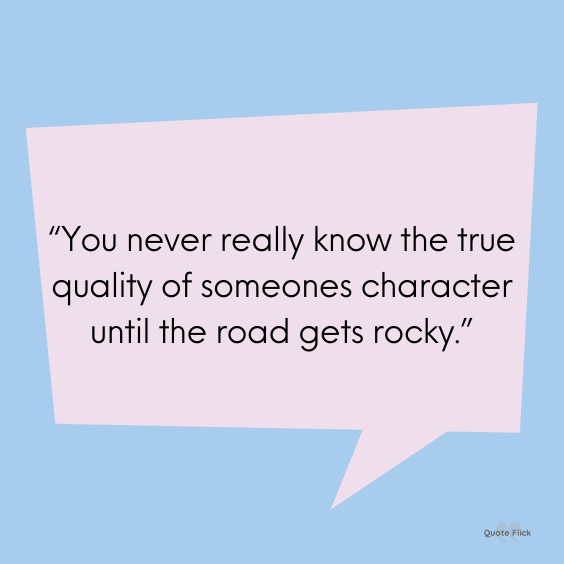 26. "Intelligence plus character-that is the true goal of education." — Martin Luther King, Jr.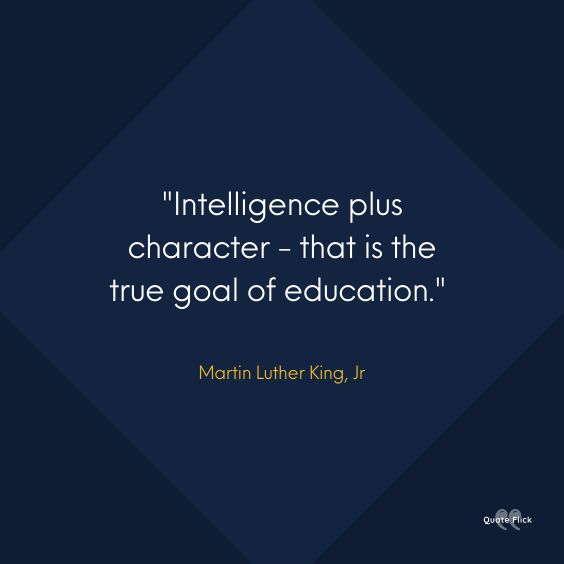 27. "Strong character is created through difficulties." – Unknown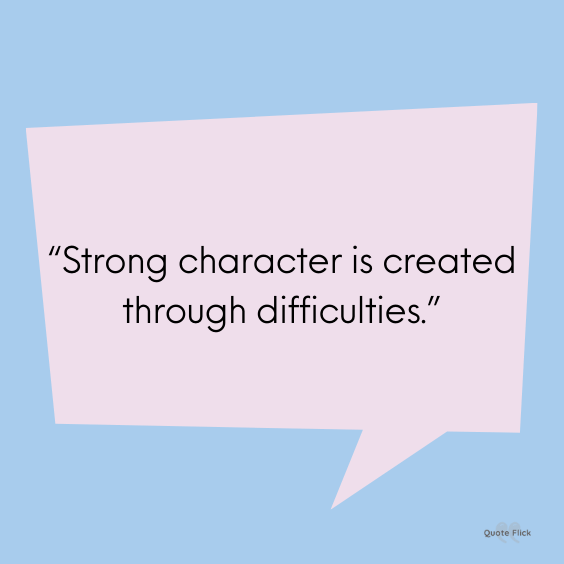 28. "The greatest architecture is building character." – Lewis F. Korns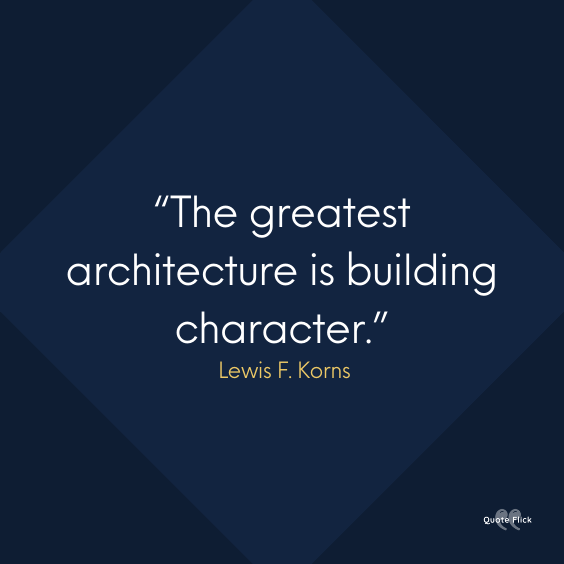 29. "Your true character is most accurately measured by how you treat those who can do nothing for you." – Mother Teresa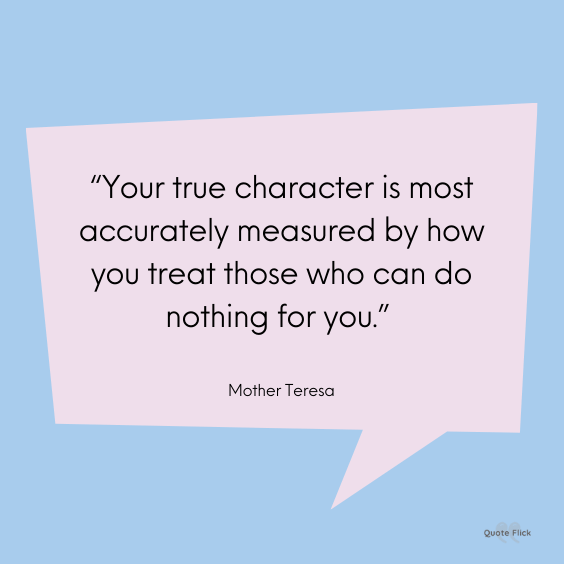 30. "When wealth is lost, nothing is lost; / when health is lost, something is lost; / when character is lost, all is lost." – German proverb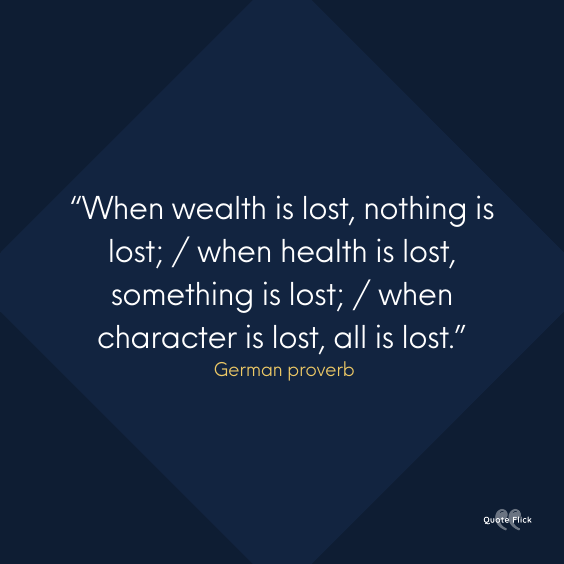 31. "If you pay too much attention to your reputation, you could lose your character." – Michael Josephson
32. "Beauty has a lot to do with character." – Kevyn Aucoin
33. "Our characters are the result of our conduct." – Aristotle
34. "Character is revealed by how you act when you think no one is looking." – Unknown
35. "Intelligence plus character – that is the goal of true education." – Martin Luther King Jr.
36. "Character is a diamond that scratches every other stone." – Cyrus Bartol
37. "Put more trust in nobility of character than in an oath." — Solon
38. "What a man's mind can create, man's character should control." – Thomas Edison
39. "Of all the properties which belong to honorable men, not one is so highly prized as that of character." — Henry Clay
40. "Good character is the single most important attribute of a successful and worthy life." – Michael Josephson
41. "Character is what you are in the dark." – Rev. Dwight Moody
42. "Good, honest, hardheaded character is a function of the home. If the proper seed is sown there and properly nourished for a few years, it will not be easy for that plant to be uprooted." – George A. Dorsey
43. "Hire for character, train for skills." – Michael Josephson
44. "Character consists of the moral awareness and strength to know the good, love the good and do the good." – Unknown
45. "Character is not something that you buy; it is not a commodity that can be bartered for; it is not a quality suited for only the rich and famous; rather, character is built upon the foundational commitment of love, honesty, and compassion for others." – Byron R. Pulsifer
46. "When you choose your friends, don't be short-changed by choosing personality over character." –W. Somerset Maugham
47. "Before we determine character from behavior, we must consider the context." – Dr. Stephen Lennox
48. "Character contributes to beauty. It fortifies a woman as her youth fades. A mode of conduct, a standard of courage, discipline, fortitude and integrity can do a great deal to make a woman beautiful." – Jacqueline Bisset
49. "How important is the heart! It is there that character is formed. It alone holds the secrets of true success. Its treasures are priceless — but they can be stolen." – Charles Swindoll
50. "Never does a man portray his character more vividly than when proclaiming the character of another." – Winston Churchill
51. "Any fool can criticize, condemn and complain – and most fools do. But it takes character and self-control to be understanding and forgiving." – Dale Carnegie
52. "He is happy, whose circumstances suit his temper; but he is more excellent, who can suit his temper to any circumstances." – David Hume
53. "Be tolerant with others and strict with yourself." – Marcus Aurelius
54. "You can easily judge the character of a man by how he treats those who can do nothing for him." – Johann Wolfgang von Goethe
55. "Generosity of character is important. It builds confidence by reminding you that you are a decent human being, and that you deserve any good things which might come your way." – John Franz
56. "If we are truly honest with ourselves, we can see that we each have many characteristic flaws. Especially when we are tired or hungry; these are the times that our character is tested." – Sean PI
57. "You can tell the character of every man when you see how he gives and receives praise." – Seneca
58. "The courage of today becomes the character of tomorrow." – Maxime Lagacé
59. "Be grateful for the joy of life. Be glad for the privilege of work. Be thankful for the opportunity to give and serve. Good work is the great character-builder, the sweetener of life, the maker of destiny. Let the spirit of your work be right, and whether your task be great orsmall you will then have the satisfaction of knowing it is worthwhile." – Grenville Kleiser
60. "The first thing that any education ought to give a man is character and the second thing is education." – George Horace Lorimer
61. "If someone lacks character, "Be yourself!" is the worst advice you can give." – Unknown
62. "It can ruin your life only if it ruins your character. Otherwise it cannot harm you – inside or out." – Marcus Aurelius
63. "What we know matters but who we are matters more." – Brené Brown
64. "You may be sure that you are at peace with yourself when no noise reaches you, when no word shakes you out of yourself." – Seneca
65. "How long are you going to wait before you demand the best for yourself?" – Epictetus
66. "Character is doing the right thing when nobody's looking. There are too many people who think that the only thing that's right is to get by, and the only thing that's wrong is to get caught." – J. C. Watts
67. "Everyone tries to define this thing called Character. It's not hard. Character is doing what's right when nobody's looking." – J. C. Watts
68. "Tell the truth. Do your best no matter how trivial the task. Choose the difficult right over the easy wrong. Look out for the group before you look out for yourself. Don't whine or make excuses. Judge others by their actions and not by their race or other characteristics." – United States Marines
69. "Knowledge will give you power, but character respect." – Bruce Lee
70. "People do not seem to realize that their opinion of the world is also a confession of character." – Ralph Waldo Emerson