Words of encouragement quotes keep us going through life's ups and downs. Encouraging words are great to uplift your thoughts, and to share with friends and family when you know they're in need of a boost.
You will be pleased to know that we have included a lovely sharable image with each one of our 99 encouraging quotes, so spreading the love is easy. The majority of the encouraging phrases from this list come from well-known and successful people who want to share their positive message with the world.
I personally like to write words of encouragement on post-it notes and stick them around my workspace; that way I'm never far from sayings that fill me with inspiration. I also like to write motivating statements in a journal.
It is totally normal to feel uninspired and flat at times, so don't give yourself a hard time for not always feeling positive. But you're clearly here to read some uplifting phrases, so give it a go and see if these positive messages help!
Let's get right into these encouraging messages, we'd love to hear your thoughts…
Best Words of Encouragement Quotes
Here you have our 99 top-selected best words of encouragement quotes. Read ahead to feel uplifted, inspired, and totally unstoppable. Why not save your favorite image as a screen saver or share it on Instagram?
1. "Make daily words of encouragement a ritual; when you open your eyes, tell yourself that no matter what, you are perfect exactly as you are." – Unknown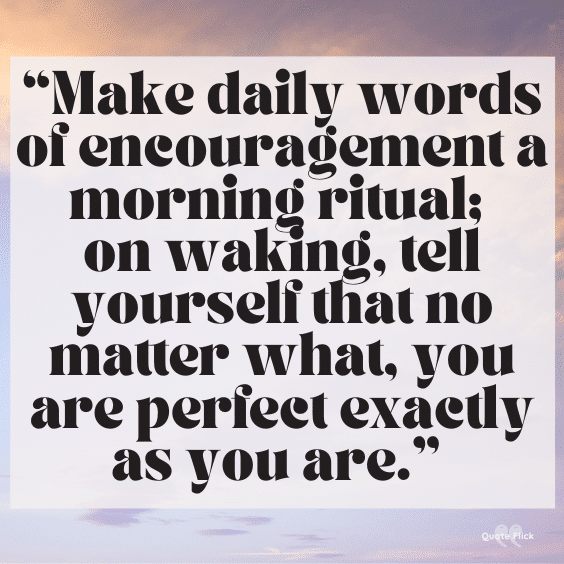 2. "I will always be your biggest cheerleader, your biggest encouragement."
3. "It is encouraging to know, that we can switch 'I have to' with 'I get to', and our whole mood instantly lifts. Try it" – Unknown
4. "Whenever you need encouraging words, call me, text me, show up; I'll always be your biggest cheerleader." – Unknown
5. "The famous words of encouragement from Nelson Mandela: "It always seems impossible until it is done." – Unknown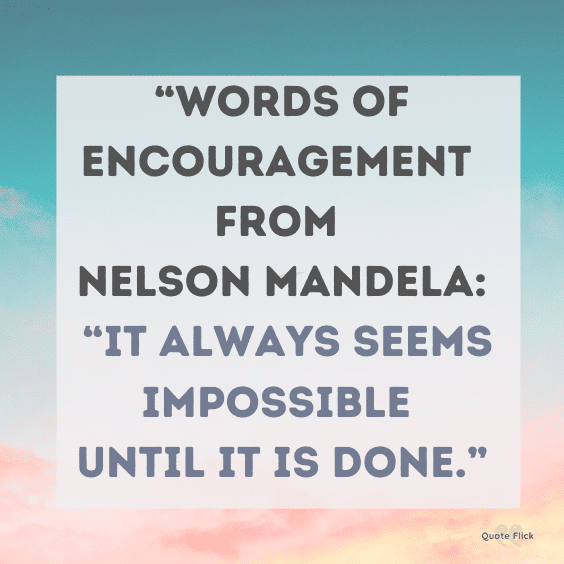 You Might Also Like:
6. "Do you want to meet the love of your life? Look in the mirror." – Byron Katie
7. "Success is not final, failure is not fatal. It is the courage to continue that counts." – Winston Churchill
8. "Life is 10% what happens to you and 90% how you react to it." – Charles R. Swindoll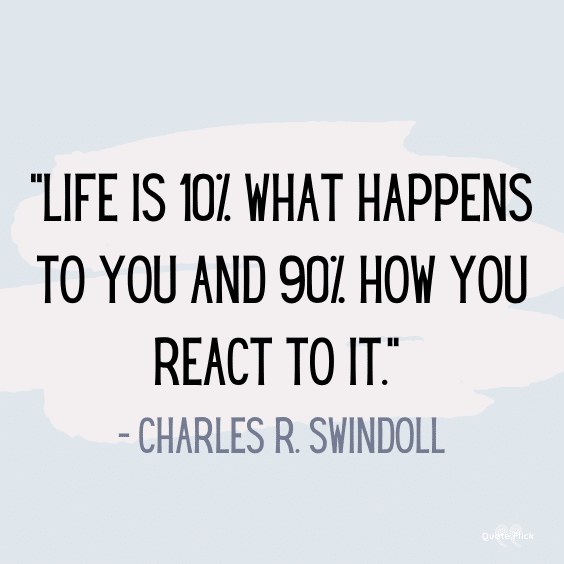 9. "If you're not making mistakes, then you're not making decisions." — Catherine Cook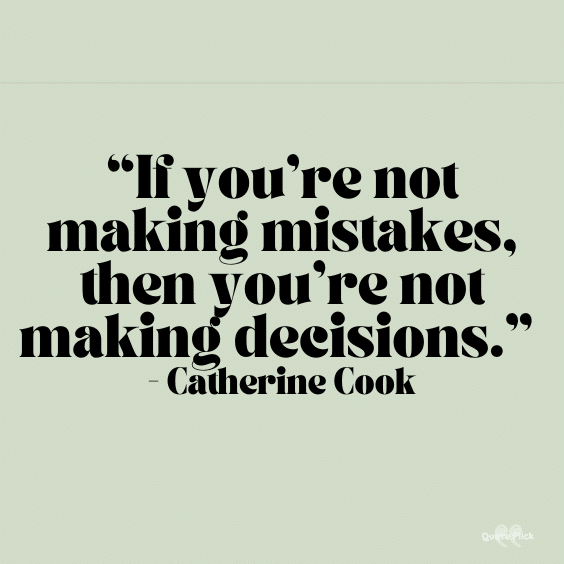 10. "Be the change that you wish to see in the world." — Mahatma Gandhi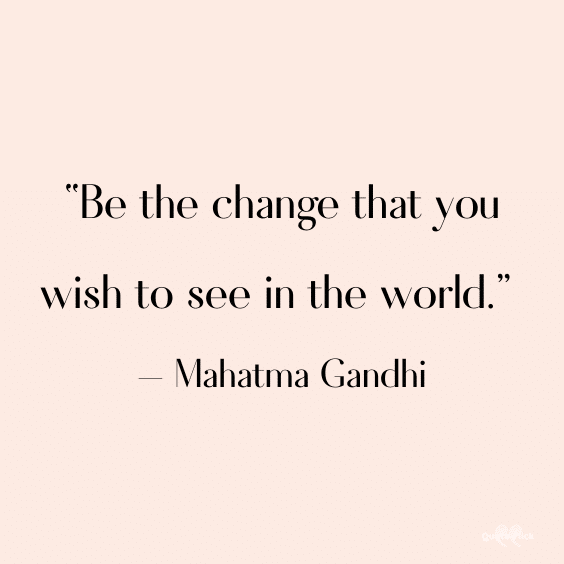 11. "The harder the conflict, the more glorious the triumph." – Thomas Paine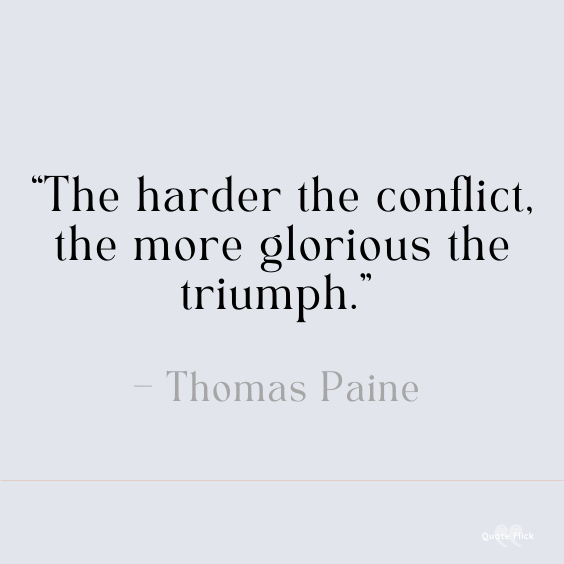 12. "Consistent actions. It's not what we do once in a while that shapes our lives, but what we do consistently." – Tony Robbins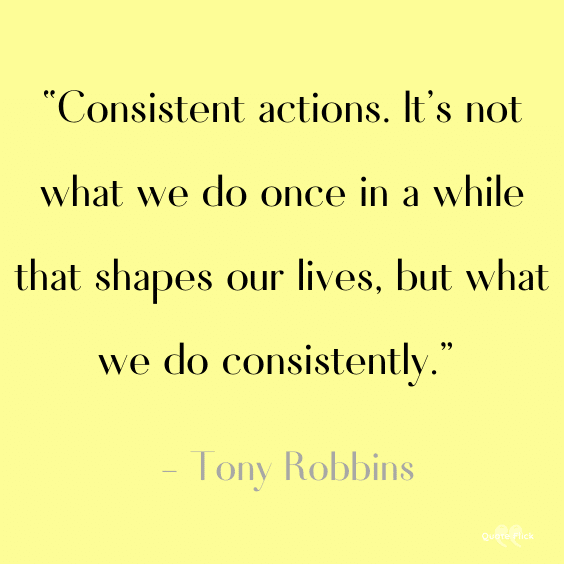 13. "Make up your mind that no matter what comes your way, no matter how difficult, no matter how unfair, you will do more than simply survive. You will thrive in spite of it."– Joel Osteen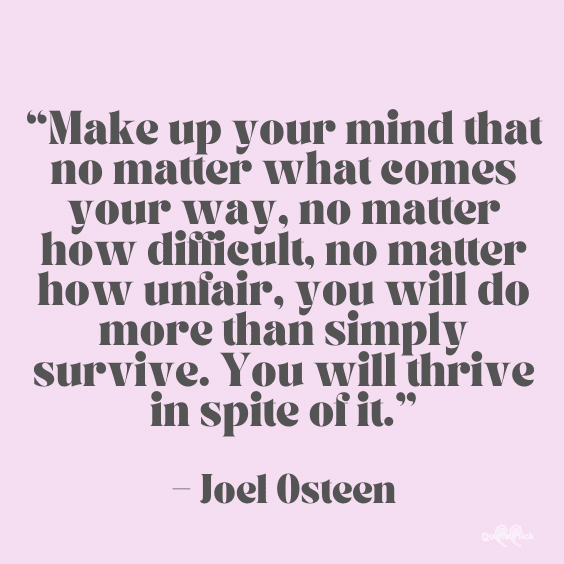 14. "You just can't beat the person who never gives up." – Babe Ruth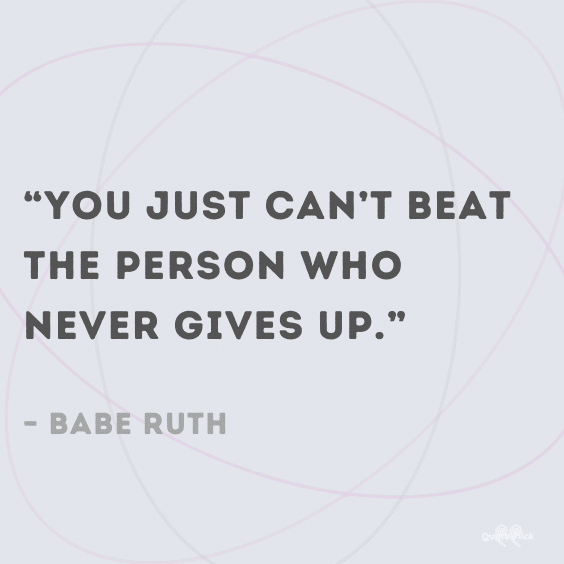 15. "A life spent making mistakes is not only more honorable but more useful than a life spent in doing nothing." – George Bernard Shaw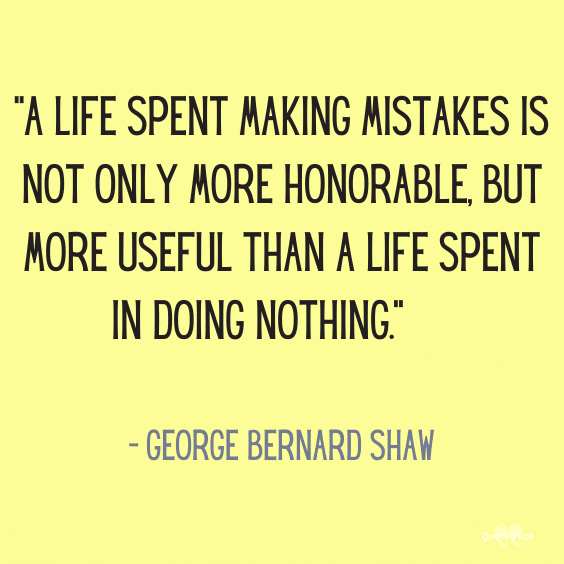 Next:
16. "Strength does not come from winning. Your struggles develop your strengths. When you go through hardships and decide not to surrender, that is strength." – Arnold Schwarzenegger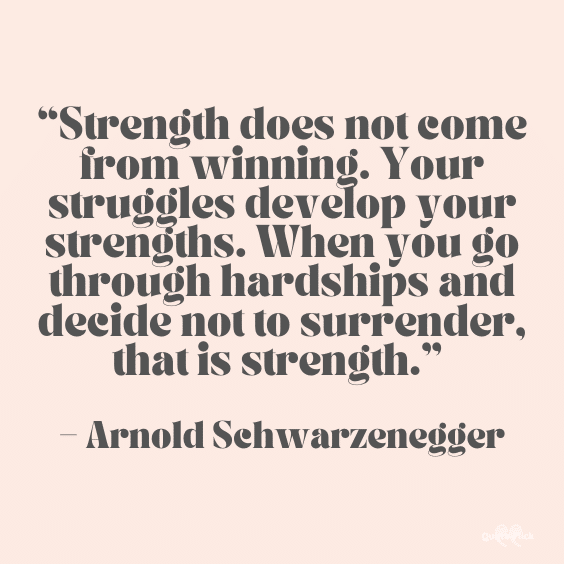 17. "The first step toward success is taken when you refuse to be a captive of the environment in which you first find yourself." – Mark Caine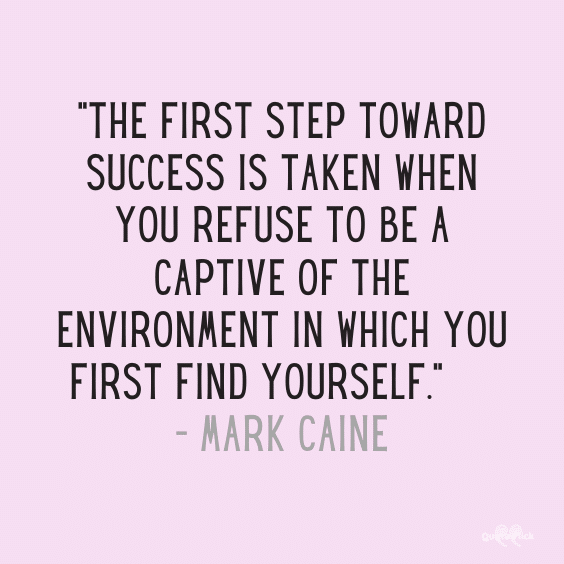 18. "It is impossible to live without failing at something, unless you live so cautiously that you might as well not have lived at all, in which case you have failed by default."– J.K. Rowling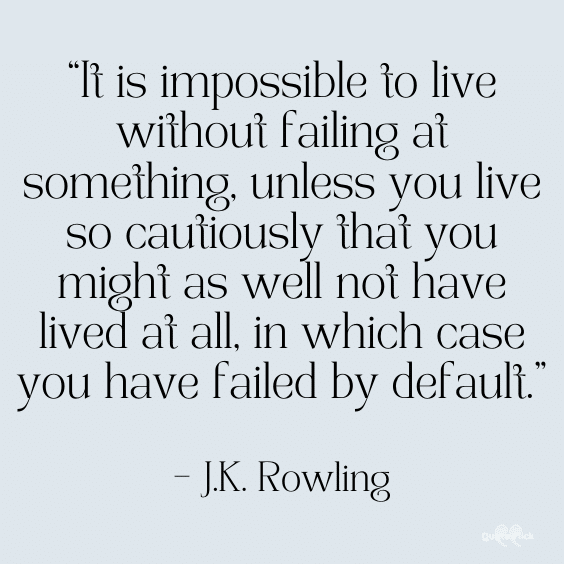 19. "Strive not to be a success but rather to be of value." – Albert Einstein
20. "I never dreamed about success. I worked for it." – Estée Lauder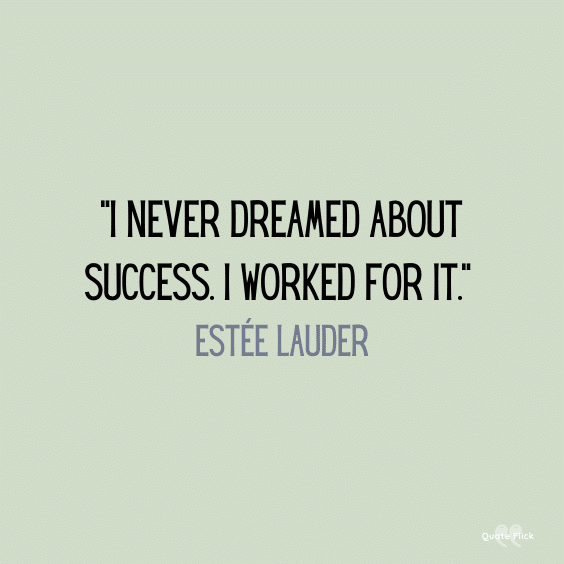 21. "A bird doesn't sing because it has an answer, it sings because it has a song." – Maya Angelou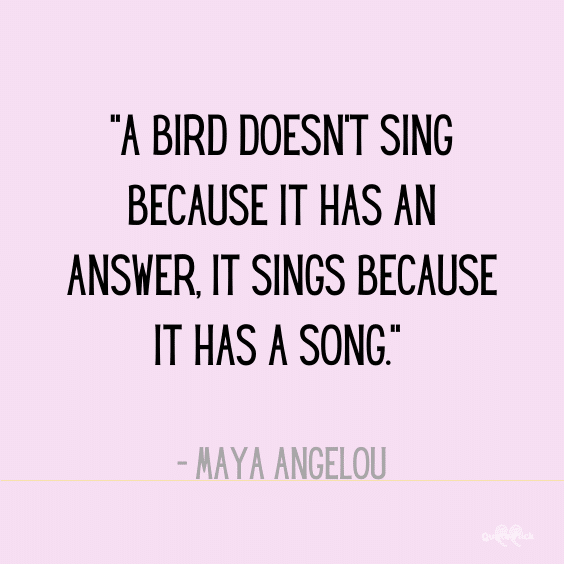 22. "Life is not easy for any of us. But what of that? We must have perseverance and, above all, confidence in ourselves. We must believe that we are gifted for something, and that this thing, at whatever cost, must be attained." – Marie Curie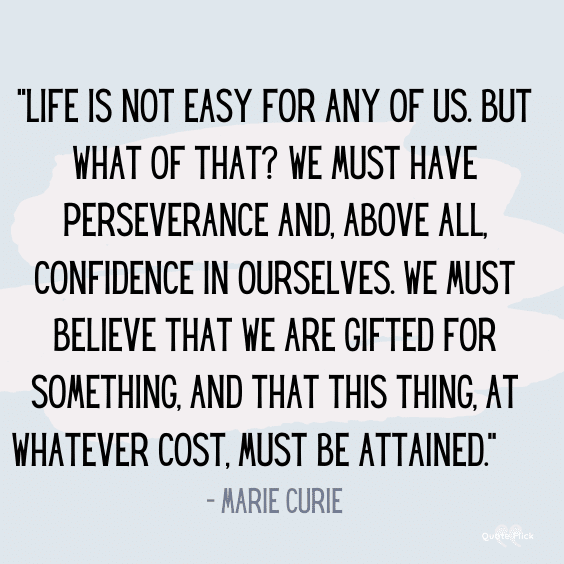 23. "Always be a first-rate version of yourself, instead of a second-rate version of somebody else." – Judy Garland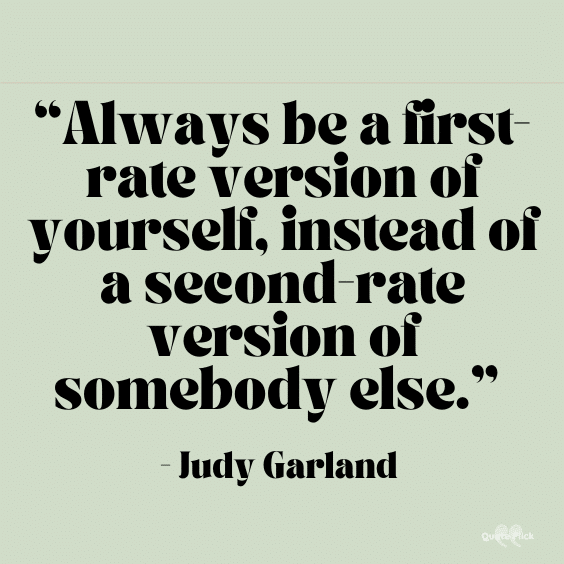 24. "Don't think, just do." – Horace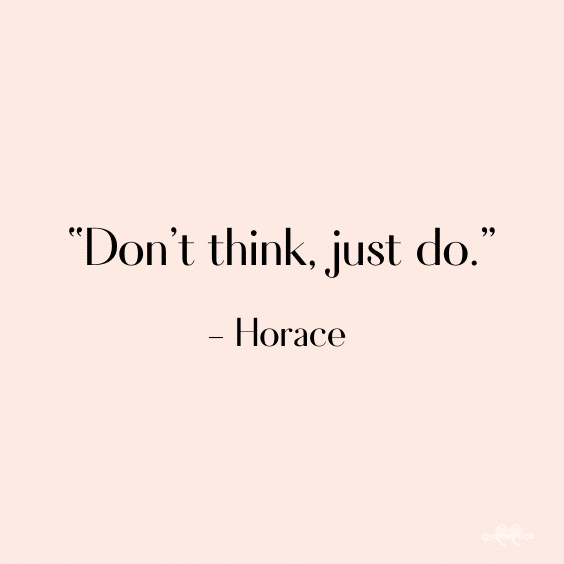 25. "When there is no struggle, there is no strength." – Oprah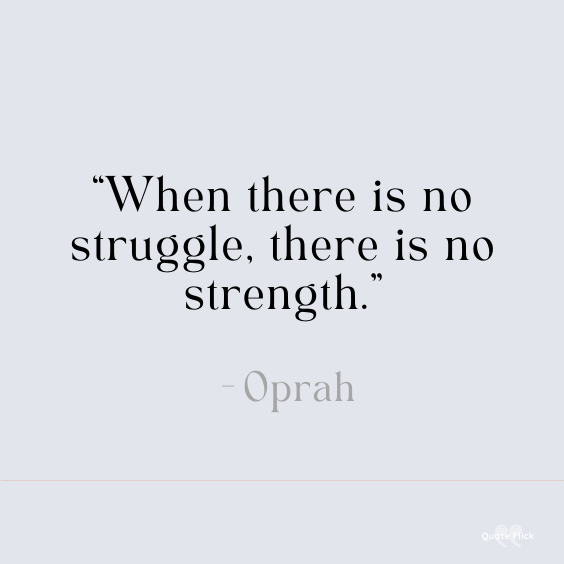 Next:
26. "Set your goals high and don't stop till you get there." – Bo Jackson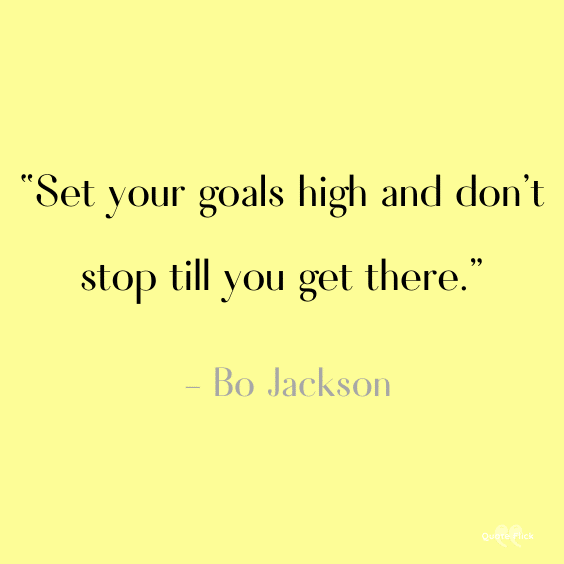 27. "The secret of health for both mind and body is not to mourn for the past, not to worry about the future, but to live the present moment wisely and earnestly." – Buddha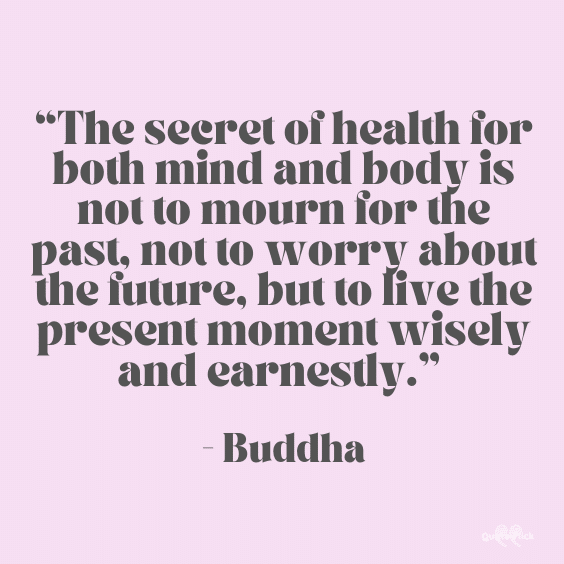 28. "The most beautiful thing you can wear is confidence." — Blake Lively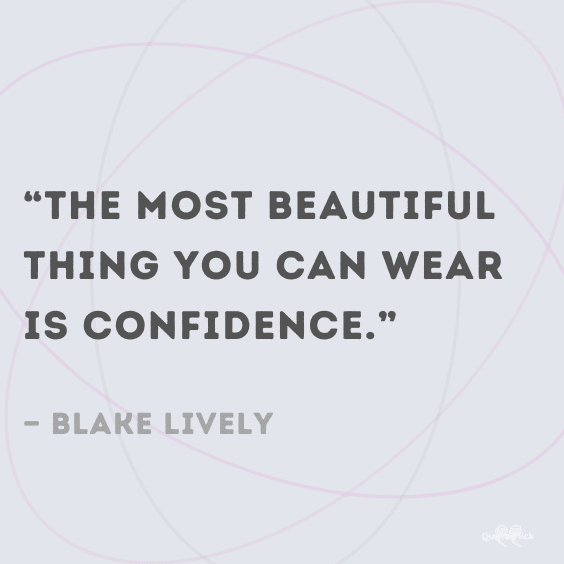 29. "You will never do anything in this world without courage. It is the greatest quality in the mind next to honor." — Aristotle
30. "Some luck lies in not getting what you thought you wanted but getting what you have, which once you have got it you may be smart enough to see is what you would have wanted had you known." – Garrison Keillor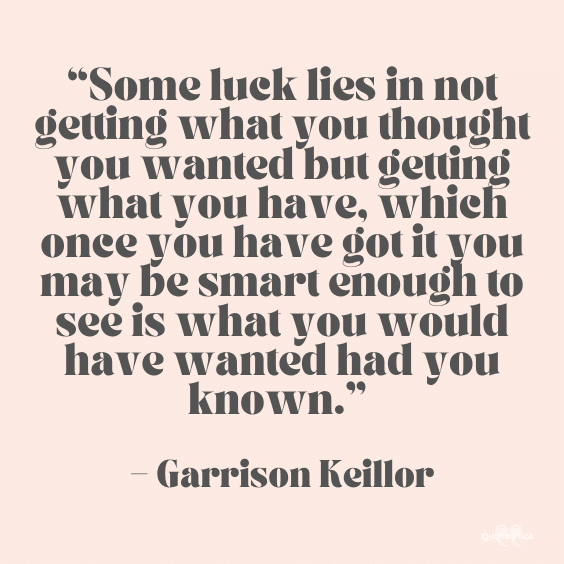 31. "You gain strength, courage, and confidence by every experience in which you really stop to look fear in the face. You are able to say to yourself, 'I lived through this horror. I can take the next thing that comes along.'"– Eleanor Roosevelt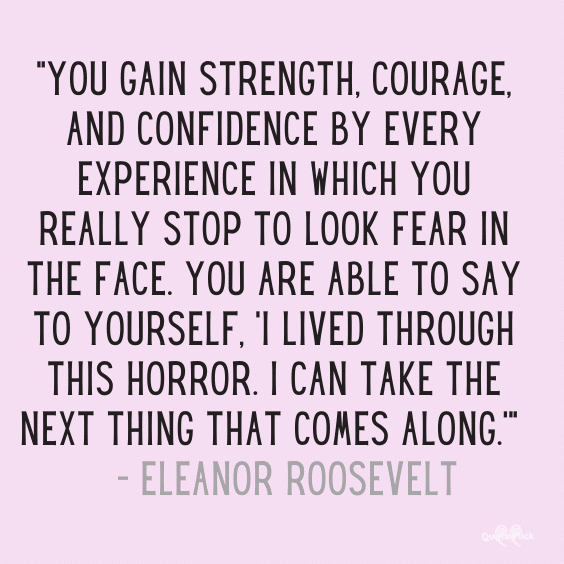 32. "Limit your 'always' and your 'nevers.'" – Amy Poehler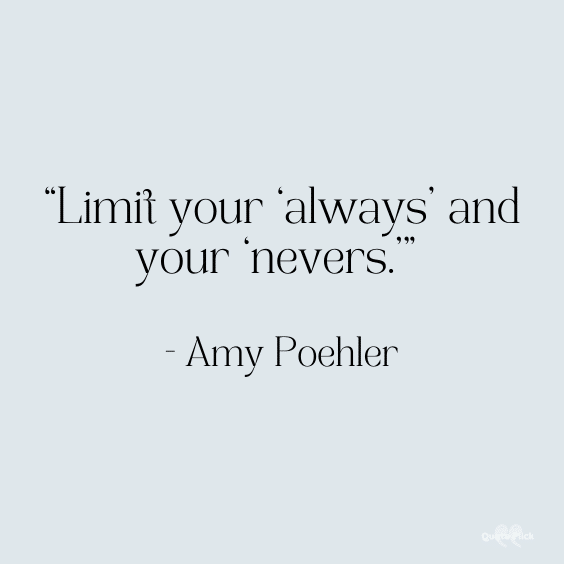 33. "I'm stronger than I thought I was. My favorite phrase has been 'This too shall pass.' I now understand it really well." — Robin Roberts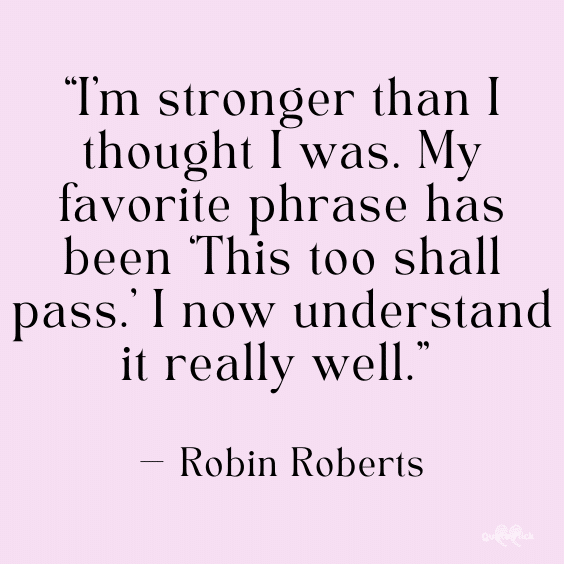 34. "Expect problems and eat them for breakfast." – Alfred A. Montapert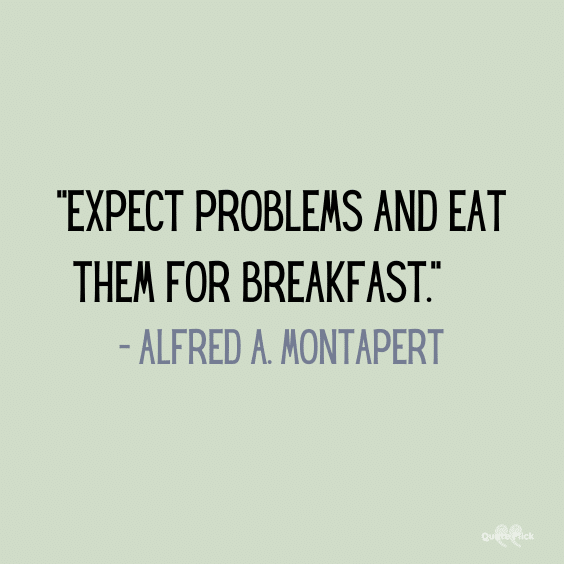 35. "One's life has value so long as one attributes value to the life of others, by means of love, friendship, indignation and compassion." – Simone De Beauvoir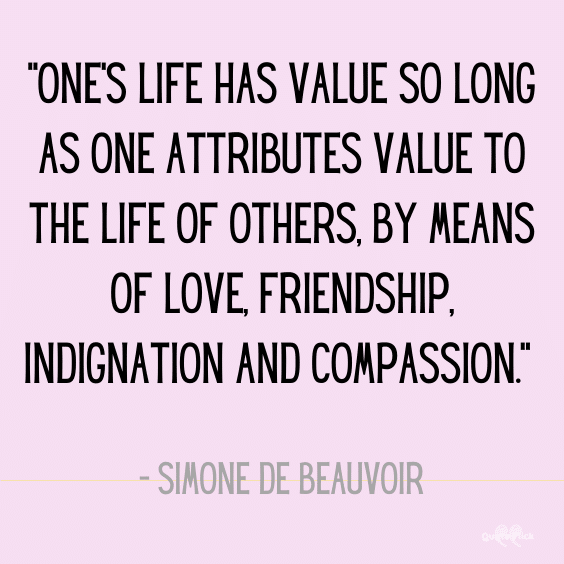 36. "When one door of happiness closes, another opens, but often we look so long at the closed door that we do not see the one that has been opened for us."– Helen Keller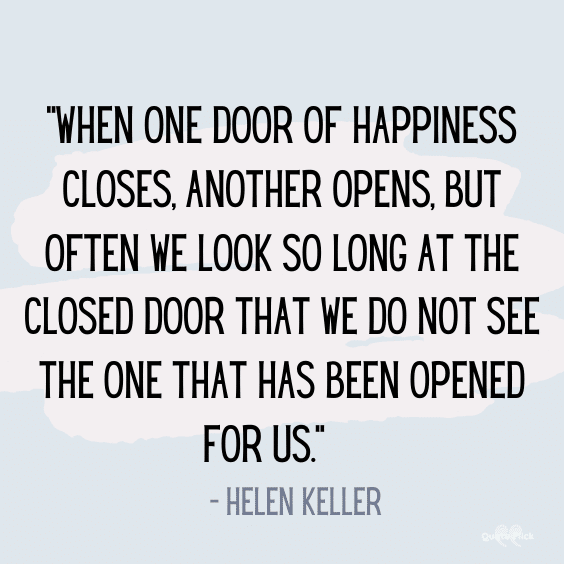 37. "Keep your eyes on the stars, and your feet on the ground." – Theodore Roosevelt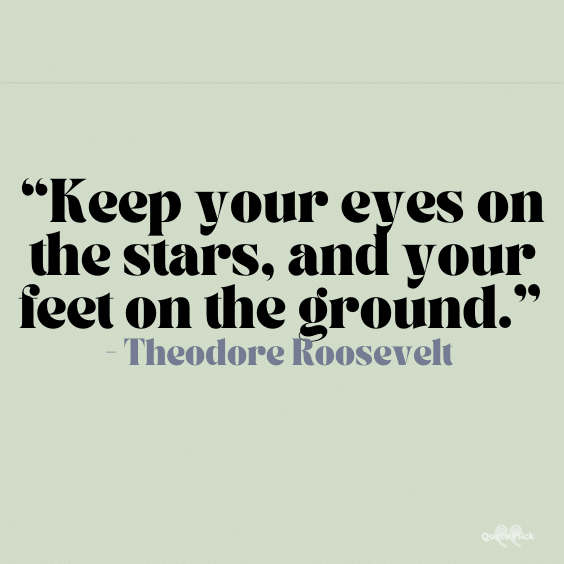 38. "When one door closes another door opens; but we so often look so long and so regretfully upon the closed door, that we do not see the ones which open for us." – Alexander Graham Bell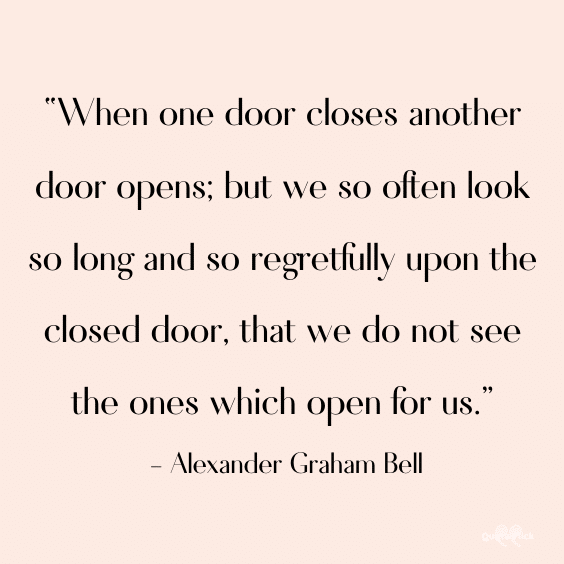 39. "Learning is the beginning of wealth. Learning is the beginning of health. Learning is the beginning of spirituality. Searching and learning is where the miracle process all begins." – Jim Rohn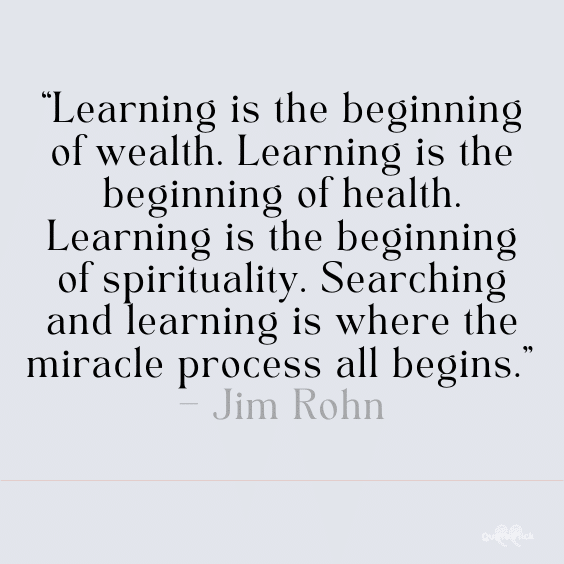 40. "I may not be perfect, but parts of me are pretty awesome." — Unknown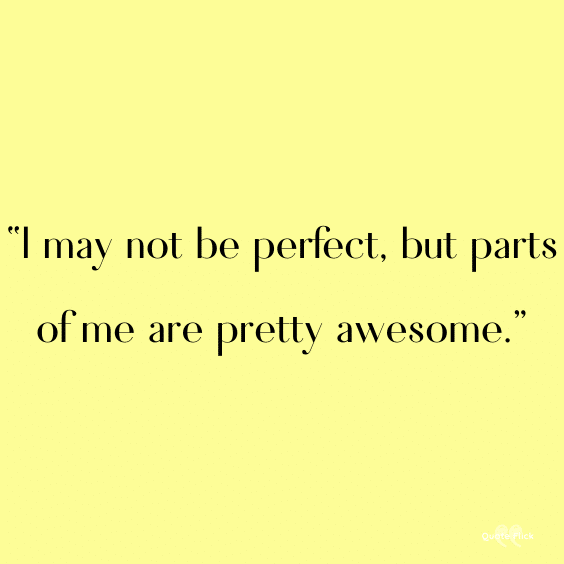 41. "Why should you continue going after your dreams? Because seeing the look on the faces of the people who said you couldn't will be priceless." – Kevin Ngo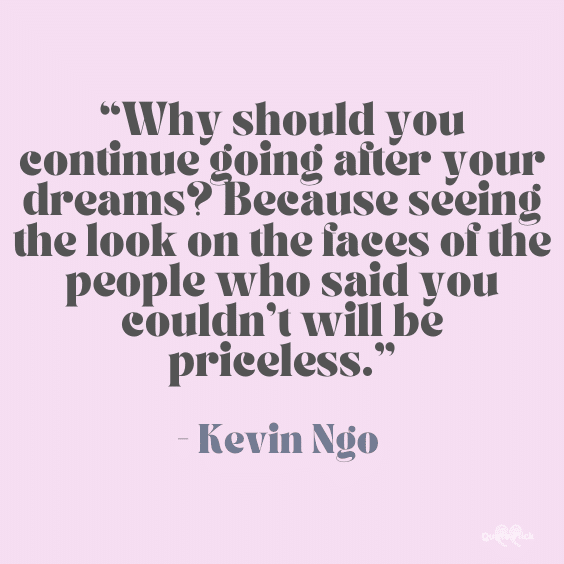 42. "A hero is an ordinary individual who finds the strength to persevere and endure in spite of overwhelming obstacles."– Christopher Reeve
43. "No one can make you feel inferior without your consent." – Eleanor Roosevelt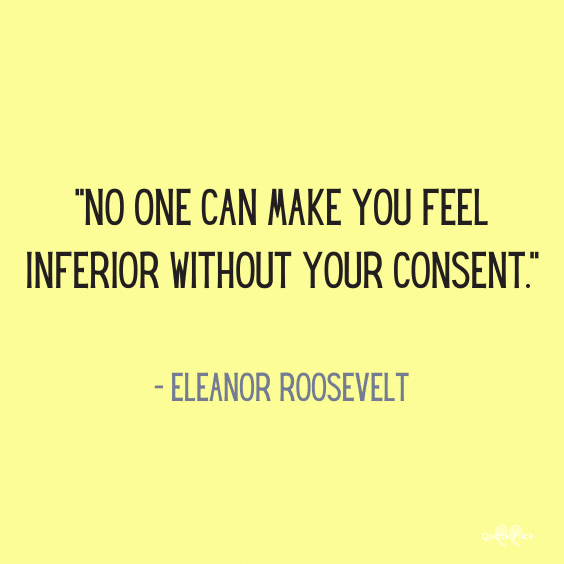 44. "The most effective way to do it, is to do it." – Amelia Earhart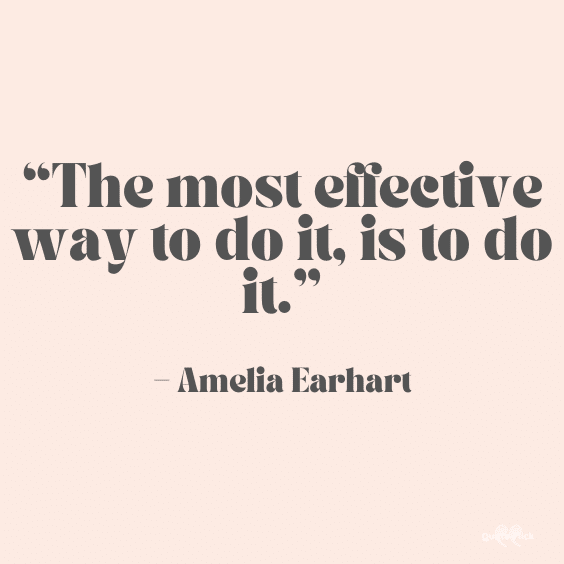 45. "Failure will never overtake me if my determination to succeed is strong enough." — Og Mandino"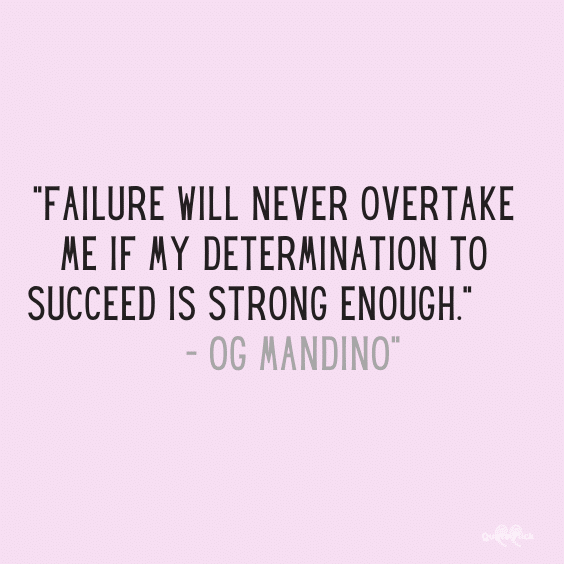 46. "Start where you are. Use what you have. Do what you can." – Arthur Ashe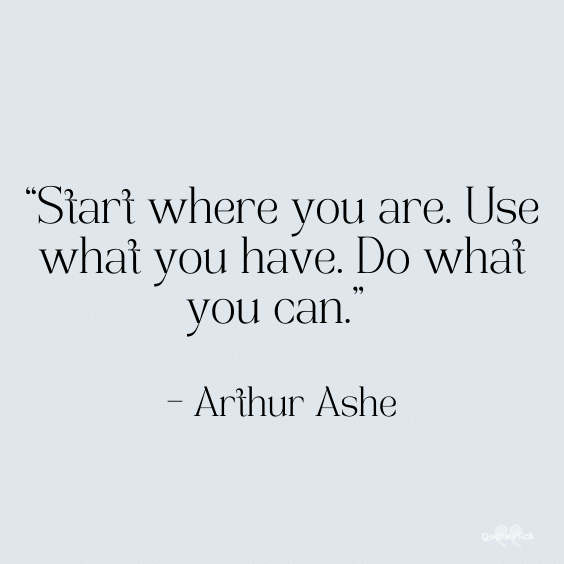 47. "Keep your face always toward the sunshine, and shadows will fall behind you." — Walt Whitman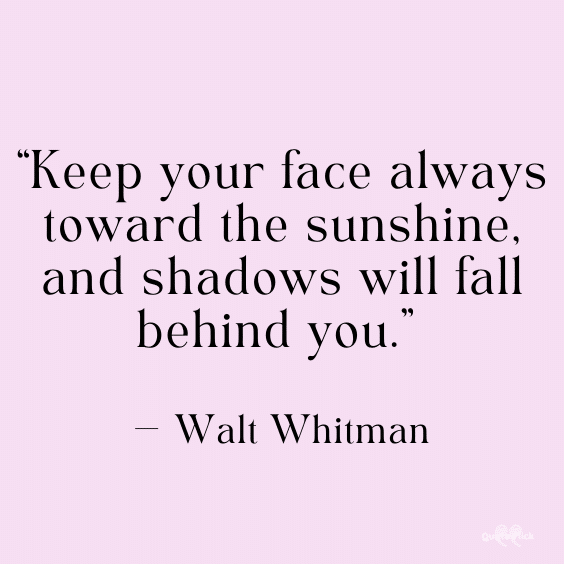 49. "If one dream should fall and break into a thousand pieces, never be afraid to pick one of those pieces up and begin again."– Flavia Weedn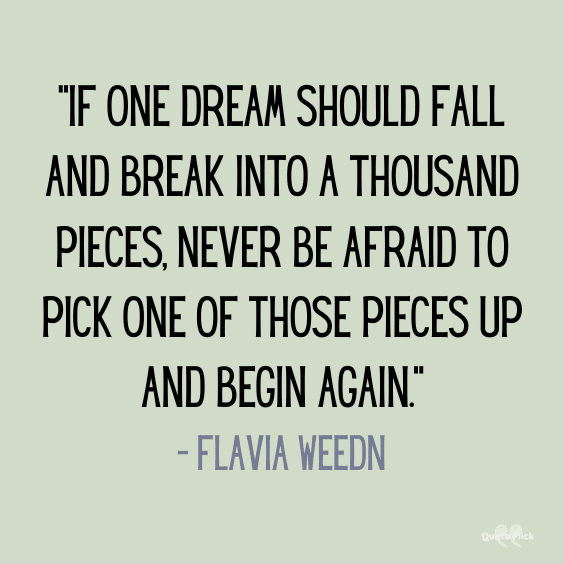 50. "Inspiration comes from within yourself. One has to be positive. When you're positive, good things happen." – Deep Roy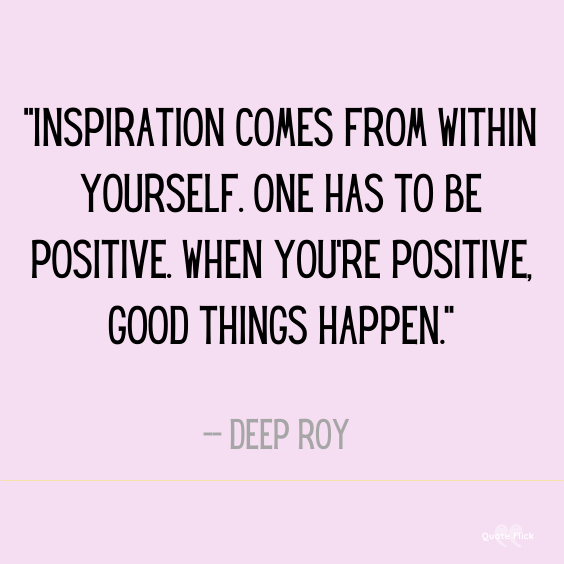 51. "Either you run the day or the day runs you." – Jim Rohn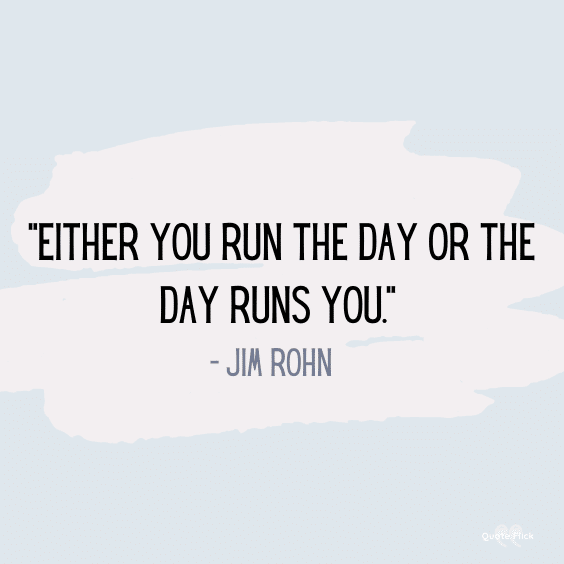 52. "Nobody cares if you can't dance well. Just get up and dance. Great dancers are not great because of their technique, they are great because of their passion." – Martha Graham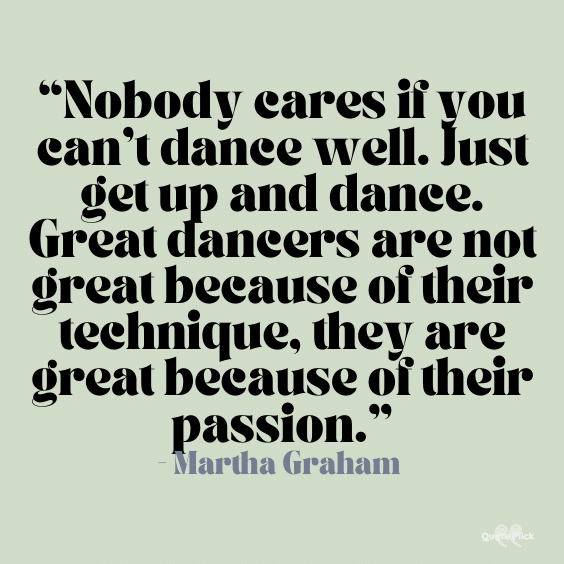 53. "You will never do anything in this world without courage. It is the greatest quality in the mind next to honor." – Aristotle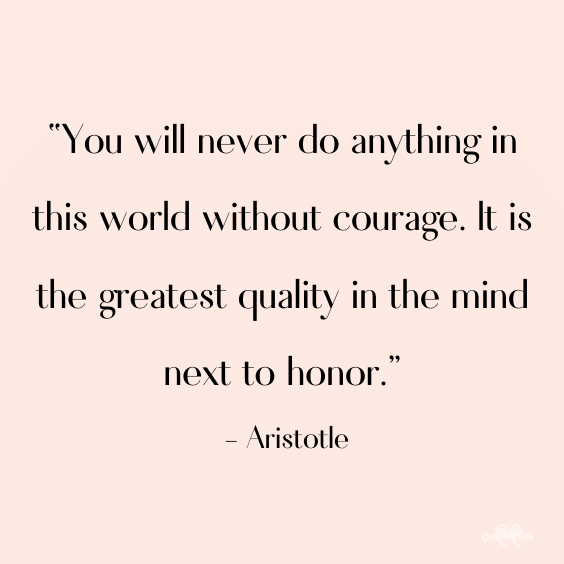 54. "Our greatest weakness lies in giving up. The most certain way to succeed is always to try just one more time." – Thomas A. Edison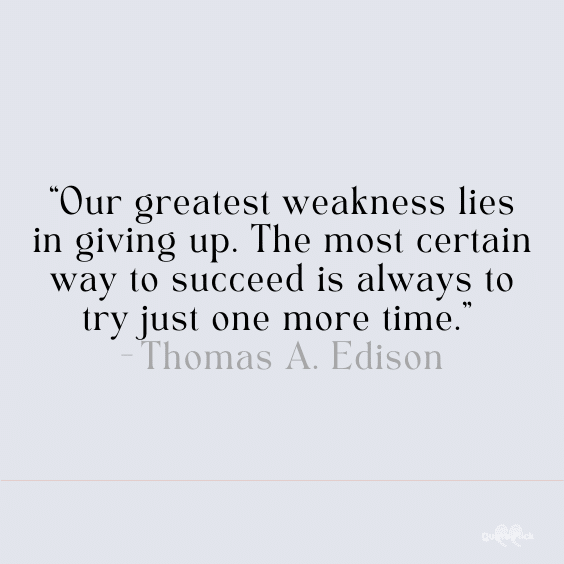 55. "Set your goals high, and don't stop till you get there." – Bo Jackson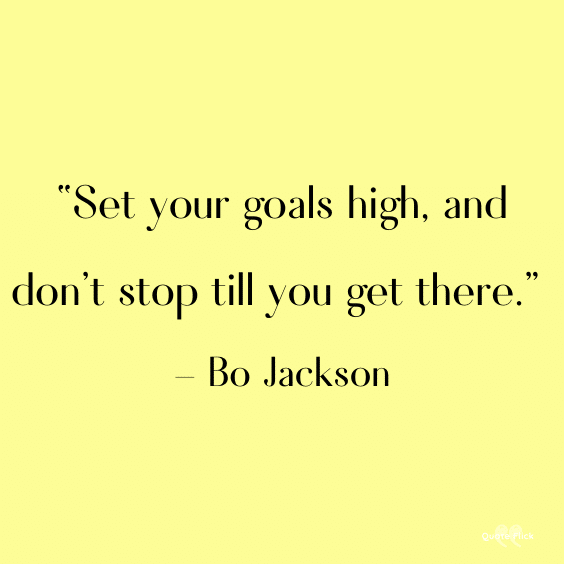 56. "I know for sure that what we dwell on is what we become." — Oprah Winfrey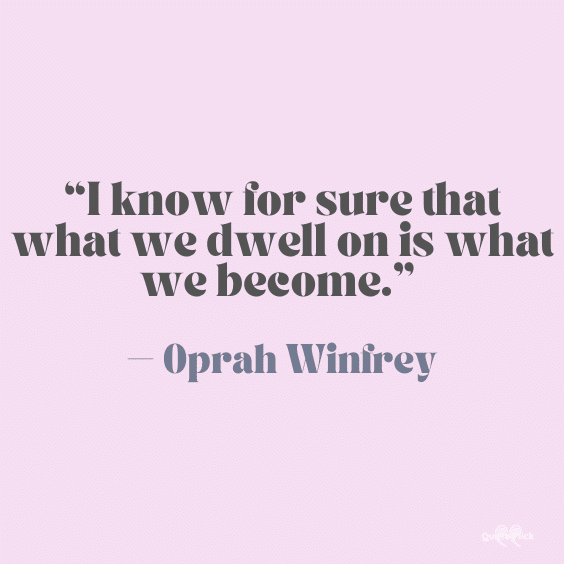 57. "A man can be as great as he wants to be. If you believe in yourself and have the courage, the determination, the dedication, the competitive drive and if you are willing to sacrifice the little things in life and pay the price for the things that are worthwhile, it can be done." – Vince Lombardi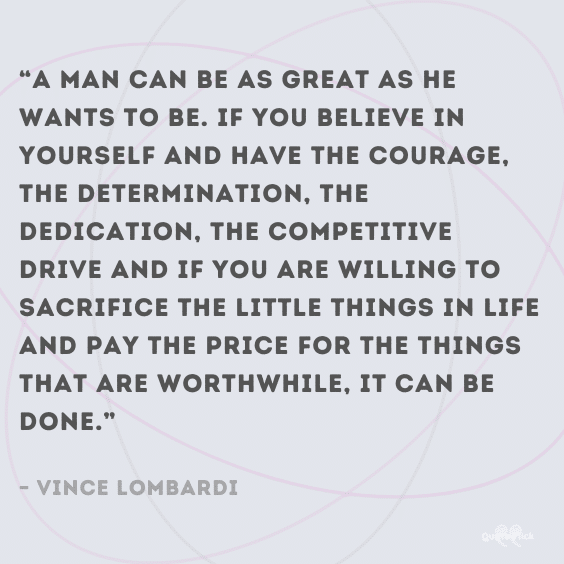 58. "Never let the odds keep you from doing what you know in your heart you were meant to do." – H. Jackson Brown Jr.
59. "Do you want to know who you are? Don't ask. Act! Action will delineate and define you." – Thomas Jefferson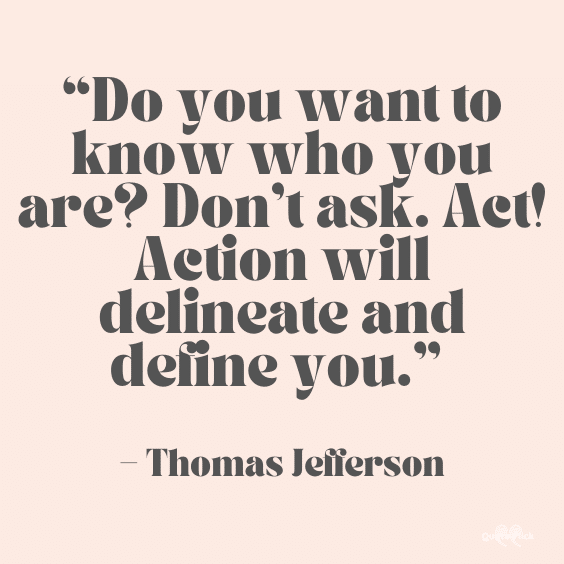 60. "Character cannot be developed in ease and quiet. Only through experience of trial and suffering can the soul be strengthened, ambition inspired, and success achieved." – Hellen Keller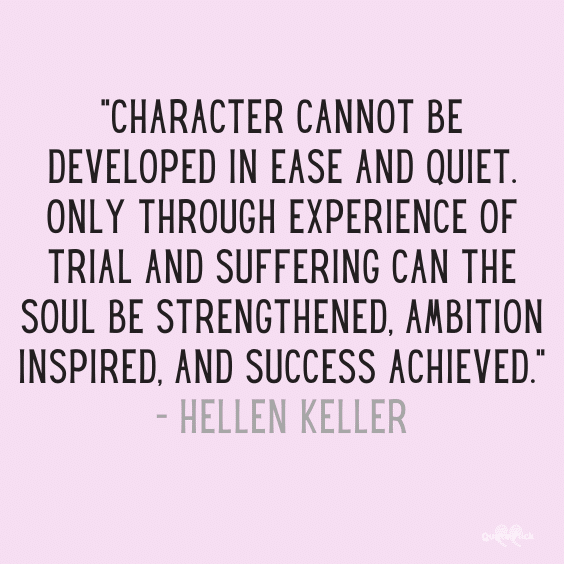 61. "You must never be fearful about what you are doing when it is right." – Rosa Parks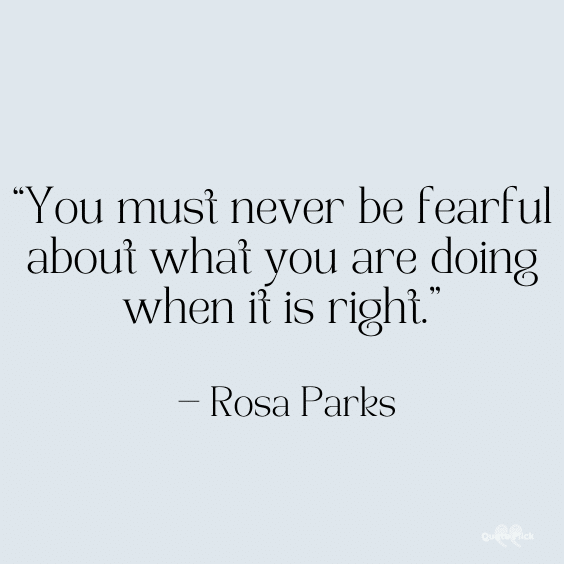 62. "The best revenge is massive success." – Frank Sinatra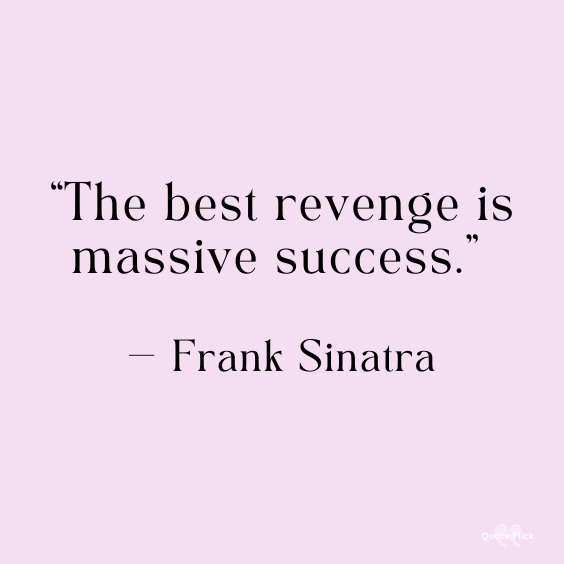 63. "I think the best way to have confidence is not to allow everyone else's insecurities to be your own." – Jessie J
64. "Don't wait. The time will never be just right." – Napoleon Hill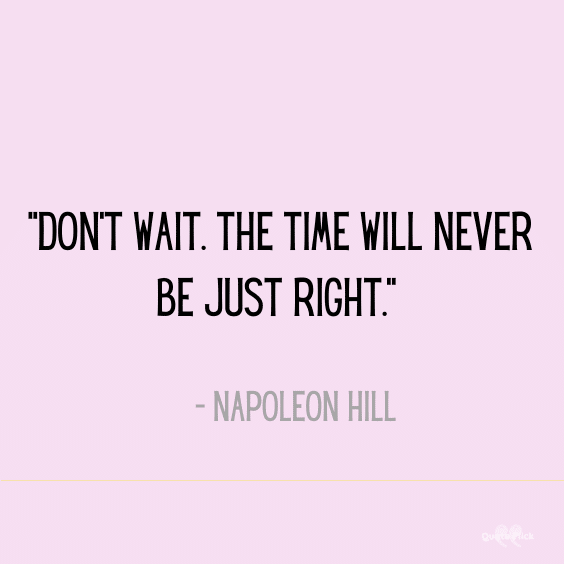 65. "Never complain and never explain." – Benjamin Disraeli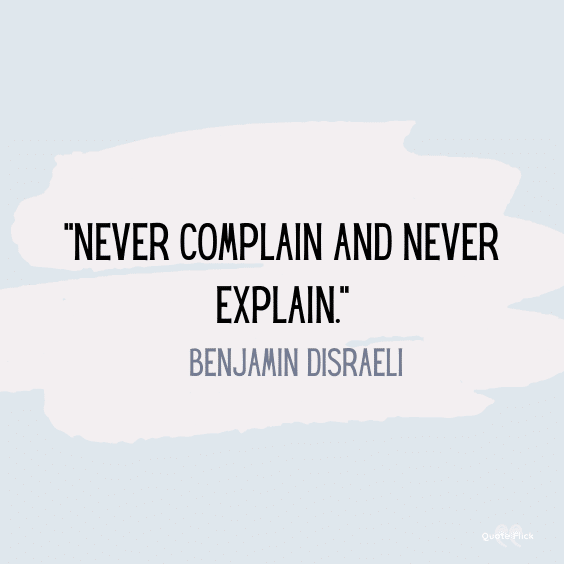 66. "No matter what people tell you, words and ideas can change the world." — Robin Williams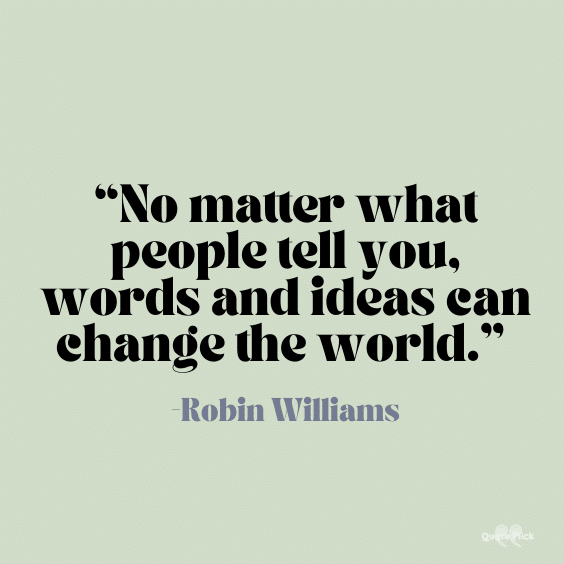 67. "We may encounter many defeats but we must not be defeated." – Maya Angelou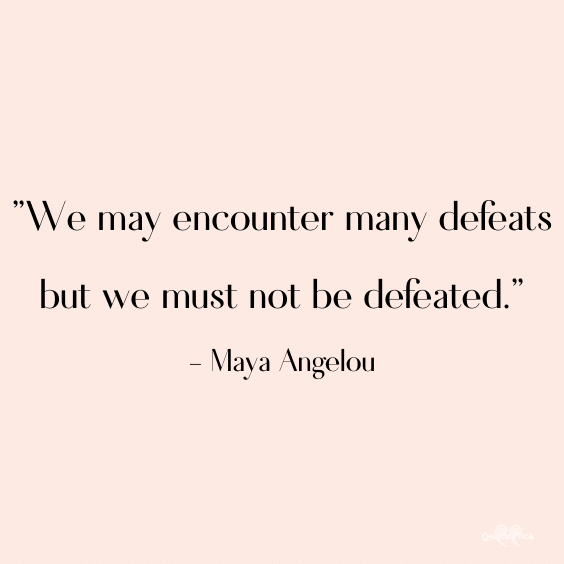 68. "Success is getting what you want, happiness is wanting what you get." — Ingrid Bergman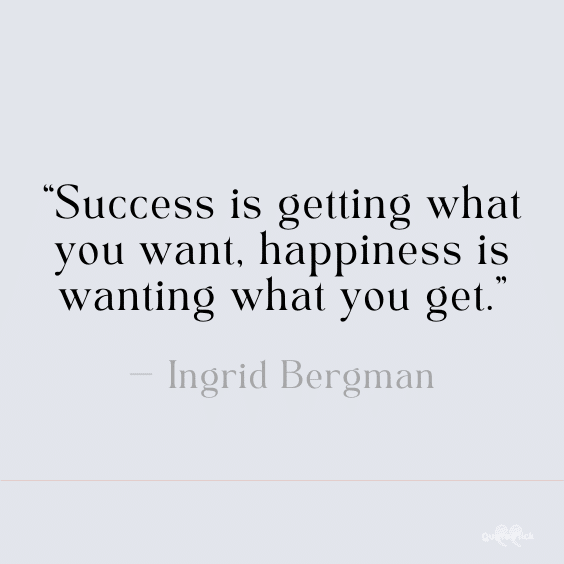 69. "Try to be a rainbow in someone else's cloud." — Maya Angelou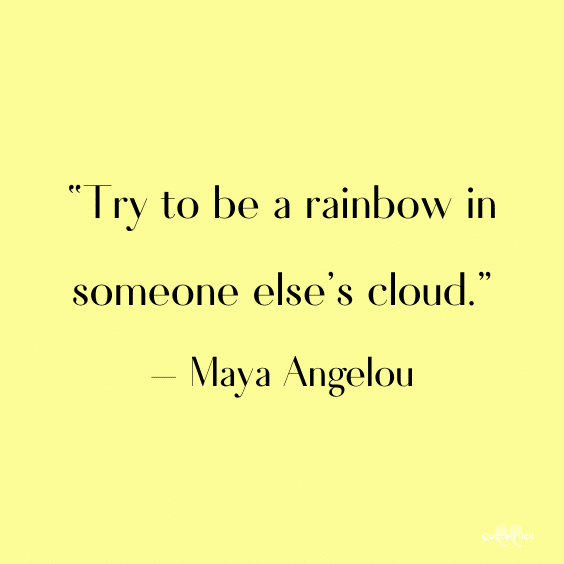 70. "It is very important to know who you are. To make decisions. To show who you are." – Malala Yousafzai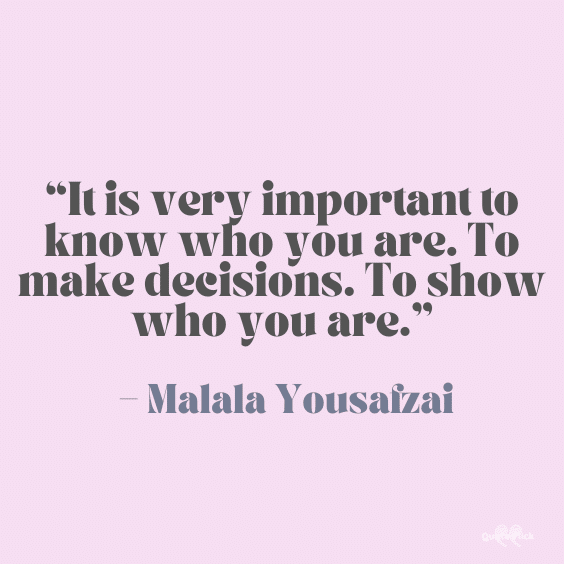 71. "Soon, when all is well, you're going to look back on this period of your life and be so glad that you never gave up." — Brittany Burgunder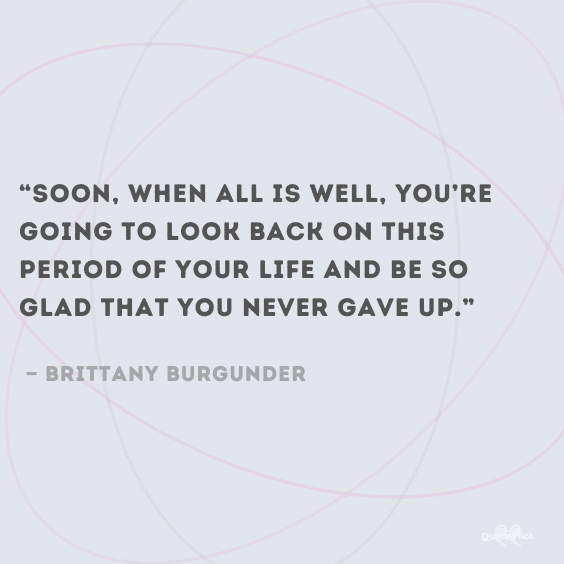 72. "Nobody can go back and start a new beginning, but anyone can start today and make a new ending." – Unknown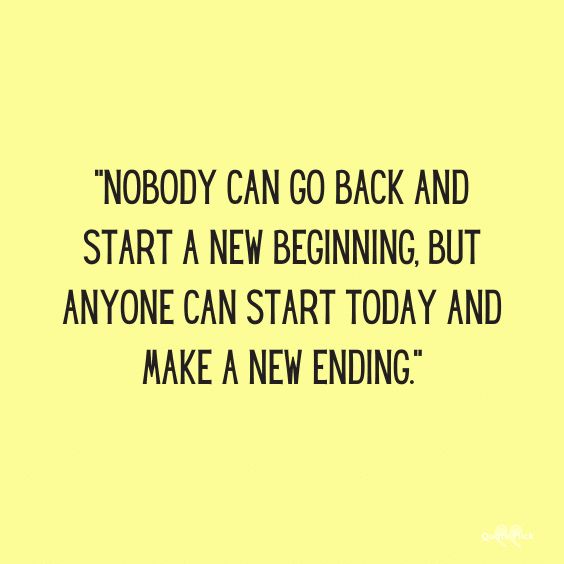 73. "Everyone has inside them a piece of good news. The good news is you don't know how great you can be! How much you can love! What you can accomplish! And what your potential is." – Anne Frank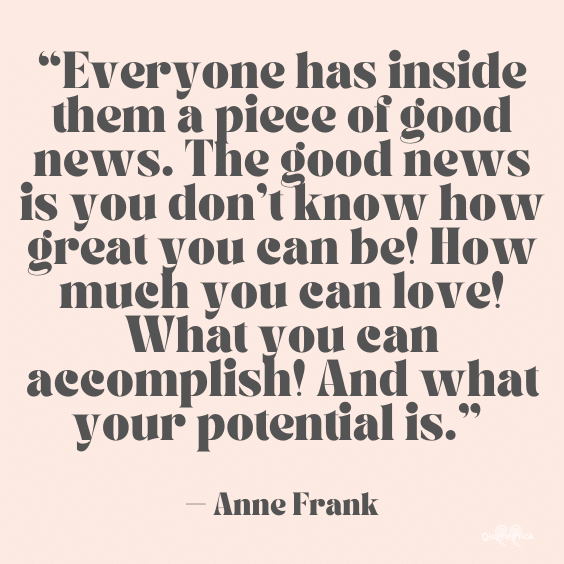 74. "Our greatest weakness lies in giving up. The most certain way to succeed is always to try just one more time." – Thomas A. Edison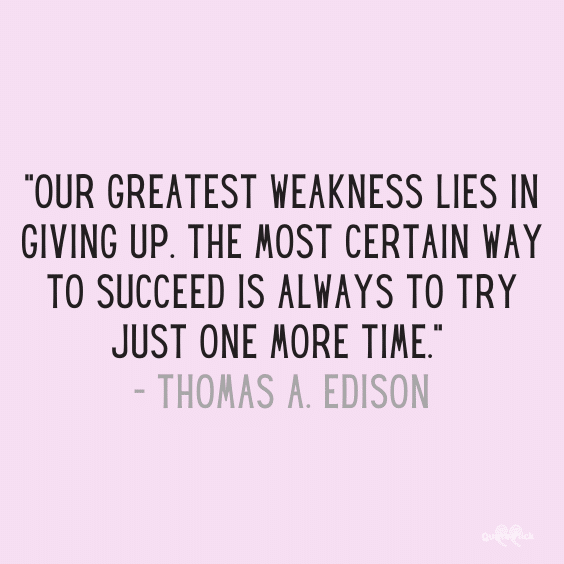 75. "A woman is the full circle. Within her is the power to create, nurture and transform." — Diane Mariechild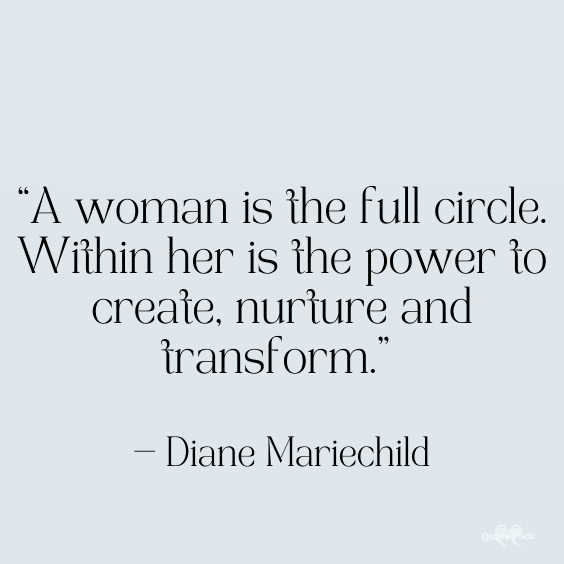 76. "A champion is defined not by their wins but by how they can recover when they fall." – Serena Williams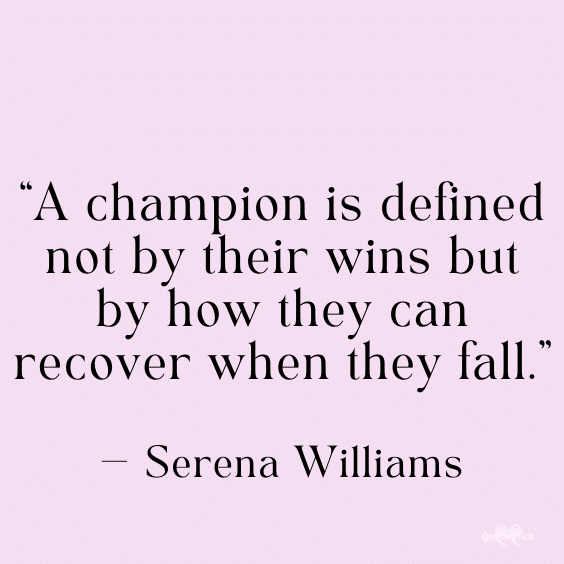 77. "I decided, very early on, just to accept life unconditionally; I never expected it to do anything special for me, yet I seemed to accomplish far more than I had ever hoped. Most of the time it just happened to me without my ever seeking it." – Audrey Hepburn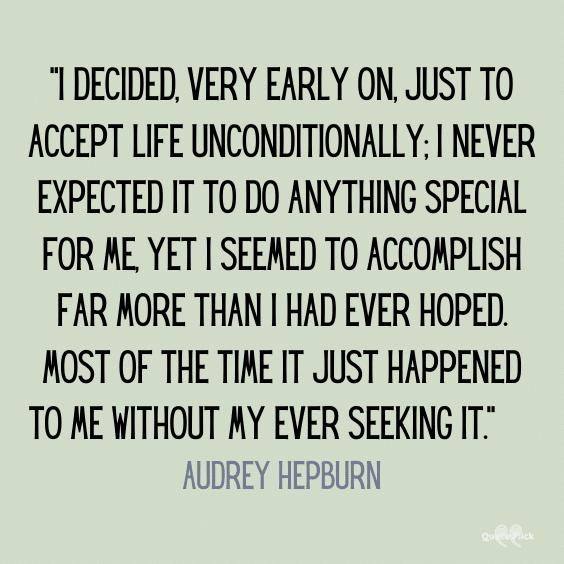 78. "We can do no great things, only small things with great love." – Mother Teresa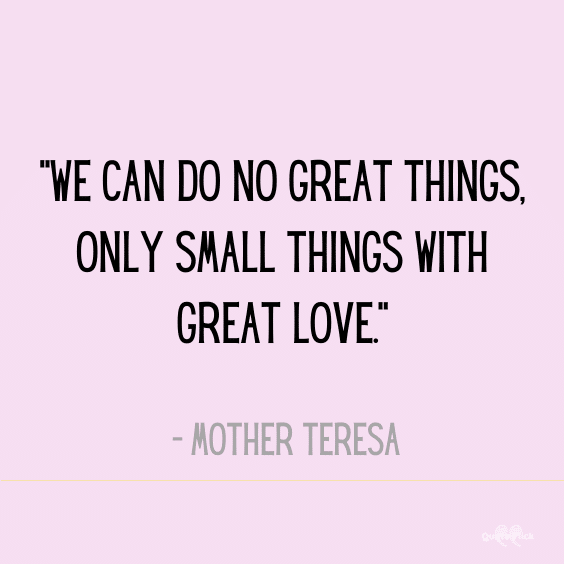 79. "If we have no peace, it is because we have forgotten that we belong to each other." – Mother Teresa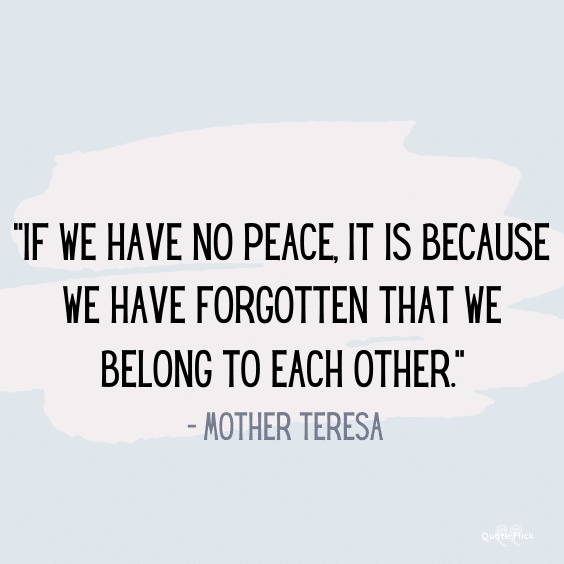 80. "Go confidently in the direction of your dreams. Live the life you have imagined." – Henry Thoreau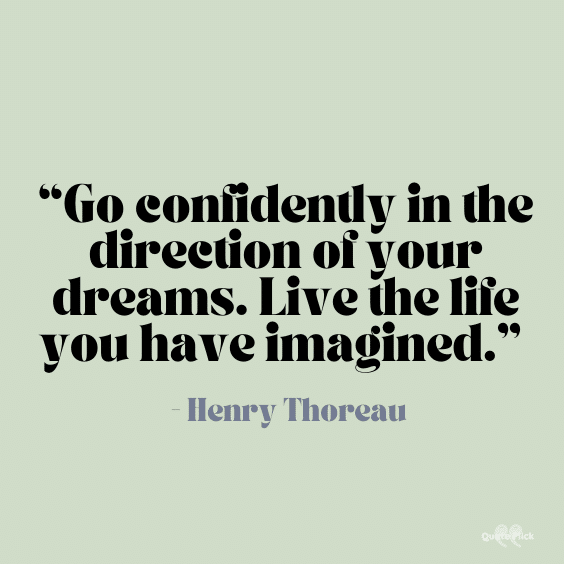 81. "In order to succeed, we must first believe that we can." – Nikos Kazantzakis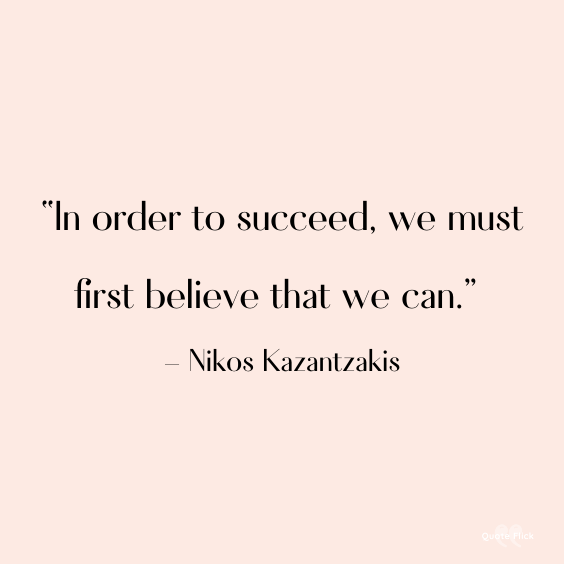 82. "One's life has value so long as one attributes value to the life of others, by means of love, friendship, indignation and compassion." – Simone De Beauvoir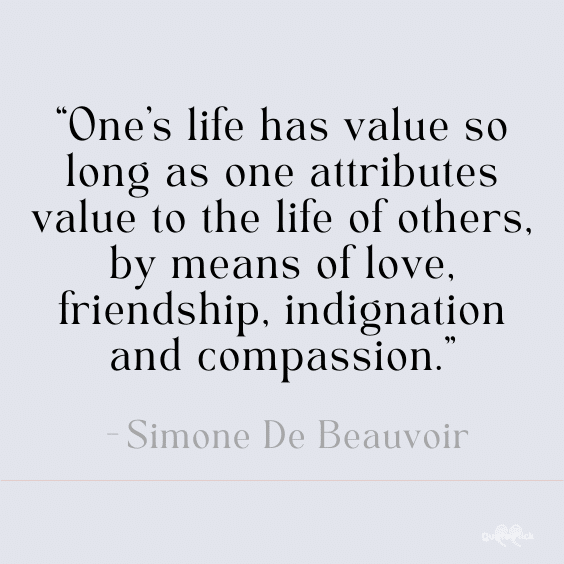 83. "True happiness involves the full use of one's power and talents." – John W. Gardner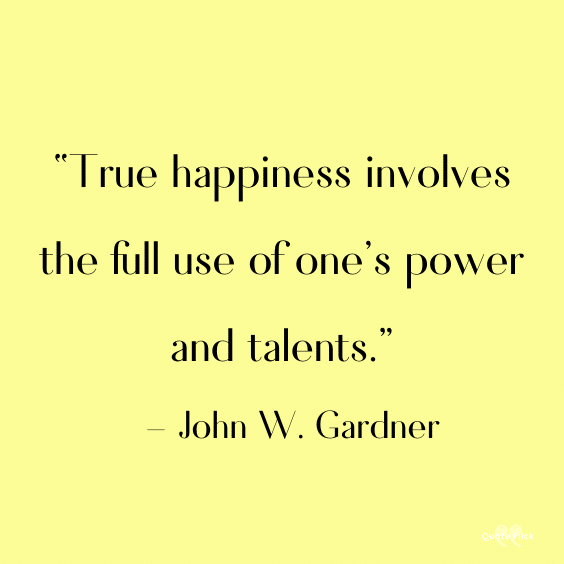 84. "If one dream should fall and break into a thousand pieces, never be afraid to pick one of those pieces up and begin again." – Flavia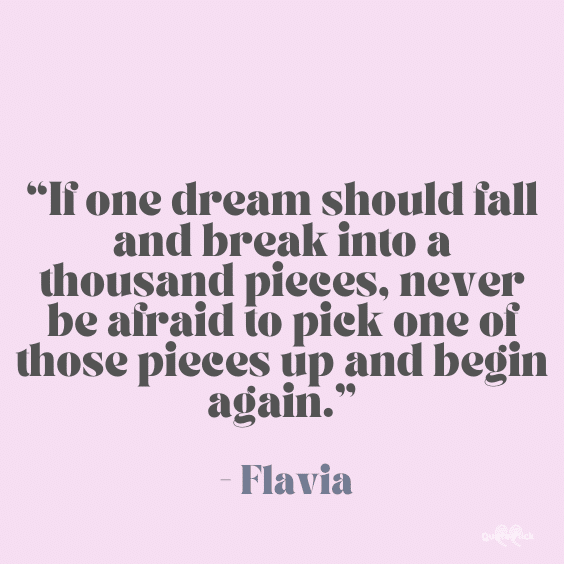 85. "If you're feeling helpless, help someone." – Aung San Suu Kyi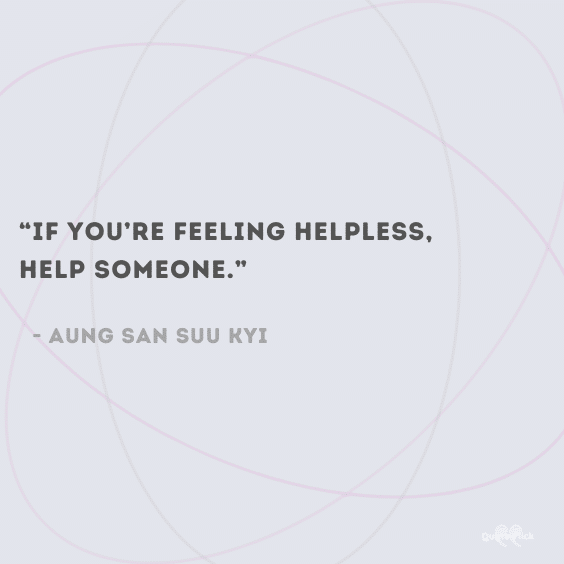 86. "Some luck lies in not getting what you thought you wanted but getting what you have, which once you have got it, you may be smart enough to see is what you would have wanted had you known." – Garrison Keillor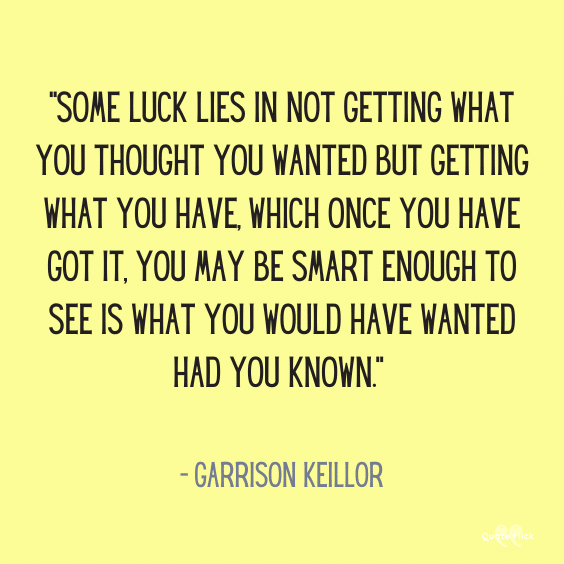 87. "Life is a succession of lessons which must be lived to be understood." – Helen Keller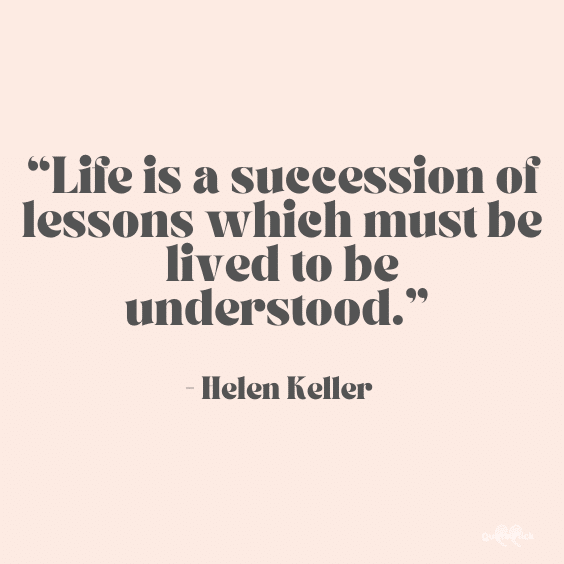 88. "It is never too late to be what you might have been." – George Eliot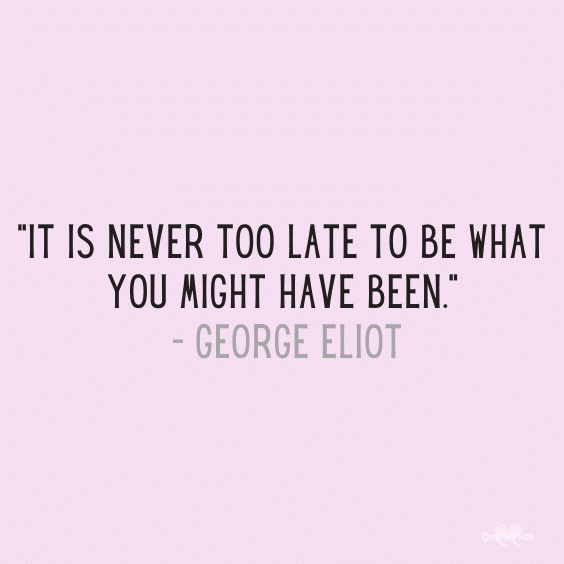 89. "People, even more than things, have to be restored, renewed, revived, reclaimed, and redeemed. Never throw out anyone." — Audrey Hepburn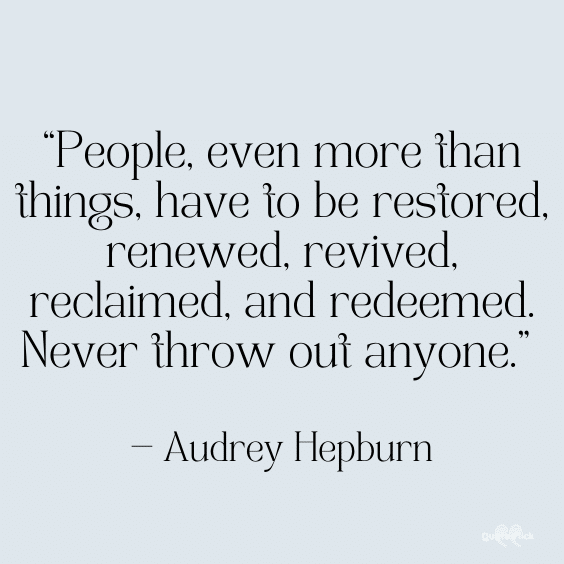 90. "Even if you fall on your face, you're still moving forward." – Victor Kiam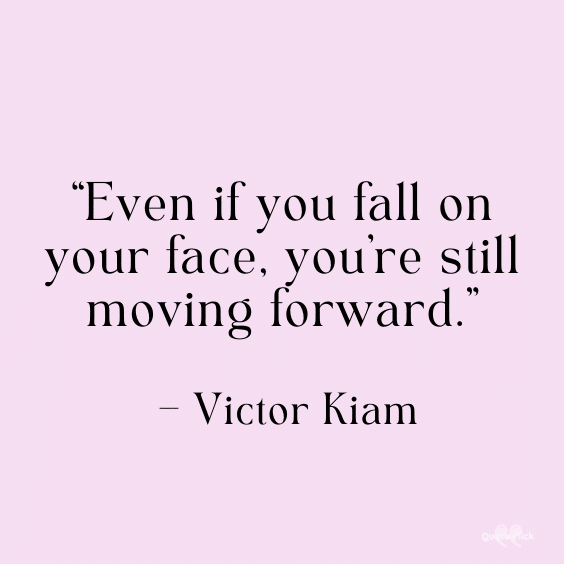 91. "And you ask, 'What if I fall?' Oh, but my darling, what if you fly?" – Erin Hanson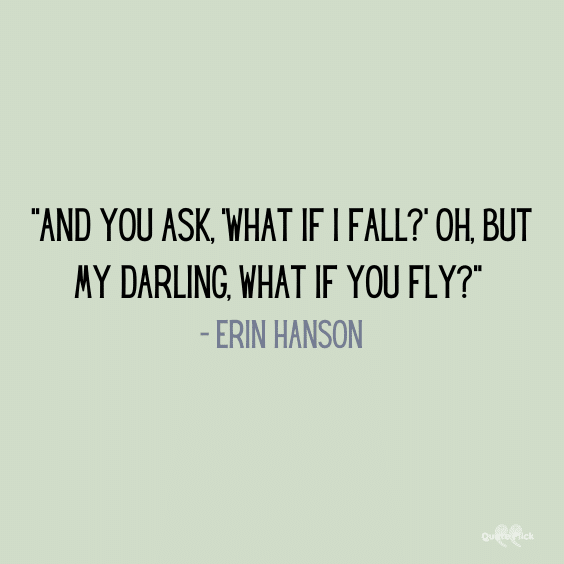 92. "No one has ever become poor by giving." — Anne Frank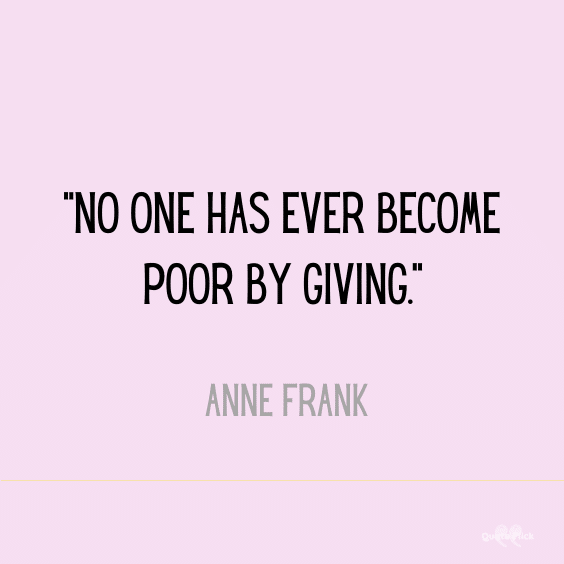 93. "Be miserable. Or motivate yourself. Whatever has to be done, it's always your choice." – Wayne Dyer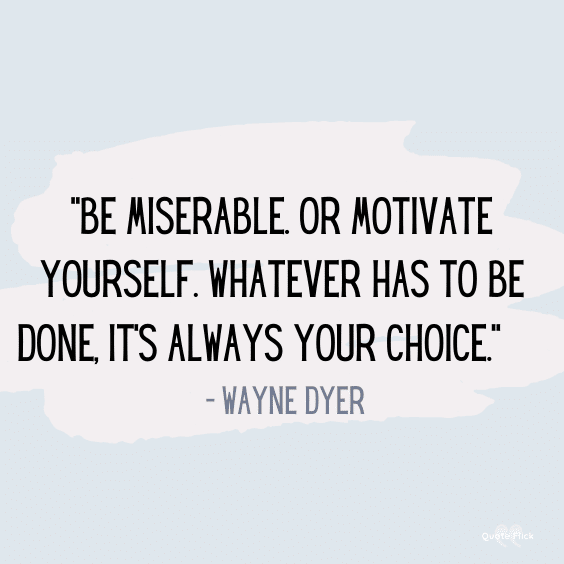 94. "You are enough just as you are." – Meghan Markle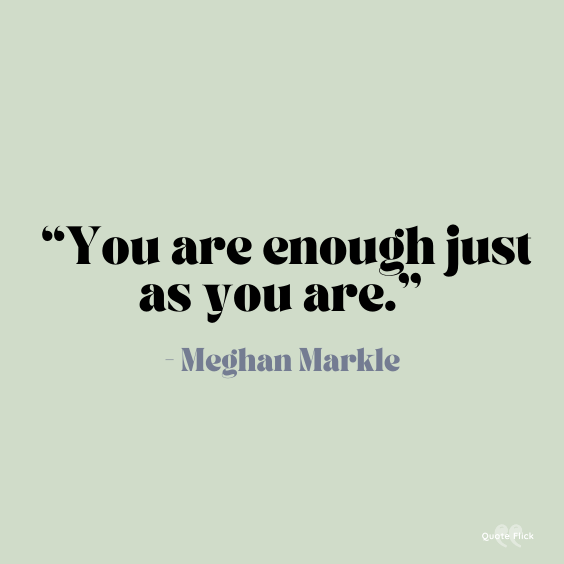 95. "Often we women are risk averse. I needed the push. Now, more than ever, young women need more seasoned women to provide that encouragement, to take a risk, to go for it. Once a glass ceiling is broken, it stays broken." – Jennifer Grahnolm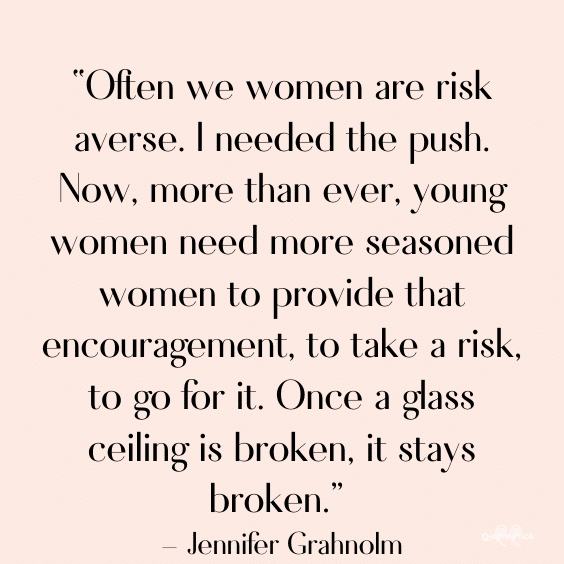 96. "Fall seven times, stand up eight." – Japanese Proverb
97. "When life knocks you down, try to land on your back. Because if you can look up, you can get up." – Les Brown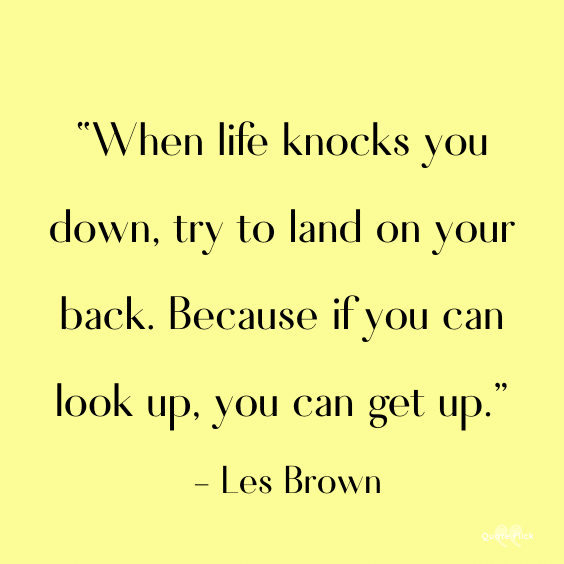 98. "Believe in yourself! Have faith in your abilities! Without humble but reasonable confidence in your own powers you cannot be successful or happy." – Norman Vincent Peale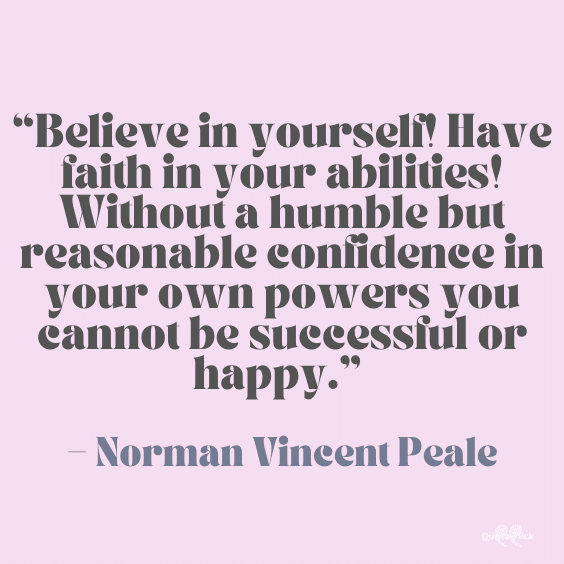 99. "Act as if what you do makes a difference. It does." – William James