If you're looking for quotes about strong women, look no further! Here are 69 sayings with shareable images to uplift you and remind you of your strength.
We've collated these strong woman quotes from icons like Michelle Obama, Audrey Hepburn, and Angelina Jolie to get you inspired about female strength!
Whether you're looking for a feeling of empowerment, or want to discover the thoughts and opinions of influential figures on this topic, read on to discover this collection of powerful women quotes.
Pick your favorite and share the image on social media. Let's get started, enjoy!
Strong Women Quotes
"You can tell who the strong women are. They are the ones you see building one another up instead of tearing each other down." – Unknown
2. "A strong woman looks a challenge dead in the eye and gives it a wink." – Gina Carey
3. "The thing about strong women, is that they build one another up because they know what it is like to be brought down." – Unknown
4. "What we know about strong women, is that they often don't realize how strong they are until being strong is the only choice they have." – Unknown
5. "Strong women need not apologize for being strong." – Unknown
You Might Also Like:
6. "Strong women don't play victim, don't make themselves look pitiful, and don't point fingers. They stand and they deal."  – Mandy Hale
7. "Let's be clear, I'm a strong woman." – Bethenny Frankel
8. "You can always count on a strong woman." – Unknown
9. "The strongest actions for a strong woman is to love herself, be herself, and shine amongst those who never believed she could." – Unknown
10. "I am proud of the strong woman I am today because I went through one hell of a time becoming her." – Unknown
Next:
11. "It is common for a strong woman to be misunderstood as cold because she knows her worth and refuses to be taken for granted." – Unknown
12. "Women have been trained to speak softly and carry a lipstick; those days are over." – Bella Abzug
13. "The world needs strong women. Women who will lift and build others, who will love and be loved. Women who live bravely, both tender and fierce. Women of indomitable will." – Amy Tenney
14. "There is nothing to fear about women's strength." – Unknown
15. "Being deeply loved gives you strength; loving deeply gives you courage." – Lao Tzu
16. "We need women who are so strong they can be gentle, so educated they can be humble, so fierce they can be compassionate, so passionate they can be rational, and so disciplined they can be free." – Kavita Ramdas
17. "Character. Intelligence. Strength. Style. That makes beauty." – Diane Von Furtstenburg
18. "Confident women don't hate." – Unknown
19. "I believe in being strong when everything seems to be going wrong. I believe that happy girls are the prettiest girls. I believe that tomorrow is another day, and I believe in miracles." – Audrey Hepburn
20. "When you realize what a strong woman you are and become confident in yourself, the whole game will change" – Unknown
21. "Give a woman pain and she'll turn it into power. Give that woman chaos and she'll create peace." – R. H. Sin
22. "Understand that getting help isn't a sign of weakness but a sign of strength." – Michelle Obama
23. "I figure, if a girl wants to be a legend, she should go ahead and be one." – Calamity Jane
24. "She was brave and strong and broken all at once." – Anna Funder
25. "Because I am a woman, I must make unusual efforts to succeed. If I fail, no one will say, "She doesn't have what it takes." They will say, "Women don't have what it takes." – Clare Boothe Luce
26. "We all have an unsuspected reserve of strength inside, that emerges when life puts us to the test." – Isabel Allende
27. "She is water. Soft enough to offer life, tough enough to drown it away." – Rupi Kaur
28. "One of the most courageous things you can do is identify yourself, know who you are, what you believe in, and where you want to go." – Sheila Murray Bethel
29. "A woman who opens her heart to love you, when it's already broken, is braver than any person you'll meet." – Steven Benson
30. "Sometimes an angel, sometimes a hell-raiser, always a strong woman." – R.H. Sin
31. "You have to have confidence in your ability, and then be tough enough to follow through." – Rosalynn Carter
32. "Never apologize for being sensitive or emotional. Let this be a sign that you've got a big heart and aren't afraid to let others see it. Showing your emotions is a sign of strength." – Brigitte Nicole
33. "You're gonna be happy," said life, "but first I'll make you strong." – Unknown
34. "Women are never stronger than when they arm themselves with their weaknesses." – Madame Marie du Deffand
35. "Women are like teabags. We don't know our true strength until we are in hot water." – Elenor Roosevelt 
36. "As your wife, I promise to be strong for me, you, us. I cherish what we have created." – Unknown
37. "She is full of wounds riddled with scars, but she is still standing, and she is still beautiful." – R. H. Sin
38. "The kind of beauty I want most is the hard-to-get kind, that comes from within strength, courage, dignity."– Ruby Dee
39. "Figure out who are you separate from your family, and the man or woman you're in a relationship with. Find who you are in this world and what you need to feel good alone. I think that's the most important thing in life. Find a sense of self. With that, you can do anything else." – Angelina Jolie
40. "I work hard, I pay my bills, I maintain myself, I'm independent. When you see me, know that's all me. I'm not kept. I do the keeping." – Unknown
41. "Once you figure out what respect tastes like, it tastes better than attention." – Pink
42. "A woman who opens her heart to love you, when it's already broken, is braver than any person you'll meet." – Steven Benson
43. "A strong woman is one who feels deeply and loves fiercely. Her tears flow as abundantly as her laughter. A strong woman is both soft and powerful, she is both practical and spiritual. A strong woman in her essence is a gift to the world." – Rita Ghatourey
44. "Today, hang in there, hold on and be strong. Keep going. You will and you can get through this…" – Heather A. Stillufsen
45. "Each time a woman stands up for herself, she stands up for all women." – Maya Angelou
46. "Think like a queen. A queen is not afraid to fail. Failure is another stepping stone to greatness." – Oprah
47. "Great women know that there is nothing to be, other than themselves." – Unknown
48. "I have learned over the years that when one's mind is made up, this diminishes fear; knowing what must be done does away with fear." – Rosa Parks
49. "What made her strong was despite the million things that hurt her, she spoke of nothing. Nothing but happiness." – J. A.
50. "Never apologize for being a strong-minded woman with high standards. The people who are meant to be in your life will stay, and others will fall away." – Unknown
51. "Everyone has inside of her a piece of good news. The good news is that you don't know how great you can be, how much you can love, what you can accomplish, and what your potential is." – Anne Frank 
52. "May my heart be brave, my mind fierce, and my spirit free" – Kate Forsyth
53. "I get my strength from the amazing woman that raised me."- Unknown
54. "And one day she discovered that she was fierce and strong, and full of fire and that not even she could hold herself back because her passion burned brighter than her fears." – Mark Anthony
55. "This is the year I will be stronger, braver, kinder, unstoppable. And this is the year I will be fierce". – IWD Celebration Journal
56. "A strong woman understands that the gifts such as logic, decisiveness, and strength are just as feminine as intuition and emotional connection. She values and uses all of her gifts." – Nancy Rathburn
57. "Avoiding danger is no safer in the long run than outright exposure. The fearful are caught as often as the bold." – Helen Keller
58. "Be a first-rate version of yourself, not a second-rate version of someone else." – Judy Garland
59. She needed a hero, so that's what she became." – Unknown
60. "Some women choose to follow men, and some choose to follow their dreams. If you're wondering which way to go, remember that your career will never wake up and tell you that it doesn't love you anymore." – Lady Gaga
Powerful Women Quotes
Do you realize how powerful you are? Here are our 9 final powerful women quotes to remind all women of their internal strength and power to create the life of their dreams.
Being a powerful woman doesn't always mean outward, obvious power. Sometimes it is the power to hold it all together when inside you are feeling weak. Either way, no matter how you feel, always be kind to yourself! These powerful woman quotes will give you a lift, we hope you enjoy them!
61. "Powerful women give themselves permission to walk away from anything not serving them." – Unknown
62. "A powerful woman is able to smile the morning after she spent the night crying." – Unknown
63. "Powerful women don't care about what others think, but send out love at the same time." – Unknown
64. "Beautiful women, know that to be soft and sensitive is to be powerful" – Unknown
65. "I wanted to show that women are empowered and strong, and don't have to be saved by some male hero, but they can take care of themselves using their intelligence and their power." – Gal Gadot
66. "You are more powerful when you're sensual than when you're factual. Wise women know how to make sensuality their power base." – Lebo Grand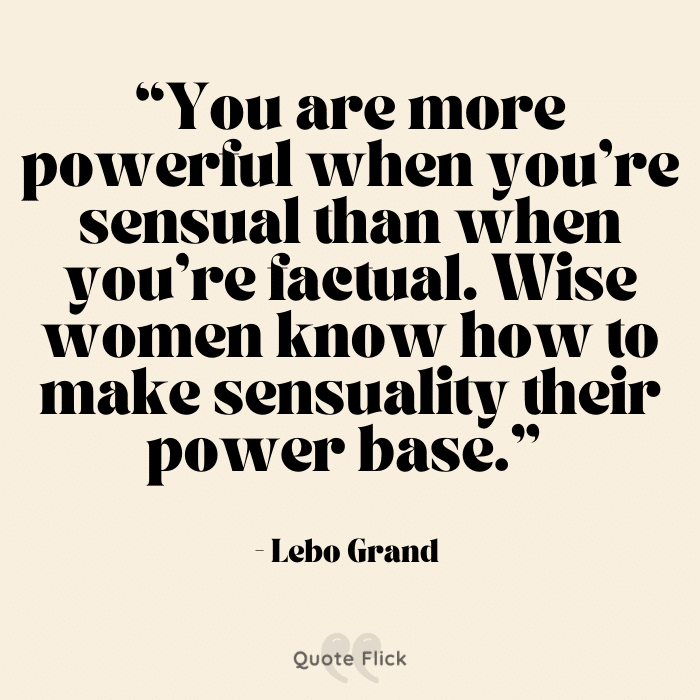 67. "A woman is the full circle. Within her is the power to create, nurture and transform." – Diane Mariechild
68. "Give a woman pain and she'll turn it into power. Give that woman chaos and she'll create peace." – R. H. Sin
69. "Little girls with dreams, become women with vision." – Unknown
You Might Also Like: Determination Quotes or Words of Encouragement
Holly Jaskolka is a certified Emotional Freedom Technique (EFT) practitioner, yoga instructor, and an impassioned advocate for holistic well-being. Fueled by her love for animals and wanderlust, Holly leads a plant-based lifestyle that she complements with immersive travel experiences. When she's not jet-setting to uncover the world's hidden gems, she's empowering individuals to heal emotionally, particularly those grappling with the aftermath of breakups. Connect with Holly on LinkedIn.