Happiness: the feeling of contentment, fulfilment and joy we're all looking for. If you're looking for happiness quotes; we've got you covered with our collection of over 70 little nuggets of wisdom!
Whether by showing kindness to others, changing your mindset; or choosing to spend time with people who make you smile – these quotes about being happy will reveal how to let go of your worries and feel on top of the world.
We hope these phrases and sayings will uplift, inspire and encourage you. If they do, pick your favorite image to share on social media and spread the !
Happiness Quotes
1. "Happiness is a state of mind. It's just according to the way you look at things." – Walt Disney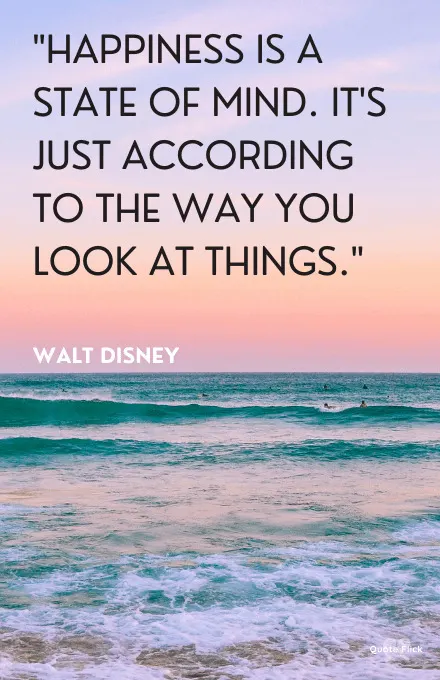 2. "For every minute you are angry you lose sixty seconds of happiness." – Ralph Waldo Emerson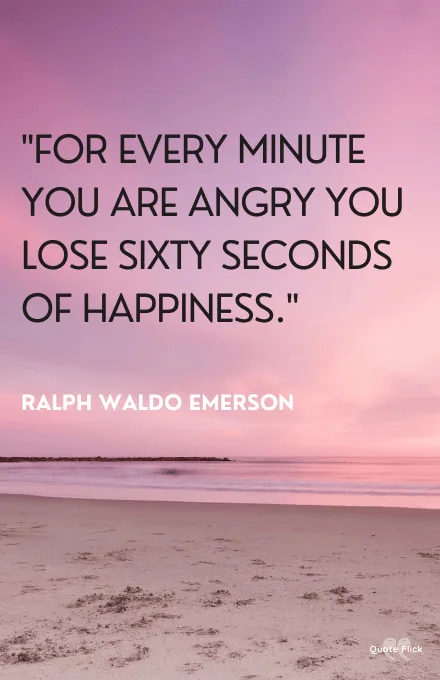 3. "Happiness is when what you think, what you say, and what you do are in harmony." – Mahatma Gandhi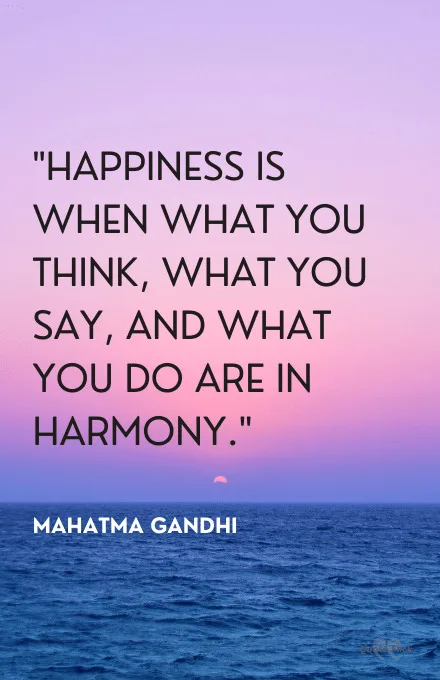 4. "One of the simplest ways to stay happy is letting go of the things that make you sad." – Unknown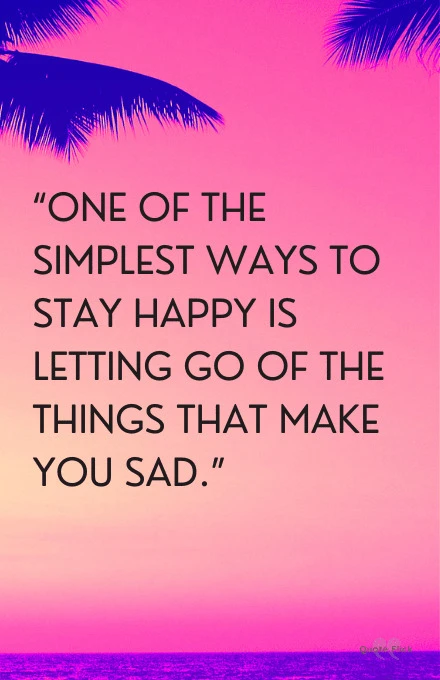 5. "Being happy never goes out of style." – Lily Pulitzer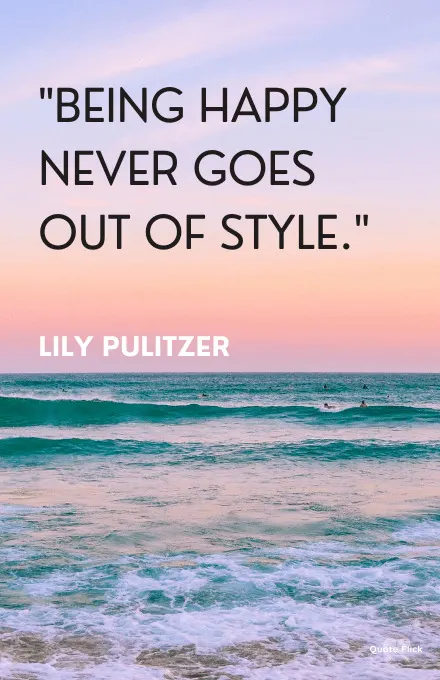 You Might Also Like:
6. "I have chosen to be happy because it's good for my health." – Voltaire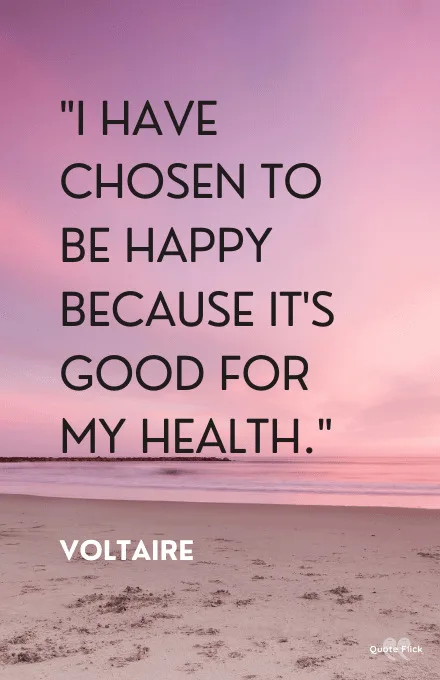 7. "Happiness is not being pained in body or troubled in mind." – Thomas Jefferson
8. "To be without some of the things you want is an indispensable part of happiness." – Bertrand Russell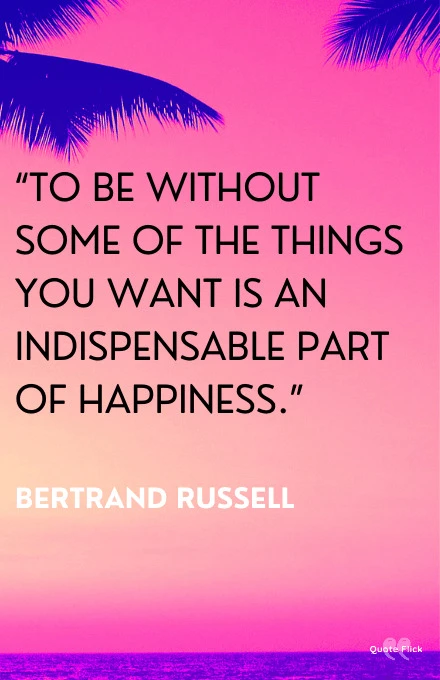 9. "They say a person needs just three things to be truly happy in this world: Someone to love, something to do, and something to hope for." – Tom Bodett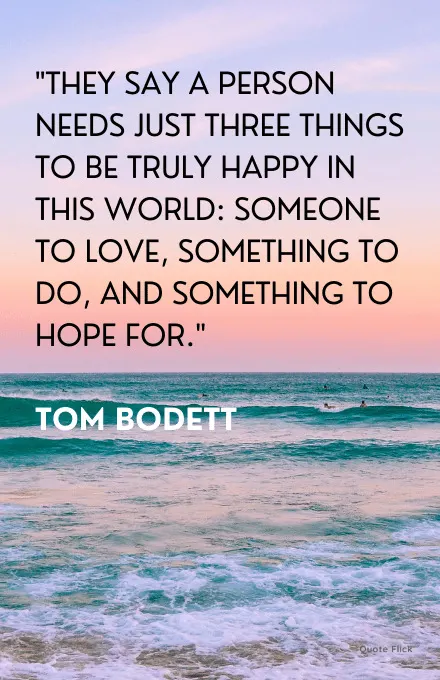 10. "Stay close to people who feel like sunshine." – Unknown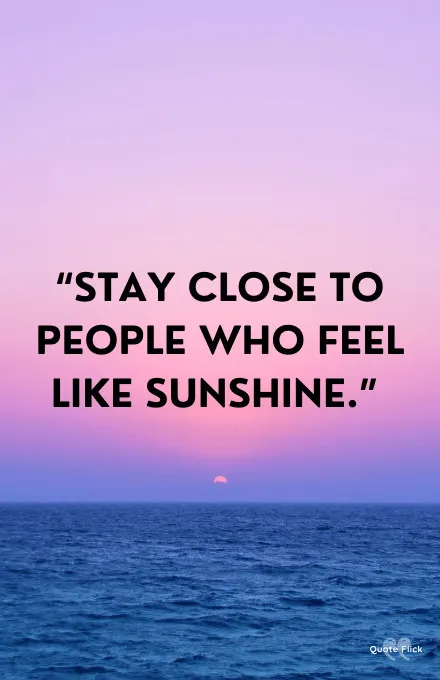 You Might Also Like:
11. "It isn't what you have or who you are or where you are or what you are doing that makes you happy or unhappy. It is what you think about it." – Dale Carnegie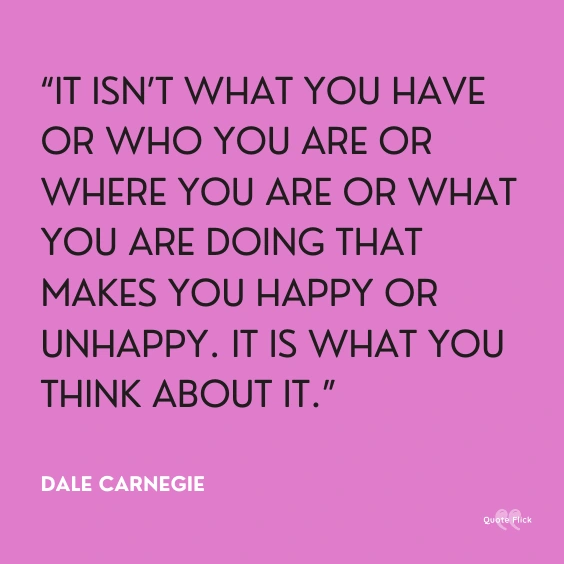 12. "The secret of happiness is freedom, the secret of freedom is courage." – Carrie Jones
13. "Let us be grateful to the people who make us happy; they are the charming gardeners who make our souls blossom." – Marcel Proust
14. "I think the key to life is just being a happy person, and happiness will bring you success." – Diego Val
15. "The best way to cheer yourself is to try to cheer someone else up." – Mark Twain
16. "The world is full of people looking for spectacular happiness while they snub contentment." – Doug Larson
17. "No medicine cures what happiness cannot." – Gabriel García Márquez
18. "The only way to find true happiness is to risk being completely cut open." – Chuck Palahniuk
19. "Happiness is a journey, not a destination." – Buddha
20. "Nobody really cares if you're miserable, so you might as well be happy." – Germany Kent
21. "Happiness is not a goal; it is a by-product." – Eleanor Roosevelt
22. "Now and then it's good to pause in our pursuit of happiness and just be happy." – Guillaume Apollinaire
23. "Happiness depends upon ourselves." – Aristotle
24. "Give a man health and a course to steer, and he'll never stop to trouble about whether he's happy or not." – George Bernard Shaw
25. "Be so happy that when others look at you, they become happy too." – Unknown
26. "I've never been happy with anyone like I am when I'm with you." – Amanda Marshall
27. "Count your age by friends, not years. Count your life by smiles, not tears." – John Lennon
28. "Think of all the beauty still left around you and be happy." – Anne Frank
29. "Be healthy and take care of yourself, but be happy with the beautiful things that make you, you." – Beyoncé
30. "Happiness is not a goal…it's a by-product of a life well-lived." – Eleanor Roosevelt
31. "Sanity and happiness are an impossible combination." – Mark Twain
32. "If you find serenity and happiness, some may be jealous. Be happy anyway." – Mother Teresa
33. "It's so hard to forget pain, but it's even harder to remember sweetness. We have no scar to show for happiness. We learn so little from peace." – Chuck Palahniuk
34. "Happiness is the secret to all beauty. There is no beauty without happiness." – Christian Dior
35. "If you want to be happy, do not dwell in the past, do not worry about the future, focus on living fully in the present." – Roy T. Bennett
36. "The most important thing is to enjoy your life—to be happy—it's all that matters." – Audrey Hepburn
37. "Others may know pleasure, but pleasure is not happiness. It has no more importance than a shadow following a man." – Muhammad Ali
38. "We can't control the world. We can only (barely) control our own reactions to it. Happiness is largely a choice, not a right or entitlement." – David C. Hill
39. "Don't worry. Be happy." – Bobby McFerrin
40. "It isn't what you have or who you are or where you are or what you are doing that makes you happy or unhappy. It is what you think about it." – Dale Carnegie
41. "You cannot protect yourself from sadness without protecting yourself from happiness." – Kahlil Gibran
42. "Happiness is not something readymade. It comes from your own actions." – Dalai Lama
43. "The thing everyone should realize is that the key to happiness is being happy by yourself and for yourself." – Ellen DeGeneres
44. "There is only one happiness in this life, to love and be loved." – George Sand
45. "The secret of happiness is to find a congenial monotony." – V.S. Pritchett
46. "A calm and modest life brings more happiness than the pursuit of success combined with constant restlessness." – Albert Einstein
47. "Happiness is always a by-product. It is probably a matter of temperament, and for anything I know it may be glandular. But it is not something that can be demanded from life, and if you are not happy you had better stop worrying about it and see what treasures you can pluck from your own brand of unhappiness." – Robertson Davies
48. "All happiness or unhappiness solely depends upon the quality of the object to which we are attached by love." – Baruch Spinoza
49. "There is no path to happiness; happiness is the path." – Buddha
50. "Happiness is not the absence of problems, it's the ability to deal with them." – Steve Maroboli
51. "There is some kind of a sweet innocence in being human—in not having to be just happy or just sad—in the nature of being able to be both broken and whole, at the same time." – C. JoyBell C.
52. "A great obstacle to happiness is to expect too much happiness." – Bernard de Fontenelle
53. "Even a happy life cannot be without a measure of darkness, and the word happy would lose its meaning if it were not balanced by sadness. It is far better to take things as they come along with patience and equanimity." – Carrie Jones
54. "There is no happiness like that of being loved by your fellow creatures, and feeling that your presence is an addition to their comfort." – Charlotte Bronte
55. "Happiness is excitement that has found a settling down place. But there is always a little corner that keeps flapping around." – E.L. Konigsburg
56. "Happiness is always the serendipitous result of looking for something else." – Dr. Idel Dreimer
57. "All happiness depends on courage and work." – Guillaume Apollinaire
58. "People are unhappy when they get something too easily. You have to sweat – that's the only moral they know." – Dany Laferrière
59. "Happiness grows at our own firesides, and is not to be picked in strangers' gardens." – Douglas Jerrold
60. "Happiness is a place between too much and too little." – Finnish Proverb
61. "Real happiness is not of temporary enjoyment, but is so interwoven with the future that it blesses forever." – James Lendall Basford
62. "True happiness is not attained through self-gratification, but through fidelity to a worthy purpose." – Helen Keller
63. "Happiness is a by-product of an effort to make someone else happy." – Gretta Brooker Palmer
64. "Happiness is a distraction from the human tragedy." – J.M. Reinoso
65. "Three grand essentials to happiness in this life are something to do, something to love, and something to hope for." – Joseph Addison
66. "Happiness is where we find it, but very rarely where we seek it." – J. Petit Senn
67. "I must learn to be content with being happier than I deserve." – Jane Austen
68. "Happiness is only real when shared." – Jon Krakauer
69. "Don't rely on someone else for your happiness and self-worth only you can be responsible for that. If you can't love and respect yourself – no one else will be able to make that happen. Accept who you are – completely; the good and the bad – and make changes as YOU see fit – not because you think someone else wants you to be different." – Stacey Charter
70. "We tend to forget that happiness doesn't come as a result of getting something we don't have, but rather of recognizing and appreciating what we do have." – Frederick Keonig
71. "Some cause happiness wherever they go; others whenever they go." – Oscar Wilde
72. "There is only one cause of unhappiness: the false beliefs you have in your head, beliefs so widespread, so commonly held, that it never occurs to you to question them." – Anthony de Mello
73. "The reason people find it so hard to be happy is that they always see the past better than it was, the present worse than it is, and the future less resolved than it will be." – Marcel Pagnol
74. "It's been my experience that you can nearly always enjoy things if you make up your mind firmly that you will." – L.M. Montgomery
75. "A table, a chair, a bowl of fruit and a violin; what else does a man need to be happy?" – Albert Einstein