If you're looking for coolness quotes then we have you covered. This article is absolutely full of quotes about being cool. We have a wide selection below!
Read on for some interesting words and descriptions about what it takes to be cool, and how just being yourself is the coolest thing you can do. Of course, a lot of these quotations are from very cool people too!
If you love our work, please consider sharing your favorite image on Pinterest or social media!
Coolness Quotes
1. "No matter how educated, talented, rich or cool you believe you are, how you treat people ultimately tells all." – Unknown
2. "I wear my cool on the inside; that's why my hands are always so cold." – Dia Reeves
3. "Being cool is being your own self, not doing something that someone else is telling you to do." – Vanessa Hudgens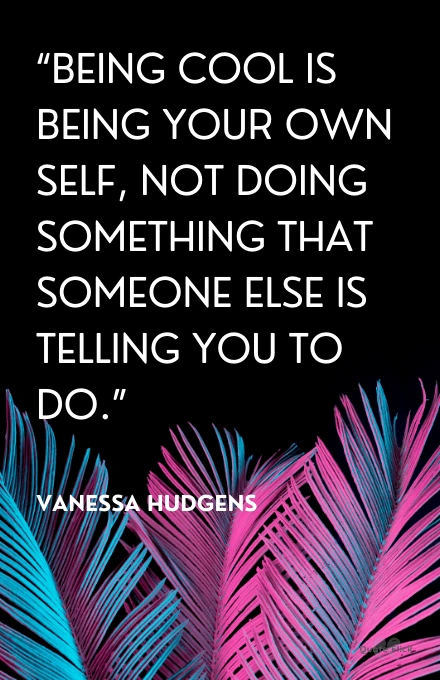 4. "You don't have to be angry, you don't have to be too cool for school." – Brendon Urie
5. "If you want to be cool, just be you." – Kimberly Dean
You Might Also Like:
6. "What fun is it being cool if you can't wear a sombrero?" – Bill Watterson
7. "The coolest thing is when you don't care about being cool anymore." – Rick Owens
8. "Rihanna is a pothead and so am I, so we're real cool." – ASAP Rocky
9. "Yoga will always be transformational, even when it stops being cool." – Victoria Moran
10. "I soon became aware that there wasn't enough time or opportunity to kiss all the girls in the world. The best thing is to stay cool – just be choosy and wait for the right opportunity." – Chet Baker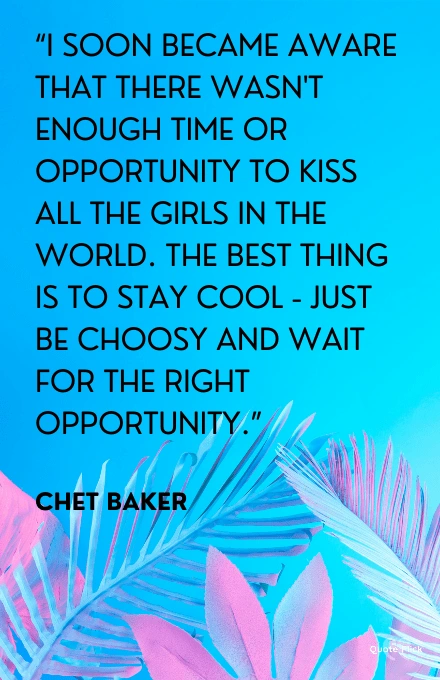 Have you read our Quotes About Finding Yourself?
11. "I think trying to be cool is the worst possible ambition – and I have never suffered from it." – Ben Elton
12. "I'm not the kind of person who tries to be cool or trendy, I'm definitely an individual". –Leonardo DiCaprio
13. "Being cool is when you win, you don't get too happy; and when you lose, you don't get too mad." – Ice T
14. "Being unique is what's cool. Normal? What's normal? A setting on a washing machine. No one wants to be that." – Unknown
15. "I don't mind not being cool." – Chris Martin
16. "Be cool and you'll be alright. That's rock & roll religion." – Paul McCartney
17. "Decency never goes out of style. Kindness is always cool. Helpfulness is still hip." – Robin S. Sharma
18. "I grew up around hip-hop so I didn't think it was about being cool or being black or being white or whatever." – Chad Hugo
19. "The secret was to just be cool, stay in God's graces, and work it out." – Solomon Burke
20. "Take a stand for what's right. Raise a ruckus and make a change. You may not always be popular, but you'll be part of something larger and bigger and greater than yourself. Besides, making history is extremely cool." – Samuel L. Jackson
21. "Being cool, having a 'cool' energy is just not attractive to me." – Selena Gomez
22. "Rather be dead than cool." – Kurt Cobain
23. "Don't worry about being cool. Worry about being the best" – Jeff Van Gundy
24. "The coolest thing is when you don't care about being cool anymore. Indifference is the greatest aphrodisiac – that's what really sums up style for me." – Rick Owens
25. "There's nothing less funny than someone who looks cool. There's nothing more unappealing." – Eric Wareheim
26. "People may feel that I am materialistic, ideal, idiot, cool, funny. It's not their perception but my projection and I always have my own reasons for my being." –  Giridhar Alwar
27. "I love to make things. If I have some free time and you have a dollar and a dream and you are making something funny and cool I'd love to be a part of it." – Daniel Franzese
28. "I want to be a cool mom." – Tori Spelling
29. "Trying to be cool is the easiest path to mediocrity" – Terry Crews
30. "Violence in real life is terrible; violence in movies can be cool. It's just another color to work with." – Quentin Tarantino
Loved the quotes? Why not check out our Quotes About Being Yourself!
Holly Jaskolka is a certified Emotional Freedom Technique (EFT) practitioner, yoga instructor, and an impassioned advocate for holistic well-being. Fueled by her love for animals and wanderlust, Holly leads a plant-based lifestyle that she complements with immersive travel experiences. When she's not jet-setting to uncover the world's hidden gems, she's empowering individuals to heal emotionally, particularly those grappling with the aftermath of breakups. Connect with Holly on LinkedIn.