We have gathered these 50 best inner beauty quotes to explain what it means to feel beautiful both inside and out. Internal beauty is the way you make people feel, your kind nature, and your gorgeous energy.
We hope you thoroughly enjoy this incredible list of quotes about beauty within. Feel free to choose your favorite and share it on Pinterest!
We are sure you will be happy with our pretty collection of images. If so, please consider sharing with your loved ones, or on social media! Enjoy these beautiful inside and out quotes, we're wishing you a lovely day!
Inner Beauty Quotes
1. "Inner beauty makes outer beauty more beautiful" – Unknown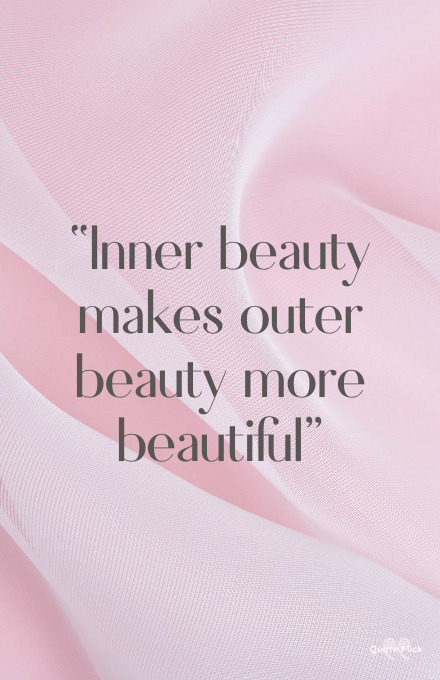 2. "Outer beauty is a gift, inner beauty is an accomplishment." – Randi Fine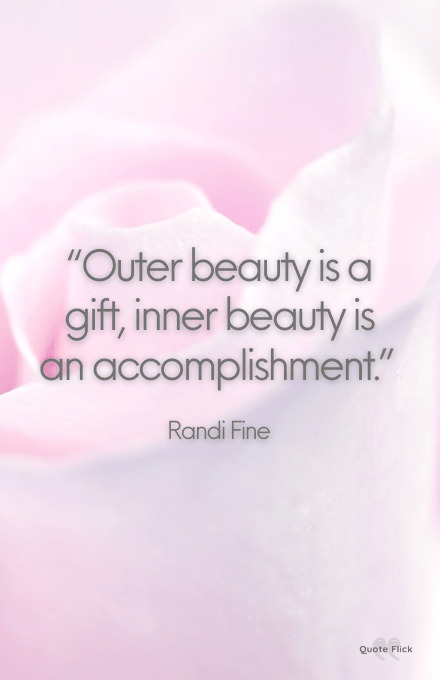 3. "I've always found that the most beautiful people, truly beautiful inside and out, are the ones who are quietly unaware of their effect." – J. Lynn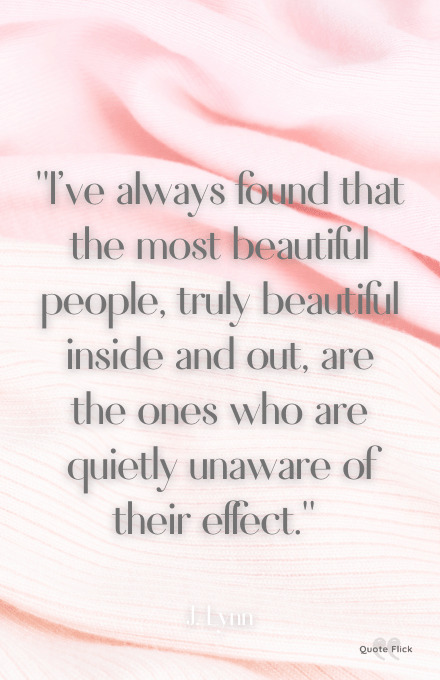 4. "Outer beauty capture eyes but inner beauty captures the heart" – Steven Aitchinson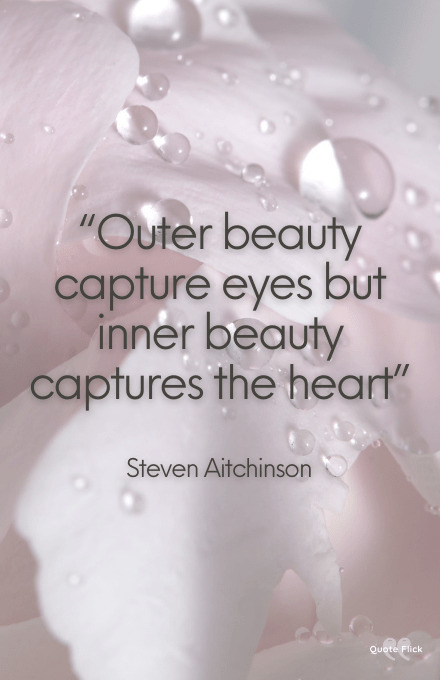 5. "Elegance means being beautiful both on the inside and out." – Coco Chanel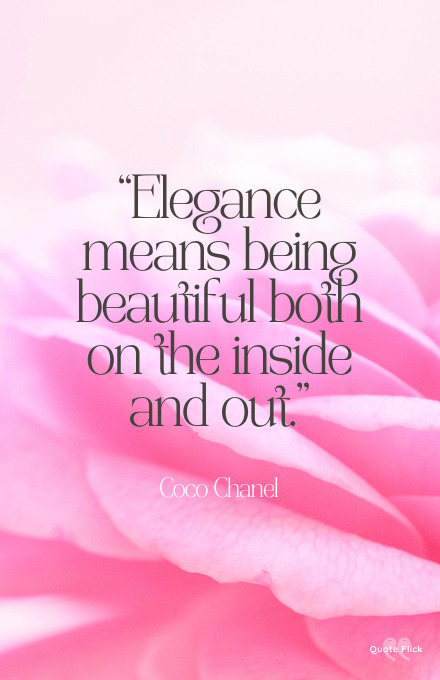 6. "Being your own unique self is pure beauty." – Unknown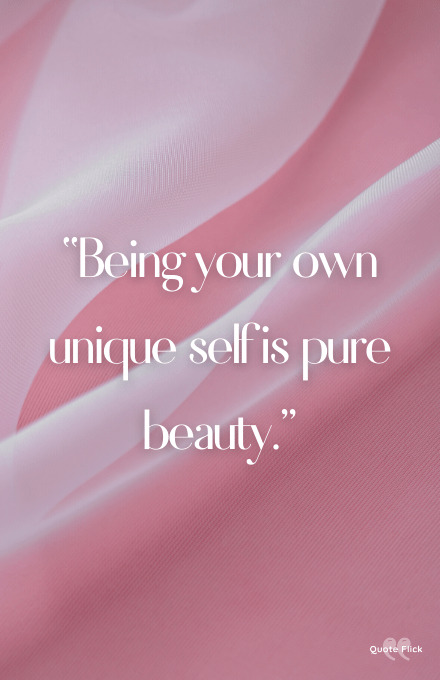 7. "It is the beauty within us that makes it possible for us to recognize the beauty around us. The question is not what you look at, but what you see." – Henry David Thoreau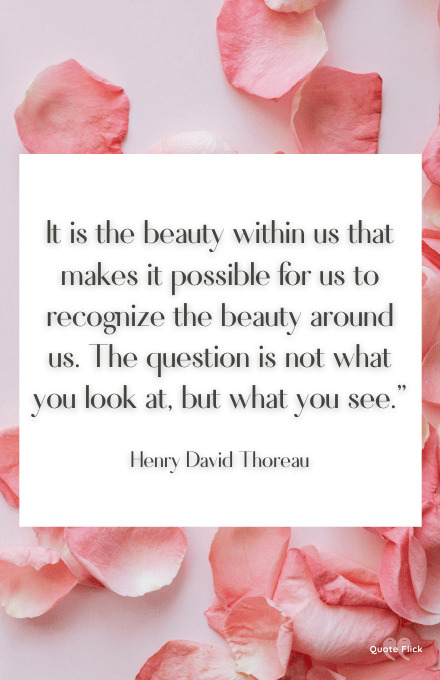 8. "A beautiful person is a person who is capable of being the best version of himself/herself. Inside and out as often as possible." – Rita Zahara
9. "Your inner beauty remains with you no one can steal it"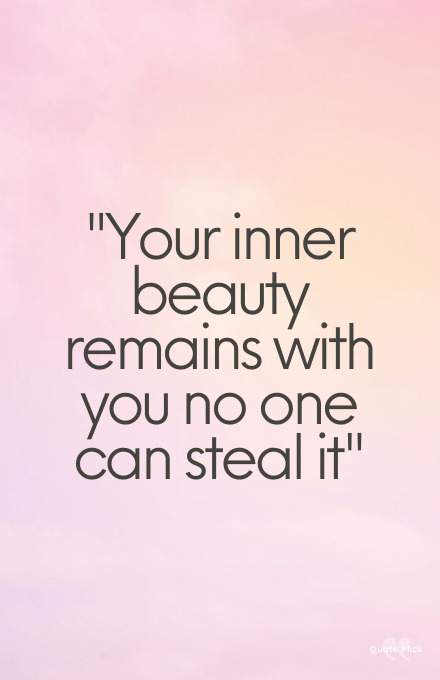 10. "To find the beauty within, look for the beauty in others." – Unknown
Have you been enjoying these so far? Check out Be Yourself Quotes and Lead By Example Quotes
11. "The light inside you determines how brighter you shine" – Unknown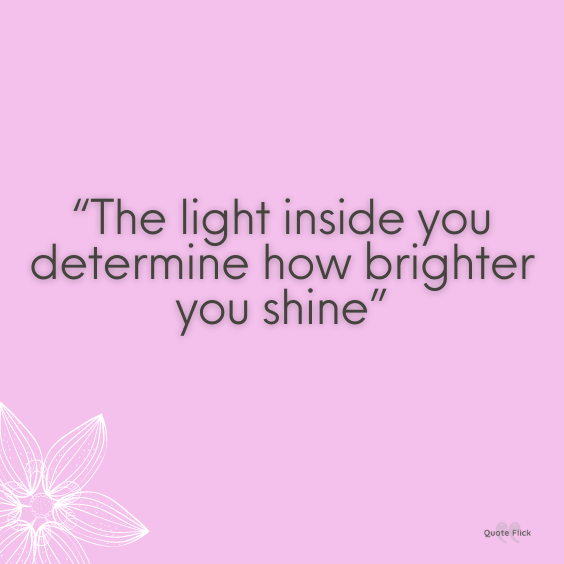 12. "Beauty is how you feel inside, and it reflects in your eyes, it's not something physical." – Sophia Loren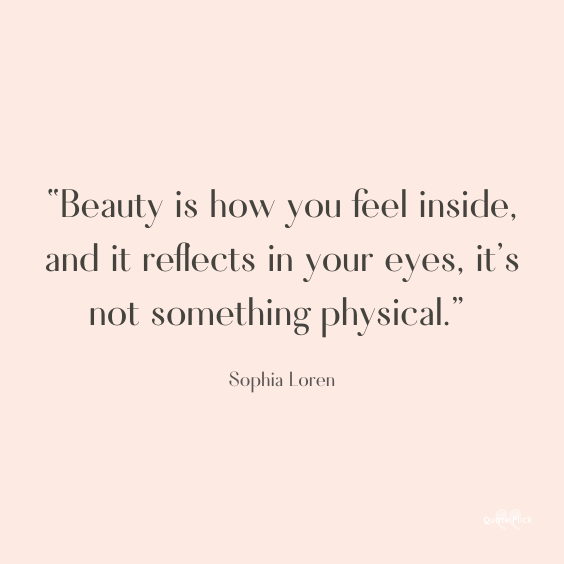 13. "Outer beauty is inner beauty made visible." – Unknown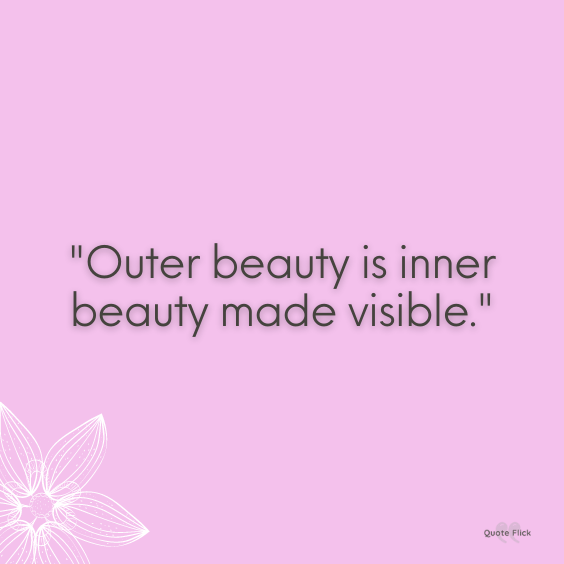 14. "Outer beauty is what the eyes can see, inner beauty can only be seen through the heart." – Unknown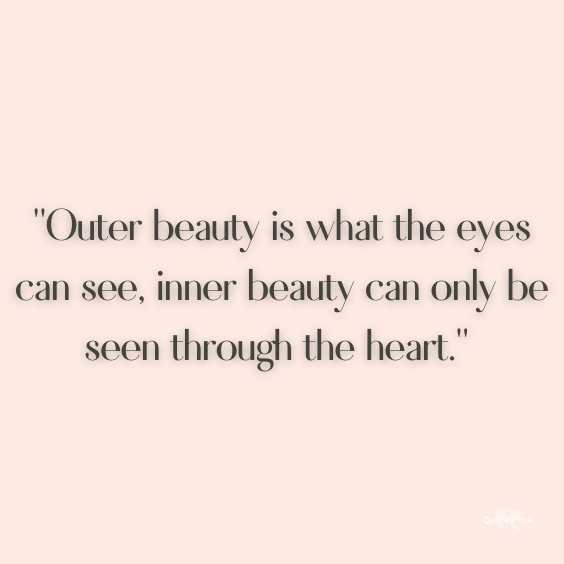 15. "People search for beauty but they forget that true beauty lies inside them" – Unknown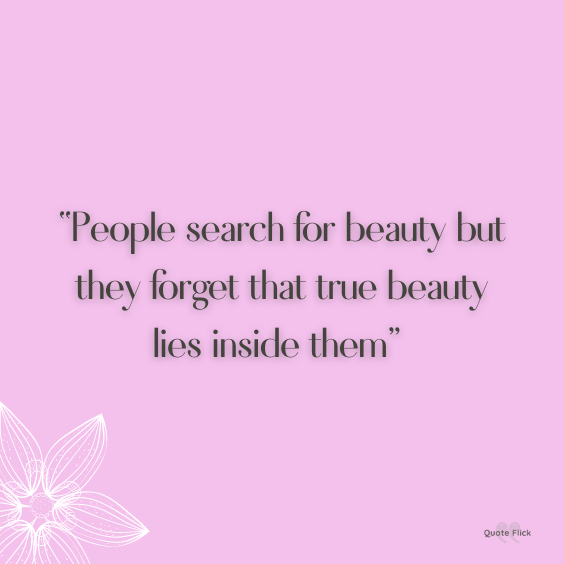 16. "Internal beauty is eternal. Outer beauty will diminish one day. Be inclined towards the former." – Unknown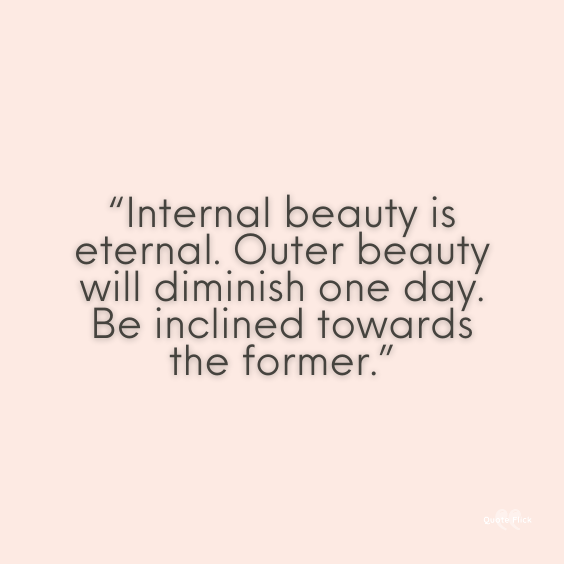 17. "You're the most beautiful person in the world if you have a kind heart and beautiful soul" – Unknown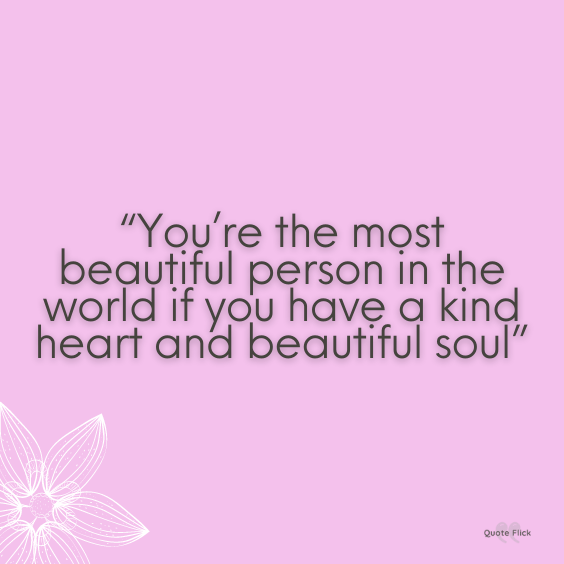 18. "Don't worry about how you look just share the kindness of your heart" – Unknown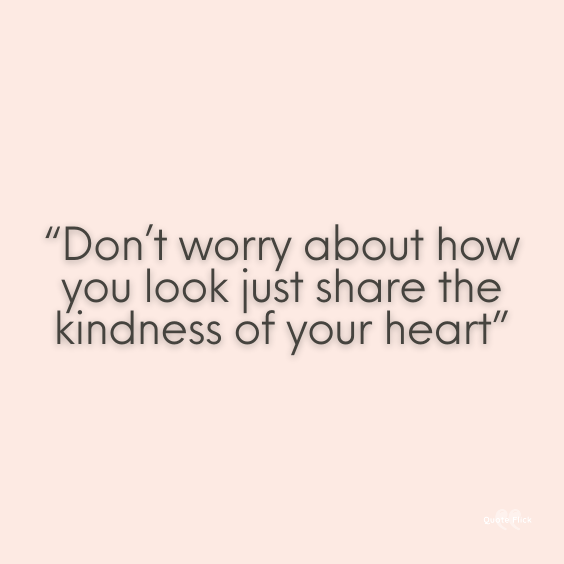 19. "Inner beauty, too, needs occasionally to be told it is beautiful." – Robert Brault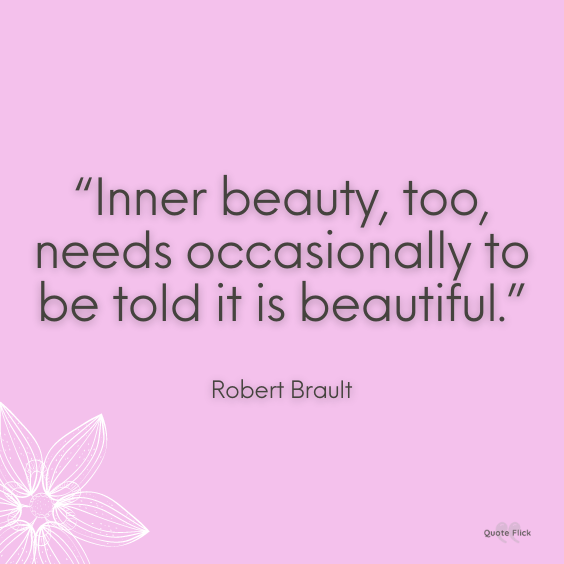 20. "Create a beautiful inside and you will look beautiful on the outside."– Charles F. Glassman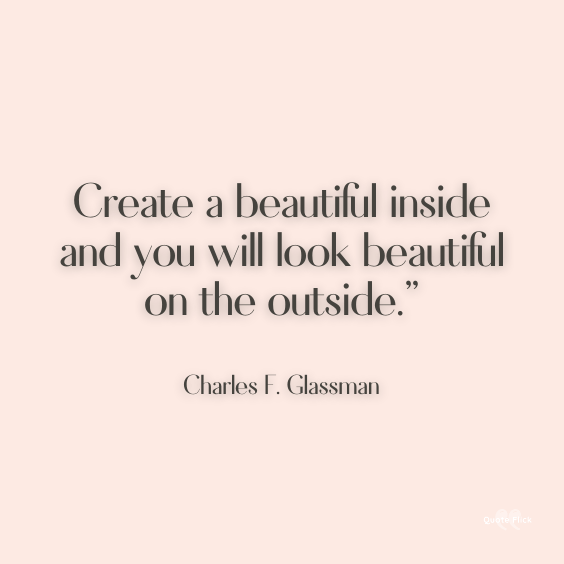 You Might Also Like Know Your Worth Quotes and Maturity Quotes
21. "Beauty is not who you are on the outside, it is the wisdom and time you gave away to save another struggling soul, like you." – Shannon L. Alder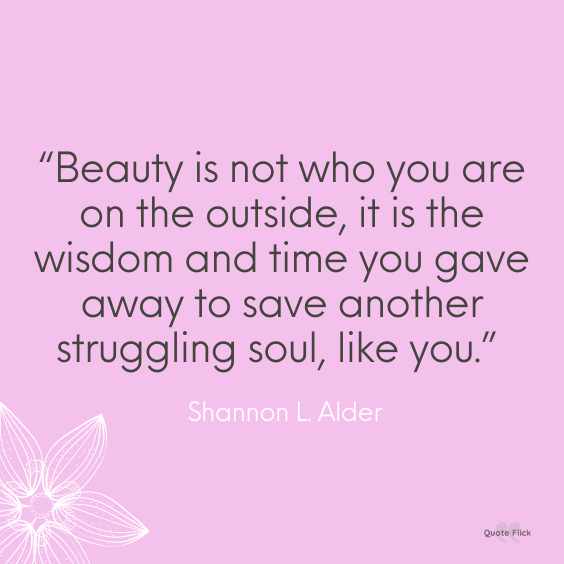 22. "Attractiveness and magnetism of man's personality is the result of his inner radiance." – Yajur Veda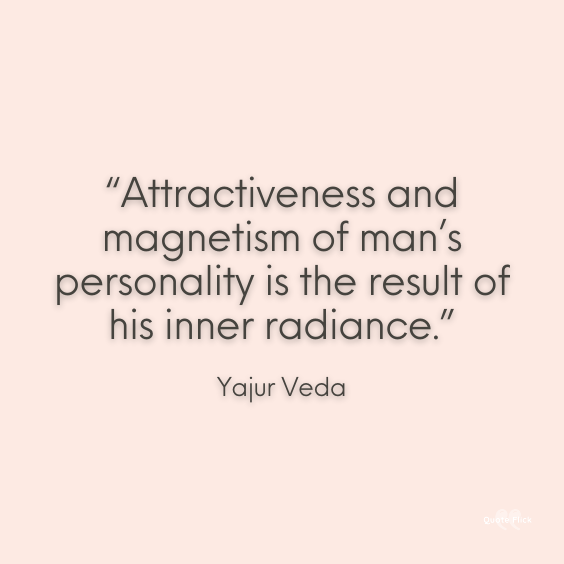 23. "Beauty comes from the happiness within." – Liv Tyler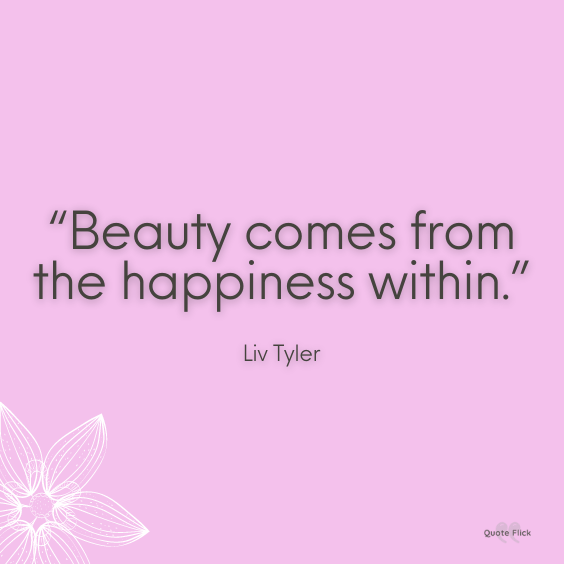 24. "True beauty is when someone radiates that they like themselves." – Aimee Mullins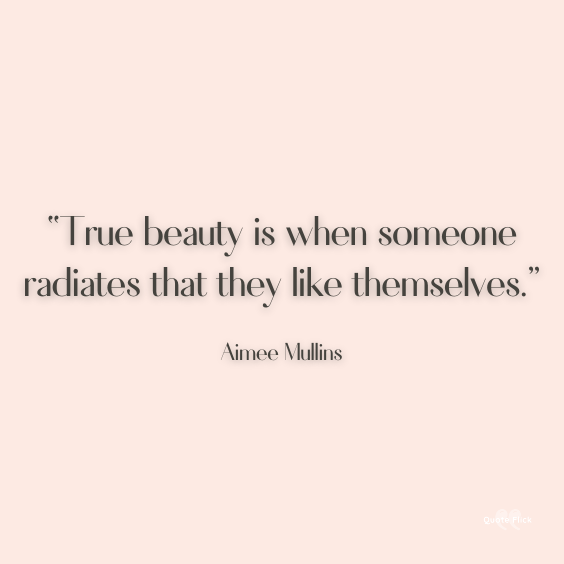 25. "Inner beauty can't shine through makeup." – Unknown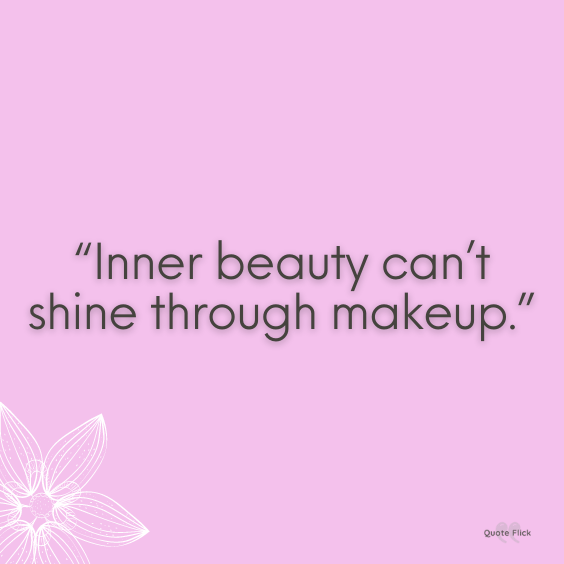 26. "Be kind. It will reveal your true inner beauty." – Unknown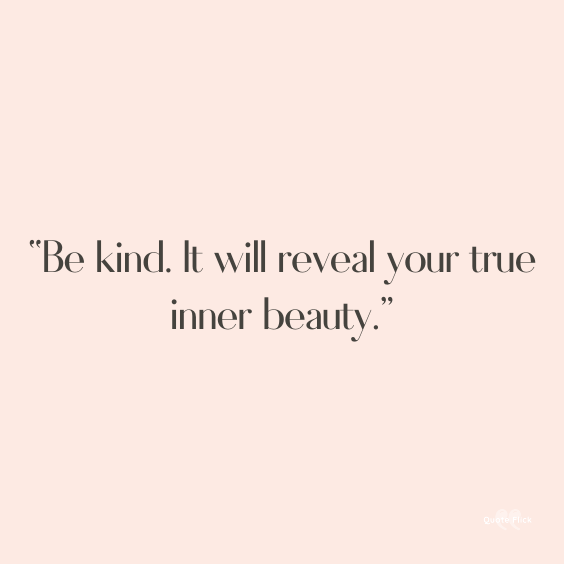 27. "Your looks don't make you pretty, it's the person inside who makes you pretty!" – Unknown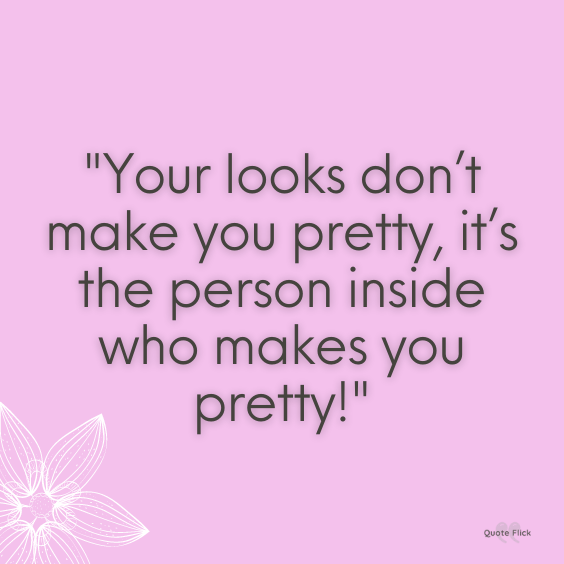 28. "If people were more concerned with how they looked on the inside, then on the outside, the world would be a nicer place to exist." – David Walsh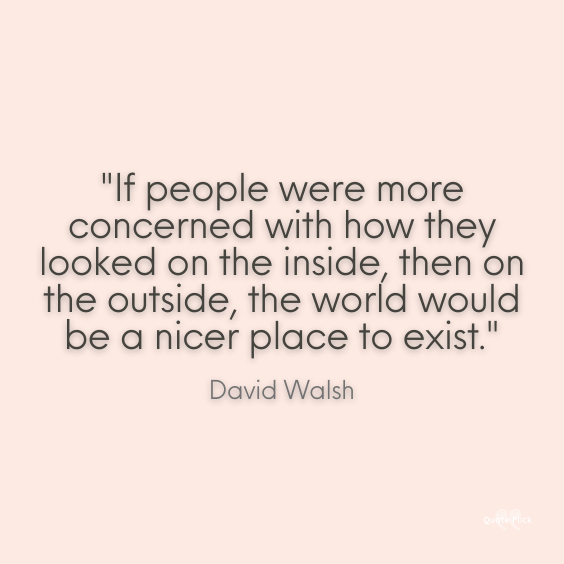 29. "The kind of beauty I want most is the hard-to-get kind that comes from within. Strength, courage, dignity." – Ruby Dee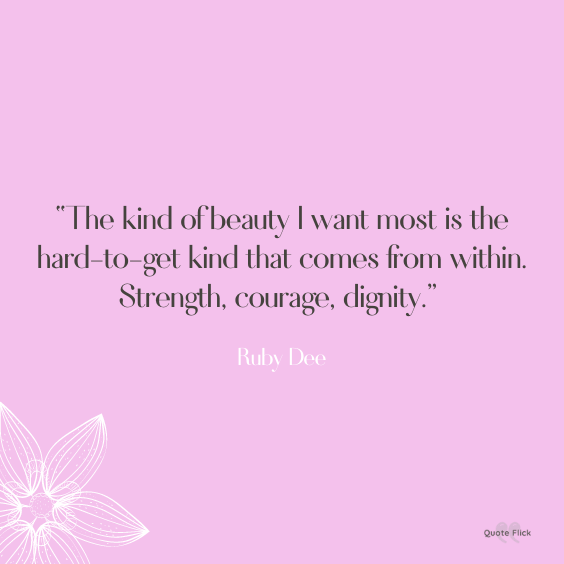 30. "One beautiful heart is better than thousand of beautiful faces." – Mariane Corbito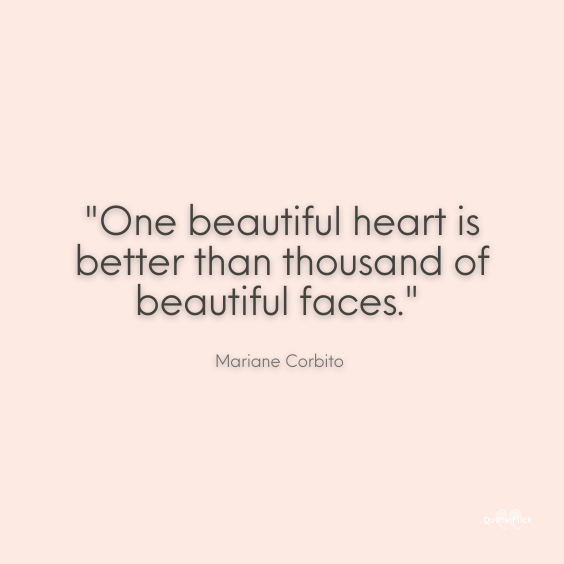 Have you taken a look at our Attitude Quotes and Quotes About Smiling?
31. "The beauty of a woman is not in the clothes she wears, the figure that she carries, or the way she combs her hair. The beauty of a woman must be seen from her eyes because that is the doorway to her heart, the place where love resides." – Unknown
32. "Inner beauty radiates from within, and there's nothing more beautiful than when a woman feels beautiful on the inside." – Unknown
 33. "Don't clean your face to look more beautiful clean your heart to look more beautiful" – Unknown
34. "I think everybody should focus on inner beauty." – Unknown
35. "The beauty of a woman is not in a facial mole, but true beauty in a Woman is reflected in her soul. It is the caring that she lovingly gives, the passion that she knows." – Audrey Hepburn
36. "There is no definition of beauty, but when you can see someone's spirit coming through, something unexplainable, that's beautiful to me." – Unknown
37. "If the soul is good and there is peace in mind that makes you best version of yourself" – Unknown
38. "No matter how plain a woman may be if truth and honesty are written across her face, she will be beautiful." – Eleanor Roosevelt
39. "Beautiful soul leads to the beautiful heart leads to peace in mind and that makes you human being" – Unknown
40. "Beauty is defined not by our physical appearance but who we choose to be." – Unknown
41. "Beauty is not in the face; beauty is a light in the heart." – Kahlil Gibran
42. "God gave us eyes to see the beauty in nature and hearts to see the beauty in each other." – Unknown
43. "If you want to look like others then there is no difference between them and you, just be different and show them what you look from inside" – Unknown
44. "Groom yourself with a comb of confidence and inner beauty." – Suyasha Subedi
45. "True beauty could be discovered only by one who mentally complete the incomplete." – Unknown
46. "Make your life more beautiful every day with a simple smile" – Unknown
47. "Sometimes people are beautiful. Not in looks. Not in what they say. Just in what they are." – Markus Zusak
48. "Beauty is only skin deep, but ugly lies to the bone. Beauty dies and fades away, but ugly holds its own! Create and cultivate Inner Beauty that never fades away but grows and matures with Time!" – Deodatta V. Shenai-Khatkhate
49. "It is not fancy hair, gold jewelry, or fine clothes that should make you beautiful. No, your beauty should come from within you – the beauty of a gentle and quiet spirit. This beauty will never disappear, and it is worth very much to God." – Peter 3:3-4, Holy Bible: KJV
50. "In the end, you will not see the physical beauty in others that caught your eye, but the fire that burned within them. This kind of beauty is the bonfire you had to attend." – Shannon L. Alder