These 32 uncle quotes will get you laughing about your funny, caring, interesting, (and maybe sometimes) embarrassing uncle! Having a friendly uncle is a special relationship to have, and these quotes about uncles are perfect for letting them know.
Choose a quote for your uncle to send to him on his birthday, fathers day, or just to show your general appreciation for him as a nice surprise. Maybe he isn't blood-related, but one of those family friends that you have always called uncle and you've never really known why – but it fits!
At least one of these quotes is likely to resonate with you and the bond you have with your uncle. If you enjoyed these special phrases and sayings, pick your favorite uncle quotes and share the images!
Uncle Quotes
1. "Everyone had an uncle who tried to steal their nose." – Peter Kay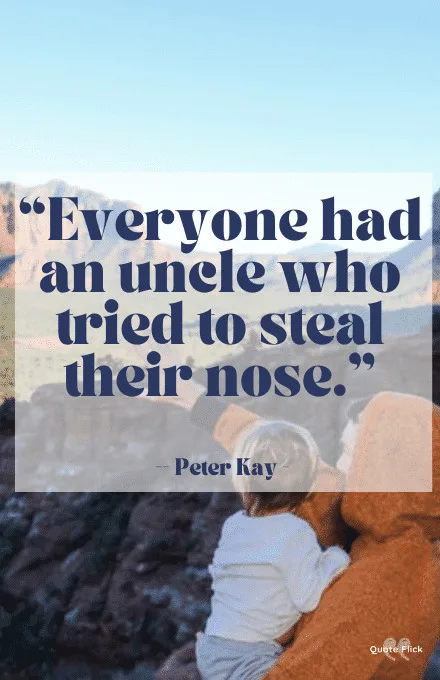 2. "The more I learn about my uncle, the more I'm embarrassed and inspired at the same time." – Unknown
3. "What we love about uncles is that they're helpful, friendly and inspirational all in one." – Unknown
4. "I'd do anything for my uncle." – Unknown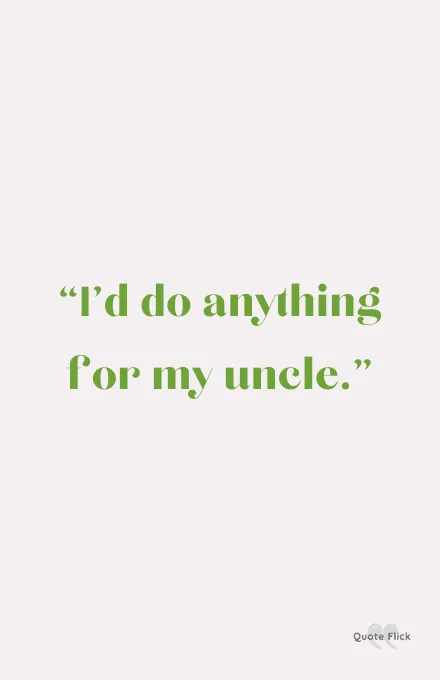 5. "I've got an uncle myself. Nobody should be held responsible for their uncles. Nature's little throwbacks – that's how I look at it."– Agatha Christie.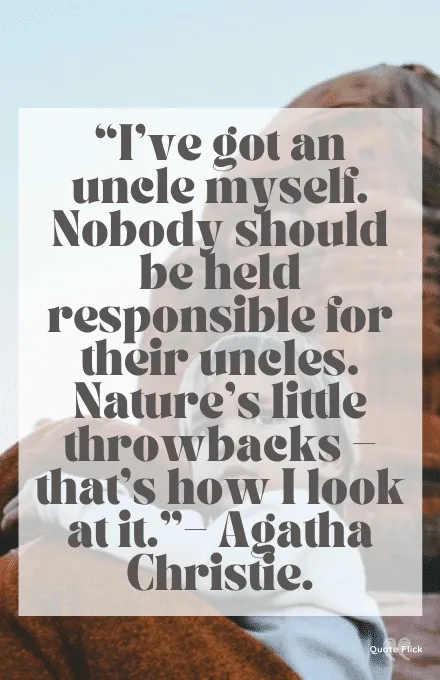 You Might Also Like:
6. "To my favorite uncle. Ok, so you are my only uncle, but you are still my favorite!" – Unknown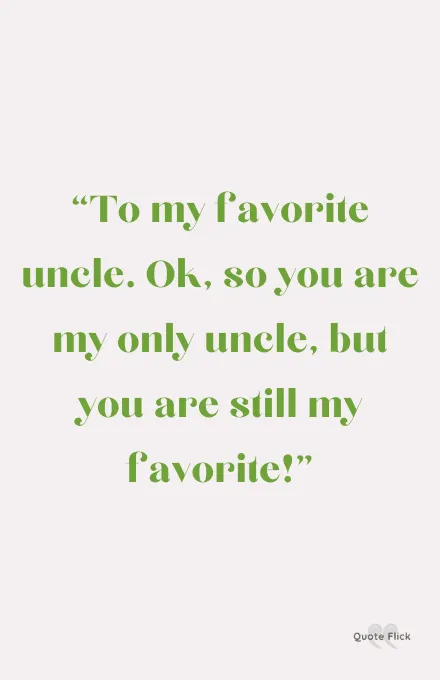 7. "You are a remarkable person, and I am grateful to call you my uncle. Thank you for being my rock and the person that I could trust to keep my secrets." – Unknown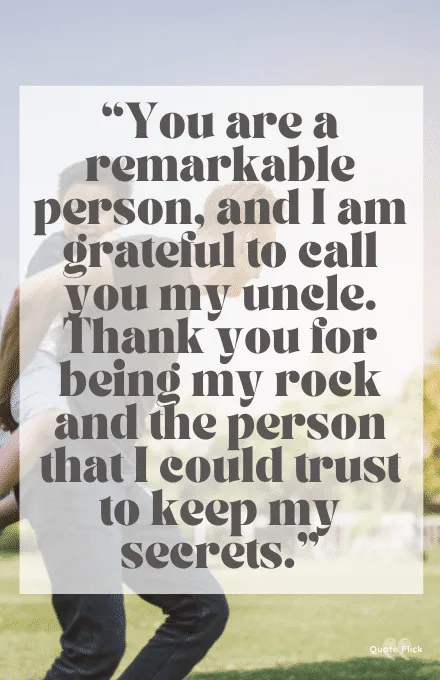 8. "I get my good looks from my uncle." – Unknown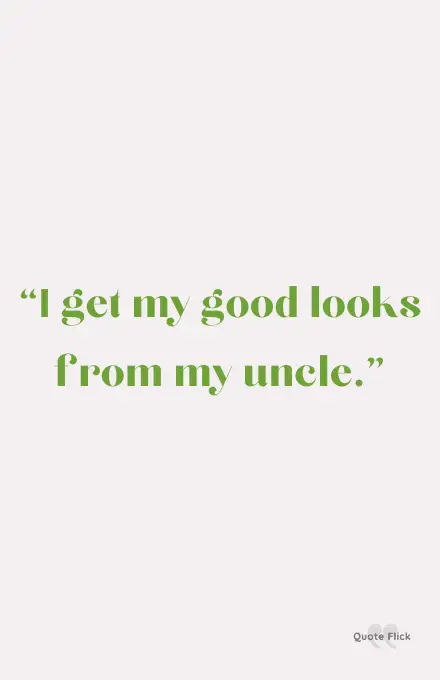 9. "Having a great uncle in your life is like having a great coach, a favorite teacher, a big brother, and a best friend all rolled into one." – Unknown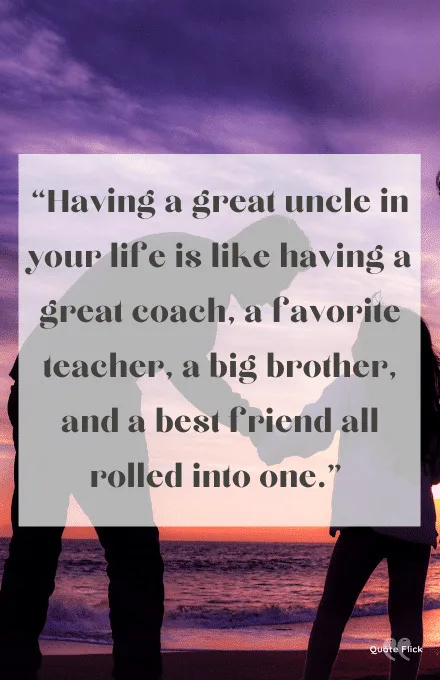 10. "Being a brother is awesome. Being an uncle is priceless." – Unknown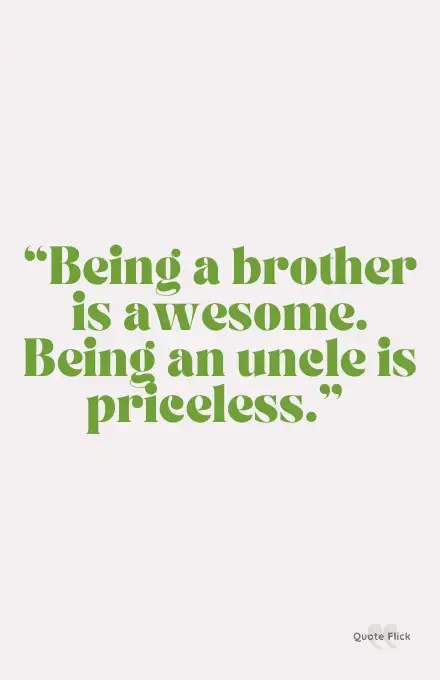 You Might Also Like:
11. "The best brothers get promoted to uncle." – Unknown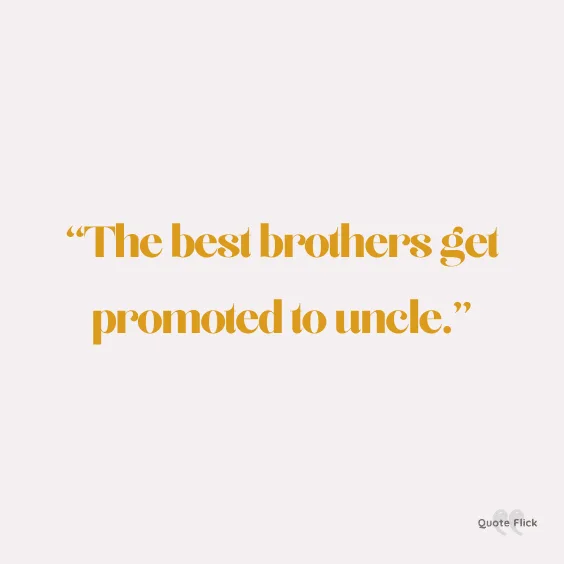 12. "Being a brother is awesome. Being an uncle is priceless." – Unknown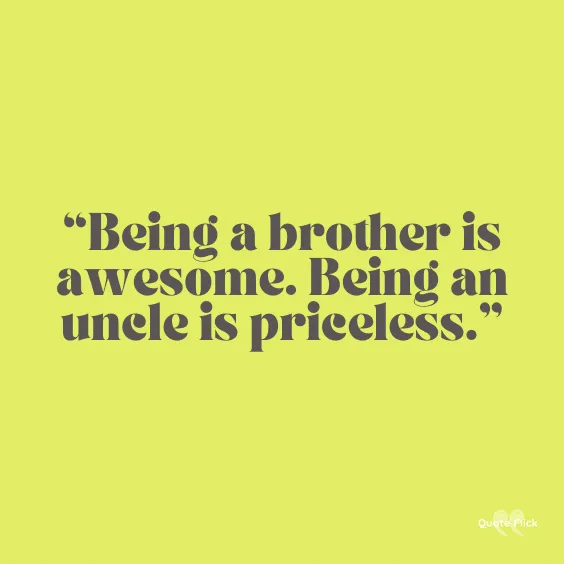 13. "I love being an uncle." – Unknown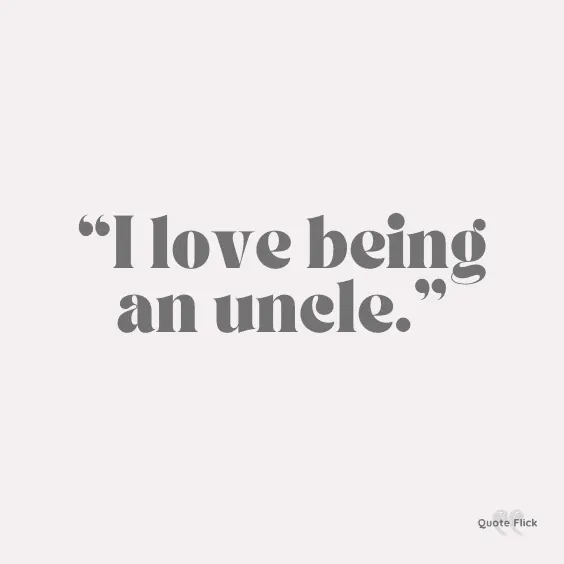 14. "Some people don't believe in heroes but they haven't met my uncle." – Unknown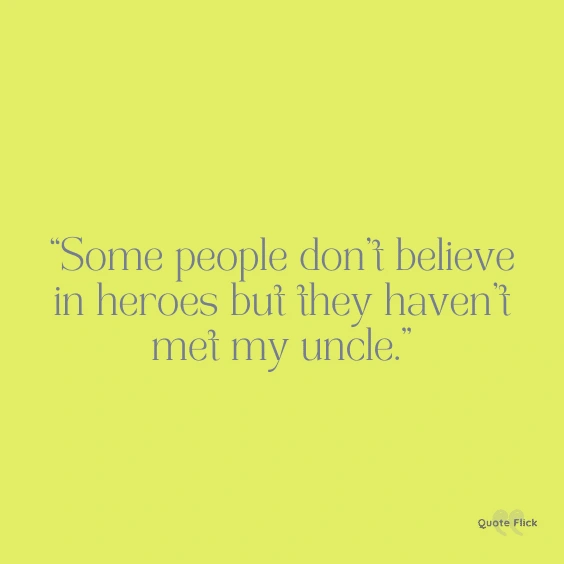 15. "They've got great parents; I'm just trying to be the fun uncle." – Sarah Silverman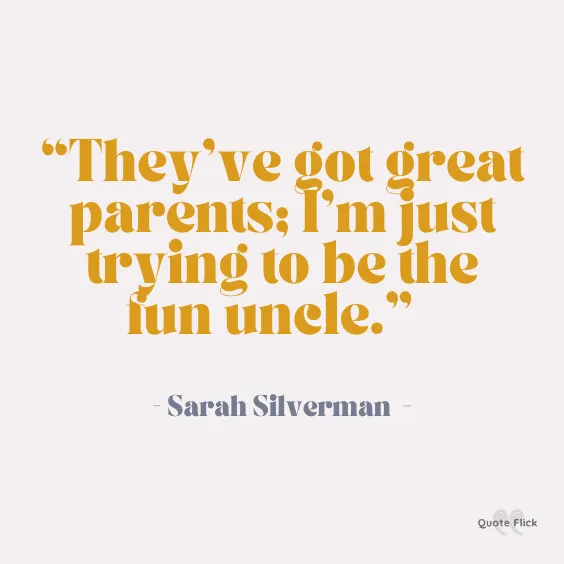 16. "Uncle: the man, the legend, the bad influence." – Unknown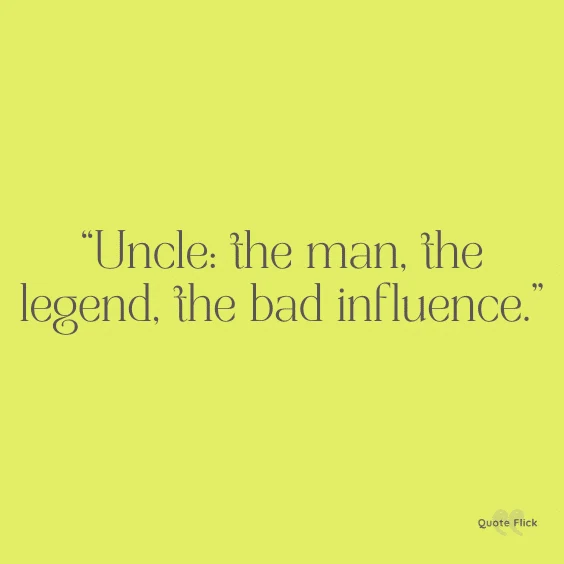 17. "You can tell your uncle stuff that you could not tell your dad. That is kind of the role of an uncle. I feel very much like a father sometimes but sometimes I feel like a teammate." – Dusty Baker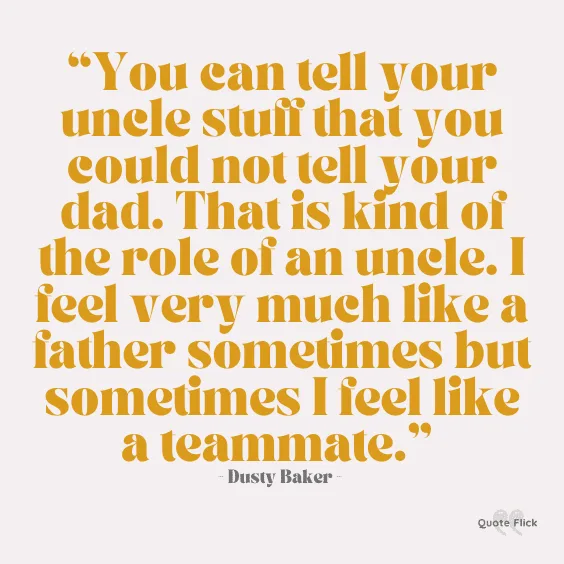 18. "An Uncle is a double blessing. They love like a parent and act like a friend." – Unknown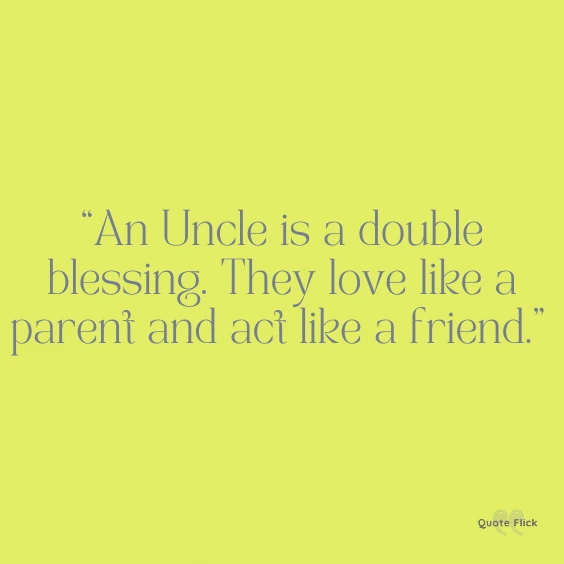 19. "Pirate was going to be my middle name, but then my uncle had a problem with it because pirates are bad." – Billie Eilish
20. "My uncle was a second father to me. I spent most of my childhood with him." – Rey Mysterio
21. "I mean, I'm an uncle of seven or eight, and I don't mind it at all! Kids are great. Kids are the best six-hour experience you can have!" – Chris O'Dowd
22. "I'm as lucky as can be. The world's greatest uncle belongs to me." – Unknown
23. "I am forever grateful for my uncle because he taught me that it was okay to chase after my dreams." – Unknown
24. "No family is complete without an embarrassing uncle." – Peter Morgan
25. "An uncle is a cherished friend and personal coach who will always be there cheering you on." – Unknown
26. "An uncle is someone special to remember with warmth, think of with pride, and cherish with love." – Unknown
27. "An amazing uncle is like a glass of refreshing lemonade in the hot summer of life." – Unknown
28. "My friends envy me because I have such a cool uncle!" – Unknown
29. "Funcle: Like a dad, only cooler." – Unknown
30. "Love, laughter and care, you provided me with all that I could need when growing up. I knew that I could always count on you to help me with anything that I could need. You made sure that I never felt alone." – Unknown
31. "The great thing about being an uncle is being able to give the kid back when they start crying." – Rob Rofle
32. "I am very lucky that you are my uncle. You were always there to lend a helping hand and to give good advice." – Unknown