A bond with a sister is a bond like no other. These 65 beautiful sister quotes are perfect for describing interesting sibling dynamics! Best friends, worst enemies, fighting, laughing, and late-night chatting. All part of having a sister. We hope you love these quotes about sisters!
Maybe you have a big sister, a little sister, or both. Either way, we know that you will love the words used to describe your special bond. Share them with your sister to let her know how much you love her.
These quotes about love for your sister are without a doubt going to make you smile and feel grateful that you have been blessed with her in your life.
Enjoy!!
Best Sister Quotes
1. "A sister is a little bit of childhood that can never be lost." – Marion C. Garretty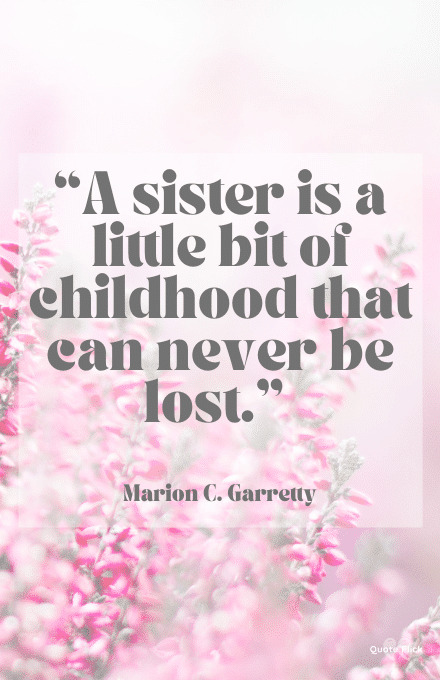 2. "That's the best thing about little sisters: They spend so much time wishing they were elder sisters that in the end, they're far wiser than the elder ones could ever be." – Gemma Burgess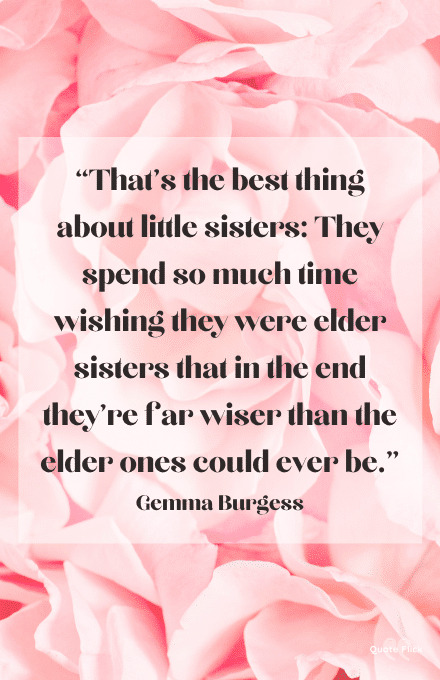 3. "Yes, I do have the best sister in the world. It's just that she's crazy and she scares me a little bit." – Unknown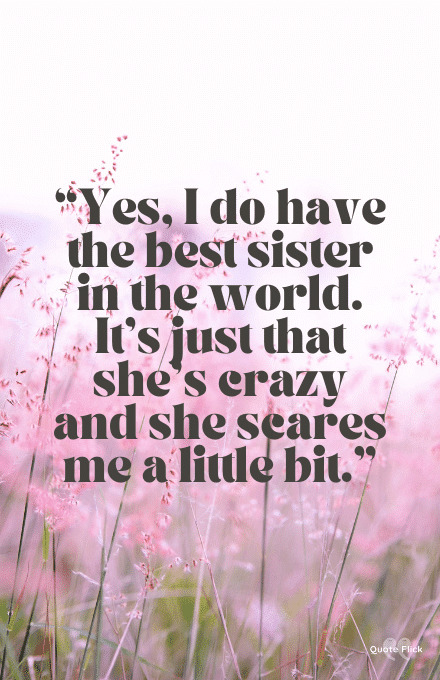 4. "Sisters function as safety nets in a chaotic world simply by being there for each other." – Carol Saline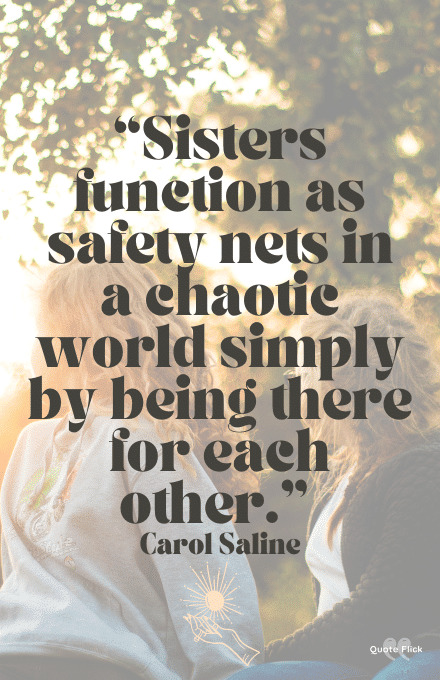 5. "Having a sister is like having a best friend you can't get rid of. You know whatever you do, they'll still be there." – Amy Li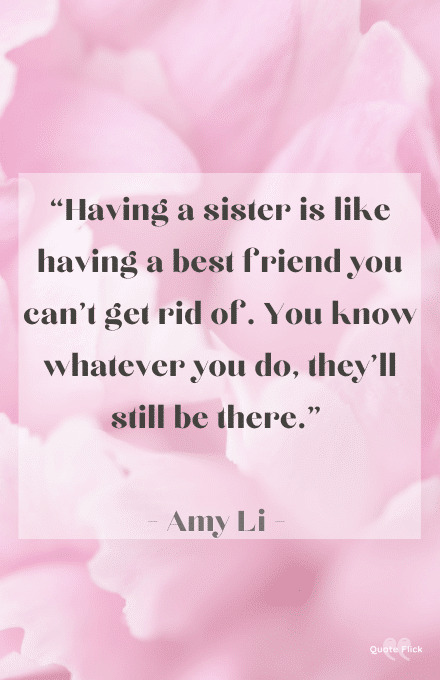 You Might Also Like:
6. "If you don't annoy your big sister for no good reason from time to time, she thinks you don't love her anymore." – Pearl Cleage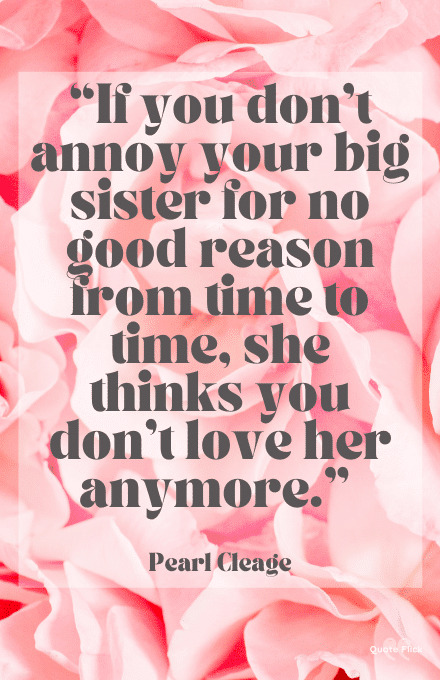 7. "I could never love anyone as I love my sisters." – Little Women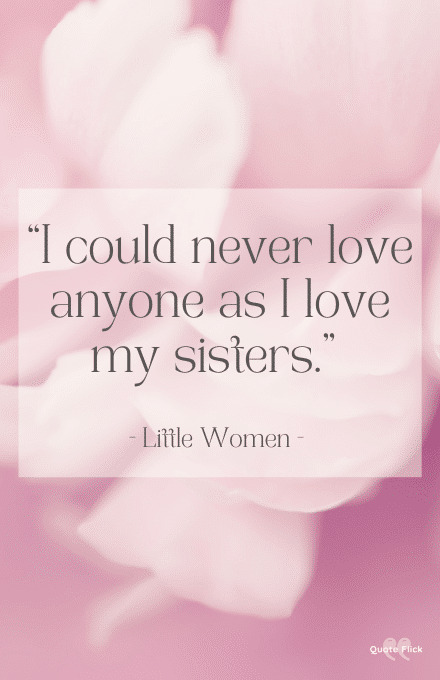 8. "I'm the big sister. I want to make sure she has everything, even if I don't have anything. It's hard. I love her too much. That's what counts." – Venus Williams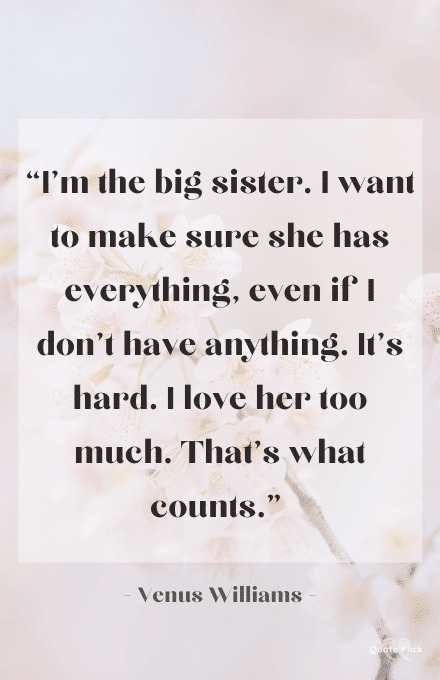 9. "For there is no friend like a sister in calm or stormy weather; To cheer one on the tedious way, To fetch one if one goes astray, To lift one if one totters down, To strengthen whilst one stands." – Christina Rossetti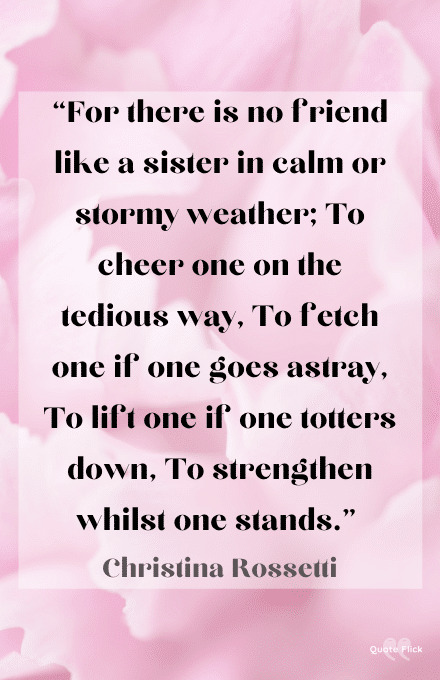 10. "Sisterly love is, of all sentiments, the most abstract. Nature does not grant it any functions." – Ugo Betti
Next:
11. "She's the sweetest, craziest, most annoyingly loveable person. She would say the same about me. My sister, I can't imagine life without my sister." – Unknown
12. "My sister was the one person who told me not to change, that my skin was beautiful. She really helped me feel good about myself." – Khoudia Diop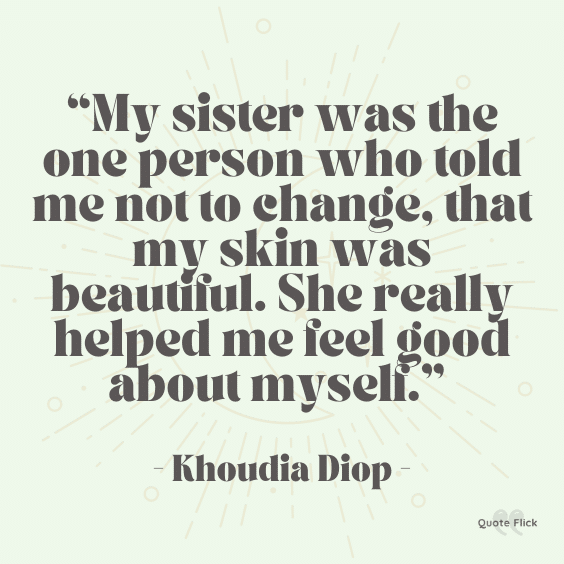 13. "There's nobody in the world that knows me better than my sister." – Tia Mowry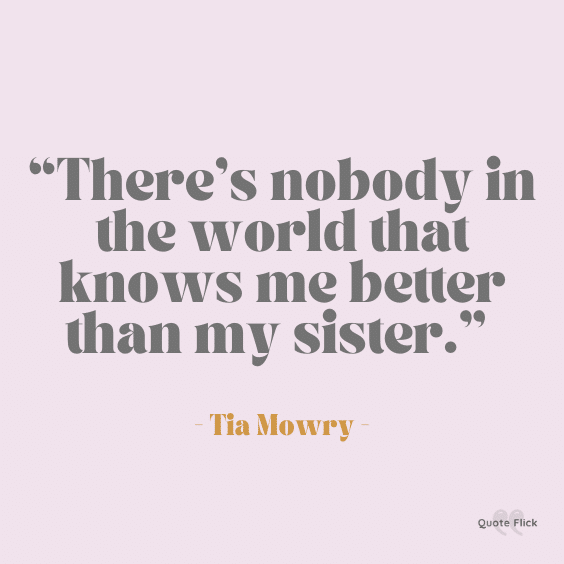 14. "Sister to sister we will always be, a couple of nuts off the family tree." – Unknown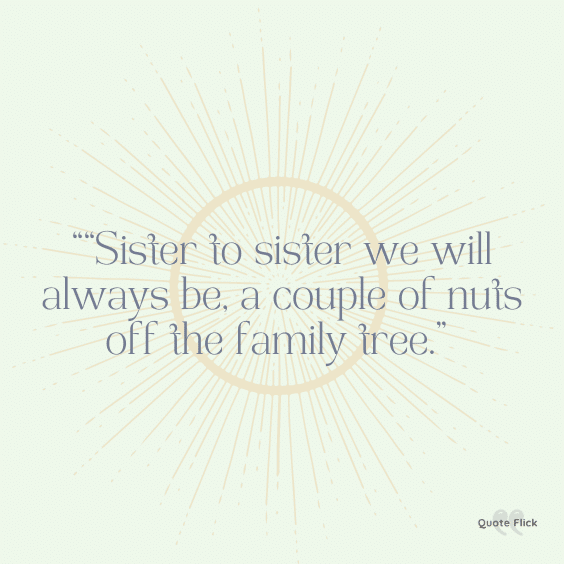 15. "Sisters make the best friends in the world." – Marilyn Monroe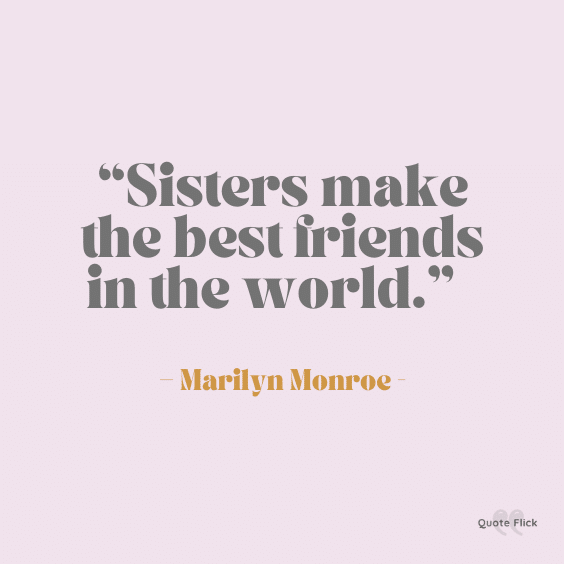 16. A sister is both your mirror and your opposite. – Elizabeth Fishel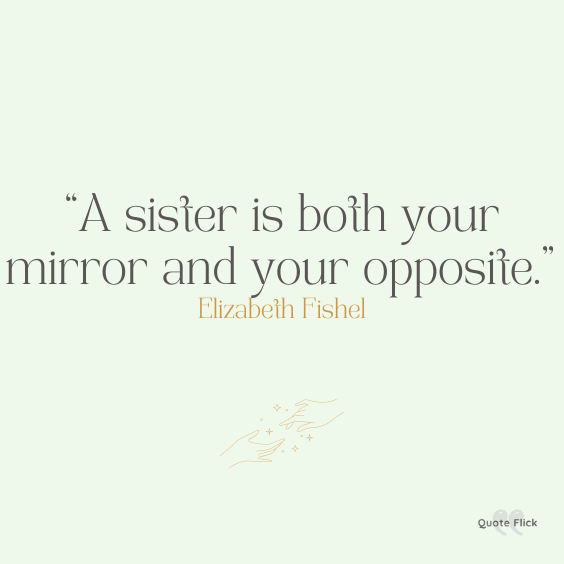 17. "More than Santa Claus, your sister knows when you've been bad and good." – Linda Sunshine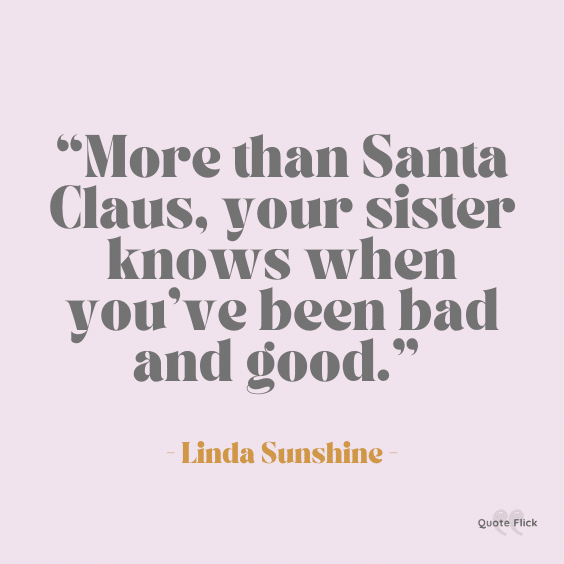 18. "A sister is often a mentor, a guide, and a best friend. Especially at a time of need." – Debasish Mridha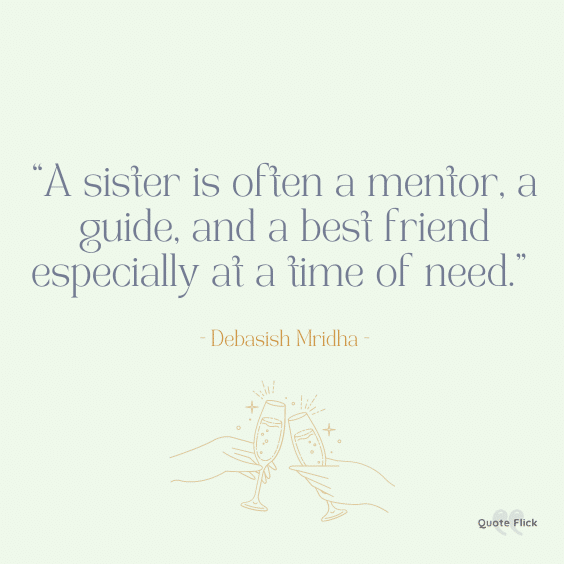 19. "So distant yet so close. So different yet so similar. That's why I love my sister." – Maxime Lagacé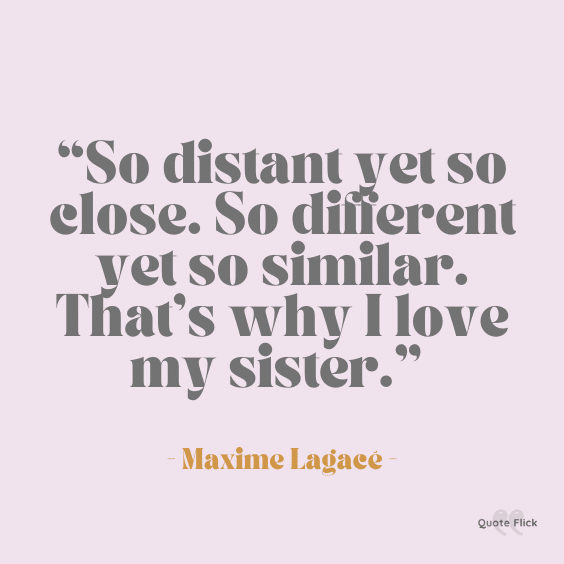 20. "A sister is like yourself in a different movie, a movie that stars you in a different life." – Unknown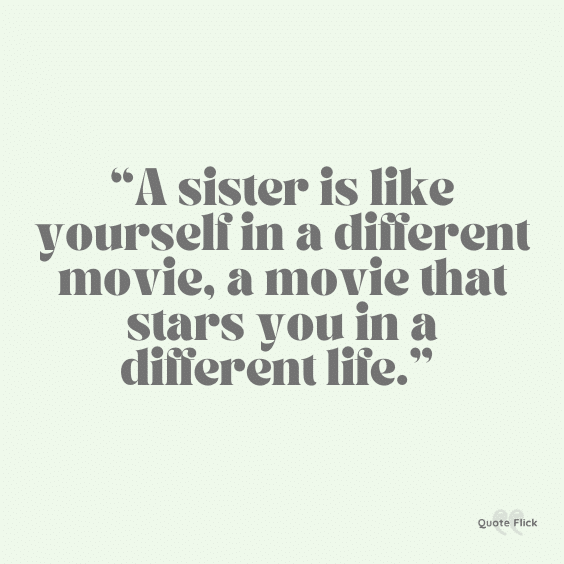 21. "Don't talk about my sister; don't play with me about my sister. If you do, you'll see another side of me." – Beyoncé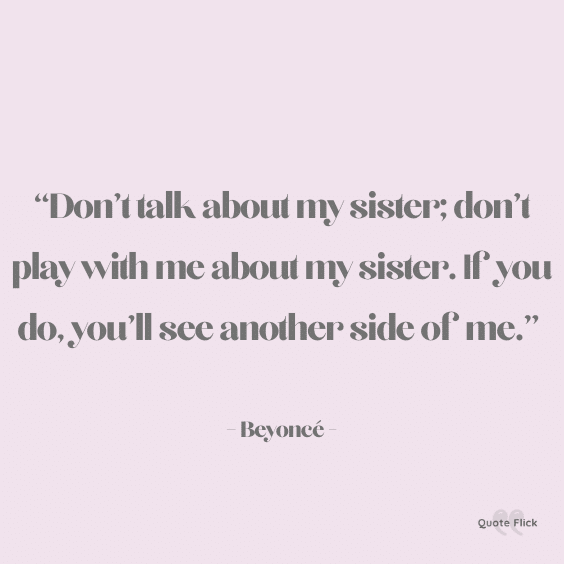 22. "You may be as different as the sun and the moon, but the same blood flows through both your hearts. You need her, as she needs you." – George R.R. Martin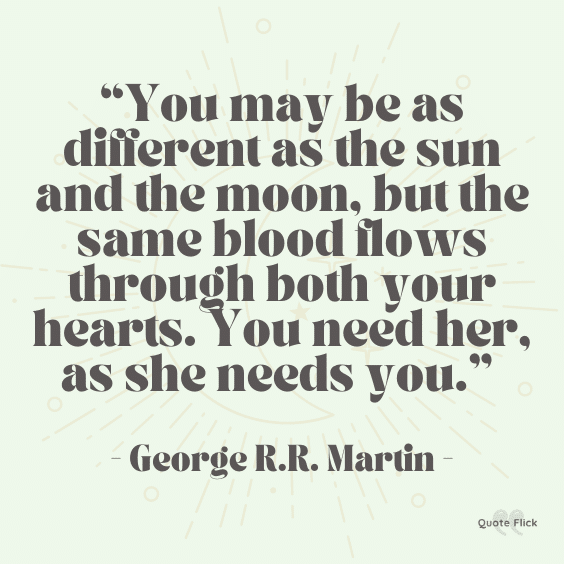 23. "Having a sister is like having a best friend you can't get rid of. You know whatever you do, they'll still be there." – Amy Li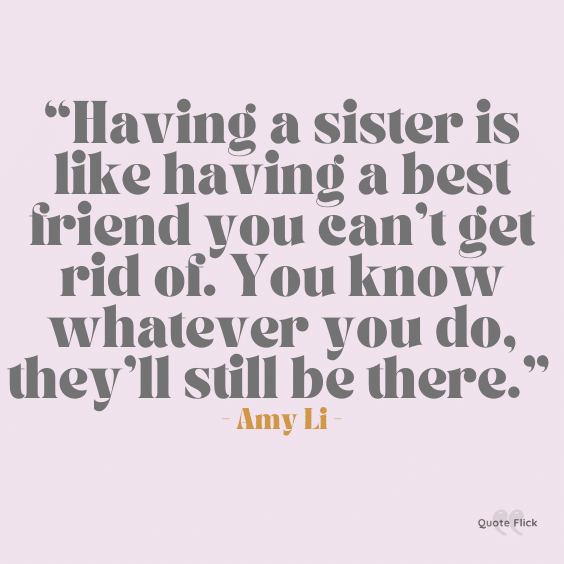 24. "What are sisters for if not to point out the things the rest of the world is too polite to mention." – Claire Cook
25. "If your sister is in a tearing hurry to go out and cannot catch your eye, she's wearing your best sweater." – Pam Brown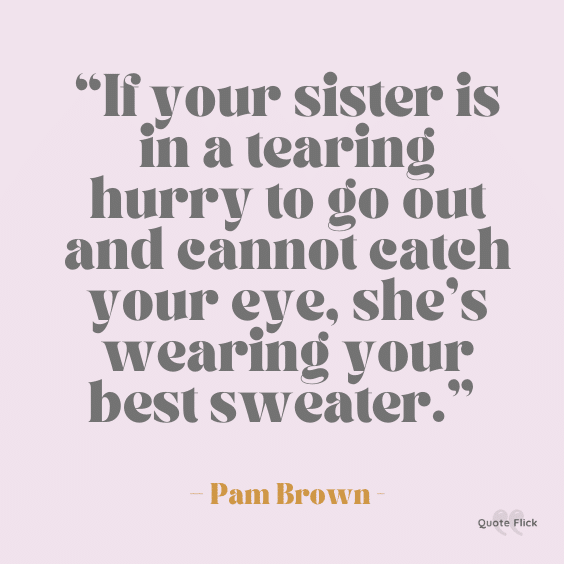 26. "We are sisters. We will always be sisters. Our differences may never go away, but neither, for me, will our song." – Elizabeth Fishel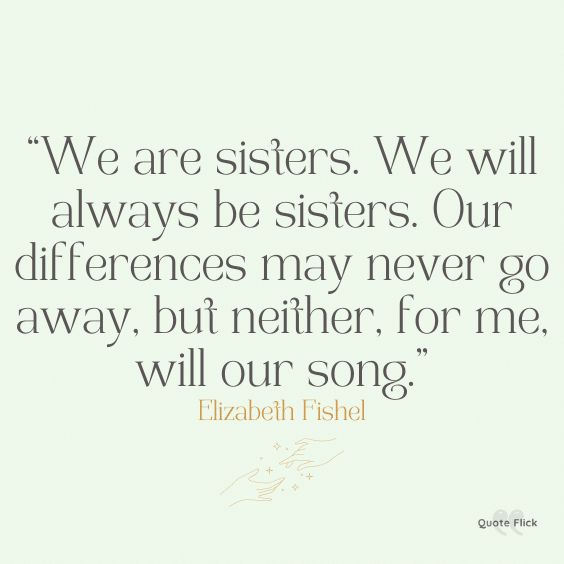 27. "Sisters never quite forgive each other for what happened when they were five." Pam Brown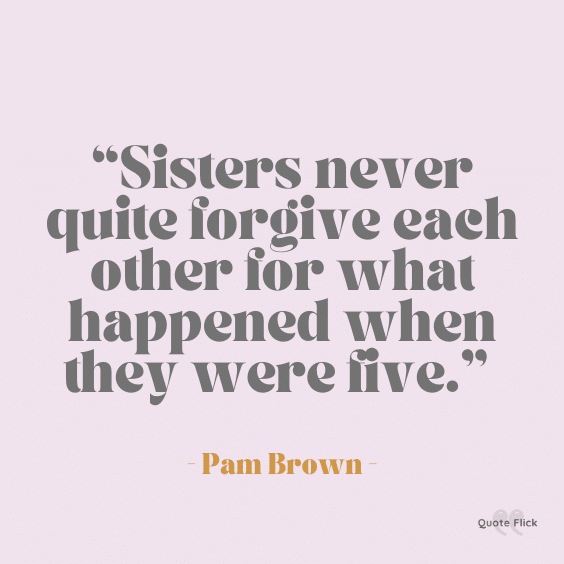 28. "Of two sisters one is always the watcher, one the dancer." – Louise Glück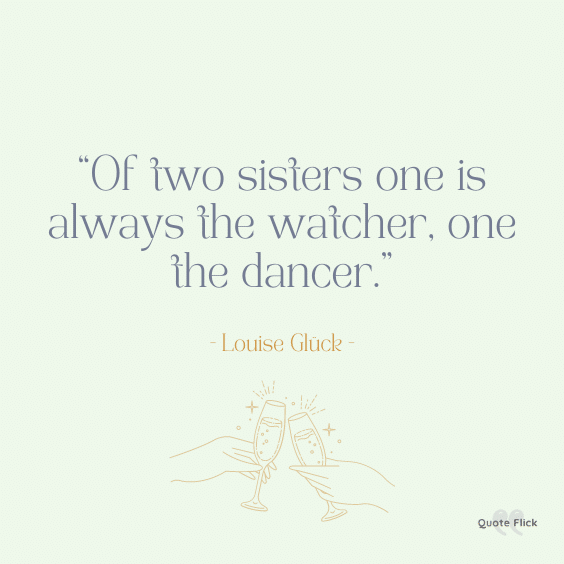 29. "A sister smiles when one tells stories—for she knows where the decoration has been added." – Chris Montaigne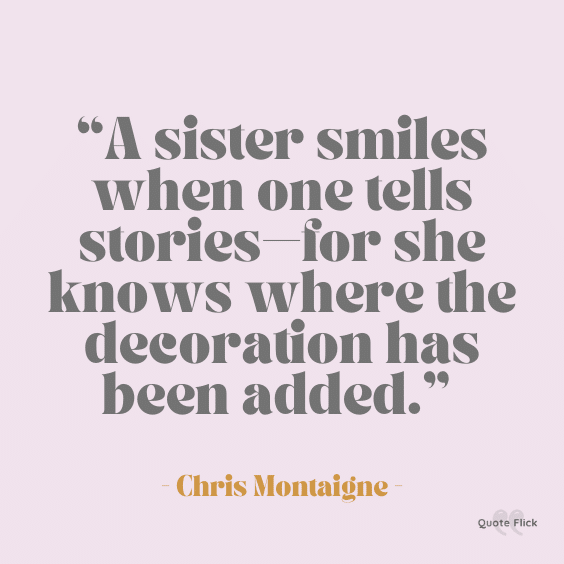 30. "A sister can be seen as someone who is both ourselves and very much not ourselves—a special kind of double." – Toni Morrison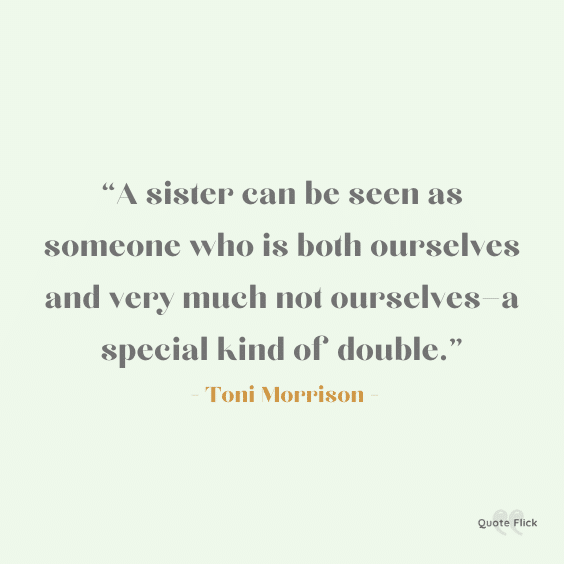 31. "Never let an angry sister brush your hair." – Anonymous
32. "A sister takes in pride with you. She is like a girl you can trust with all of your secrets." – Kortney Cobbley
33. "I grew up believing my sister was from Neptune and had been sent to earth to kill me." – Zooey Deschanel
34. "Is solace anywhere more comforting than that in the arms of a sister." – Alice Walker
35. "You can kid the world, but not your sister." – Charlotte Gray
36. "Acquaintances were always on their best behavior, but sisters loved each other enough to say anything." – Lauren Weisberger
37. "Sisters are for sharing laughter and wiping tears." – Unknown 
38. "My sister is my hero." Patrick J. Adams
39. "As you're growing up and you're close, you can't trust anyone the way you trust your sister, but also they have the power to wound you in ways no one else really does." – Ally Condie
40."My sister and I truly are best friends."  – Solange Knowles
41. "In the cookies of life, sisters are the chocolate chips." – Unknown
42. "She is your mirror, shining back at you with a world of possibilities. She is your witness, who sees you at your worst and best, and loves you anyway." – Barbara Alpert
43. "We acquire friends and we make enemies, but our sisters come with the territory." – Evelyn Loeb 
44. "Is solace anywhere more comforting than that in the arms of a sister?" – Alice Walker
45. "Parents die, daughters grow up and marry out, but sisters are for life." – Lisa Lee
46. She's the toughest player I ever played in my life, and the best person I know. – Serena Williams
47. "Our roots say we're sisters, our hearts say we're friends." – Unknown
48. "To have a loving relationship with a sister is not simply to have a buddy or a confident… it is to have a soul mate for life." – Victoria Secunda
49. "Nobody fights you like your own sister; nobody else knows the most vulnerable parts of you and will aim for them without mercy." – Jojo Moyes
50. "She's (Mary-Kate) the most grounded, brutally honest, and compassionate person … and my best friend. She's loving and consistent." – Ashley Olson 
51. "My sisters are my favorite people on earth." – Ryan Phillippe
 52. "Sisters function as safety nets in a chaotic world simply by being there for each other." – Carol Saline
53. "Husbands come and go; children come and eventually they go. Friends grow up and move away. But the one thing that's never lost is your sister." – Gail Sheeny
54. "You can't think how I depend on you, and when you're not there the color goes out of my life." – Virginia Woolf
55. "Sisters. Because we all need someone who will defend us behind our back and then call us on our shit to our face." – Brooke Hampton
56. "The only thing better than having you as my sister is my children having you as their aunt." – Unknown
57. "Sisterhood is powerful." – Robin Morgan
58. "If you don't understand how a woman could both love her sister dearly and want to wring her neck at the same time, then you were probably an only child." – Linda Sunshine
59. "Sisters are different flowers from the same garden." Unknown
60. "Unconditional love; the definition of sister." – Alicia Cook
61. "In thee, my soul shall own combined the sister and the friend." –  Catherine Killigrew
62. "Sister is probably the most competitive relationship within the family, but once the sisters are grown, it becomes the strongest relationship." – Margaret Mead
63. "A sister is God's way of proving He doesn't want us to walk alone." – Unknown
64. "All you need is love… and a sister." – Unknown
65. "A sibling may be the keeper of one's identity, the only person with the keys to one's unfettered, more fundamental self." – Marian Sandmaier